A Crude 1-DNJ Extract from Home Made Bombyx Batryticatus Inhibits Diabetic Cardiomyopathy-Associated Fibrosis in db/db Mice and Reduces Protein
N

-Glycosylation Levels

1

The Key Laboratory of Chinese Materia Medica Processing Principle Analysis of the State Administration of Traditional Chinese Medicine, Pharmaceutical College of Liaoning Traditional Chinese Medicine University, Chinese Materia Medica Processing Engineering Technology Research Center of Liaoning Province, Dalian 110060, China

2

Chinese Materia Medica Department, Traditional Chinese Medicine College of Hebei University, Baoding 071000, China

3

Beijing Institute of Lifeomics, Beijing Proteome Research Center, Beijing 102206, China

4

Tianjin Institute of Industrial Biotechnology, Chinese Academy of Sciences, Tianjin 300308, China

*

Authors to whom correspondence should be addressed.

Received: 26 April 2018 / Revised: 26 May 2018 / Accepted: 29 May 2018 / Published: 7 June 2018
Abstract
The traditional Chinese drug Bombyx Batryticatus (BB), which is also named the white stiff silkworm, has been widely used in Chinese clinics for thousands of years. It is famous for its antispasmodic and blood circulation-promoting effects. Cardiomyocyte hypertrophy, interstitial cell hyperplasia, and myocardial fibrosis are closely related to the
N
-glycosylation of key proteins. To examine the alterations of
N
-glycosylation that occur in diabetic myocardium during the early stage of the disease, and to clarify the therapeutic effect of 1-Deoxynojirimycin (1-DNJ) extracted from BB, we used the db/db (diabetic) mouse model and an approach based on hydrophilic chromatography solid-phase extraction integrated with an liquid Chromatograph Mass Spectrometer (LC-MS) identification strategy to perform a site-specific
N
-glycosylation analysis of left ventricular cardiomyocyte proteins. Advanced glycation end products (AGEs), hydroxyproline, connective tissue growth factor (CTGF), and other serum biochemical indicators were measured with enzyme-linked immunosorbent assays (ELISA). In addition, the α-1,6-fucosylation of
N
-glycans was profiled with lens culinaris agglutinin (LCA) lectin blots and fluorescein isothiocyanate (FITC)-labelled lectin affinity histochemistry. The results indicated that 1-DNJ administration obviously downregulated myocardium protein
N
-glycosylation in db/db mice. The expression levels of serum indicators and fibrosis-related cytokines were reduced significantly by 1-DNJ in a dose-dependent manner. The glycan α-1,6-fucosylation level of the db/db mouse myocardium was elevated, and the intervention effect of 1-DNJ administration on
N
-glycan α-1,6-fucosylation was significant. To verify this result, the well-known transforming growth factor-β (TGF-β)/Smad2/3 pathway was selected, and core α-1,6-fucosylated TGF-β receptor II (TGFR-βII) was analysed semi-quantitatively with western blotting. The result supported the conclusions obtained from LCA lectin affinity histochemistry and lectin blot analysis. The expression level of α-1,6-fucosyltransferase (FUT8) mRNA was also detected, and the results showed that 1-DNJ administration did not cause obvious inhibitory effects on FUT8 expression. Therefore, the mechanism of 1-DNJ for relieving diabetic cardiomyopathy (DCM)-associated fibrosis can be concluded as the inhibition of
N
-acetylglucosamine (
N
-GlcNAc) formation and the reduction of substrate concentration.
View Full-Text
►

▼

Figures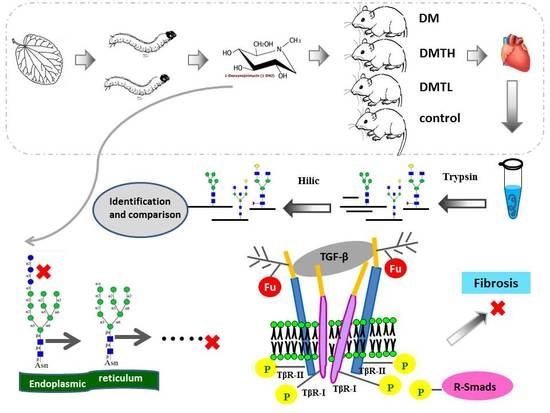 Graphical abstract
This is an open access article distributed under the
Creative Commons Attribution License
which permits unrestricted use, distribution, and reproduction in any medium, provided the original work is properly cited (CC BY 4.0).

Share & Cite This Article
MDPI and ACS Style
Zhao, Q.; Jia, T.Z.; Cao, Q.C.; Tian, F.; Ying, W.T. A Crude 1-DNJ Extract from Home Made Bombyx Batryticatus Inhibits Diabetic Cardiomyopathy-Associated Fibrosis in db/db Mice and Reduces Protein N-Glycosylation Levels. Int. J. Mol. Sci. 2018, 19, 1699.
Note that from the first issue of 2016, MDPI journals use article numbers instead of page numbers. See further details here.
Related Articles
Comments
[Return to top]