Open Access This article is
freely available
re-usable
Review
Immunological Processes Driving IgE Sensitisation and Disease Development in Males and Females
1
Telethon Kids Institute, The University of Western Australia, 100 Roberts Rd, Subiaco, WA 6008, Australia
2
School of Paediatrics and Child Health, The University of Western Australia, Subiaco, WA 6008, Australia
3
School of Veterinary and Life Sciences, Murdoch University, Murdoch, WA 6150, Australia
*
Author to whom correspondence should be addressed.
Received: 9 May 2018 / Accepted: 21 May 2018 / Published: 23 May 2018
Abstract
:
IgE sensitisation has increased significantly over the last decades and is a crucial factor in the development of allergic diseases. IgE antibodies are produced by B cells through the process of antigen presentation by dendritic cells, subsequent differentiation of CD4+ Th2 cells, and class switching in B cells. However, many of the factors regulating these processes remain unclear. These processes affect males and females differently, resulting in a significantly higher prevalence of IgE sensitisation in males compared to females from an early age. Before the onset of puberty, this increased prevalence of IgE sensitisation is also associated with a higher prevalence of clinical symptoms in males; however, after puberty, females experience a surge in the incidence of allergic symptoms. This is particularly apparent in allergic asthma, but also in other allergic diseases such as food and contact allergies. This has been partly attributed to the pro- versus anti-allergic effects of female versus male sex hormones; however, it remains unclear how the expression of sex hormones translates IgE sensitisation into clinical symptoms. In this review, we describe the recent epidemiological findings on IgE sensitisation in male and females and discuss recent mechanistic studies casting further light on how the expression of sex hormones may influence the innate and adaptive immune system at mucosal surfaces and how sex hormones may be involved in translating IgE sensitisation into clinical manifestations.
Keywords:
IgE sensitisation; respiratory sensitisation; sex hormones; allergic asthma; innate immunity; adaptive immunity
Author Contributions
All authors have made substantial contributions in researching, drafting, editing, and finalising the manuscript.
Acknowledgments
The authors would like to acknowledge the following funding bodies: The Asthma foundation of Western Australia, the Telethon Kids Institute, and the Swedish Society for Medical Research.
Conflicts of Interest
The authors declare no conflict of interest.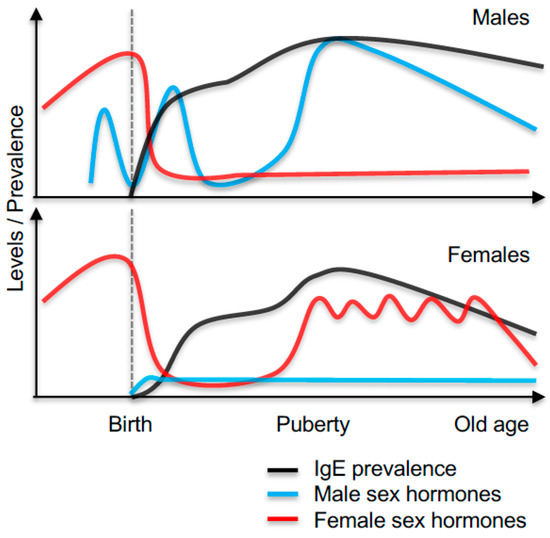 Figure 1. Illustration of the prevalence of IgE sensitisation and levels of male and female sex hormones throughout life in male and females.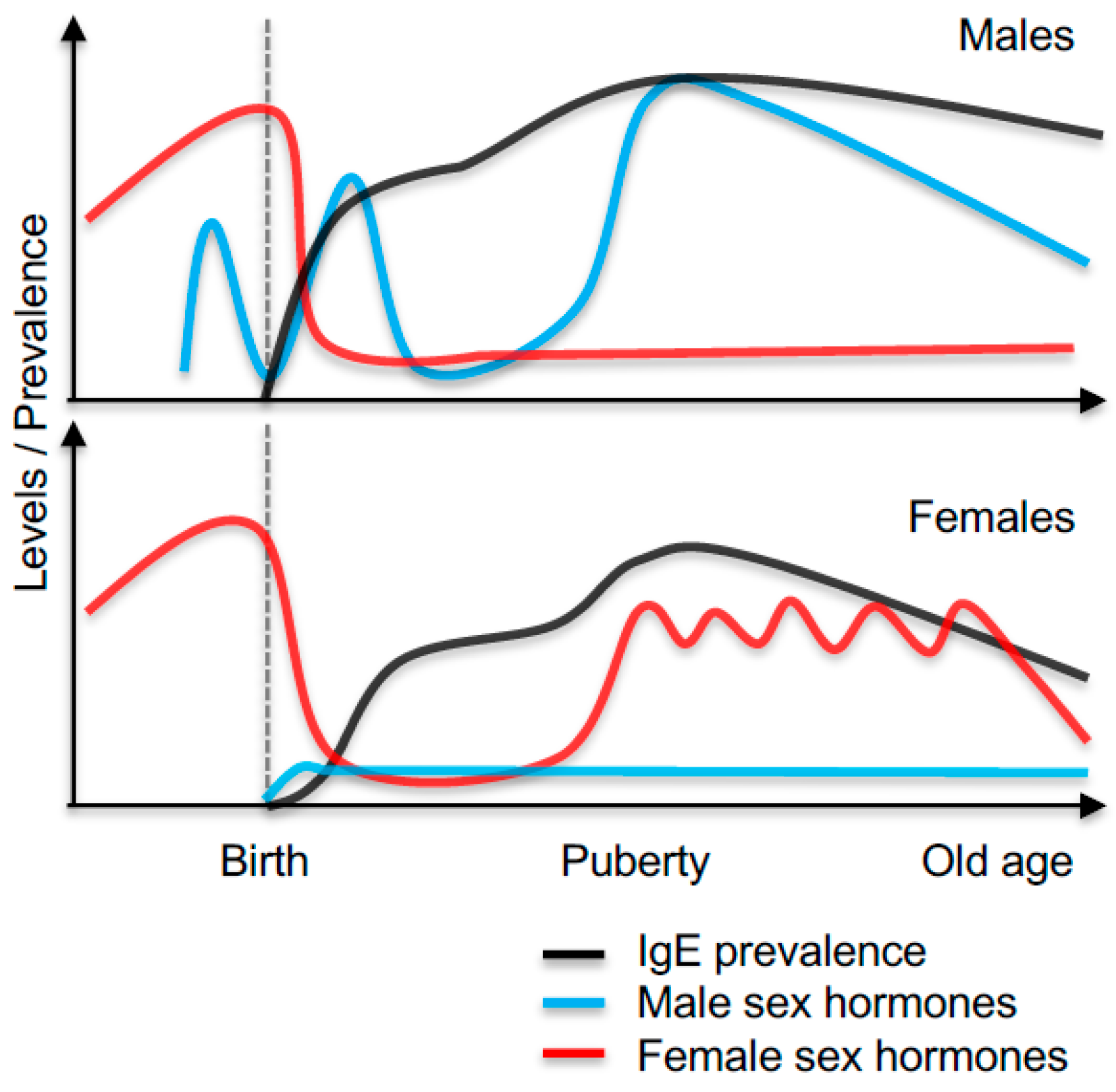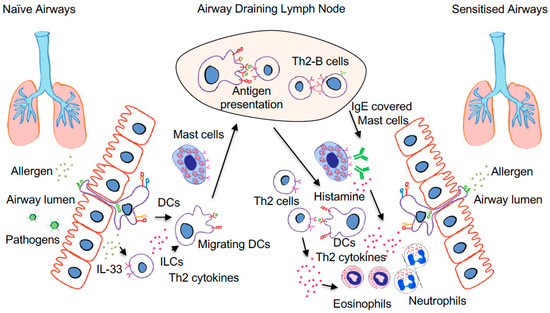 Figure 2. The process of respiratory IgE sensitisation is initiated by allergen inhalation in naïve airways (left) followed by antigen uptake by dendritic cells (DCs) lining the airway epithelium. Depending on the local microenvironment, pro/anti-inflammatory factors are released by the airway epithelium or innate lymphoid cells (ILC) that activate allergen-carrying DCs that migrate to the airway draining lymph nodes. Here, allergen-carrying DCs present the allergen to the adaptive immune system. In the case of IgE sensitisation, the presentation of an allergen to naïve CD4+ T cells induces Th2 differentiation and formation of Th2 effector cells that migrate back to the airways. In addition, the Th2 response also leads to the production of allergen-specific IgE by B cells that bind to mast cells and DCs in the airways. Upon allergen re-exposure (right), the allergen-induced IgE crosslinking on mast cells leads to histamine release and infiltration of innate immune cells such as eosinophils and neutrophils. In addition, antigen uptake and local presentation by DCs also result in Th2 cell activation, which further fuels the infiltration of immune cells, leading to symptomatic allergic airway disease.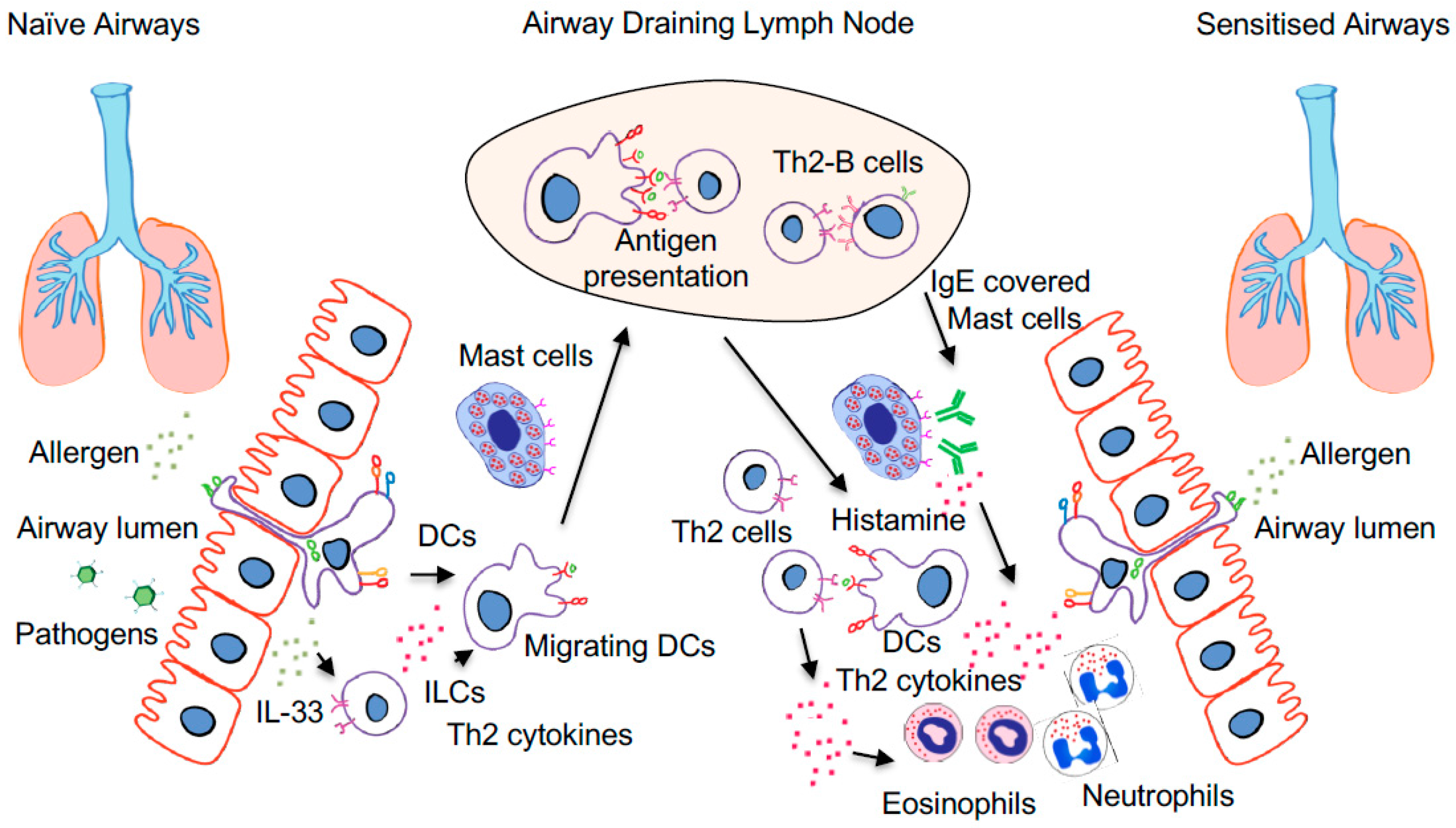 Figure 3. Schematic illustration of the processes involved in IgE sensitisation and a summary of how male (blue) and female (red) sex hormones influence each process. Exaggerating effects (triagle upward pointing symbol), inhibiting effects (downward pointing symbol) or both exaggerating and inhibiting effects depending on the study (triangle up and down), as discussed in this review. Figure specific abbreviations; PRR: pathogen recognition receptor, ILC: innate lymphoid cells, AEC airway epithelial cells: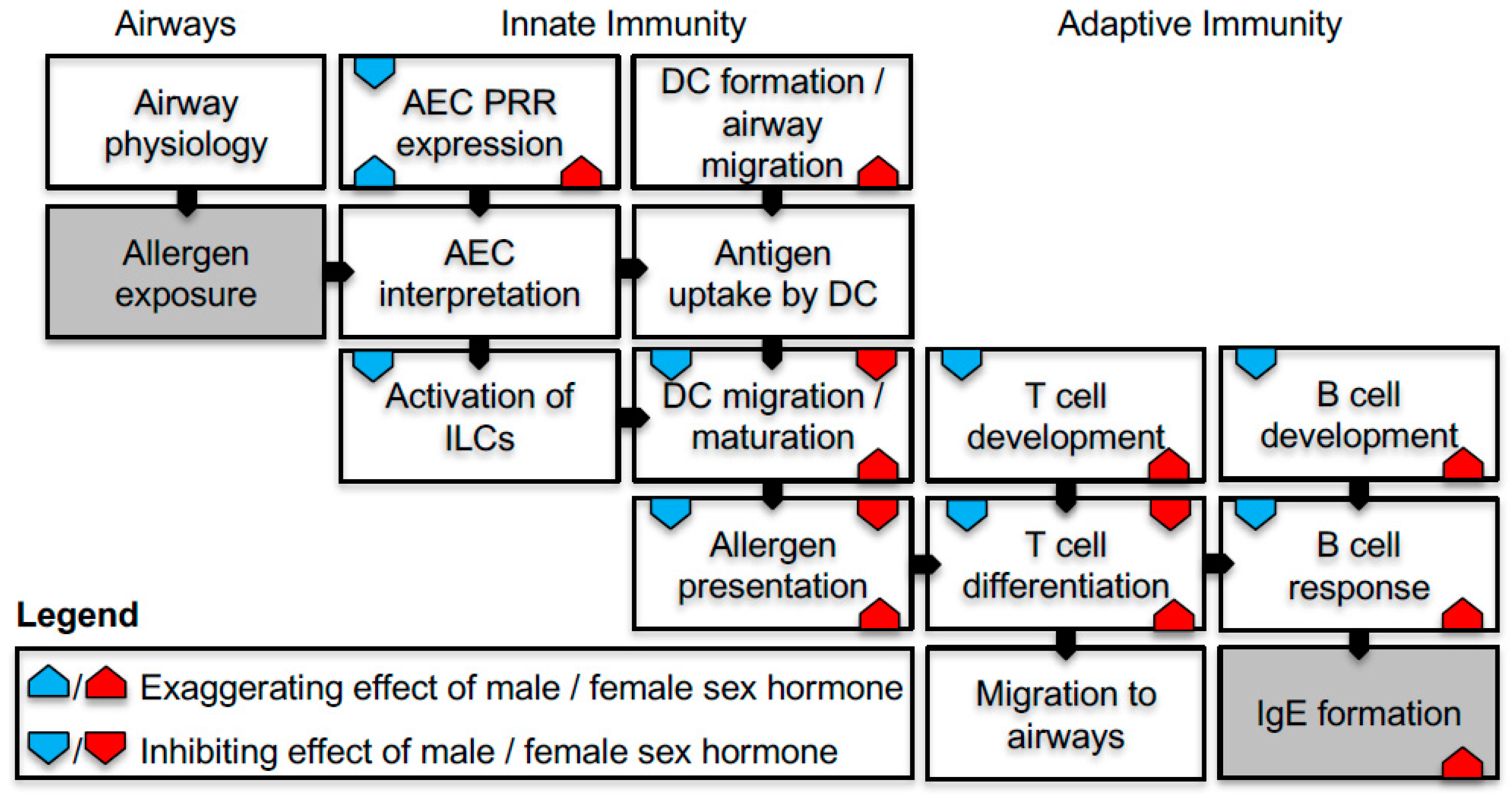 © 2018 by the authors. Licensee MDPI, Basel, Switzerland. This article is an open access article distributed under the terms and conditions of the Creative Commons Attribution (CC BY) license (http://creativecommons.org/licenses/by/4.0/).