Lambertianic Acid Sensitizes Non-Small Cell Lung Cancers to TRAIL-Induced Apoptosis via Inhibition of XIAP/NF-κB and Activation of Caspases and Death Receptor 4
College of Korean Medicine, Kyung Hee University, Seoul 02447, Korea
*
Author to whom correspondence should be addressed.
†
These authors contributed equally to this work.
Received: 18 April 2018 / Revised: 26 April 2018 / Accepted: 14 May 2018 / Published: 16 May 2018
Abstract
Lambertianic acid (LA) is a biologically active compound from the leaves of
Pinus koraiensis.
In the present study, apoptotic mechanisms of LA plus TNF-related apoptosis-inducing ligand (TRAIL) were elucidated in non-small cell lung cancer cells (NSCLCs). Cytotoxicity assay, flow cytometry, immunoprecipitation, and Western blotting were performed. Here, combined treatment of LA and TRAIL increased cytotoxicity, sub-G1 population, cleaved poly (ADP-ribose) polymerase (PARP), and caspase3/8/9 in A549 and H1299 cells compared to LA or TRAIL alone. Furthermore, combined treatment of LA and TRAIL significantly decreased antiapoptotic proteins such as B-cell lymphoma 2 (Bcl-2), Fas-like inhibitor protein (FLIP), and X-linked inhibitor of apoptosis protein (XIAP), and enhanced the activation of proapoptotic proteins Bid compared to LA or TRAIL alone. In addition, combined treatment of LA and TRAIL upregulated the expression of Death receptor 4 (DR4) and downregulated phosphorylation of nuclear factor κ-light-chain-enhancer of activated B cells (p-NF-κB), inhibitory protein of kB family (p-IκB), and FLIP in A549 and H1299 cells along with disrupted binding of XIAP with caspase3 or NF-κB. Overall, these findings suggest that lambertianic acid enhances TRAIL-induced apoptosis via inhibition of XIAP/NF-κB in TRAIL resistant NSCLCs.
View Full-Text
►

▼

Figures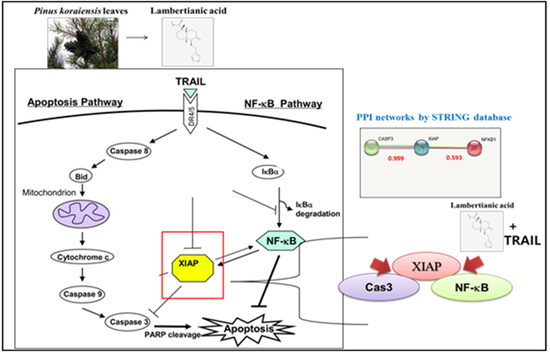 Graphical abstract
This is an open access article distributed under the
Creative Commons Attribution License
which permits unrestricted use, distribution, and reproduction in any medium, provided the original work is properly cited (CC BY 4.0).

Share & Cite This Article
MDPI and ACS Style
Ahn, D.S.; Lee, H.J.; Hwang, J.; Han, H.; Kim, B.; Shim, B.; Kim, S.-H. Lambertianic Acid Sensitizes Non-Small Cell Lung Cancers to TRAIL-Induced Apoptosis via Inhibition of XIAP/NF-κB and Activation of Caspases and Death Receptor 4. Int. J. Mol. Sci. 2018, 19, 1476.
Note that from the first issue of 2016, MDPI journals use article numbers instead of page numbers. See further details here.
Related Articles
Comments
[Return to top]