Open Access This article is
freely available
re-usable
Review
A New Venue of TNF Targeting
1
Barriers in Inflammation, VIB Center for Inflammation Research, Ghent, Department of Biomedical Molecular Biology, Ghent University, 9052 Ghent, Belgium
2
Mouse Genetics in Inflammation, VIB Center for Inflammation Research, Ghent, Department of Biomedical Molecular Biology, Ghent University, 9052 Ghent, Belgium
*
Author to whom correspondence should be addressed.
Received: 31 March 2018 / Accepted: 3 May 2018 / Published: 11 May 2018
Abstract
:
The first Food and Drug Administration-(FDA)-approved drugs were small, chemically-manufactured and highly active molecules with possible off-target effects, followed by protein-based medicines such as antibodies. Conventional antibodies bind a specific protein and are becoming increasingly important in the therapeutic landscape. A very prominent class of biologicals are the anti-tumor necrosis factor (TNF) drugs that are applied in several inflammatory diseases that are characterized by dysregulated TNF levels. Marketing of TNF inhibitors revolutionized the treatment of diseases such as Crohn's disease. However, these inhibitors also have undesired effects, some of them directly associated with the inherent nature of this drug class, whereas others are linked with their mechanism of action, being pan-TNF inhibition. The effects of TNF can diverge at the level of TNF format or receptor, and we discuss the consequences of this in sepsis, autoimmunity and neurodegeneration. Recently, researchers tried to design drugs with reduced side effects. These include molecules with more specificity targeting one specific TNF format or receptor, or that neutralize TNF in specific cells. Alternatively, TNF-directed biologicals without the typical antibody structure are manufactured. Here, we review the complications related to the use of conventional TNF inhibitors, together with the anti-TNF alternatives and the benefits of selective approaches in different diseases.
Keywords:
tumor necrosis factor (TNF); TNF receptor (TNFR); biologicals
1. Introduction
Since the discovery and identification of tumor necrosis factor (TNF) in the mid 1980s [
1
], novel techniques allowed the isolation and cloning of the TNF gene for further characterization and TNF became the subject in a lot of studies. Originally, TNF was identified as a factor that necrotizes certain tumors [
2
,
3
] and recombinant TNF was useful to discover the biological functions of TNF. As a tumor-necrotizing agent, TNF's toxicity in animal models was apparently acceptable, thus TNF was quickly launched into clinical trials. Eighteen monotherapy phase I and 10 phase II clinical trials were performed using recombinant human TNF (hTNF) therapy as anti-cancer agent, but none of them was successful as systemic TNF treatment was found to cause dose-dependent toxicities such as fever, hypotension and tachycardia [
4
,
5
,
6
]. Based on these and other studies, it became clear that TNF is a pleiotropic cytokine with major roles in physiology and pathology, amongst others by causing necrotic and apoptotic cell death, cellular regulation, differentiation, inflammation and the regulation of immune cells, and tumorigenesis [
7
]. The executive functions of TNF exceed multiple disciplines as TNF is important in homeostatic processes as well as in pathological situations ranging from inflammation, neurodegenerative diseases and infections.
Today, 19 members of the TNF superfamily have been identified, based on sequence similarity with TNF. In addition, 29 interacting receptors and several molecules interacting with the cytoplasmic domain of these receptors are recognized [
1
,
7
]. All members of the TNF receptor (TNFR) family contain one to six cysteine-rich repeats in their extracellular domains, typically each with three cysteine bridges within their structure [
8
]. The receptors can be classified in two subgroups: the death domain (DD)-containing receptors and the tumor necrosis factor receptor-associated factor (TRAF)-interacting receptors [
9
].
2. Biology
TNF is expressed as a 26 kDa transmembrane protein (tmTNF) which can be shed by the metalloproteinase TNF-α-converting enzyme (TACE) or disintegrin and metalloproteinase 17 ADAM17 to release the homotrimeric soluble TNF form (sTNF, monomeric 17 kDa) [
10
]. TNF is produced by a variety of cell types, such as monocytes and macrophages, T cells, natural killer (NK) cells, neutrophils, and microglia as well as by non-immune cells such as neuronal cells or keratinocytes. Both tmTNF as well as sTNF are biologically active, and the balance between these two forms is influenced by the cell type and its activation status, TACE activity and the expression of the endogenous TACE inhibitor, tissue inhibitor of metalloproteinase (TIMP)-3 [
11
,
12
]. TNF binds two homotrimeric transmembrane receptors: the 55 kDa TNF receptor 1 (TNFR1 or CD120a), encoded by the
TNFRSF1A
gene and the 75 kDa TNF receptor 2 (TNFR2 or CD120b), encoded by
TNFRSF1B
[
9
]. Interestingly, instead of only being a ligand, tmTNF can also act as a receptor because tmTNF-bearing cells show biological activity via reverse signaling when activated by mainly TNFR2. However, the biological functions elicited by this "outside-to-inside signaling" have not been completely elucidated [
13
]. TNFR1 is constitutively and ubiquitously expressed on a broad variety of cells, whereas expression of TNFR2 is inducible and tightly regulated. TNFR2 expression is more restricted and can be typically found on endothelial, immune (including microglia) and neuronal cells [
9
]. Recently, TNFR2 has also been found to be expressed on tumor cells and has been suggested to function as a tumor oncogene [
14
,
15
]. The extracellular domains of the two receptors are conserved and consist of a pre-ligand assembly domain (PLAD) and a ligand-binding domain, which is composed of four cysteine-rich domains and a TACE substrate domain. The PLAD stabilizes the receptors in absence of ligand as homophilic dimers. PLAD-mediated receptor preassembly is necessary for TNF/TNFR signaling and deletion of PLAD completely abrogates ligand binding and signaling [
16
]. In contrast to their extracellular domains, their intracellular domains are unrelated, explaining the initiation of different signaling cascades [
17
]. TNFR1 is a DD-containing receptor allowing protein–protein interactions, while TNFR2 does not have such a DD [
18
,
19
]. Successful signaling via TNF requires receptor preassembly as trimers prior to ligand binding. Preassembly occurs through the intracellular cytoplasmic tail of the receptors. The DD can recruit two adaptor DD-containing proteins, namely TNFR1-associated death domain (TRADD) or Fas-associated death domain (FADD), whereupon the apoptotic pathway is activated and the caspase cascade is engaged [
20
]. Importantly, in addition to other ligands such as Fas and TRIAL, TNF via TNFR1 can activate a caspase-independent pro-inflammatory cell death, called necroptosis [
21
,
22
,
23
]. This is a relatively novel programmed necrosis-like inflammatory process.
Upon TNFR2 activation, this receptor recruits TRAF2 and other TRAF2-associated proteins, as well as interacts with other signaling proteins that act independently of TRAF2. Whereas TNFR1 is linked with pro-inflammatory and apoptotic effects, TNFR2 has been associated with a variety of immune regulatory and anti-inflammatory functions [
20
]. Importantly, a complex interplay between TNFR1 and TNFR2 has been described, and additive, synergistic as well as antagonistic effects have been demonstrated [
9
].
TNFR1 is activated by either sTNF as well as tmTNF, while TNFR2 can only be activated by tmTNF. Hence, the role of TNFR2 is thought to be underestimated [
24
]. The membrane-bound forms of both receptors are also a substrate for proteolytical cleavage by TACE, yielding soluble receptor fragments e.g., soluble TNF receptor (sTNFR) [
25
]. This process is an important self-regulatory mechanism to prevent exaggerated damage and may contribute to the regulation of cellular TNF responsiveness [
25
]. Increased ectodomain shedding has three consequences: (1) On the one hand, the shed receptors can neutralize the bioactivity of circulating TNF by sequestering it. Hence, sTNFR will act as an intrinsic TNF inhibitor. (2) On the other hand, the process will decrease the number of signaling-competent receptors on the cell surface and cause transient TNF desensitization [
26
]. Accordingly, mice expressing non-sheddable TNFR1 spontaneously develop liver pathology and autoimmunity, pointing towards the pivotal role of TNFR1 shedding to regulate TNF activity in vivo [
27
]. The importance of this system is also highlighted in the disease condition of TRAPS (TNF receptor-associated periodic syndrome), an autosomal dominantly inherited disease characterized by unprovoked, often prolonged, attacks of fever and inflammation in multiple organs caused by a mutation in
TNFSFR1A
[
28
]. (3) Alternatively, sTNFR1 can form a stable complex with sTNF which can act as a sink in which the circulating TNF levels will be preserved.
3. TNF in Health and Disease
TNF is a pleiotropic cytokine and a master regulator of the immune system, and most cells show at least some TNF responsiveness. Studies revealed two opposite functions of TNF in host defense. At low levels, TNF has beneficial homeostatic functions, such as for host defense mechanisms against for example intracellular pathogens, particularly mycobacteria such as
Mycobacterium tuberculosis
[
29
]. However, at high concentrations, TNF can be deleterious and promotes inflammation and organ injury. In disease states, TNF is predominantly secreted by macrophages and monocytes both systemically and locally in the affected tissues, but also many other cells can produce TNF under certain circumstances [
30
].
4. TNF Inhibitors
4.1. Approved TNF Inhibitors
The initial concept to use recombinant TNF as an anti-tumor agent was quickly followed by the idea to consider TNF as a drug target for inflammatory diseases [
244
]. Indeed, TNF represents an active and attractive objective for drug development despite the initial skepticism because of the failure of anti-TNF drugs in sepsis patients [
245
,
246
]. The rationale to target TNF was first confirmed in a murine RA model [
247
], and, in 1993, RA patients were successfully treated with mAb cA2, later known as infliximab [
248
]. This success was the start to further develop anti-TNF drugs in TNF-involving inflammatory diseases. Currently, five anti-TNF biologics and in total 25 drugs that inhibit or modulate the effects of TNF, are approved for clinical use by the Food and Drug Administration (FDA) and European Medicines Agency (EMA) for the treatment of RA, AS, psoriasis and psoriatic arthritis (PsA), juvenile idiopathic arthritis (JIA), CD and ulcerative colitis (UC). Recently, adalimumab was also licensed in some countries to treat uveitis and hidradenitis suppurativa which is a chronic skin disease characterized by recurrent abscesses. Furthermore, there is off-label use in Behcet's syndrome and amyloidosis [
245
,
249
]. The introduction of TNF inhibitors on the market has revolutionized the treatment of these pathologies and anti-TNF therapy is now standard of care for RA. Moreover, these blockbusters currently belong to the top-10 best-selling drugs in the world, with adalimumab being the world's best-selling medicine, counting for US
$
10 billion per year and the total sale of the various anti-TNF drugs exceeds US
$
25 billion [
245
]. Currently, another 151 TNF inhibitors are in the clinical pipeline.
Three of the five approved TNF-inhibitors are full-length monoclonal antibodies (mAbs): infliximab (Remicade
®
and biosimilars Remsima
®
, Inflectra
®
, Flixabi
®
, and Ixifi
®
), adalimumab (Humira
®
and Cyltezo
®
, Imraldi
®
, Amgevita
®
, and Solymbic
®
) and golimumab (Simponi
®
). Next to these, certolizumab (Cimzia
®
) and etanercept (Enbrel
®
and biosimilars Erelzi
®
and Benepali
®
) are also approved. Although they all neutralize the TNF activity, they each have different characteristics and routes of administration. Furthermore, all of them are equally effective against RA, but not against CD. These discrepancies are attributable to different mechanisms of actions that are not completely understood [
38
,
250
,
251
] (
Table 2
and
Figure 3
).
In 1998, infliximab was the first TNF-targeting antibody approved in the US to treat CD and later UC. It is a chimeric monoclonal IgG1 Ab that comprises a human constant domain and murine variable regions. The infliximab biosimilar CT-P13 (Remisma
®
or Inflectra
®
) is highly similar to its originator and therefore clinically used in the same way [
252
]. Golimumab and adalimumab are full human Abs that were produced by recombinant DNA technology and certolizumab is a humanized Fab' fragment that is conjugated to polyethylene glycol (PEG) to increase the serum half-life. This reduces the requirement for frequent dosing and possibly reduces the immunogenic nature. Finally, etanercept is a fusion protein of the extracellular domain of human TNFR2 receptor coupled to the Fc region of human IgG1. Etanercept binds circulating sTNF and acts as a decoy receptor that prevents TNF-interaction with the cell surface receptors.
4.2. Mechanisms of Action of TNF Inhibitors
4.3. Pitfalls of TNF Inhibitors
The introduction of TNF-antagonists for treatment of inflammatory disorders substantially improved the QoL of the patients, and in IBD it also reduced the number of surgeries and hospitalizations. However, the long-lasting use of these drugs coincides with a number of important adverse events (
Figure 4
) [
287
].
5. Other Anti-TNF and TNF-Modulating Drugs
5.1. TNF Inhibitors
In addition to the well-known approved anti-TNF inhibitors, there are several other anti-TNF drugs developed or under development (
Table 2
). In China, a phase I clinical trial is completed with a humanized anti-TNF mAb
SSS-07
against RA, but no results are provided yet (NCT02460393). The bovine polyclonal milk-derived anti-TNF Ab
AVX-470
can be administered orally thanks to the stability of bovine Igs in human intestinal secretions. After oral administration, this Ab remained localized in the gut, and in a double-blind, placebo controlled study AVX-470 appeared to be safe and well tolerated, and was associated with dose-dependent increases in clinical and endoscopic remission in patients with active UC (NCT01759056) [
262
,
263
]. The involved company Avaxia Biologics has created orally administered anti-TNF mAbs, Avaximabs
®
, that are stable in the gastro-intestinal tract. These will be explored for the treatment of necrotizing enterocolitis (NEC). Unfortunately, clinical drug development goes along with many failures too:
CDP571
(Humicade
®
), a humanized mAb against TNF failed to demonstrate clinical efficacy for sparing steroids in CD patients and further development was discontinued [
264
]. Other approaches than Abs are also considered, as illustrated with the clinical success of the Nanobodies (Nbs) [
327
]. A highly promising Nb is generated by Ablynx against TNF and is called
ozoralizumab
[
328
]. This drug is now under clinical investigation to treat autoimmune diseases and proof-of-concept was already obtained in a phase II RA study [
265
]. Another bivalent Nb was also engineered consisting of two monomeric variable domains of heavy-chain only Abs (VHHs). The construct
VHH#1-3
antagonizes the binding of TNF to its receptors with picomolar potencies. As this drug has a different mode of binding, i.e., it can bind a single trimeric TNF and blocks two of the three receptor binding sites of TNF, it distinguishes itself from other TNF neutralizing drugs [
266
]. The ease of cloning and production allows Nbs to be locally secreted by the genetically modified probiotic
Lactococcus lactis
after oral administration, as was done with an anti-TNF Nb [
329
]. Preclinically, this innovative approach was efficacious in colitis without causing immunogenicity and is under clinical investigation. In addition, variable new antigen receptor (VNAR) domains against TNF were developed, originated from immunized sharks. Multivalent VNARs neutralize TNF at picomolar concentrations and were as efficacious as adalimumab in in vitro models of intestinal epithelial barrier dysfunction. Therefore, these drugs could be considered as a novel alternative class of biological agents [
330
]. Similar to etanercept,
Lenercept
is a soluble fusion protein consisting of TNFR1 fused to the hinge region of the IgG1 Fc region. It entered clinical trials for indications such as sepsis, RA and MS. However, the clinical trial for treatment of RRMS had to be terminated due to unforeseen exacerbations of the symptoms [
53
,
153
].
Hitanercept
is a variant of etanercept that carries a mutation in the TNFR2 domain of the fusion protein and exhibits higher affinity to sTNF and tmTNF than etanercept [
269
,
331
]. In the CIA model for RA, hitanercept is more efficacious compared to etanercept. Interestingly, hitanercept is also more potent to induce reverse signaling via tmTNF and to mediate CDC and ADCC. Therefore, the drug also has therapeutic potential in CD and UC. Currently, the tolerance, pharmacokinetics and preliminary efficacy of hitanercept in RA are assessed in a phase I clinical trial in China (NCT02481180) [
269
].
HL036
is a small TNFR1 fragment (19 kDa) with enhanced ocular tissue penetration. This drug is formulated as an ophthalmic solution and is currently under clinical investigation (phase II) for dry eyes disease (NCT03334539) after it was shown to be safe in healthy volunteers. In addition, other formulations for inflammatory ocular diseases are currently considered.
Onercept
is a PEGylated form of soluble human TNFR1 that was tested in psoriasis and CD. Despite promising early clinical results, onercept proved not to have an exceptional efficacy and safety profile in both diseases and therefore further development was stopped [
267
,
268
,
332
,
333
]. Another potentially interesting candidate that is based on the same rationale as onercept is
pegsunercept
, a PEGylated soluble TNFR1. It has been tested for RA, but also here, development was discontinued and this decision was based on recommendations of two separate independent Data and Safety Monitoring Boards [
271
]. Likewise, the development of the polyclonal anti-TNF Fab fragment
Azd9773
(CytoFab
®
) was suspended as the drug failed to show efficacy in severe sepsis and septic shock [
270
]. Another new therapeutic approach relies on the active immunization with
TNF-kinoid
or with
CYT007-TNFQb
, inducing endogenous polyclonal anti-TNF antibodies that neutralize circulating TNF in inflammatory immune-mediated diseases. With TNF-kinoid, proof-of-concept was obtained in a mouse RA model and these findings were translated into the clinic in patients that experience secondary non-responsiveness of TNF-antagonists. A phase Ia clinical trial showed that therapeutic vaccination induced dose- and schedule-dependent anti-TNF Abs in RA patients and was well tolerated. Moreover, patients with anti-TNF Abs showed a trend towards clinical improvement [
272
]. The drug was also investigated to treat CD patients, and a high clinical response was reported with remission rates in half of the patients. However, the clinical efficacy needs to be weighed against the potential harmful consequences of life-long ablation of TNF and probably for that reason further development was suspended [
273
]. The same holds true for
CYT007-TNFQb
of which the phase I/II clinical trial was discontinued in psoriasis patients [
274
]. Progranulin is an endogenous glycoprotein expressed in neurons and glia cells that directly interacts with TNFR1 and TNFR2. Proganulin has anti-inflammatory activities by the inhibition of the TNF activity, and
Atsttrin
is a progranulin-derived engineered protein that showed efficacy against RA and osteoarthritis in preclinical models [
334
,
335
]. Up until now, no clinical trials are reported, but also this candidate may be an interesting alternative to the generally used anti-TNF biologics. The small chemical triazoloquinoxaline inhibitor
R-7050
is a TNFR complex inhibitor that improves the outcome upon intracerebral hemorrhage, suggesting its use as adjunct therapy in the treatment of neurological injury [
336
]. The drug does not interfere with TNF-TNFR1 binding, but acts via the inhibition of receptor-adaptor molecules complex formation and subsequent receptor internalization [
336
]. In addition, interesting is the approach exploited by the group of Pardridge. They engineered a BBB-penetrating TNF inhibitor by fusion of the extracellular domain of TNFR2 to a chimeric monoclonal antibody against the mouse TfR. This Trojan horse approach led to rapid therapeutically relevant amounts of drug in the brain following intravenous, subcutaneous and ip administration, and was protective in mouse models of PD, AD and ischemic stroke [
223
,
242
,
275
,
337
]. Finally, a novel chemically synthesized anti-TNF compound is described.
C87
is an TNF-TNFR interaction modulator as it directly binds to TNF and prevents TNFR signaling and subsequent Casp-8 and NF-κB activation. It was found from an initial screen of ~90,000 compounds and has in vivo potency. The only remaining challenge is to determine toxicity and stability with longer-term use [
338
].
5.2. TNF Modulators
Other less specific anti-TNF agents are thalidomide and its derivatives lenalidomide and pomalidomide, curcumin and minocycline. Initially, thalidomide was indicated as an effective tranquilizer and painkiller associated with enormous teratogenic side effects in human. Thalidomide is now recently re-introduced as well-known (non-specific) TNF-inhibitor as it reduces the rate of TNF synthesis by enhancing the degradation of the transcript. Currently, thalidomide is under investigation to treat neurodegenerative disorders that implicate TNF-signaling such as AD, PD and amyotrophic lateral sclerosis (ALS) as this small-drug molecule can penetrate into the brain [
235
,
339
,
340
,
341
,
342
]. The broad-spectrum tetracycline antibiotic drug
minocycline
decreases TNF synthesis in addition to its bacteriostatic and anti-inflammatory actions. Additionally, it also inhibits MMPs, reduces cyclooxygenase 2 (COX-2) activity and prostaglandin E2 production, and attenuates apoptosis [
12
]. In PD models, minocycline attenuated MPTP-induced microglia activation, but could not abolish the neurotoxicity [
237
]. By contrast,
curcumin
(diferuloymethane) is a natural anti-inflammatory agent that inhibits TNF transcription at several levels, but mostly via inhibition of NF-κB. Consequently, curcumin also antagonizes other pro-inflammatory cytokines including IL-1β and IL-6. It is a broad-acting anti-TNF that can be orally consumed via natural food spices. Unfortunately, it is poorly soluble in water and has a poor bio-availability [
343
]. Currently, neuroprotective characteristics are attributed to curcumin and therefore it is under active investigation for AD amongst others [
344
]. In addition, xanthine derivate pentoxifylline and bupropion have shown to decrease TNF synthesis [
345
]. By increasing the signaling at beta-adrenoreceptors and D1 receptors, bupropion increases cyclic AMP (cAMP) which subsequently inhibits TNF synthesis [
346
]. Unexpectedly, a novel crosstalk pathway between neural and immune receptors was found as several 5-hydroxytryptamine (HT) agonist hallucinogens (such as (R)-DOI, TCB-2, LSD and LA-SS-Az) are potent TNF inhibitors, with DOI being the most potent one. This indicates that activation of the serotonin 5-HT(2A) receptors represents a novel potential therapeutic avenue for TNF-involving disorders [
347
,
348
].
6. A New Chapter of Inventive TNF Manipulating Approaches
The anti-TNF drugs on the market were based on the wide perception that TNF is a pathological factor, ignoring the fact that TNF can also have beneficial and unique indispensable properties e.g., in immune regulation and tissue regeneration, as discussed above [
33
,
93
,
102
,
114
,
349
,
350
]. This is also illustrated by the numerous side-effects that are inherent to long-lasting TNF blockage. Therefore, more discriminative approaches hold the potential to increase the safety and efficacy of the drugs. Indeed, as outlined in previous sections, especially for neurological diseases more selective approaches are warranted as there is a clear discrepancy between TNFR1 and TNFR2 signaling in the brain typified by the aggravated disease symptoms that are induced by anti-TNF drugs in MS patients. Nonetheless, also non-neurological diseases will benefit from receptor-discriminatory drugs as pan-TNF neutralization induces neurological phenomena in some patients.
7. Concluding Remarks
Additionally, as discussed, cell-specific drugs that are directed against the intended TNFR expressed by a specific cell type are interesting for future research. This would lead to local accumulation, less undesired side effects and thus safer therapies. Collectively, during the development of new innovative therapies, one can not only consider the removal of the detrimental cells or signals that are present, e.g., blockage of the inflammatory TNFR1 pathway or removal of autoreactive T cells, but also think about therapies that stimulate the cells or cellular properties that are defective such as suppressive cell types. Therefore, therapeutic treatments should always find the ideal balance between doing enough good and preventing bad.
Author Contributions
S.S. drafted the manuscript; and C.L. and R.E.V. edited the manuscript and approved the final version.
Funding
S.S. is supported by Horizon2020 (B-Smart). Research in the authors' lab is sponsored by the Research Foundation-Flanders (FWO), the Concerted Research Actions of Ghent University, The Foundation for Alzheimer's Research Belgium (SAO-FRA), the EU Cost action MouseAge (BM1402) and the Baillet Latour Fund.
Conflicts of Interest
The authors declare no conflict of interest.
Abbreviations
| | |
| --- | --- |
| 6-OHDA | 6-hydroxydopamine |
| ADA | Anti-drug antibody |
| ADAM | A disintegrin and metalloproteinase |
| ADCC | Antibody-dependent cellular cytotoxicity |
| ALS | Amyotrophic lateral sclerosis |
| AMPA | α-amino-3-hydroxy-5-methyl-4-isoxazolepropionic acid |
| APC | Antigen-presenting cells |
| AS | Ankylosing spondylitis |
| Aβ(O) | (oligomerized) Amyloid beta |
| BACE1 | Beta-secretase 1 |
| BBB | Blood–brain barrier |
| BCG | Bacillus Calmette-Guérin |
| CAIA | Collagen antibody-induced arthritis |
| cAMP | Cyclic AMP |
| CASP | Colon ascendens stent peritonitis |
| CD | Crohn's disease |
| CDC | Cell-dependent cytotoxicity |
| CIA | Collagen-induced arthritis |
| CLP | Cecal ligation and puncture |
| CNS | Central nervous system |
| COX-2 | Cyclooxygenase-2 |
| CSF | Cerebrospinal fluid |
| DC | Dendritic cell |
| DD | Death domain |
| DILE | Drug-induced lupus erythematosus |
| DSS | Dextran sodium sulfate |
| EAE | Experimental autoimmune encephalomyelitis |
| EMA | European Medicine Agency |
| FADD | Fas-associated death domain |
| FcγR | Fcγ-receptor |
| FDA | Food and Drug Administration |
| FDC | Follicular dendritic cell |
| GC | Germinal center |
| GVHD | Graft-versus-host disease |
| HT | 5-hydroxytryptamine |
| hTNF | Human TNF |
| ip | Intraperitoneal |
| IBD | Inflammatory bowel disease |
| icv | Intracerebroventricular |
| IEC | Intestinal epithelial cells |
| IFN | Interferon |
| IFNAR | Interferon-α receptor |
| Ig | Immunoglobulin |
| IL | Interleukin |
| JIA | Juvenile idiopathic arthritis |
| KO | Knockout |
| LPS | Lipopolysaccharide |
| LTD | Long-term depression |
| LTP | Long-term potentiation |
| LT-α | Lymphotoxin-α |
| mAb | Monoclonal antibody |
| MDSC | Myeloid-derived suppressor cells |
| MMP | Matrix metalloproteinase |
| MOF | Multiple organ failure |
| MPTP | 1-methyl-4-phenyl-1,2,3,6-tetrahydropyridine |
| MS | Multiple sclerosis |
| MTX | Methotrexate |
| Nb | Nanobody |
| NEC | Necrotizing enterocolitis |
| NK | Natural killer |
| NOD | Non-obese diabetic |
| OLG | Oligodendrocytes |
| OPC | Oligodendrocyte precursor cell |
| PD | Parkinson's disease |
| PEG | Polyethylene glycol |
| PLAD | Pre-ligand assembly domain |
| PPMS | Primary progressive MS |
| PsA | Psoriatic arthritis |
| QoL | Quality-of-life |
| RA | Rheumatoid arthritis |
| ROS | Reactive oxygen species |
| RRMS | Relapsing-remitting MS |
| scFv | Single-chain variable fragment |
| SIRS | Systemic inflammatory response syndrome |
| SLE | Systemic lupus erythematosus |
| sTNF(R) | Soluble TNF(R) |
| TACE | TNF-α converting enzyme |
| TDM | Therapeutic drug monitoring |
| TIMP | Tissue inhibitor of metalloproteinase |
| tmTNF | Transmembrane TNF |
| TNF | Tumor necrosis factor |
| TNFR | Tumor necrosis factor receptor |
| TRADD | TNFR1-associated death domain |
| TRAF(2) | TNF receptor-associated factor (2) |
| TRAPS | TNF receptor-associated periodic syndrome |
| Tregs | Regulatory T cells |
| UC | Ulcerative colitis |
| VHH | Variable domain of heavy-chain only Abs |
| VNAR | Variable new antigen receptor |
| WT | Wild type |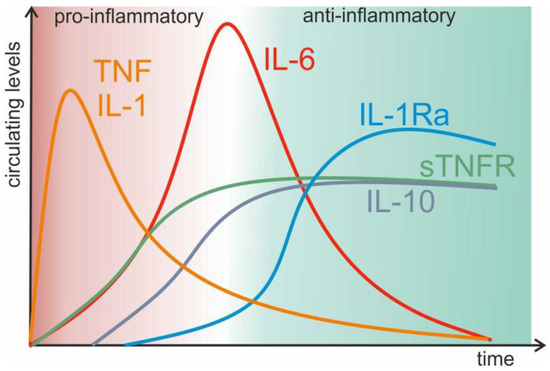 Figure 1.
Cytokine kinetics in sepsis. Tumor necrosis factor (TNF) and interleukin (IL-)1 are the first cytokines to be released in sepsis and promote the secretion of IL-6. Together, these cytokines are the orchestrators during the pro-inflammatory phase in sepsis. After some time, compensation mechanisms arise to dampen the pro-inflammatory response such as IL-10, IL-1 receptor antagonist (IL-1Ra) and soluble TNF receptor (sTNFR). Figure adapted from [
63
].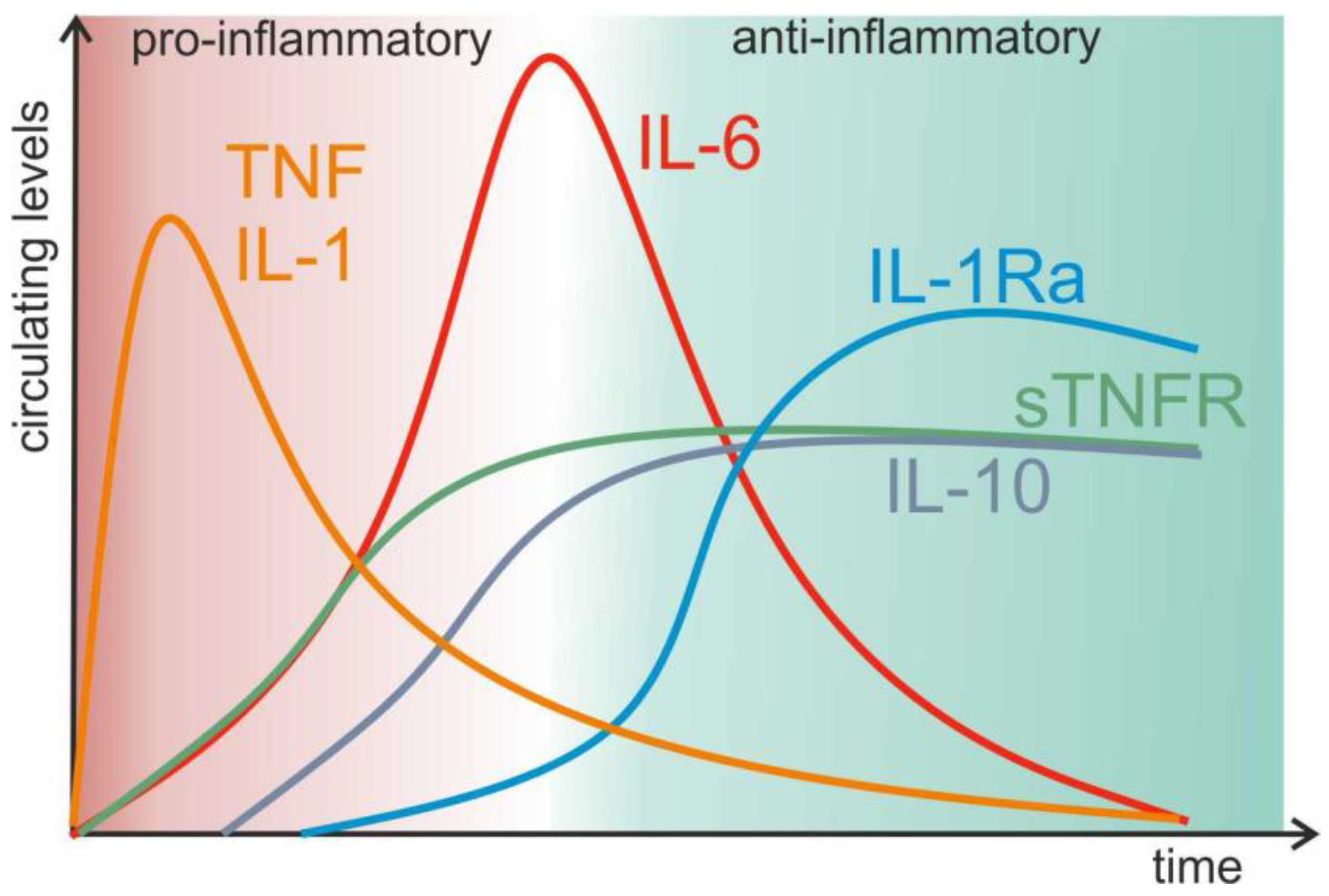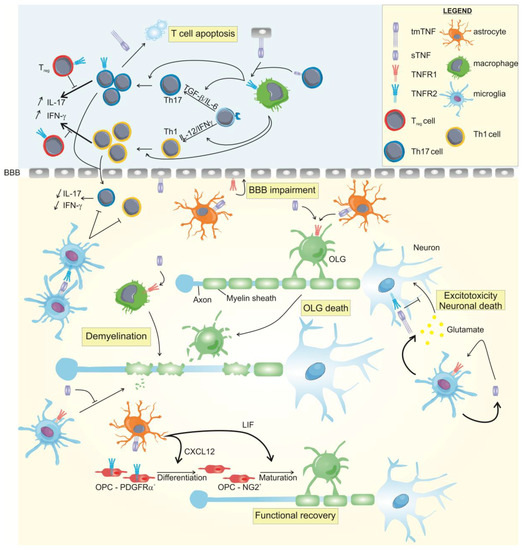 Figure 2. Multiple roles for tumor necrosis factor (TNF) receptor (TNFR) signaling in multiple sclerosis (MS) pathology. In the central nervous system (CNS), TNF is primarily expressed by astrocytes, microglia and neurons and can stimulate its own release via TNFR1. A detrimental role for TNFR1 has been described in the pathology of MS. TNFR1 signaling triggers oligodendrocyte (OLG) death and contributes to primary demyelination via macrophages. Conversely, TNFR2 has protective effects in the CNS, as the interaction with tmTNF on astrocytes stimulates remyelination and neuronal TNFR2 protects against excitotoxicity. In the periphery, TNFR2 induces the development of effector T cells, but in the CNS, microglial-expressed TNFR2 is protective. TNF, possibly via TNFR2, mediates regression of activated myelin-specific T cells. Furthermore, TNFR2 signaling also facilitates the expansion of regulatory T cells (Tregs) and improves their suppressive capacities against effector T cells. Normal arrows indicate the action of a mediator or the processes that are induced; bold arrows represent mediators produced by a specific cellular subset. T bars represent the inhibition of the indicated pathway.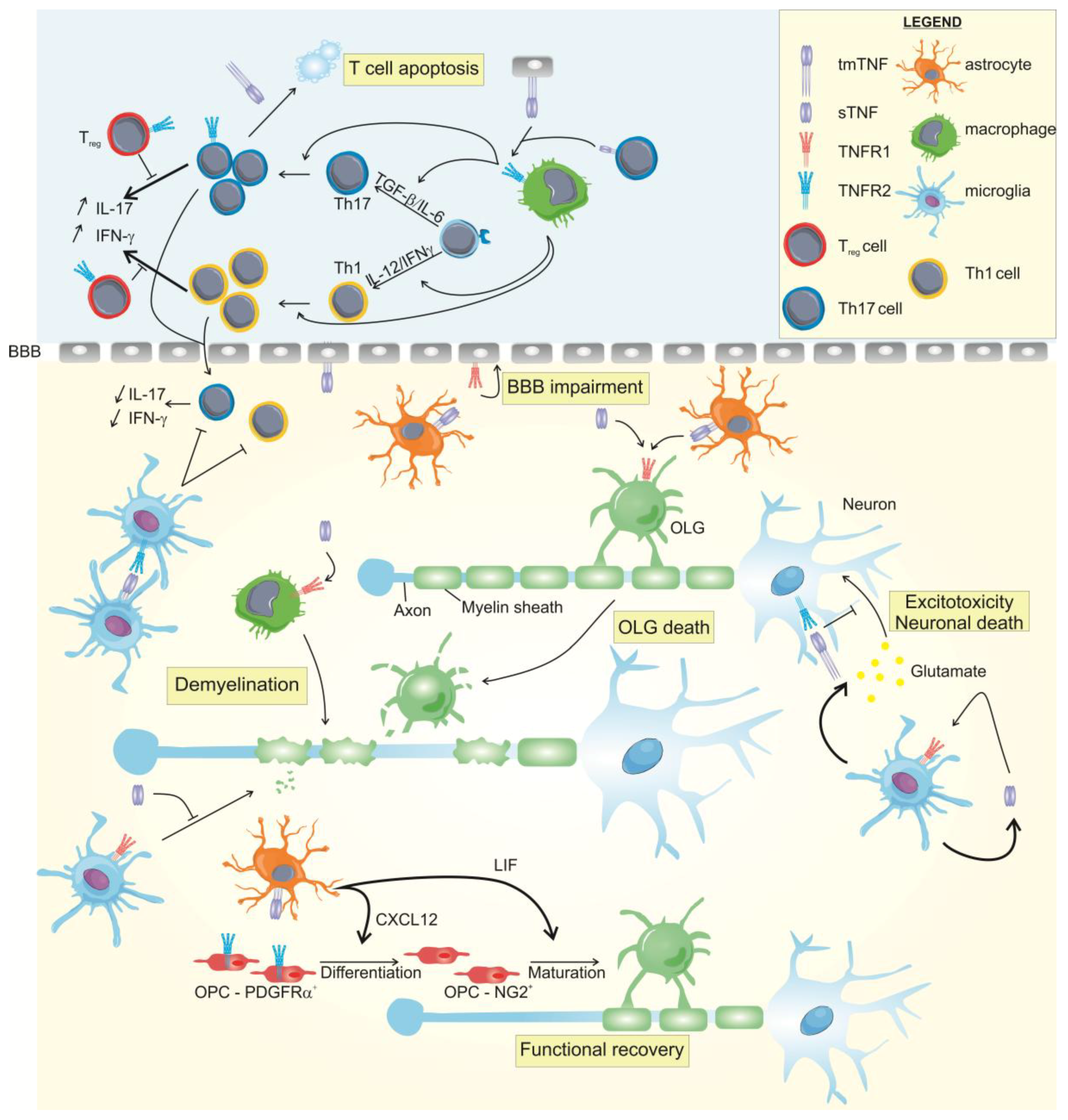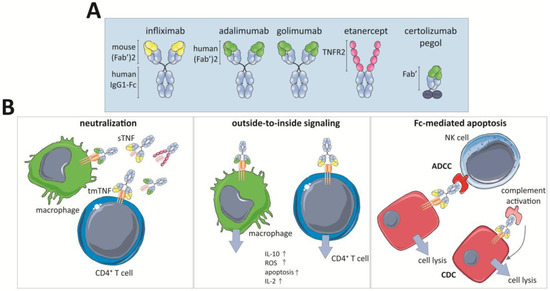 Figure 3. Structure (A); and mechanisms of action (B) of anti-TNF biologics. All anti-TNF biologics neutralize membrane-bound (tmTNF) and soluble TNF (sTNF) but, in addition to that, some inhibitors also induce outside-to-inside signaling via tmTNF and their Fc-regions mediate antibody-dependent cellular cytotoxicity (ADCC) and complement-dependent cytotoxicity (CDC). ADCC: antibody-dependent cellular cytotoxicity; CDC: complement-dependent cytotoxicity, Fab: fragment antigen binding; IgG: immunoglobulin G; IL: interleukin; NK: natural killer; ROS: reactive oxygen species tmTNF: transmembrane TNF.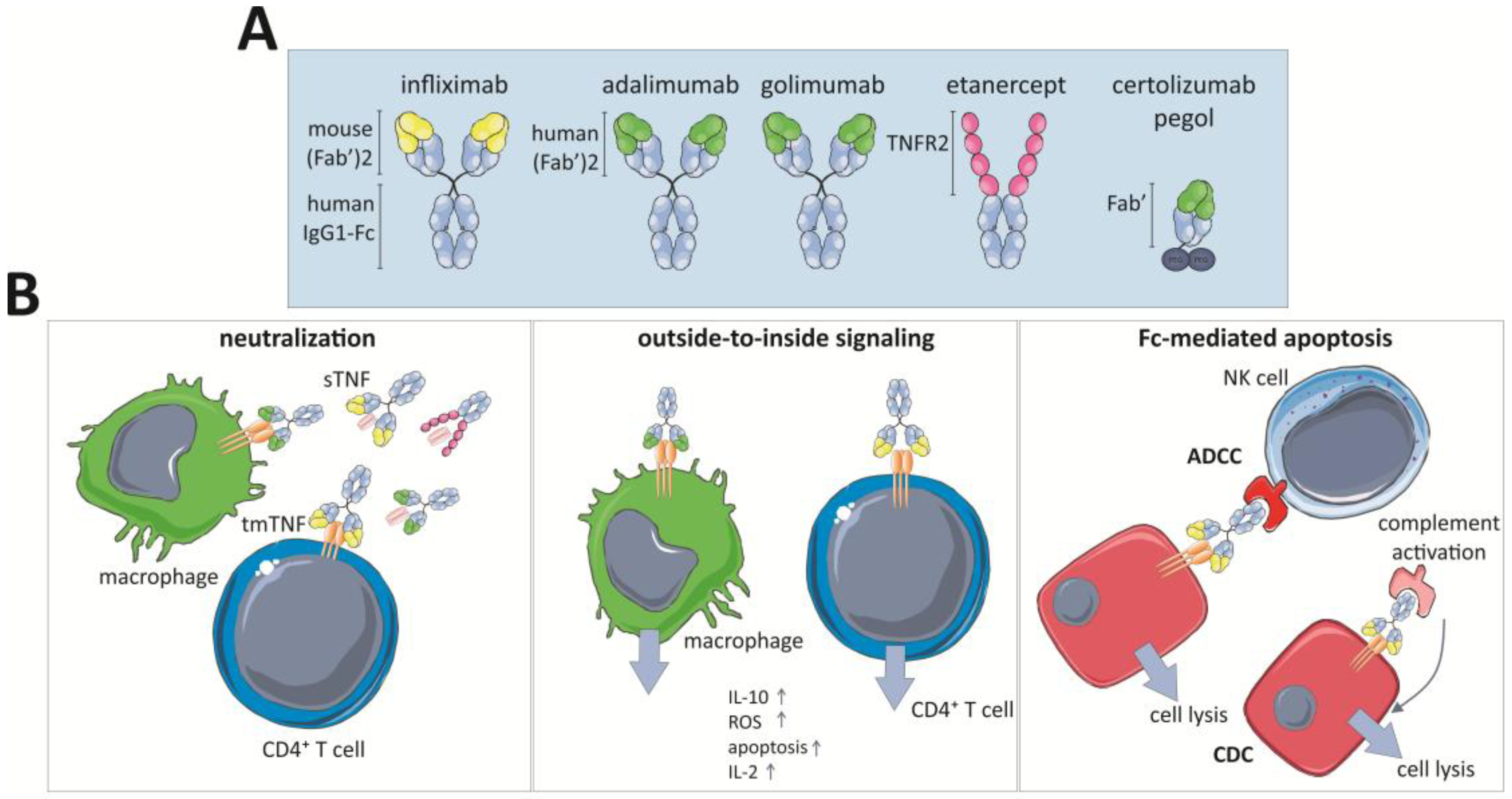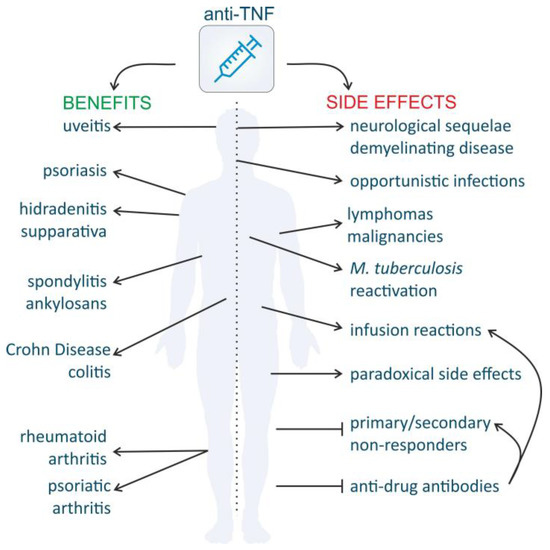 Figure 4. Beneficial and side effects of anti-TNF medication. In addition to the well-known beneficial effects in several autoimmune diseases, anti-TNF medication is associated with many side effects.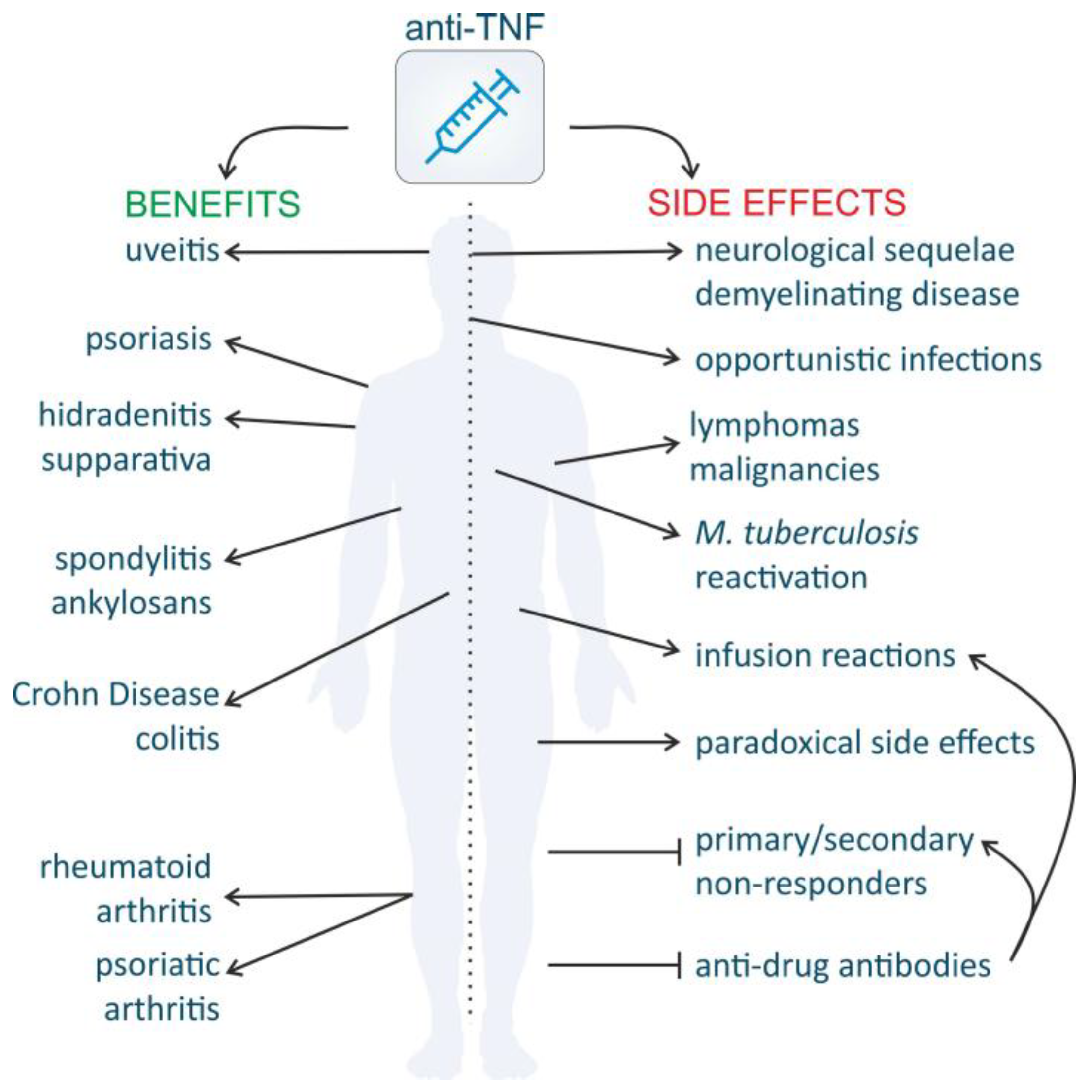 Model
In Vivo/In Vitro
Mechanism
References
Multiple Sclerosis
TNFR1/TNFR2−/−, TNFR1−/−, TNFR2−/− in EAE
In vivo
TNFR1−/− mice are resistant to disease development
[160,161,171]
TNFR2−/− mice display exacerbated disease progression
TNF−/− and TNFR1−/− mice in EAE
In vivo
TNF protects against EAE chronicity by inducing regression of myelin-reactive T cells, independent of TNFR1
[96]
TNF∆1–12 mice in EAE
In vivo
tmTNF protects against disease development
[162]
TNFR2−/− in EAE and bone-marrow transplantations
In vivo
TNFR2 on non-hematopoietic cells is required for Treg functioning
[181]
OLG-specific TNFR2 KOs (CNP-cre TNFR2fl/fl) in EAE
In vivo
OLG-TNFR2 drives OPC differentiation
[177]
CX3cr1-cre TNFR2fl/fl and LysM-cre TNFR2fl/fl in EAE
In vivo
TNFR2 ablation in microglia leads to early EAE onset
[173]
TNFR2 ablation in monocytes results in EAE suppression
TNFR1−/− that conditionally re-express TNFR1 in astrocytes in EAE (hGFAPcreT2/tnfr1cneo/cneo)
In vivo
Astrocyte TNFR1 mediates learning memory impairment
[172]
TNF−/−, TNFR1−/− and TNFR2−/− in CPZ model
In vivo
TNFR2 is critical for OLG proliferation and remyelination
[33]
TNFR2−/− in CPZ model
In vivo
Astrocyte TNFR2 mediates OPC proliferation and differentiation via CXCL12
[179]
CNS-overexpressing TNF mice in TNFR1 or TNFR2 KO background
In vivo
TNFR1 induces OLG apoptosis
[157]
Neuron or astrocyte-overexpressing tmTNF mice
In vivo
Astrocyte tmTNF but not neuron-specific TNF triggers CNS inflammation and neurodegeneration
[145]
TNFR1 inhibition in EAE
In vivo
Disease development is reduced
[169,170]
Nanobody-based TNFR1 inhibition in EAE
In vivo
Prophylactic and therapeutic administration prevents or stops disease development
[171]
sTNF inhibition in EAE
In vivo
Functional outcome is improved
[165]
sTNF inhibition in EAE and in astrocyte-neuron coculture
In vivo
tmTNF is neuroprotective via NF-κB
[164]
In vitro
sTNF inhibition protects against glucose deprivation
sTNF inhibition in CPZ model
In vivo
tmTNF is neuroprotective and is needed to maintain myelin sTNF inhibits remyelination and repair
[167]
Astrocytes-OPC co-culture
In vitro
Astrocyte TNFR2 promotes OLG maturation via LIF
[178]
Rat microglia and OLG
In vitro
tmTNF kills OLGs more efficiently than sTNF
[146]
Alzheimer's Disease
5xFAD/Tg197 mice
In vivo
Peripheral hTNF mediates reduced amyloidosis and more microglial and astrocytic activation, but also synaptic loss
[185]
TNFR1-overexpressing primary neurons and TNFR1−/− neurons
In vitro
TNFR1 mediates Aβ-induced neuronal death
[129]
APP/PS1 TNFR1−/− and icv AβO injection in TNFR1−/−
In vivo
TNFR1 mediates AD-mediated choroid plexus inflammation and TNFR1+/+ mice are protected against cognitive decline, microgliosis and amyloidosis
[186]
APP23 TNFR1−/−
In vivo
TNFR1 signaling enhances BACE1 activity and Aβ production. Absence of TNFR1 leads to less memory deficits, neuronal loss and microglia activation
[131]
APP23 TNFR2−/−
In vivo
Exacerbated AD pathology
[187]
Nanobody-based TNFR1 inhibition icv AβO injection
In vivo
TNFR1 inhibition prevents against cognitive decline
[186]
sTNF inhibition in 3×Tg-AD mice
In vivo
sTNF inhibition reduces APP accumulation in hippocampus and restores synaptic dysfunction
[188,189]
TNFR2 inhibition in SH-SY5Y cells
In vitro
Enhances Aβ toxicity
[190]
Neuronal TNFR2 knockdown in 3×Tg-AD mice
In vivo
Enhances Aβ and Tau-pathology
[191]
Transverse hippocampus slices of WT or TNFR1−/− mice
In vitro
TNF via TNFR1 is a critical mediator of the Aβ-induced inhibition of LTP
[192]
Parkinson's Disease
Double TNFR−/− mice in MPTP model
In vivo
Mice were protected against neurotoxicity, but hippocampal vulnerability increased
[193,194]
TNFR1−/−, TNFR2−/− mice in MPTP model
In vivo
Neither TNFR1 nor TNFR2 KO mice were protected against MPTP neurotoxicity
[195]
sTNF neutralization in 6-OHDA model
In vivo
Reduced nigral dopaminergic loss and microglia activation
[196,197,198]
Spinal Cord Injury and Traumatic Brain Injury
sTNF inhibition in SCI
In vivo
Protective
[163]
Double TNFR−/− mice subjected to TBI
In vivo
Bigger lesion volume and BBB impairment
[199]
TNFR1−/− and TNFR2−/− subjected to controlled cortical impact brain injury
In vivo
TNFR1 exacerbates cognitive functioning, TNFR2 attenuates it
[200]
TNFR1−/− and TNFR2−/− subjected to TBI
In vivo
TNFR1 exacerbates neurobehavioral deficits and tissue damage, TNFR2 is protective
[201]
Stroke, Ischemia and Oxidative Stress
Double TNFR−/− mice in stroke model
In vivo
More neuronal damage and less injury-induced microglial activation
[138]
TNFR1−/−, TNFR2−/− and double TNFR mice in focal cerebral ischemia/reperfusion
In vivo
TNFR1 limits neuronal damage and prevents hippocampal degeneration
[202]
TNFR1−/− and TNFR2−/− in model retinal ischemia
In vivo
TNFR1 augments neuronal death, TNFR2 promotes neuroprotection via PI3K-PKB/Akt pathway
[203]
TNFR2 agonist in LUHMES cells treated with H2O2
In vitro
TNFR2 promotes anti-apoptotic response via PI3K-PKB/Akt pathway
[168]
hTNFR2-expressing OLG + TNFR2 agonist treated with H2O2
In vitro
TNFR2 protects OPC against oxidative stress
[175]
Excitotoxicity and Seizures
TNFR2 agonism or TNFR1 inhibition in NMDA-induced neurodegeneration
In vivo
TNFR1 inhibition/TNFR2 agonism protects cholinergic neurons against cell death and reverts neurodegeneration-associated memory impairment
[174]
TNFR1−/− and TNFR2−/− mice on kainate seizures
In vivo
TNFR2 exerts anticonvulsant effects, TNFR1 mediates excitotoxicity
[204]
Primary cortical cells treated with glutamate
In vitro
TNFR2 protects neurons against excitotoxic insults via activation NMDA-receptor
[128]
Microiontophoretic administration of glutamate to TNFR1−/− or TNFR2−/− mice
In vitro
TNFR2 protects hippocampal neurons against excitotoxicity
[205]
Brain Inflammation
Hippocampal TNFR1−/− and TNFR2−/− neurons
In vitro
TNF vulnerability of TNFR2−/− hippocampal neurons is higher than of TNFR1−/− neurons
[130]
Cultured microglia
In vitro
TNFR2 upregulation after inflammatory stimuli and TNFR2-mediated induction of anti-inflammatory pathways
[182]
Neuropathic Pain and Hippocampal Neurogenesis
Healthy or diseased TNFR1−/− and TNFR2−/− mice
In vivo
TNFR1 is a suppressor of adult neurogenesis, absence of TNFR2 leads to reduced hippocampal neurodegeneration
[132,133,134,135]
TNFR1−/− and TNFR2−/− mice subjected to CCI
In vivo
TNFR1 induces a neuropathic-pain induced depression
[136]
Double TNFR mice and TNFR1 and TNFR2 inhibitors following CCI
In vivo
TNFR1 inhibition prolongs Wallerian degeneration and TNFR1 regulates macrophage influx
[206,207]
TNFR1 mediates thermal hyperalgesia
AβO: oligomerized amyloid beta; AD: Alzheimer's disease; APP/PS1: amyloid precursor protein/presenilin 1; BACE1: beta-secretase 1; CCI: chronic constriction injury; CNP: 2′,3′-cyclic nucleotide 3′-phosphodiesterase; CPZ: cuprizone; CXCR3: CXC motif chemokine receptor 3; EAE: experimental autoimmune encephalomyelitis; icv: intracerebroventricular; KO: knockout; LIF: leukemia inhibiting factor; LTP: long term potentiation; LUHMES: Lund human mesencephalic; LysM: lysin-motif; NMDA:

N

-methyl-

d

-aspartate; MPTP: 1-methyl-4-phenyl-1,2,3,6-tetrahydropyridine; OLG: oligodendrocytes; OPC: oligodendrocyte precursor cells; PI3K-PKB/Akt: phosphoinositide-3-kinase–protein kinase B/Akt; SCI: spinal cord injury; sTNF: soluble TNF; TBI: traumatic brain injury; Tg: transgenic; tmTNF: transmembrane TNF.
Current Approved Anti-TNF Biologics
Drug
Biosimilars
Structure
Approved Indication
Administration Route
Ref.
Infliximab
CT-P13; SB2
Chimeric mAb
RA, PA, psoriasis, AS, UC, CD, pediatric RA & CD
IV, every 8 weeks following loading at week 0, 2 and 6
[253,254,255,256]
Etanercept
GP2015; SB4
Fusion protein: human TNFR2:IgG1-Fc
RA, PA, psoriasis, AS, JIA
SC, every week or every two weeks
[256,257,258]
Adalimumab
ABP501; ZRC3197
Human IgG1 mAb
RA, PA, psoriasis, AS, JIA, CD, hidradenitis suppurativa, uveitis
SC, every two weeks
[256,259]
Certolizumab pegol
NA
Humanized PEGylated Fab' fragment of humanized iGG1
RA, PA, AS, CD (only in US and Switzerland)
SC, every two weeks
[260]
Golimumab
NA
Human IgG1 mAb
RA, PA, AS, ulcerative colitis
SC, monthly
[261]
Anti-TNF Biologics in the Pipeline or Discontinued
Drug
Biosimilar
Structure
Disease Indication
Clinical Phase/State
Ref.
Infliximab
BOW015; PF-06438179
Chimeric mAb
RA
Phase III/ongoing
[256]
Etanercept
CHS-0214; HD203
Fusion protein: human TNFR2:IgG1-Fc
RA, psoriasis
Phase III/ongoing
[256]
Adalimumab
BI695501; CHS-1420; GP-2017; M923; SB5; ZRC-3197; FKB327
Human IgG1 mAb
RA, psoriasis, AS
Phase I, II and III/ongoing
[256]
Golimumab
ONS-3035
Human IgG1 mAb
RA, PsA, AS, UC
Preclinical
SSS-07
NA
Humanized mAb
RA
Phase I
NCT02460393
AVX-470; Aveximab-TNF
NA
Polyclonal bovine anti-TNF Ab
UC, NEC
Phase I
[262,263], NCT01759056
CDP571
NA
Humanized IgG4 anti-human TNF mAb
CD
Phase II/discontinued
[264]
Ozoralizumab
NA
Trivalent, bispecific anti-TNF Nanobody
RA, discontinued for AS, CD and PsA
Phase IIa (Japan)/ongoing
[265]
VHH#1-3
NA
Bivalent Nanobody
RA
Preclinical
[266]
Onercept
NA
PEGylated dimeric soluble human TNFR1
CD, psoriasis, PsA, RA, sepsis, endometriosis
Phase II and III/discontinued
[267,268]
Lenercept
NA
Fusion protein: soluble TNFR1:IgG1-Fc
Severe sepsis, septic shock, RA and MS
Phase II/discontinued
[53,153]
Hitanercept (T0001)
NA
TNFR2-Fc fusion protein
RA
Phase I (China)
[269]
HL036
NA
TNFR1 fragment
Dry eye disease
Phase II
NCT03334539
CytoFab
NA
Polyclonal anti-TNF Fab fragment
Severe sepsis, septic shock
Phase II/discontinued
[270]
Pegsunercept
NA
PEGylated sTNFR1
RA
Phase II/discontinued
[271]
TNF-kinoid
NA
Vaccine to induce anti-TNF Ab, recombinant human TNF coupled to carrier protein KLH
CD, RA
Phase II/suspended
[272,273]
CYT007-TNFQb
NA
Vaccine to induce anti-TNF Ab, recombinant TNF coupled to virus-like particles of the bacteriophage Qbeta
Psoriasis
Phase I and II/discontinued
[274]
TfRMAb-TNFR
NA
Fusion protein: extracellular TNFR2 coupled to mAb against TfR
PD, AD, ischemic stroke
Preclinical
[223,242,275]
(m)Ab: (monoclonal) antibody; AD: Alzheimer's disease; AS: Ankylosing spondylitis; CD: Crohn's disease; Fab: fragment antigen binding; JIA: juvenile idiopathic arthritis; KLH: keyhole limpet hemocyanin; MS: multiple sclerosis; NEC: necrotizing enterocolitis; PEG: polyethylene glycol; PsA: psoriatic arthritis; PD: Parkinson's disease; RA: rheumatoid arthritis; TfR: Transferrin receptor; TNFR: TNF receptor; UC: ulcerative colitis; VHH: variable domain of heavy-chain only antibodies NA: non-applicable.

Table 3. Distinct functions of TNF produced by T cells and myeloid cells in several experimental mouse diseases.
Disease Model
Cellular Source of TNF
Ref.
Myeloid Cells
T Cells
T cell transfer colitis model
Pathogenic
Non-redundant
[390]
TNF∆ARE intestinal inflammation
Pathogenic
Pathogenic
[392]
TNF∆ARE joint inflammation
NA
Non-redundant
[85]

L. monocytogenes

infection
Protective
Protective
[400]

M. tuberculosis

infection
Dispensable 1
Protective
[40]
Systemic LPS/D-Gal hepatotoxicity
Pathogenic
Dispensable
[40]
Autoimmune arthritis
Pathogenic
Protective
[393]
EAE
Pathogenic during early phase
Protective and pathogenic
[147]
protective in late phase
ConA-hepatitis
Pathogenic
Pathogenic
[40]
Diabetic nephropathy
Pathogenic
ND
[389]
1 Mediates immune functions of cells at early stages of infections, but dispensable for protection. ConA: Concanavalin-A; EAE: Experimental autoimmune encephalomyelitis; ND: Not determined.

© 2018 by the authors. Licensee MDPI, Basel, Switzerland. This article is an open access article distributed under the terms and conditions of the Creative Commons Attribution (CC BY) license (http://creativecommons.org/licenses/by/4.0/).