Amino-Acid Network Clique Analysis of Protein Mutation Non-Additive Effects: A Case Study of Lysozyme
1
College of Biotechnology and Pharmaceutical Engineering, Nanjing Tech University, Biotech Building Room B1-404, 30 South Puzhu Road, Nanjing 211816, Jiangsu, China
2
College of Pharmaceutical Sciences, Nanjing Tech University, 30 Puzhu South Road, Nanjing 211816, Jiangsu, China
*
Authors to whom correspondence should be addressed.
Received: 14 February 2018 / Revised: 28 April 2018 / Accepted: 7 May 2018 / Published: 10 May 2018
Abstract
Optimizing amino-acid mutations in enzyme design has been a very challenging task in modern bio-industrial applications. It is well known that many successful designs often hinge on extensive correlations among mutations at different sites within the enzyme, however, the underpinning mechanism for these correlations is far from clear. Here, we present a topology-based model to quantitively characterize non-additive effects between mutations. The method is based on the molecular dynamic simulations and the amino-acid network clique analysis. It examines if the two mutation sites of a double-site mutation fall into to a 3-clique structure, and associates such topological property of mutational site spatial distribution with mutation additivity features. We analyzed 13 dual mutations of T4 phage lysozyme and found that the clique-based model successfully distinguishes highly correlated or non-additive double-site mutations from those additive ones whose component mutations have less correlation. We also applied the model to protein Eglin c whose structural topology is significantly different from that of T4 phage lysozyme, and found that the model can, to some extension, still identify non-additive mutations from additive ones. Our calculations showed that mutation non-additive effects may heavily depend on a structural topology relationship between mutation sites, which can be quantitatively determined using amino-acid network
k
-cliques. We also showed that double-site mutation correlations can be significantly altered by exerting a third mutation, indicating that more detailed physicochemical interactions should be considered along with the network clique-based model for better understanding of this elusive mutation-correlation principle.
View Full-Text
►

▼

Figures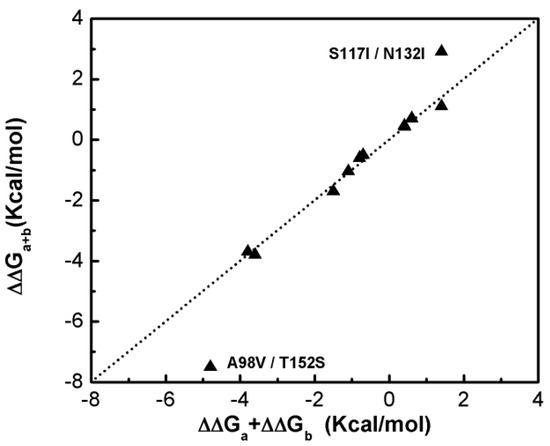 Figure 1
This is an open access article distributed under the
Creative Commons Attribution License
which permits unrestricted use, distribution, and reproduction in any medium, provided the original work is properly cited (CC BY 4.0).

Share & Cite This Article
MDPI and ACS Style
Ming, D.; Chen, R.; Huang, H. Amino-Acid Network Clique Analysis of Protein Mutation Non-Additive Effects: A Case Study of Lysozyme. Int. J. Mol. Sci. 2018, 19, 1427.
Note that from the first issue of 2016, MDPI journals use article numbers instead of page numbers. See further details here.
Related Articles
Comments
[Return to top]