Current Challenges in Plant Eco-Metabolomics
1
Leibniz Institute of Plant Biochemistry, Stress and Developmental Biology, Weinberg 3, 06120 Halle (Saale), Germany
2
German Centre for Integrative Biodiversity Research (iDiv) Halle-Jena-Leipzig, Deutscher Platz 5e, 04103 Leipzig, Germany
3
Institute of Biodiversity, Friedrich Schiller University Jena, Dornburger-Str. 159, 07743 Jena, Germany
4
UFZ—Helmholtz-Centre for Environmental Research, Department Environmental Microbiology, Permoserstraße 15, 04318 Leipzig, Germany
5
Applied Bioinformatics Group, Center for Bioinformatics, University of Tübingen, Sand 14, 72076 Tübingen, Germany
6
Leibniz Institute of Plant Biochemistry, Cell and Metabolic Biology, Weinberg 3, 06120 Halle (Saale), Germany
7
Institute of Analytical Chemistry, University of Leipzig, Linnéstr. 3, 04103 Leipzig, Germany
8
Institute of Biology/Geobotany and Botanical Garden, Martin Luther University Halle-Wittenberg, Am Kirchtor 1, 06108 Halle (Saale), Germany
9
Molecular Interaction Ecology, Institute for Water and Wetland Research (IWWR), Radboud University, Heyendaalseweg 135, 6525 AJ Nijmegen, The Netherlands
10
Department of Bioinformatics, Friedrich Schiller University Jena, Ernst-Abbe-Platz 2, 07743 Jena, Germany
11
Centre for Organismal Studies, Heidelberg University, Im Neuenheimer Feld 360, 69120 Heidelberg, Germany
12
Weizmann Institute of Science, Faculty of Biochemistry, Department of Plant Sciences, 234 Herzl St., P.O. Box 26, Rehovot 7610001, Israel
13
Institute of Biology, University of Leipzig, Talstraße 33, 04109 Leipzig, Germany
14
Chemical Ecology, Bielefeld University, Universitätsstr. 25, 33615 Bielefeld, Germany
15
Institute of Informatics, Martin Luther University Halle-Wittenberg, Von-Seckendorff-Platz 1, 06120 Halle (Saale), Germany
16
Institute of Inorganic and Analytical Chemistry, Friedrich Schiller University Jena, Lessingstr. 8, 07743 Jena, Germany
17
Group of Genetics, Breeding and Biochemistry of Brassica, Misión Biológica de Galicia (CSIC), Apartado 28, 36080 Pontevedra, Spain
18
Department of Molecular Ecology, Max Planck Institute for Chemical Ecology, Hans-Knöll-Straße 8, 07745 Jena, Germany
19
Research Group of Primate Kin Selection, Max Planck Institute for Evolutionary Anthropology, Deutscher Platz 6, 04103 Leipzig, Germany
*
Author to whom correspondence should be addressed.
Received: 28 February 2018 / Revised: 24 April 2018 / Accepted: 25 April 2018 / Published: 6 May 2018
Abstract
The relatively new research discipline of Eco-Metabolomics is the application of metabolomics techniques to ecology with the aim to characterise biochemical interactions of organisms across different spatial and temporal scales. Metabolomics is an untargeted biochemical approach to measure many thousands of metabolites in different species, including plants and animals. Changes in metabolite concentrations can provide mechanistic evidence for biochemical processes that are relevant at ecological scales. These include physiological, phenotypic and morphological responses of plants and communities to environmental changes and also interactions with other organisms. Traditionally, research in biochemistry and ecology comes from two different directions and is performed at distinct spatiotemporal scales. Biochemical studies most often focus on intrinsic processes in individuals at physiological and cellular scales. Generally, they take a bottom-up approach scaling up cellular processes from spatiotemporally fine to coarser scales. Ecological studies usually focus on extrinsic processes acting upon organisms at population and community scales and typically study top-down and bottom-up processes in combination. Eco-Metabolomics is a transdisciplinary research discipline that links biochemistry and ecology and connects the distinct spatiotemporal scales. In this review, we focus on approaches to study chemical and biochemical interactions of plants at various ecological levels, mainly plant–organismal interactions, and discuss related examples from other domains. We present recent developments and highlight advancements in Eco-Metabolomics over the last decade from various angles. We further address the five key challenges: (1) complex experimental designs and large variation of metabolite profiles; (2) feature extraction; (3) metabolite identification; (4) statistical analyses; and (5) bioinformatics software tools and workflows. The presented solutions to these challenges will advance connecting the distinct spatiotemporal scales and bridging biochemistry and ecology.
View Full-Text
►

▼

Figures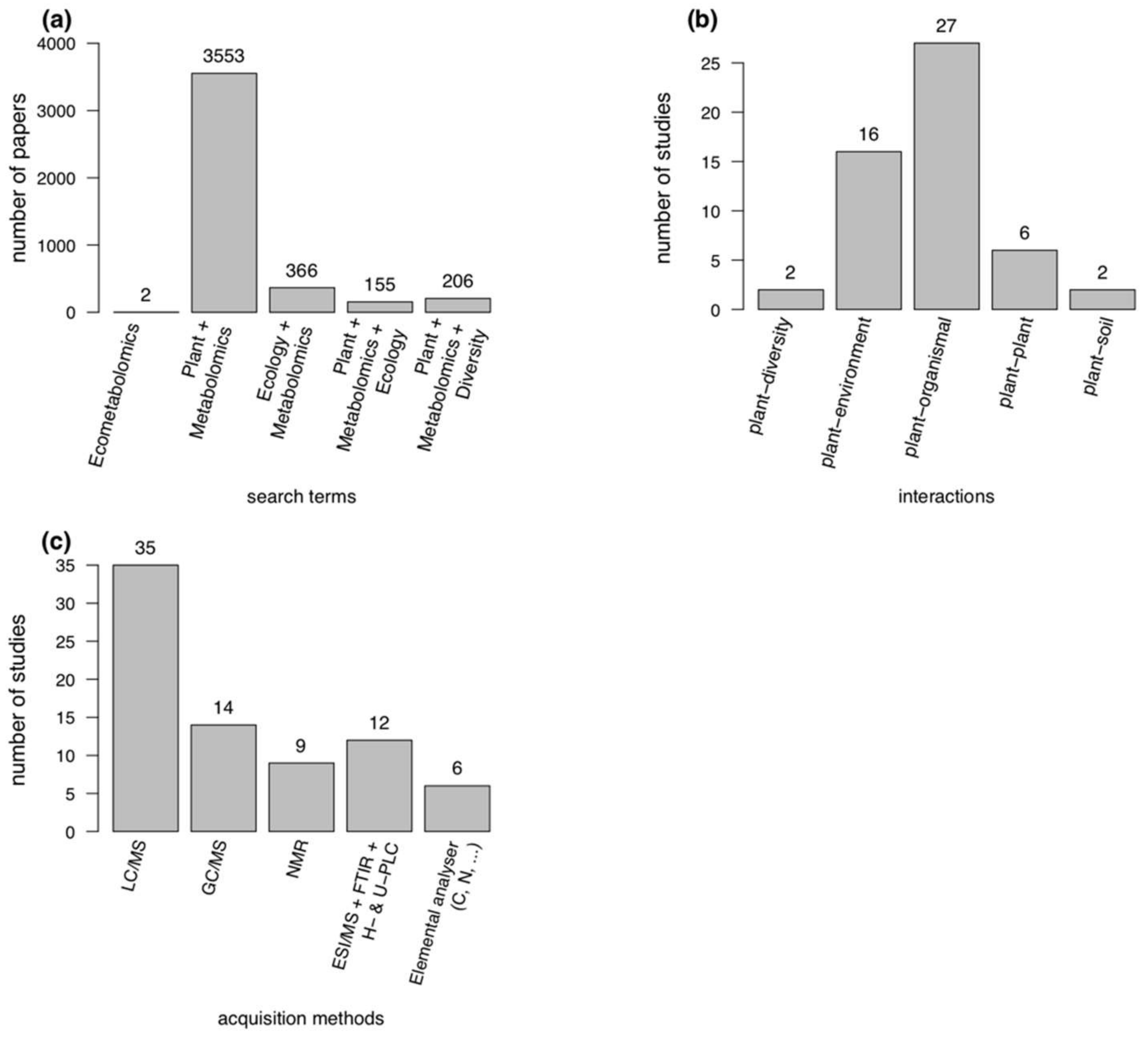 Figure 1
This is an open access article distributed under the
Creative Commons Attribution License
which permits unrestricted use, distribution, and reproduction in any medium, provided the original work is properly cited (CC BY 4.0).

Share & Cite This Article
MDPI and ACS Style
Peters, K.; Worrich, A.; Weinhold, A.; Alka, O.; Balcke, G.; Birkemeyer, C.; Bruelheide, H.; Calf, O.W.; Dietz, S.; Dührkop, K.; Gaquerel, E.; Heinig, U.; Kücklich, M.; Macel, M.; Müller, C.; Poeschl, Y.; Pohnert, G.; Ristok, C.; Rodríguez, V.M.; Ruttkies, C.; Schuman, M.; Schweiger, R.; Shahaf, N.; Steinbeck, C.; Tortosa, M.; Treutler, H.; Ueberschaar, N.; Velasco, P.; Weiß, B.M.; Widdig, A.; Neumann, S.; Dam, N.M. Current Challenges in Plant Eco-Metabolomics. Int. J. Mol. Sci. 2018, 19, 1385.
Note that from the first issue of 2016, MDPI journals use article numbers instead of page numbers. See further details here.
Related Articles
Comments
[Return to top]