cPKCγ-Modulated Sequential Reactivation of mTOR Inhibited Autophagic Flux in Neurons Exposed to Oxygen Glucose Deprivation/Reperfusion
Department of Neurobiology and Center of Stroke, Beijing Institute for Brain Disorders, Capital Medical University, Beijing 100069, China
*
Author to whom correspondence should be addressed.
Received: 26 March 2018 / Revised: 24 April 2018 / Accepted: 3 May 2018 / Published: 6 May 2018
Abstract
We have reported that conventional protein kinase Cγ (cPKCγ)-modulated neuron-specific autophagy improved the neurological outcome of mice following ischemic stroke through the Akt-mechanistic target of rapamycin (mTOR) pathway. However, its detailed molecular mechanism remains unclear. In this study, primary cortical neurons from postnatal one-day-old C57BL/6J
cPKCγ
wild-type (
cPKCγ
+/+
) and knockout (
cPKCγ
−/−
) mice suffering oxygen glucose deprivation/reperfusion (OGD/R) were used to simulate ischemia/reperfusion injury in vitro. A block of autophagic flux was observed in
cPKCγ
+/+
neurons under OGD/R exposure, characterized by accumulation of p62. Immunofluorescent results showed a decrease in colocalization between LC3 and Atg14 or Stx17 in cPKCγ
+/+
neurons when compared with
cPKCγ
−/−
neurons after OGD/R. However, the colocalization between LC3 and Lamp2 was barely decreased, indicating the presence of autolysosomes. The larger lysotracker-positive structures were also significantly increased. These results suggest that cPKCγ-induced inhibition of autophagy occurred at the stages of autophagosome formation, Stx17 anchoring, and the degradation of autolysosomes in particular. In addition, cPKCγ-modulated phosphorylation of mTOR at Ser 2481 was dependent on the site of Ser 2448, which may have blocked autophagic flux. cPKCγ-modulated sequential reactivation of mTOR inhibited autophagic flux in neurons exposed to OGD/R, which may provide endogenous interventional strategies for stroke, especially ischemia/reperfusion injury.
View Full-Text
►

▼

Figures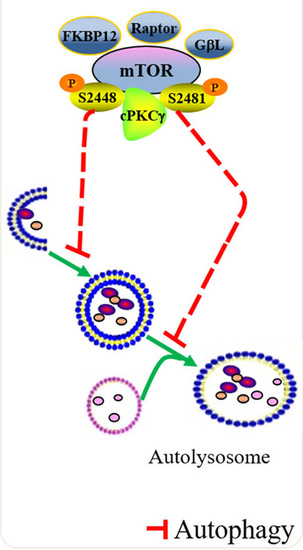 Graphical abstract
This is an open access article distributed under the
Creative Commons Attribution License
which permits unrestricted use, distribution, and reproduction in any medium, provided the original work is properly cited (CC BY 4.0).

Share & Cite This Article
MDPI and ACS Style
Hua, R.; Han, S.; Zhang, N.; Dai, Q.; Liu, T.; Li, J. cPKCγ-Modulated Sequential Reactivation of mTOR Inhibited Autophagic Flux in Neurons Exposed to Oxygen Glucose Deprivation/Reperfusion. Int. J. Mol. Sci. 2018, 19, 1380.
Note that from the first issue of 2016, MDPI journals use article numbers instead of page numbers. See further details here.
Related Articles
Comments
[Return to top]