Estrogen and/or Estrogen Receptor α Inhibits BNIP3-Induced Apoptosis and Autophagy in H9c2 Cardiomyoblast Cells
1
School of Post-Baccalaureate Chinese Medicine, China Medical University, Taichung 404, Taiwan
2
Graduate Institute of Basic Medical Science, China Medical University, Taichung 404, Taiwan
3
Department of Health and Nutrition Biotechnology, Asia University, Taichung 404, Taiwan
4
School of Chinese Medicine, China Medical University, Taichung 413, Taiwan
5
Department of Nursing, MeiHo University, Pingtung 912, Taiwan
6
Department of Pathology, Changhua Christian Hospital, Changhua 500, Taiwan
7
Department of Medical Technology, Jen-Teh Junior College of Medicine, Nursing and Management College, Taipei 11260, Taiwan
8
Department of Biotechnology, Bharathiar University, Coimbatore 641 046, India
9
Graduate Institute of Clinical Medical Science, China Medical University, Taichung 404, Taiwan
10
Division of Cardiology, China Medical University Hospital, Taichung 404, Taiwan
11
Department of Biological Science and Technology, Asia University, Taichung 404, Taiwan
*
Author to whom correspondence should be addressed.
†
These authors contributed equally to this work.
Received: 23 February 2018 / Revised: 15 April 2018 / Accepted: 23 April 2018 / Published: 26 April 2018
Abstract
The process of autophagy in heart cells maintains homeostasis during cellular stress such as hypoxia by removing aggregated proteins and damaged organelles and thereby protects the heart during the times of starvation and ischemia. However, autophagy can lead to substantial cell death under certain circumstances. BCL2/adenovirus E1B 19 kDa protein-interacting protein 3 (BNIP3), a hypoxia-induced marker, has been shown to induce both autophagy and apoptosis. A BNIP3-docked organelle, e.g., mitochondria, also determines whether autophagy or apoptosis will take place. Estrogen (E2) and estrogen receptor (ER) alpha (ERα) have been shown to protect the heart against mitochondria-dependent apoptosis. The aim of the present study is to investigate the mechanisms by which ERα regulates BNIP3-induced apoptosis and autophagy, which is associated with hypoxic injury, in cardiomyoblast cells. An in vitro model to mimic hypoxic injury in the heart by engineering H9c2 cardiomyoblast cells to overexpress BNIP3 was established. Further, the effects of E2 and ERα in BNIP3-induced apoptosis and autophagy were determined in BNIP3 expressing H9c2 cells. Results from TUNEL assay and Immunoflourecense assay for LC3 puncta formation, respectively, revealed that ERα/E2 suppresses BNIP3-induced apoptosis and autophagy. The Western blot analysis showed ERα/E2 decreases the protein levels of caspase 3 (apoptotic marker), Atg5, and LC3-II (autophagic markers). Co-immunoprecipitation of BNIP3 and immunoblotting of Bcl-2 and Rheb showed that ERα reduced the interaction between BNIP3 and Bcl-2 or Rheb. The results confirm that ERα binds to BNIP3 causing a reduction in the levels of functional BNIP3 and thereby inhibits cellular apoptosis and autophagy. In addition, ERα attenuated the activity of the BNIP3 promoter by binding to SP-1 or NFκB sites.
View Full-Text
►

▼

Figures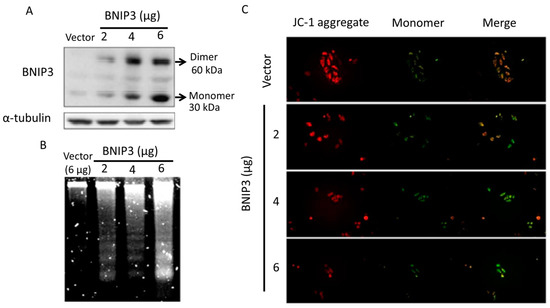 Figure 1
This is an open access article distributed under the
Creative Commons Attribution License
which permits unrestricted use, distribution, and reproduction in any medium, provided the original work is properly cited (CC BY 4.0).

Share & Cite This Article
MDPI and ACS Style
Chen, B.-C.; Weng, Y.-J.; Shibu, M.A.; Han, C.-K.; Chen, Y.-S.; Shen, C.-Y.; Lin, Y.-M.; Viswanadha, V.P.; Liang, H.-Y.; Huang, C.-Y. Estrogen and/or Estrogen Receptor α Inhibits BNIP3-Induced Apoptosis and Autophagy in H9c2 Cardiomyoblast Cells. Int. J. Mol. Sci. 2018, 19, 1298.
Note that from the first issue of 2016, MDPI journals use article numbers instead of page numbers. See further details here.
Related Articles
Comments
[Return to top]