Open Access This article is
freely available
re-usable
Review
Atomic Force Microscopy Based Tip-Enhanced Raman Spectroscopy in Biology
1
Institute of Photo-biophysics, School of Physics and Electronics, Henan University, Kaifeng 475004, China
2
Laboratory of Functional Molecules and Materials, School of Physics and Optoelectronic Engineering, Shandong University of Technology, Xincun West Road 266, Zibo 255000, China
*
Author to whom correspondence should be addressed.
Received: 30 March 2018 / Accepted: 10 April 2018 / Published: 13 April 2018
Abstract
:
Most biological phenomena occur at the nanometer scale, which is not accessible by the conventional optical techniques because of the optical diffraction limitation. Tip-enhanced Raman spectroscopy (TERS), one of the burgeoning probing techniques, not only can provide the topography characterization with high resolution, but also can deliver the chemical or molecular information of a sample beyond the optical diffraction limitation. Therefore, it has been widely used in various structural analyses pertaining to materials science, tissue engineering, biological processes and so on. Based on the different feedback mechanisms, TERS can be classified into three types: atomic force microscopy based TERS system (AFM-TERS), scanning tunneling microscopy based TERS system (STM-TERS) and shear force microscopy based TERS system (SFM-TERS). Among them, AFM-TERS is the most widely adopted feedback system by live biosamples because it can work in liquid and this allows the investigation of biological molecules under native conditions. In this review, we mainly focus on the applications of AFM-TERS in three biological systems: nucleic acids, proteins and pathogens. From the TERS characterization to the data analysis, this review demonstrates that AFM-TERS has great potential applications to visually characterizing the biomolecular structure and crucially detecting more nano-chemical information of biological systems.
Keywords:
atomic force microscopy based TERS (AFM-TERS); optical diffraction limitation; proteins; nucleic acids; pathogens
Acknowledgments
The research was supported by the National Natural Science Foundation of China under Contract No. 11605040, Natural Science Foundation of Henan Province under Contract No. 162300410011, International Cooperation Project of Henan Science and Technology Department under Contract No. 172102410040, Scientific Research Key Project Foundation of the Education Department of Henan Provience (No. 18A140001).
Conflicts of Interest
The authors declare no conflict of interest.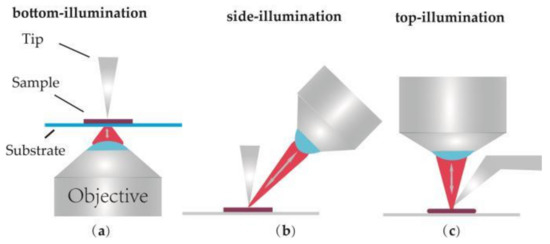 Figure 1. Illustration of commonly used illumination and detection geometries for Tip-enhanced Raman spectroscopy (TERS). (a) Bottom-illumination, (b) Side-illumination, (c) Top-illumination.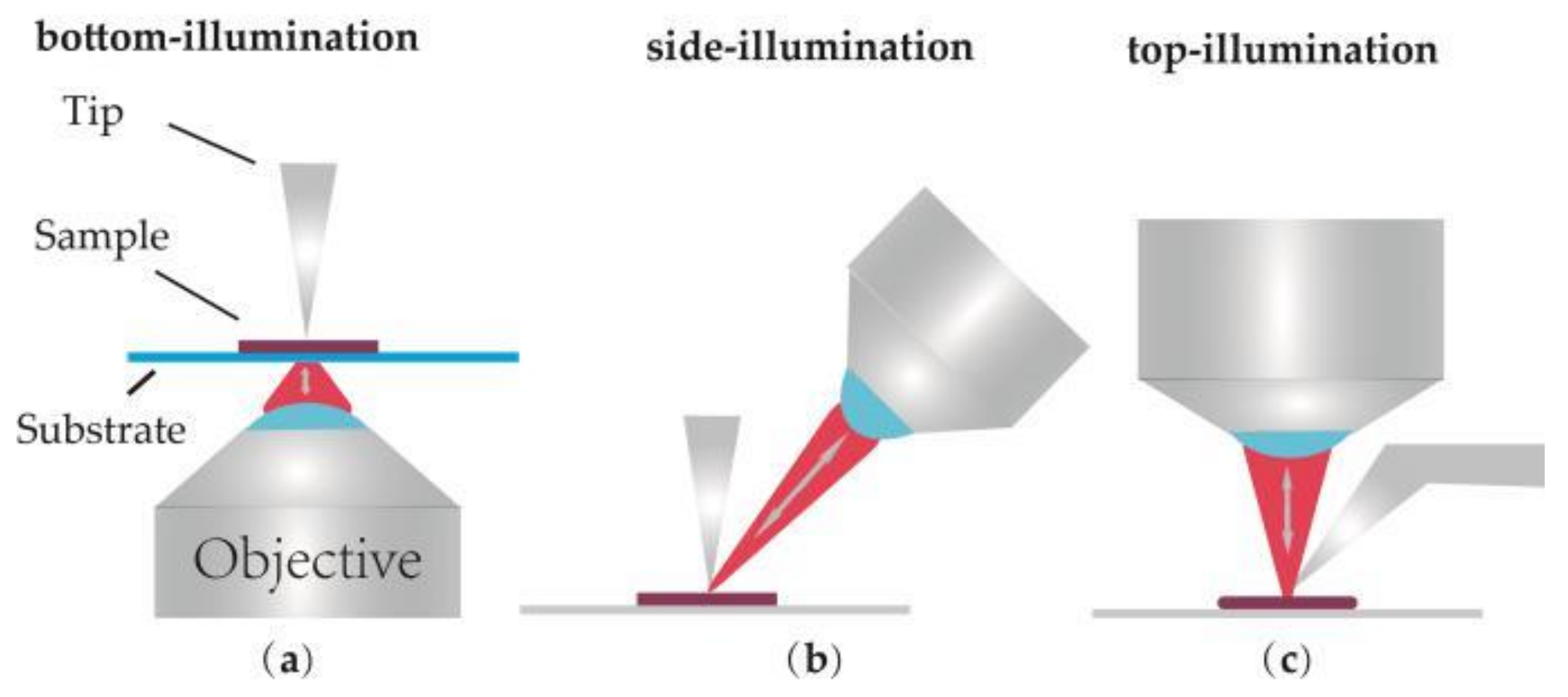 Figure 2. Schematic diagrams of the different scanning probe microscopy (SPM) feedback systems used in TERS. (a) atomic force microscopy (AFM) feedback system, (b) scanning tunneling microscopy (STM) feedback system, (c) shear force microscopy (SFM) feedback system.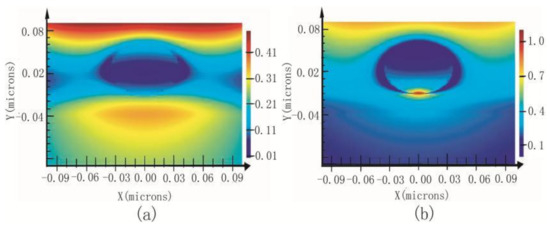 Figure 3. Electromagnetic field between 70 nm gold nanoparticles and different substrates; (a) silicon, (b) Au.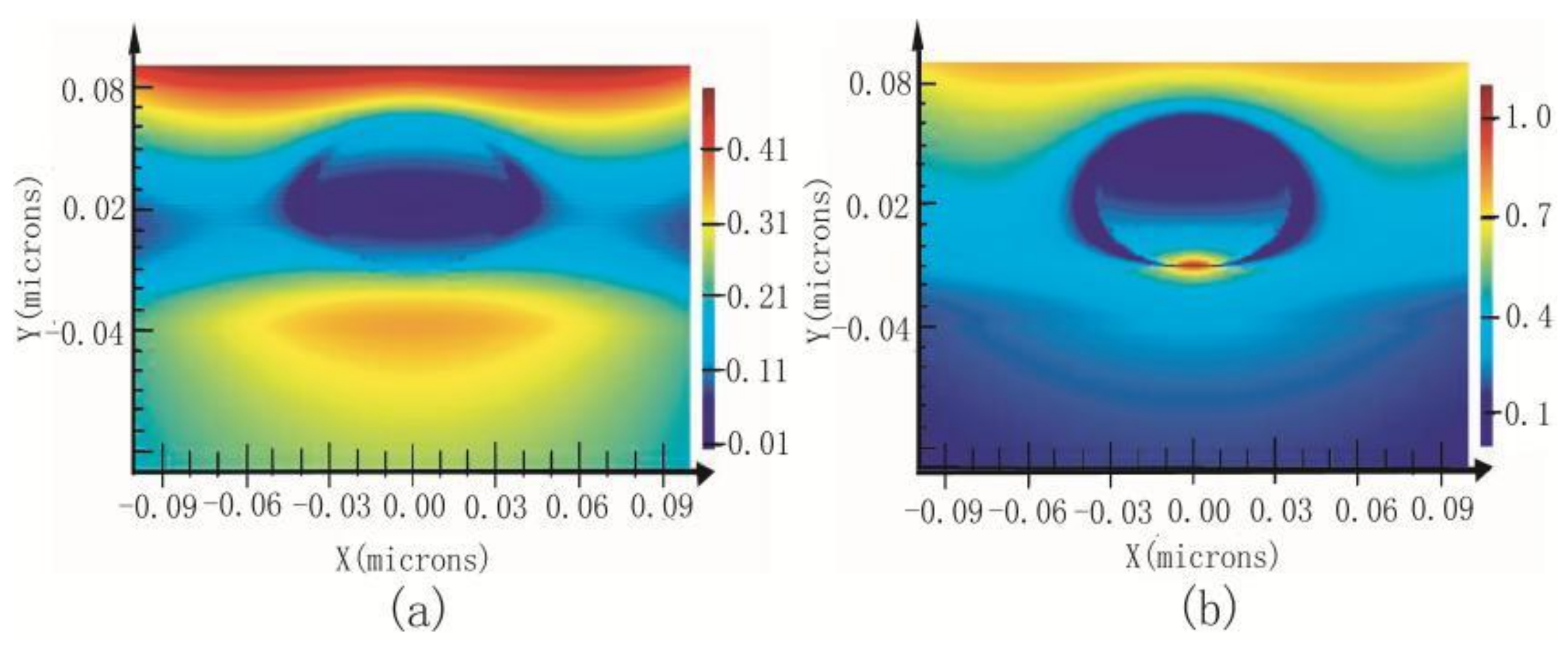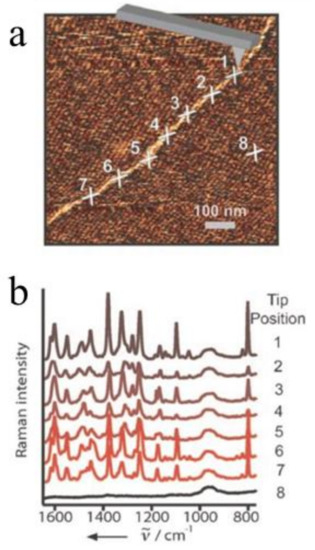 Figure 4.
TERS experiment along an RNA strand. (
a
) Topography image (same as in
Figure 2
a) showing seven adjacent spots corresponding to the positions of the TERS experiments and one additional spot for the reference measurement (position 8); (
b
) The Ramans pectra of positions in (
a
). Reprinted with permission from ref. [
44
]. Copyright 2008, Wiley-VCH Verlag GmbH & Co. KGaA, Weinheim, Germany.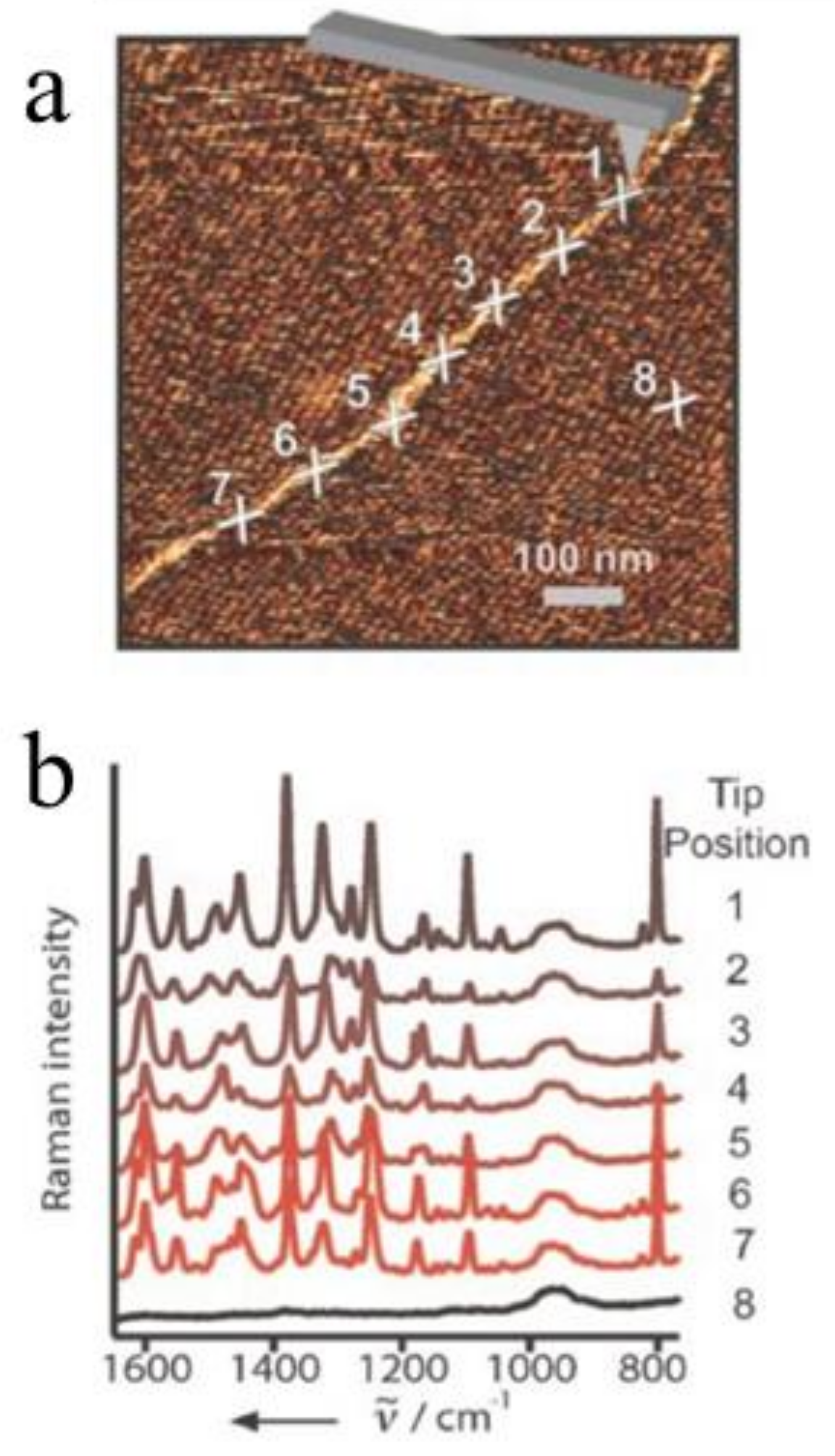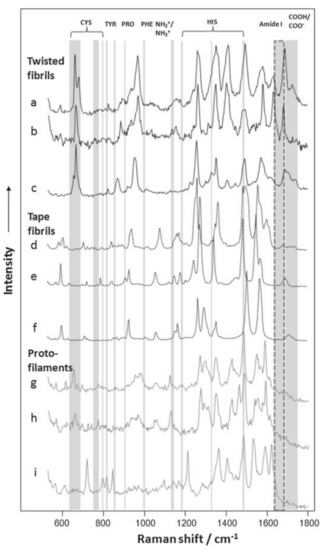 Figure 5.
Selected TERS spectra acquired from the surfaces of insulin fibril polymorphs and their protofilaments. TERS spectra collected from the surfaces of twisted are shown in a–c and d–f are the Raman signals of flat fibrils, g–i are the TERS spectra collected from the surfaces of their protofilaments. Specific amino acid vibrational modes are marked with gray lines. Amide I bands are marked with dashed lines, showing the borders between protein secondary structures. NH2/NH3 (1144 cm
−1
) and COOH/COO—(1687–1700 cm
−1
) vibrational modes are also indicated. Reprinted with permission from ref. [
25
]. Copyright 2014, the Biophysical Society.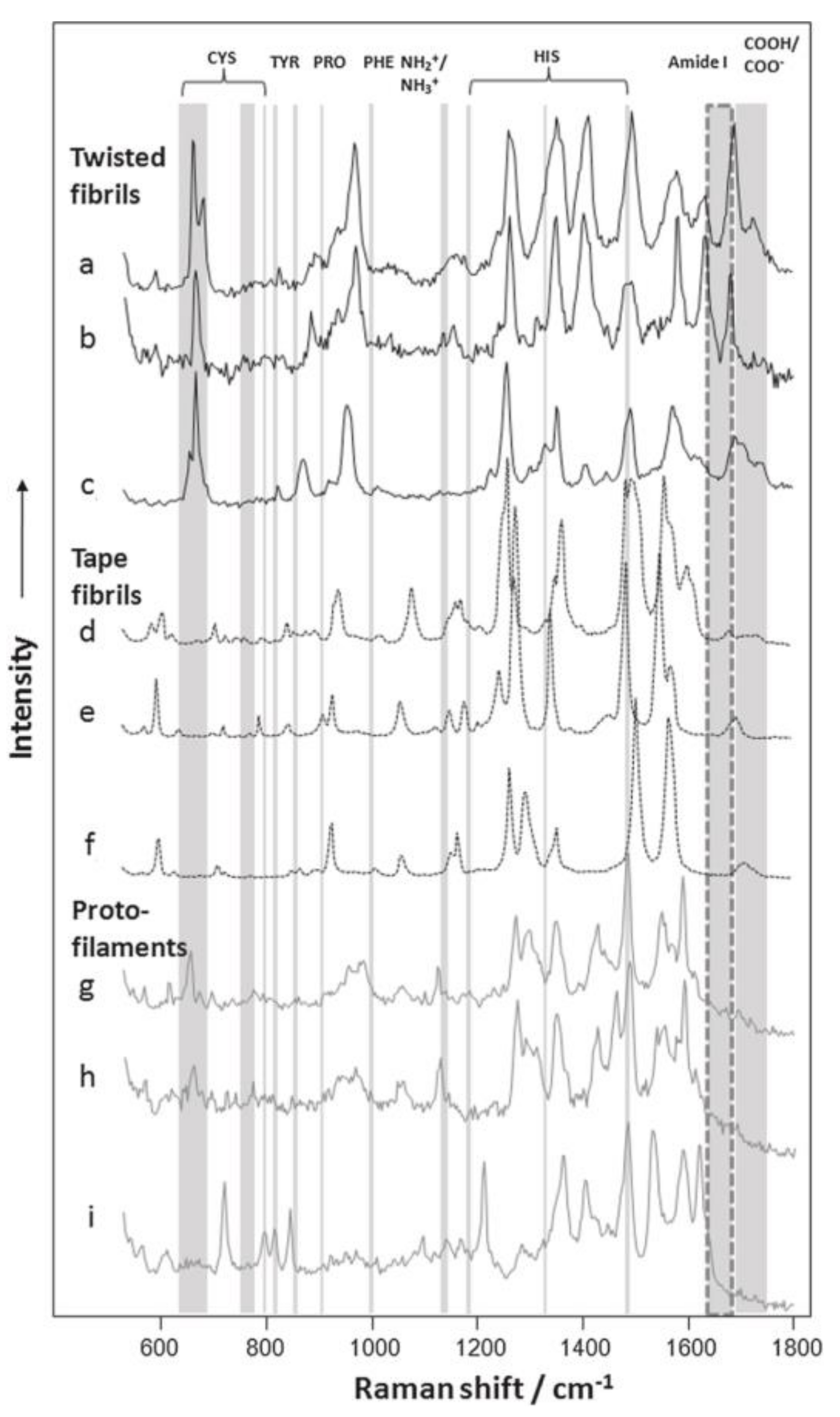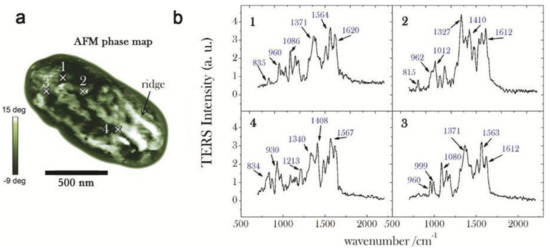 Figure 6.
(
a
) AFM phase map of a whole spore acquired in tapping mode (scale bar = 500 nm, step-size = 20 nm): bright (dark) zones correspond to a positive (negative) phase-lag, namely to regions of higher (lower) stiffness; (
b
) Near-field (normalized) TERS spectra acquired in four selected positions over the spore coat, corresponding to the cross-marks in (
a
): in order to emphasize the relevant Raman features, background signal is identified by a fourth-order polynomial fitting routine and consequently subtracted; reprinted with permission from reference [
99
]; Copyright 2014 American Chemical Society.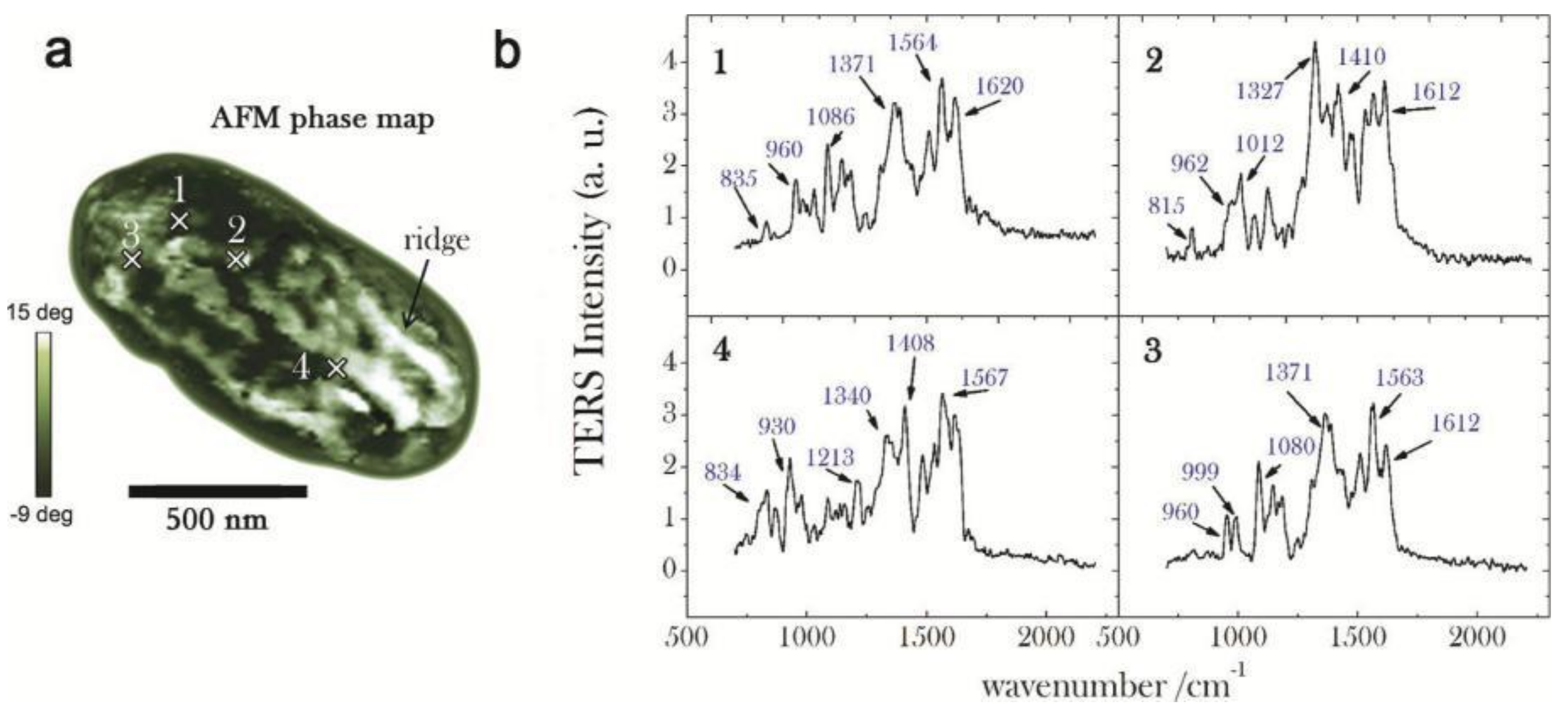 | Optical Geometries | Bottom-Illumination | Side-Illumination | Top-Illumination |
| --- | --- | --- | --- |
| Advantage | Efficient enhancement | Wide application | Wide application |
| Disadvantage | Only for transparent simple | Signal loss | top visual cantilevers should be used |
| Feedback System | AFM-TERS | STM-TERS | SFM-TERS |
| --- | --- | --- | --- |
| controller | Atomic force | tunneling current | Shear force |
| Tip material | silicon or silicon nitride tip covered with metal | metal | metal |
| optical geometries | reflection mode and transmission mode | reflection mode | reflection mode and transmission mode |
| substrate | all kinds of substrates [39,40,41,42,43,44,45,46] | conductive or semi-conductive substrates | all kinds of substrates |
| environment | Gas [39,40,41,42,43,44,45,46], liquid [49,50,51] | gas, liquid(special) [53,54,55,56], high-vacuum, low-temperature [52] | gas |

Table 3. The structure of the nucleic acid, protein and pathogen and their border of AFM-TERS had been detected by TERS techniques.
| Biomolecule | Nucleic Acid | Protein | Pathogen |
| --- | --- | --- | --- |
| Structure | A single- or double-stranded structure consisted of five nucleotides | Three-dimensional structure consisted of one or more long chains of amino acid residues | RNAs and Proteins |
| AFM-TERS test | direct-sequencing; DNA hybridization; DNA double strand breaks [19,44,82,83,84,85,86,87,88,89] | Conformal changes and amino acid distributions [25,90,91,92,93,94,95,96] | Peptides and polysaccharides [43,98,99] |

© 2018 by the authors. Licensee MDPI, Basel, Switzerland. This article is an open access article distributed under the terms and conditions of the Creative Commons Attribution (CC BY) license (http://creativecommons.org/licenses/by/4.0/).