β-Nicotinamide Adenine Dinucleotide (β-NAD) Inhibits ATP-Dependent IL-1β Release from Human Monocytic Cells
1
Laboratory of Experimental Surgery, Department of General and Thoracic Surgery, Justus-Liebig-University Giessen, German Centre for Lung Research (DZL), Feulgen-Str. 10-12, D-35385 Giessen, Germany
2
Institute of Anatomy and Cell Biology, Justus-Liebig-University Giessen, German Centre for Lung Research (DZL), Aulweg 123, D-35385 Giessen, Germany
3
Department of Animal Physiology and Molecular Biomedicine, Justus-Liebig-University Giessen, Heinrich-Buff-Ring 38, D-35392 Giessen, Germany
4
Institute of Pharmacology and Toxicology, RWTH Aachen University, Wendlingweg 2, D-52072 Aachen, Germany
5
Department of Biology, University of Utah, 257 South 1400 East, Salt Lake City, UT 84112, USA
6
George E. Wahlen Veterans Affairs Medical Center, 500 Foothill Drive, Salt Lake City, Salt Lake City, UT 84148, USA
7
Department of Psychiatry, University of Utah, 501 Chipeta Way, Salt Lake City, UT 84108, USA
*
Author to whom correspondence should be addressed.
†
These authors contributed equally to this work.
Received: 27 February 2018 / Revised: 29 March 2018 / Accepted: 5 April 2018 / Published: 10 April 2018
Abstract
While interleukin-1β (IL-1β) is a potent pro-inflammatory cytokine essential for host defense, high systemic levels cause life-threatening inflammatory syndromes. ATP, a stimulus of IL-1β maturation, is released from damaged cells along with β-nicotinamide adenine dinucleotide (β-NAD). Here, we tested the hypothesis that β-NAD controls ATP-signaling and, hence, IL-1β release. Lipopolysaccharide-primed monocytic U937 cells and primary human mononuclear leukocytes were stimulated with 2′(3′)-
O
-(4-benzoyl-benzoyl)ATP trieethylammonium salt (BzATP), a P2X7 receptor agonist, in the presence or absence of β-NAD. IL-1β was measured in cell culture supernatants. The roles of P2Y receptors, nicotinic acetylcholine receptors (nAChRs), and Ca
2+
-independent phospholipase A2 (iPLA2β, PLA2G6) were investigated using specific inhibitors and gene-silencing. Exogenous β-NAD signaled via P2Y receptors and dose-dependently (IC
50
= 15 µM) suppressed the BzATP-induced IL-1β release. Signaling involved iPLA2β, release of a soluble mediator, and nAChR subunit α9. Patch-clamp experiments revealed that β-NAD inhibited BzATP-induced ion currents. In conclusion, we describe a novel triple membrane-passing signaling cascade triggered by extracellular β-NAD that suppresses ATP-induced release of IL-1β by monocytic cells. This cascade links activation of P2Y receptors to non-canonical metabotropic functions of nAChRs that inhibit P2X7 receptor function. The biomedical relevance of this mechanism might be the control of trauma-associated systemic inflammation.
View Full-Text
►

▼

Figures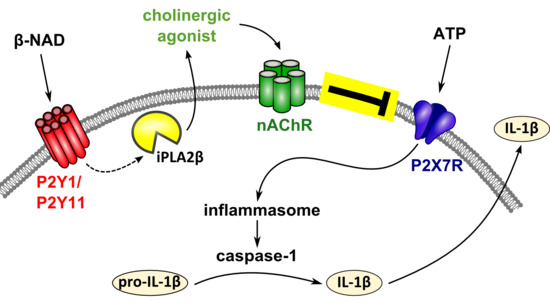 Graphical abstract
This is an open access article distributed under the
Creative Commons Attribution License
which permits unrestricted use, distribution, and reproduction in any medium, provided the original work is properly cited (CC BY 4.0).

Share & Cite This Article
MDPI and ACS Style
Hiller, S.D.; Heldmann, S.; Richter, K.; Jurastow, I.; Küllmar, M.; Hecker, A.; Wilker, S.; Fuchs-Moll, G.; Manzini, I.; Schmalzing, G.; Kummer, W.; Padberg, W.; McIntosh, J.M.; Damm, J.; Zakrzewicz, A.; Grau, V. β-Nicotinamide Adenine Dinucleotide (β-NAD) Inhibits ATP-Dependent IL-1β Release from Human Monocytic Cells. Int. J. Mol. Sci. 2018, 19, 1126.
Note that from the first issue of 2016, MDPI journals use article numbers instead of page numbers. See further details here.
Related Articles
Comments
[Return to top]