The Combinational Use of CRISPR/Cas9 and Targeted Toxin Technology Enables Efficient Isolation of Bi-Allelic Knockout Non-Human Mammalian Clones
1
Animal Genome Research Unit, Division of Animal Science, National Institute of Agrobiological Sciences, Ibaraki 305-8602, Japan
2
Basic Research Division for Next-Generation Disease Models and Fundamental Technology, Research Center for Next Generation Medicine, Shinshu University, Nagano 390-8621, Japan
3
Division of Biomedical Engineering, National Defense Medical College Research Institute, Saitama 359-8513, Japan
4
Laboratory of Animal Reproduction, Faculty of Agriculture, Kagoshima University, Kagoshima 890-8544, Japan
5
Section of Gene Expression Regulation, Frontier Science Research Center, Kagoshima University, Kagoshima 890-8544, Japan
*
Author to whom correspondence should be addressed.
Received: 23 February 2018 / Revised: 29 March 2018 / Accepted: 30 March 2018 / Published: 4 April 2018
Abstract
Recent advances in genome editing systems such as clustered regularly interspaced short palindromic repeats/CRISPR-associated protein-9 nuclease (CRISPR/Cas9) have facilitated genomic modification in mammalian cells. However, most systems employ transient treatment with selective drugs such as puromycin to obtain the desired genome-edited cells, which often allows some untransfected cells to survive and decreases the efficiency of generating genome-edited cells. Here, we developed a novel targeted toxin-based drug-free selection system for the enrichment of genome-edited cells. Cells were transfected with three expression vectors, each of which carries a guide RNA (gRNA), humanized Cas9 (
hCas9
) gene, or
Clostridium perfringens
-derived endo-β-galactosidase C (
EndoGalC
) gene. Once EndoGalC is expressed in a cell, it digests the cell-surface α-Gal epitope, which is specifically recognized by BS-I-B
4
lectin (IB4). Three days after transfection, these cells were treated with cytotoxin saporin-conjugated IB4 (IB4SAP) for 30 min at 37 °C prior to cultivation in a normal medium. Untransfected cells and those weakly expressing EndoGalC will die due to the internalization of saporin. Cells transiently expressing EndoGalC strongly survive, and some of these surviving clones are expected to be genome-edited bi-allelic knockout (KO) clones due to their strong co-expression of gRNA and
hCas9.
When porcine α-1,3-galactosyltransferase gene, which can synthesize the α-Gal epitope, was attempted to be knocked out, 16.7% and 36.7% of the surviving clones were bi-allelic and mono-allelic knockout (KO) cells, respectively, which was in contrast to the isolation of clones in the absence of IB4SAP treatment. Namely, 0% and 13.3% of the resulting clones were bi-allelic and mono-allelic KO cells, respectively. A similar tendency was seen when other target genes such as DiGeorge syndrome critical region gene 2 and transforming growth factor-β receptor type 1 gene were targeted to be knocked out. Our results indicate that a combination of the CRISPR/Cas9 system and targeted toxin technology using IB4SAP allows efficient enrichment of genome-edited clones, particularly bi-allelic KO clones.
View Full-Text
►

▼

Figures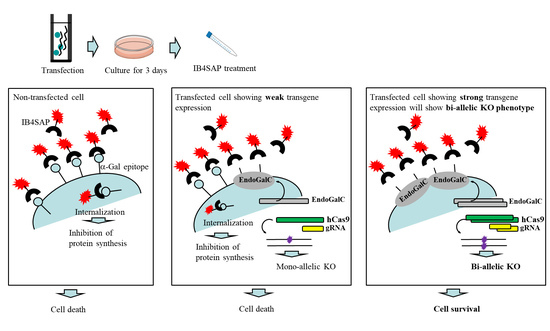 Graphical abstract
This is an open access article distributed under the
Creative Commons Attribution License
which permits unrestricted use, distribution, and reproduction in any medium, provided the original work is properly cited (CC BY 4.0).

Share & Cite This Article
MDPI and ACS Style
Watanabe, S.; Sakurai, T.; Nakamura, S.; Miyoshi, K.; Sato, M. The Combinational Use of CRISPR/Cas9 and Targeted Toxin Technology Enables Efficient Isolation of Bi-Allelic Knockout Non-Human Mammalian Clones. Int. J. Mol. Sci. 2018, 19, 1075.
Note that from the first issue of 2016, MDPI journals use article numbers instead of page numbers. See further details here.
Related Articles
Comments
[Return to top]