Open Access This article is
freely available
re-usable
Review
p53 as a Dichotomous Regulator of Liver Disease: The Dose Makes the Medicine
1
Gottfried Schatz Research Center for Cell Signaling, Metabolism & Aging, Medical University of Graz, 8010 Graz, Austria
2
Department of Adipocyte Development and Nutrition, German Institute of Human Nutrition, Potsdam-Rehhbrücke, 14558 Nuthetal, Germany
3
German Center for Diabetes Research (DZD), 85764 München-Neuherberg, Germany
4
Institute of Nutritional Science, University of Potsdam, 14558 Nuthetal, Germany
5
Charité—Universitätsmedizin Berlin, Corporate Member of Freie Universität Berlin, Humboldt-Universität zu Berlin, and Berlin Institute of Health, Institute of Pharmacology, Center for Cardiovascular Research, 10117 Berlin, Germany
6
BioTechMed-Graz, 8010 Graz, Austria
*
Author to whom correspondence should be addressed.
Received: 7 February 2018 / Accepted: 17 March 2018 / Published: 20 March 2018
Abstract
:
Lifestyle-related disorders, such as the metabolic syndrome, have become a primary risk factor for the development of liver pathologies that can progress from hepatic steatosis, hepatic insulin resistance, steatohepatitis, fibrosis and cirrhosis, to the most severe condition of hepatocellular carcinoma (HCC). While the prevalence of liver pathologies is steadily increasing in modern societies, there are currently no approved drugs other than chemotherapeutic intervention in late stage HCC. Hence, there is a pressing need to identify and investigate causative molecular pathways that can yield new therapeutic avenues. The transcription factor p53 is well established as a tumor suppressor and has recently been described as a central metabolic player both in physiological and pathological settings. Given that liver is a dynamic tissue with direct exposition to ingested nutrients, hepatic p53, by integrating cellular stress response, metabolism and cell cycle regulation, has emerged as an important regulator of liver homeostasis and dysfunction. The underlying evidence is reviewed herein, with a focus on clinical data and animal studies that highlight a direct influence of p53 activity on different stages of liver diseases. Based on current literature showing that activation of p53 signaling can either attenuate or fuel liver disease, we herein discuss the hypothesis that, while hyper-activation or loss of function can cause disease, moderate induction of hepatic p53 within physiological margins could be beneficial in the prevention and treatment of liver pathologies. Hence, stimuli that lead to a moderate and temporary p53 activation could present new therapeutic approaches through several entry points in the cascade from hepatic steatosis to HCC.
Keywords:
p53; liver disease; insulin resistance; non-alcoholic fatty liver disease; non-alcoholic steatohepatitis; hepatocellular carcinoma; liver regeneration; mouse models
1. Liver Disease in the Age of Metabolic Syndrome
The term "liver disease' encompasses a spectrum of pathologies that includes, but is not limited to, hepatosteatosis, hepatic insulin resistance, steatohepatitis, liver fibrosis and cirrhosis and hepatocellular carcinoma (HCC) [
1
]. While failure of liver function can occur at several stages, HCC is often regarded as the end stage of the progression of alcoholic liver disease (ALD) or non-alcoholic fatty liver disease (NAFLD), with varying incidences [
2
]. Whereas some models suggest a defined, successive cascade in the etiology of liver disease (steatosis and hepatic insulin resistance leading to steatohepatitis, which may lead to fibrosis/cirrhosis, and ultimately to HCC), other reports paint a less clear picture. For example, a number of mouse models that develop fatty liver disease are not insulin resistant [
3
], and some people with NAFLD develop fibrosis without preceding inflammatory conditions typical for non-alcoholic steatohepatitis (NASH) [
4
]. Furthermore, HCC in patients has been reported without any signs of fibrosis/cirrhosis [
5
].
Besides genetic [
6
] and epigenetic (mostly differential DNA methylation [
7
]) aberrations, infection with hepatitis B and C virus and aflatoxin B1 exposure were historically prevalent risk factors for liver disease development. Prevention of aflatoxin B1 ingestion and vaccines against hepatitis viruses have massively curtailed the epidemiologic impact of those disease-causing agents [
8
]. However, in modern societies, these traditional risk factors have been replaced by lifestyle-related diseases caused by chronic alcohol and/or caloric over-consumption [
9
,
10
]. In particular, malnutrition through chronic caloric overload can precipitate in the development of metabolic syndrome, a cluster of pathologies, including adiposity, dyslipidemia, insulin resistance and hypertension, that together culminate in the increased risk of type 2 diabetes mellitus and cardiovascular complications [
11
]. There is an increasingly strong association between liver disease and metabolic syndrome [
1
]. This connection between liver disease and metabolic syndrome through malnutrition seems plausible given the liver's immediate exposure to digested nutrients that enter the splanchnic circulation and are directly relayed to hepatic sinusoids via the portal vein. For instance, the average per-person fructose consumption has been surging due to a preference for readily-available high-fructose corn syrup by the food industry [
12
]. Unlike glucose, fructose is almost entirely taken up by the liver and serves as a carbon source for de novo lipogenesis, thereby fueling the development of steatosis and NAFLD [
12
]. Considering the global rise in the prevalence of obesity and the concurrent surge in NAFLD (10–40% of adults [
1
]), it is imperative to improve diagnostic tools and pharmacological interventions to deal with the increasing burden of liver disease. In terms of diagnostics, liver biopsy, which poses a health risk, is still the best method for the detection of hepatic pathologies, while the search for biomarkers is ongoing, and non-invasive imaging methods (e.g., magnetic resonance) are being improved (for details see [
13
]). Weight loss through a combination of a healthy diet and exercise is the first line of treatment for NAFLD, and drugs treating other components of the metabolic syndrome are being used as adjunct therapies [
14
]. However, although there are currently more than 200 clinical trials for NAFLD treatments [
8
], there is no approved drug specifically targeting any stage of liver disease, with the exception of the chemotherapeutic sorafenib in late stage HCC [
15
]. This multi-kinase inhibitor results in a small survival benefit of only three months, and patients often develop resistance [
2
]. Hence, there is a pressing need to investigate the molecular pathways involved in the distinct stages of liver disease and to translate this knowledge into novel therapeutic possibilities.
p53 is a well-described tumor suppressor that regulates DNA repair and cell cycle arrest under oncogenic stress and, in cases of prolonged stress exposure, apoptosis [
16
,
17
]. The importance of p53 in controlling tumorigenesis becomes evident in patients who inherit mutant alleles, a condition known as Li-Fraumeni syndrome, which results in an extraordinary high, early-onset cancer risk [
18
]. While cytoplasmic actions of p53 have been reported [
19
], it mainly functions as a transcription factor. This notion is supported by the fact that most TP53 missense mutations (i.e., hot-spot mutations) occur in the DNA-binding region [
20
]. Meta-analyses from genome-wide datasets revealed that the set of target genes regulated by p53 activation is largely specific to the cell type (i.e., context-dependent), differentiation state and the nature and degree of the activating stimulus, with only a small set of common targets over all investigated conditions [
21
]. More recently, p53 has been recognized as a bona fide regulator of different metabolic pathways [
22
,
23
], a function that also seems to be highly context-dependent. For instance, p53 acts to limit glycolysis in breast cancer cells, while it induces glycolytic enzymes in muscle cells [
24
]. Hence, the role of p53 needs to be investigated and described in defined cellular and tissue contexts, because single findings about p53-dependent effects can hardly be generalized. Here we aim to review the p53-relevant literature in relation to liver pathologies. With almost four decades of p53 research and over 88,000 PubMed entries containing "p53" in the title and/or abstract by the end of 2017, it is inherent that p53 reviews are destined to be incomplete, even if they are restricted to a defined subtopic. Therefore, we focus on patient data and in vivo mouse studies that point out an influence of p53 activity on liver diseases and put emphasis on studies that directly implicate p53 via gain- and loss-of-function approaches. Although in vitro studies are instrumental for understanding the molecular mechanisms of p53 in liver cells, reviewing them in detail is beyond the scope of this article. Furthermore, we will limit the discussion on liver pathologies related to the metabolic syndrome and other non-alcoholic causes, thereby largely disregarding alcoholic liver disease, fungal and viral disease mechanisms, which are reviewed elsewhere [
25
].
2. p53 in the Development of Non-Alcoholic Fatty Liver Disease
NAFLD is characterized by hepatosteatosis, an abnormal accretion of triglycerides in more than 5% of hepatocytes, which is considered a common precursor of severe hepatocyte injury and chronic liver disease [
1
]. With the high incidence of NAFLD in adults (20–50% in Western countries [
26
,
27
,
28
,
29
]) and children (as high as 80% in obese Chinese children [
30
]) and limited therapeutic options, there is a need to understand the exact mechanisms underlying NAFLD. A major substrate for triglyceride biosynthesis are intrahepatic fatty acids that can be derived from increased fatty acid influx (from adipose tissue in the case of peripheral insulin-resistance or during fasting), from chylomicron-remnants after dietary lipid ingestion and from carbohydrate-derived hepatic acetyl-CoA fueling de novo lipogenesis [
31
].
Owing to the limited availability of liver biopsies, data on p53 in NAFLD patients are scarce. An immunohistochemical study in 84 patients reported a slightly positive correlation of p53 expression and severity of liver disease [
32
]. In mice, p53 was first implicated in hepatic steatosis in an observational study in 2004, where it was shown to be induced in nuclei of hepatocytes from two mouse models with fatty liver disease [
33
]. Functional insights arose from the first p53 knock-out mice, which die around six months of age due to the development of severe lymphomas or sarcomas [
34
]. However, young p53 knock-out mice can be helpful in determining p53 functions in non-cancerous tissues. Although this p53-deficient mouse strain was originally described in 1992 [
34
], its liver phenotype was not reported until about 20 years later [
35
,
36
]. Wang et al. showed that young p53 knock-out mice develop hepatic steatosis, which was even more pronounced during a high-fat diet (HFD). The proposed mechanism involved the enzyme aromatase, a direct transcriptional target of p53, which is responsible for the conversion from androgens into estrogen [
36
]. Consequently, in HFD-fed p53-deficient mice, lower aromatase expression resulted in a higher serum testosterone/estradiol ratio, leading to triglyceride accumulation. This hepatic steatosis was completely reversed by transgenic overexpression of aromatase in the p53 knock-out background [
36
]. Another study also showed increased steatosis in young p53 knock-out mice accompanied by higher serum alanine transaminase and aspartate transaminase levels, when compared to wild-type mice [
37
]. This phenotype was exacerbated by feeding mice a HFD and could be reversed by re-expression of adenoviral p53. The underlying mechanism described in this work involved a compensatory upregulation of TAp63 as a consequence of p53 loss, with subsequent induction of I-kappa-B-kinase beta (IKKβ) and endoplasmic reticulum stress [
37
]. Interestingly, hepatic p53 knock-out induced in adult p53-floxed mice (using either AAV8 or adenoviral Cre recombinase expression [
37
,
38
]) also leads to hepatosteatosis on a regular diet, indicating that acute deletion of p53 in the liver of adult mice is sufficiently driving lipid accumulation by mechanisms independent of potential developmental or adaptive effects that may occur in long-term knock-out models. Furthermore, activation of p53 signaling with long-term, low-dose doxorubicin treatment reduced liver triglyceride content in diet-induced NAFLD mouse models [
39
]. Supporting these findings, mouse double minute 2 homolog (Mdm2) transgenic mice with an amino acid change at codon 305 (C305F), a strain with reduced hepatic p53 signaling due to decreased sequestration of Mdm2 to ribosomal proteins under nutrient stress, display severe hepatosteatosis in the fasted state via modulation of fatty acid oxidation by the p53 target malonyl-CoA decarboxylase [
40
]. In contrast to the above findings that show that p53 loss evokes liver lipid accumulation, a pharmacological approach using the p53 inhibitor pifithrin-α showed attenuation of HFD-induced steatosis [
41
]. However, pifithrin-α treatment prevented weight gain without decreasing food intake under HFD, which could be the primary determinant for decreased hepatosteatosis in this model. Moreover, pifithrin-α was shown to exert p53-independent effects that could be responsible for the discrepancies between genetic models and this pharmacological approach to reduce p53 signaling [
42
,
43
]. Consistent with the notion that p53 is important for the control of liver lipid homeostasis, upregulation of p53 mRNA by anti-sense oligo-mediated quenching of its upstream inhibitor miR-21 led to a reduction in HFD-induced steatosis in mice [
44
]. Other known p53-regulated pathways related to lipid metabolism (reviewed elsewhere [
22
,
45
,
46
,
47
]) are mitochondrial respiration (e.g., cytochrome C oxidase assembly protein (SCO2)) and fatty acid oxidation (e.g., carnitine palmitoyltransferase (CTP1C), lipin 1 (LPIN1)), the pentose phosphate/NADPH pathway (e.g., glucose-6-phosphate dehydrogenase (G6PD)), glycolysis (e.g., TP53-induced glycolysis regulatory phosphatase (TIGAR), glucose transporters (GLUT1/4)) or the mevalonate pathway (via sterol regulatory element binding transcription factor 1 (SREBP1c)). However, p53 cross-talk with these pathways has been demonstrated in cell systems other than hepatocytes and has yet to be investigated in the context of NAFLD. In summary, there is a surplus of evidence portraying p53 as a key regulator of hepatocyte lipid metabolism, where reduction in p53 activity elicits and activation attenuates hepatosteatosis (
Figure 1
).
3. p53 in the Regulation of Hepatic Insulin Resistance
4. p53 in the Development of Non-Alcoholic Steatohepatitis
5. Multifunctional Roles of p53 in Hepatocellular Carcinoma
6. p53 in the Regulation of Liver Regeneration
7. Fine-tuning of Intracellular p53 Protein Levels
Acknowledgments
Andreas Prokesch and Jelena Krstic were supported by the Austrian Science Fund (FWF, Grant P29328). Andreas Prokesch and Markus Galhuber were supported by the Austrian Science Fund (FWF, Grant I3165). Andreas Prokesch was supported by MEFO grant from the Medical University of Graz. Tim J. Schulz was supported by the European Research Council (ERC-StG 311082), grants from the German Research Foundation (DFG; Grant IDs SCHU 2445/2-1 and SCHU 2445/5-1), the German Ministry of Education and Research (BMBF) and the State of Brandenburg (DZD Grant 82DZD00302). Michael Schupp was supported by the German Research Foundation (DFG, grant SCHU 2546/4-1).
Author Contributions
Jelena Krstic, Markus Galhuber and Andreas Prokesch performed the literature search and wrote the paper. Michael Schupp and Tim J. Schulz reviewed and edited the manuscript. Andreas Prokesch conceived of and supervised the writing of the manuscript. All authors read and approved the final draft.
Conflicts of Interest
The authors declare no conflict of interest.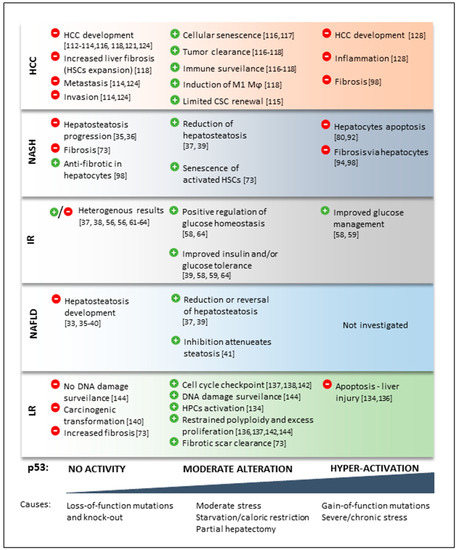 Figure 1. p53 level-dependent outcomes in liver diseases. Various aspects of liver disease are affected by p53 levels in vivo. Please refer to the text for further details. Red circles depict negative, while green circles depict positive outcomes of p53 level alterations. Abbreviations: HCC, hepatocellular carcinoma; NASH, non-alcoholic steatohepatitis; NAFLD, non-alcoholic fatty liver disease; IR, hepatic insulin resistance; LR, liver regeneration; HSCs, hepatic stellate cells; Mϕ, macrophage; CSC, cancer stem cell; HPCs, hepatic progenitor cells.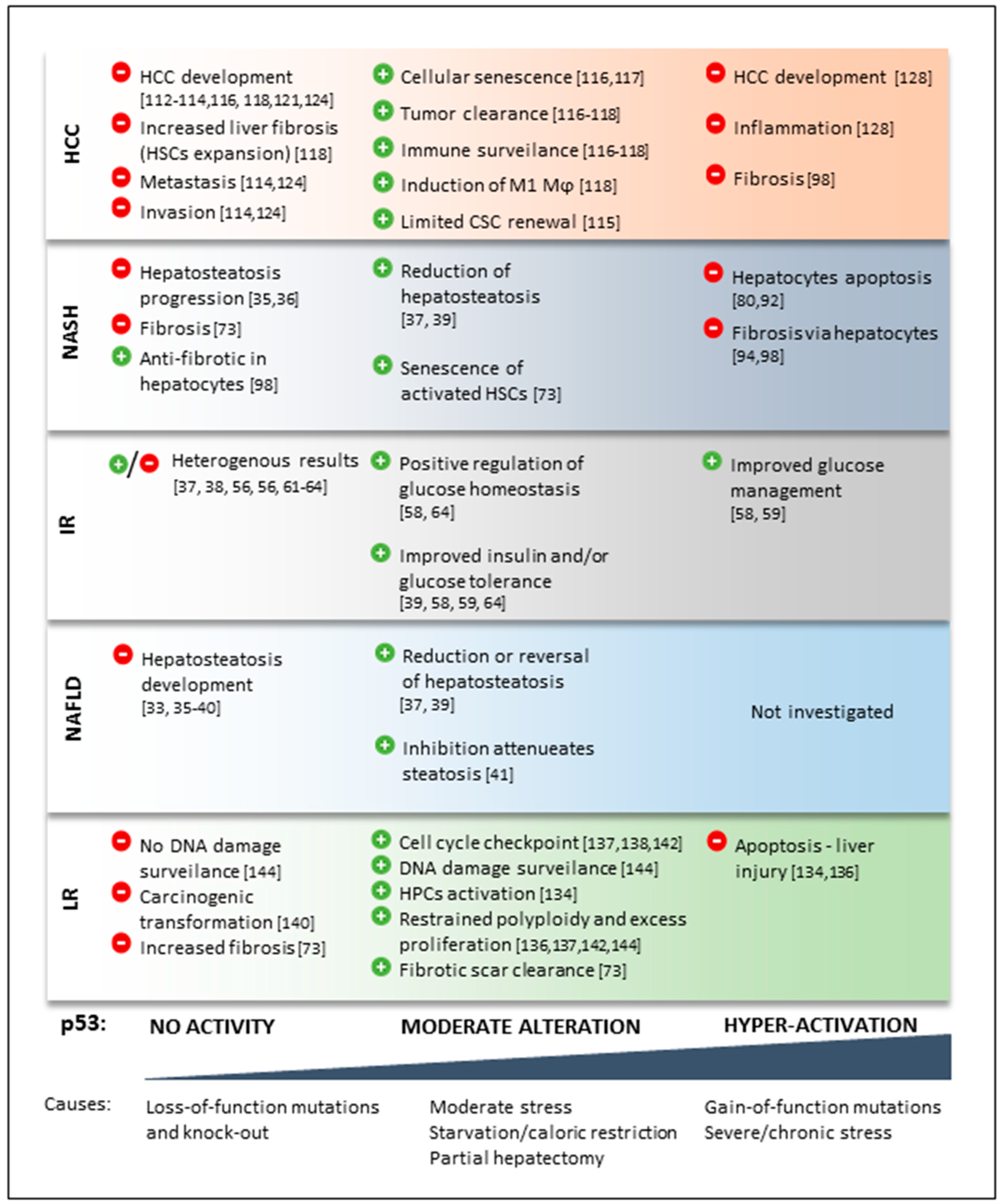 Figure 2. The importance of p53 levels in liver physiology and pathology. Refer to the text for further details. Abbreviations: HCC, hepatocellular carcinoma.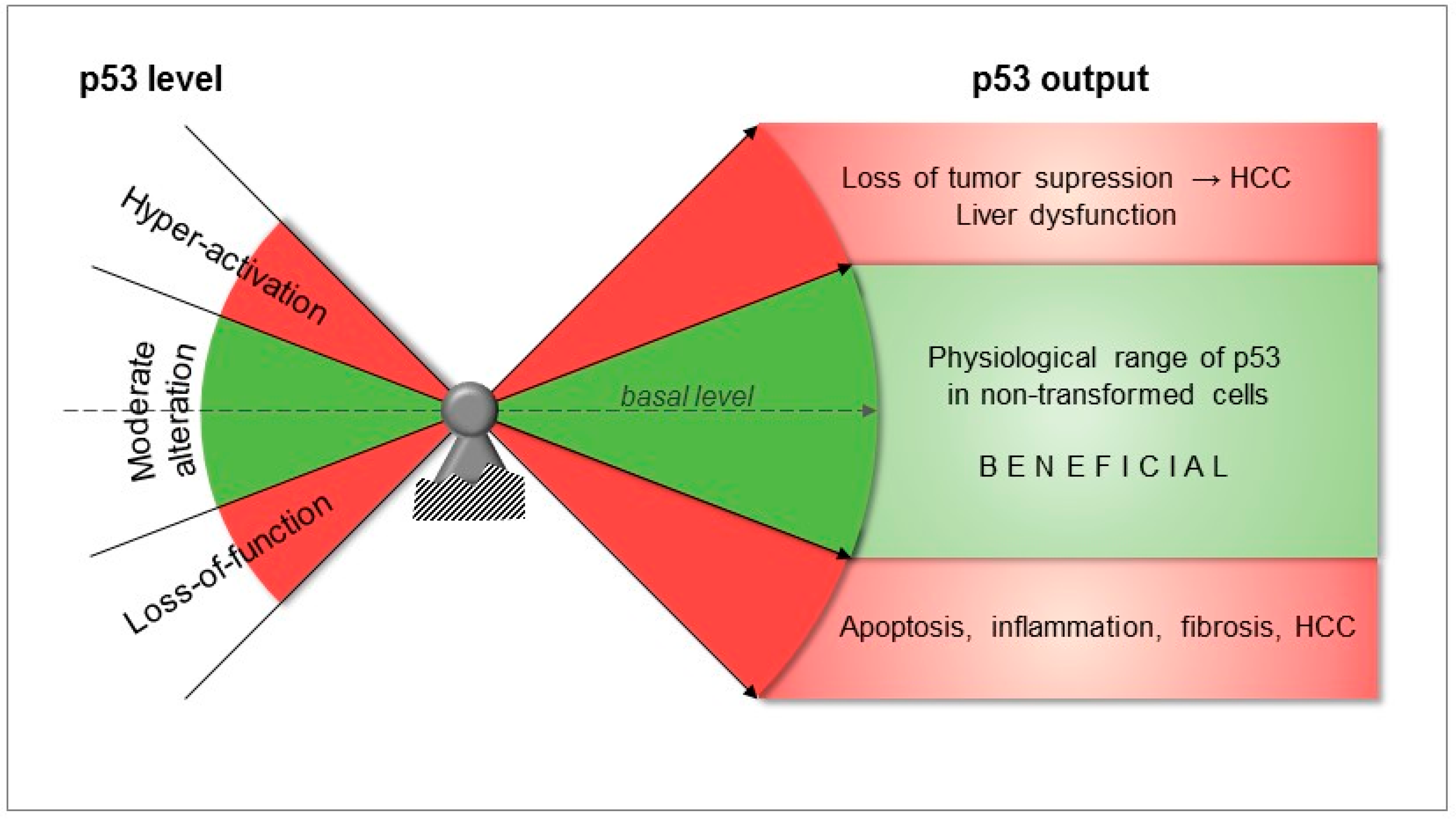 © 2018 by the authors. Licensee MDPI, Basel, Switzerland. This article is an open access article distributed under the terms and conditions of the Creative Commons Attribution (CC BY) license (http://creativecommons.org/licenses/by/4.0/).