Molecular Cloning and Characterization of Carbonic Anhydrase XII from Pufferfish (
Takifugu rubripes

)

1

Department of Fisheries Science, College of Fisheries and Ocean Sciences, Chonnam National University, 50, Daehak-ro, Yeosu, Jeonnam 59626, Korea

2

Department of Biomedical and Electronic Engineering, College of Engineering, Chonnam National University, Yeosu, Jeonnam 59626, Korea

3

Department of Horticulture, College of Life Science and Natural Resources, Sunchon National University, 255, Jungang-ro, Suncheon-Si, Jeollanam-do 57922, Korea

4

Department of Food Science, College of Life Science and Natural Resources, Sunchon National University, 255, Jungang-ro, Suncheon-Si, Jeollanam-do 57922, Korea

*

Author to whom correspondence should be addressed.

Received: 2 February 2018 / Revised: 10 March 2018 / Accepted: 12 March 2018 / Published: 13 March 2018
Abstract
In this study, an 1888-bp carbonic anhydrase XII (CA XII) sequence was cloned from the brain of the pufferfish,
Takifugu rubripes
. The cloned sequence contained a coding region of 1470-bp, which was predicted to translate into a protein of 490 amino acid residues. The predicted protein showed between 68–56% identity with the large yellow croaker (
Larimichthys crocea
), tilapia (
Oreochromis niloticus
), and Asian arowana (
Scleropages formosus
) CA XII proteins. It also exhibited 36% and 53% identity with human CA II and CA XII, respectively. The cloned sequence contained a 22 amino acid NH
2
-terminal signal sequence and three Asn-Xaa-Ser/Thr sequons, among which one was potentially glycosylated. Four cysteine residues were also identified (Cys-21, Cys-201, Cys-355, and Cys-358), two of which (Cys-21 and Cys-201) could potentially form a disulfide bond. A 22-amino acid COOH-terminal cytoplasmic tail containing a potential site for phosphorylation by protein kinase A was also found. The cloned sequence might be a transmembrane protein, as predicted from in silico and phylogenetic analyses. The active site analysis of the predicted protein showed that its active site residues were highly conserved with tilapia CA XII protein. Homology modeling of the pufferfish CA XII was done using the crystal structure of the extracellular domain of human carbonic anhydrase XII at 1.55 Å resolution as a template. Semi-quantitative reverse transcription (RT)-PCR, quantitative PCR (q-PCR), and in situ hybridization confirmed that pufferfish
CA XII
is highly expressed in the brain.
View Full-Text
►

▼

Figures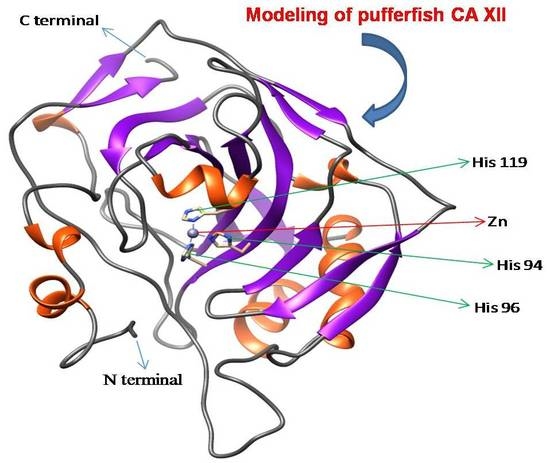 Graphical abstract
This is an open access article distributed under the
Creative Commons Attribution License
which permits unrestricted use, distribution, and reproduction in any medium, provided the original work is properly cited (CC BY 4.0).

Share & Cite This Article
MDPI and ACS Style
Sumi, K.R.; Kim, S.C.; Howlader, J.; Lee, W.K.; Choi, K.S.; Kim, H.-T.; Park, J.-I.; Nou, I.-S.; Kho, K.H. Molecular Cloning and Characterization of Carbonic Anhydrase XII from Pufferfish (Takifugu rubripes). Int. J. Mol. Sci. 2018, 19, 842.
Note that from the first issue of 2016, MDPI journals use article numbers instead of page numbers. See further details here.
Related Articles
Comments
[Return to top]