Open Access This article is
freely available
re-usable
Review
ATP Release Channels
Department of Molecular Cell Physiology, Graduate School of Medical Science, Kyoto Prefectural University of Medicine, Kyoto 602-8566, Japan
Received: 1 February 2018 / Accepted: 9 March 2018 / Published: 11 March 2018
Abstract
:
Adenosine triphosphate (ATP) has been well established as an important extracellular ligand of autocrine signaling, intercellular communication, and neurotransmission with numerous physiological and pathophysiological roles. In addition to the classical exocytosis, non-vesicular mechanisms of cellular ATP release have been demonstrated in many cell types. Although large and negatively charged ATP molecules cannot diffuse across the lipid bilayer of the plasma membrane, conductive ATP release from the cytosol into the extracellular space is possible through ATP-permeable channels. Such channels must possess two minimum qualifications for ATP permeation: anion permeability and a large ion-conducting pore. Currently, five groups of channels are acknowledged as ATP-release channels: connexin hemichannels, pannexin 1, calcium homeostasis modulator 1 (CALHM1), volume-regulated anion channels (VRACs, also known as volume-sensitive outwardly rectifying (VSOR) anion channels), and maxi-anion channels (MACs). Recently, major breakthroughs have been made in the field by molecular identification of CALHM1 as the action potential-dependent ATP-release channel in taste bud cells, LRRC8s as components of VRACs, and SLCO2A1 as a core subunit of MACs. Here, the function and physiological roles of these five groups of ATP-release channels are summarized, along with a discussion on the future implications of understanding these channels.
Keywords:
ATP; purinergic signaling; ion channel; connexin; pannexin; CALHM; VRAC; VSOR; maxi-anion channel
Acknowledgments
I thank Yoshinori Marunaka and Yasunobu Okada for critical reading of an earlier version of the manuscript. This work was supported by Grants-in-Aid from Japan Society of the Promotion of Science (26713008 and 16K15181); Salt Science (1429 and 1542); Society for Research on Umami Taste.
Conflicts of Interest
The author declares no conflict of interest.
Abbreviations
| | |
| --- | --- |
| ABC | ATP-binding cassette transporter |
| ATP | adenosine triphosphate |
| CALHM1 | calcium homeostasis modulator 1 |
| CFTR | cystic fibrosis transmembrane conductance regulator |
| [Ca2+]o | extracellular Ca2+ concentration |
| K+o | extracellular K+ |
| Ca2+i | intracellular Ca2+ |
| KD | knockdown |
| KO | knockout |
| MAC | maxi-anion channel |
| Po | open probability |
| PANX1 | pannexin 1 |
| VRAC | volume-regulated anion channel |
| VSOR | volume-sensitive outwardly rectifying |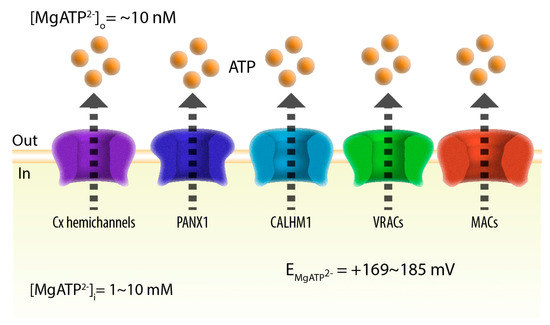 Figure 1. Adenosine triphosphate (ATP) release ion channels. In the presence of physiological levels of Mg2+, the majority of ATP molecules exist as MgATP2− anions in both the extracellular and intracellular compartments. Based on the typical extracellular and intracellular MgATP2− concentrations ((MgATP2−)o and (MgATP2−)i, respectively), the equilibrium potential of MgATP2− (EMgATP2−) was calculated. Cx, connexin; PANX1, pannexin 1; CALHM1, calcium homeostasis modulator 1; VRAC, volume-regulated anion channel; MAC, maxi-anion channel.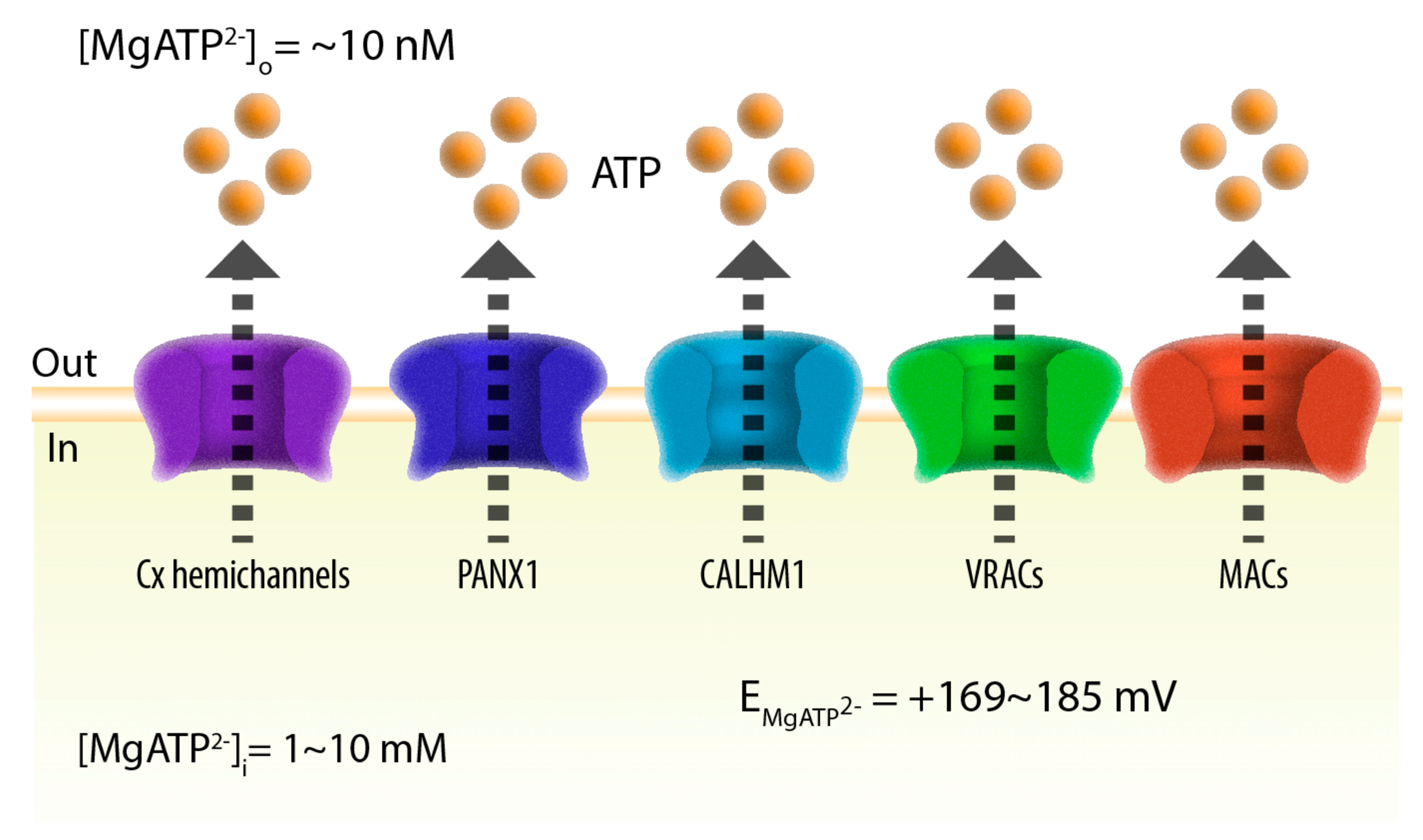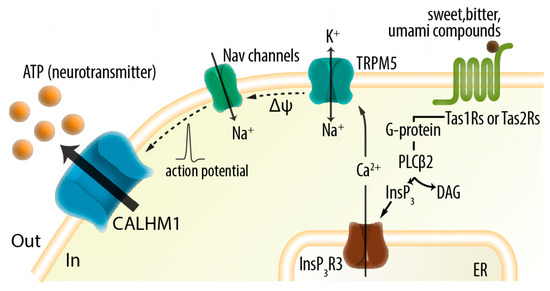 Figure 2. Action potential-dependent ATP release from type II taste bud cells through voltage-gated CALHM1 channels mediates fast purinergic neurotransmission of sweet, bitter, and umami tastes. Δψ, receptor potential; ER, endoplasmic reticulum; DAG, diacylglycerol; InsP3, inositol 1,4,5-trisphosphate; PLCβ2, phospholipase β2.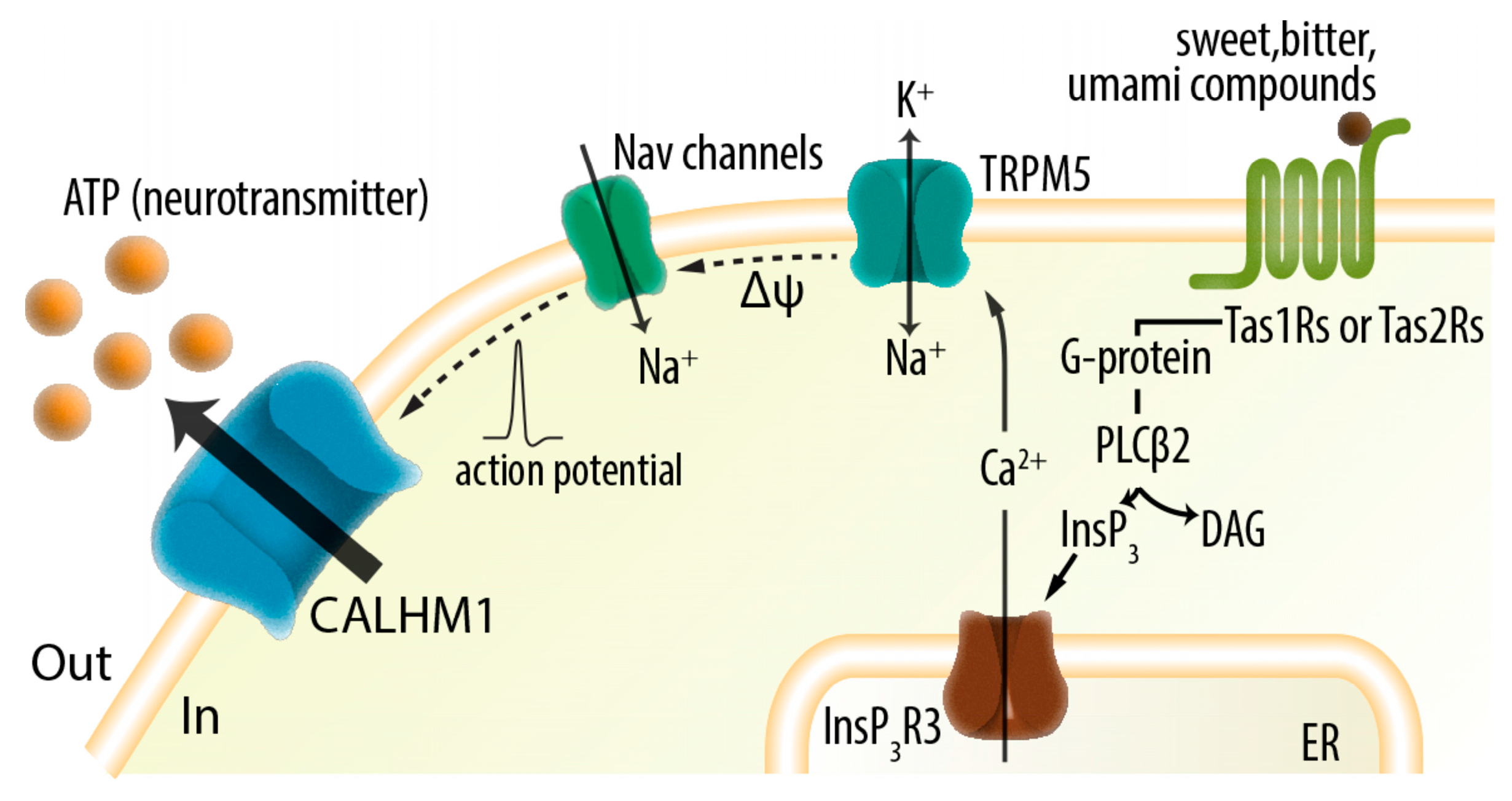 © 2018 by the author. Licensee MDPI, Basel, Switzerland. This article is an open access article distributed under the terms and conditions of the Creative Commons Attribution (CC BY) license (http://creativecommons.org/licenses/by/4.0/).