Open Access This article is
freely available
re-usable
Review
From the Psychiatrist's Couch to Induced Pluripotent Stem Cells: Bipolar Disease in a Dish
Max Planck Institute of Psychiatry, Translational Psychiatry, 80804 Munich, Germany
*
Author to whom correspondence should be addressed.
Received: 15 February 2018 / Accepted: 6 March 2018 / Published: 8 March 2018
Abstract
:
Bipolar disease (BD) is one of the major public health burdens worldwide and more people are affected every year. Comprehensive genetic studies have associated thousands of single nucleotide polymorphisms (SNPs) with BD risk; yet, very little is known about their functional roles. Induced pluripotent stem cells (iPSCs) are powerful tools for investigating the relationship between genotype and phenotype in disease-relevant tissues and cell types. Neural cells generated from BD-specific iPSCs are thought to capture associated genetic risk factors, known and unknown, and to allow the analysis of their effects on cellular and molecular phenotypes. Interestingly, an increasing number of studies on BD-derived iPSCs report distinct alterations in neural patterning, postmitotic calcium signaling, and neuronal excitability. Importantly, these alterations are partly normalized by lithium, a first line treatment in BD. In light of these exciting findings, we discuss current challenges to the field of iPSC-based disease modelling and future steps to be taken in order to fully exploit the potential of this approach for the investigation of BD and the development of new therapies.
Keywords:
bipolar disease; patient-specific iPSC; early neurodevelopment; lithium; neuronal excitability; calcium signaling
1. Introduction
Bipolar disorder (BD) is a mental condition characterized by extreme mood swings that comprise emotional highs (mania or hypomania) and lows (depression) [
1
]. BD represents one of the most common psychiatric diseases with an estimated prevalence of 0.6% [
2
] and a lifetime prevalence of 1.02% [
3
] according to the latest BD meta-analysis. In 2015, ≈60 million people were affected by BD—almost twice as much as the number of people affected by cancer. For comparison, ≈300 million people were affected by major depressive disorder (MDD) with more women than men, and ≈21 million were affected by schizophrenia (SCZ) [
4
]. Recent studies show that BD is the sixth leading course of disability worldwide [
5
] and associates with high rates of morbidity and mortality: 23–26% of BD patients attempt suicide and it accounts for 3.4–14% of all suicide deaths [
6
]. Lifetime prevalence of attempted suicide is estimated at 34% and 19% for female and male BD patients, respectively [
7
], while the risk of completed risk is three times higher among males than females with BD. These findings suggest that suicide and suicide attempts in BD are a frequent multicausal human behavior [
8
]. Unfortunately, little progress has been made so far since lithium and neuroleptics were introduced in the late 50s and 60s for the treatment of BD: response rates are 50–60% [
9
] and no cure is widely available yet.
In this review, a literature search of articles on BD and iPSCs was performed in recognized databases such as PubMed, Scopus, and PsycINFO using the keywords "bipolar disorder", "patient-specific iPSC", "schizophrenia", "neurodevelopment", and "lithium". Bibliographies were further scrutinized for articles and book chapters of relevance. As a result, we will describe first the multifaceted phenotype of BD, current pharmacological treatments, and recent findings on its complex genetic architecture. This provides the opportunity to introduce the concept of patient-specific induced pluripotent stem cells (iPSCs) for the study of mental disorders. Following this, we highlight recent findings and current limitations from modeling BD in the dish. Concluding, we will discuss present challenges for this in vitro approach and further steps to be taken by the field.
2. From the Psychiatrist's Couch
Taken together, BD is a recurrent mood disorder that typically manifests in mid-adolescence to early adulthood and is a leading medical cause of disability worldwide with functional impairments persisting for months after acute episodes. Pharmacotherapy in acute episodes and maintenance therapy is effective in only half of the patients and suicide remains a major contributor to high mortality rates.
3. The Genetic Architecture of BD
Taken together, these studies suggest a highly polygenic disease architecture with a large number of common and rare variants. Each of these variants encodes small effects that contribute incrementally to the development of BD. How these risk variants mediate molecular and cellular mechanisms that trigger disease onset and progression remains poorly understood. Hence, there is an urgent need to analyze disease genotypes in disease-relevant cellular contexts to gain insight in their molecular mode of action.
4. Neurodevelopmental Anomalies in BD
In any case, several findings indicate altered neurodevelopmental trajectories in BD:
Overall, different lines of evidence point to altered neurodevelopmental trajectories in BD, which may be masked, at least in part, until adolescence when full-blown psychopathology manifests. Future longitudinal studies in individuals at risk are necessary to substantiate a role of early neurodevelopmental anomalies in BD.
5. The Promise of iPSCs
A decade ago, Takahashi et al. [
51
] made the transformative discovery that primary cells from any donor could be reprogrammed to a pluripotent state similar to that of cultured embryonic stem cells [
52
]. A bulk of studies has contributed to define the identity of iPSCs [
53
,
54
,
55
], to optimize their generation [
56
,
57
], and to explore their applications [
58
,
59
].
Ideally, each iPSC line contains the donor's complete and unmodified genome and provides a unique tool for studying the relationship between the donor's genotype and phenotype in vitro: (1) iPSCs can be differentiated into selected disease-relevant neuronal cell types including neurons and astroglia [
60
] and any of these cells are the result from expression of the donor's genome; (2) iPSCs allow capturing critical neurodevelopmental transition phases that may be particularly sensitive to genetic perturbations; (3) iPSCs recapitulate many fundamental aspects of human neurodevelopment and associated disorders and provide adult-like cells of varying maturity [
61
]; (4) iPSCs provide limitless supply of anyone's pluripotent cells in a dish and open up unprecedented opportunities to conduct functional studies in human brain related cell types, complementing previous approaches based on postmortem material and animal models; and (5) iPSCs can be derived from biobank samples of deceased persons for the investigation of multigenerational pedigrees.
Today, iPSCs are generated routinely from skin biopsies or PBMCs (peripheral blood mononuclear cells) [
56
,
57
]. Furthermore, refined in vitro trans-differentiation protocols allow the analysis of a large variety of different neuronal cells types [
62
]. This approach generates limited amounts of postmitotic neuronal cells and is cost-prohibitive for large scale integrated endpoint assays (e.g., transcriptomics, epigenomics, metabolomics, and proteomics) in a sufficiently powered first-line case/control design.
Collectively, iPSCs are a promising tool to explore molecular and cellular endophenotypes from polygenic BD in disease-relevant cell types.
6. BD in a Dish
During the last five years, an increasing number of studies have used iPSCs to gain insight into molecular and cellular alterations in BD. For clearness, we will group these studies by the common themes of their findings (
Section 6.1
,
Section 6.2
,
Section 6.3
and
Section 6.4
) and summarize experimental approaches and key findings in a tabular format.
6.1. Neurodevelopmental Alterations in BD-derived iPSCs
The first report on BD did not appear before 2014: Chen et al. [
63
] established six quality controlled (
Table 1
) iPSCs lines (three BD vs. three controls), which were differentiated over eight weeks into forebrain-like neurons (
Table 2
).
Gene expression was assessed by microarrays and subsequent pathway analysis including KEGG (Kyoto Encyclopedia of Genes and Genomes) and gene ontology terms (
Table 3
). Transcriptomes from BD and control iPSCs differed little in the undifferentiated state and transcripts from various BD risk genes including
ANK3
,
CACNA1C
,
NCAN
(chondroite sulfate proteoglycan),
SYNE1,
and
ZNF804A
(zinc finger protein 804A) were well upregulated in neurons from both groups. In contrast, 140 transcripts were selectively increased 1.5-fold or higher in BD. These consisted of transcripts associated with cell matrix and/or cell–cell association and neuronal differentiation (axon outgrowth, synapse organization, secreted growth factors, neurotransmitters and their receptors, and membrane-associated channel genes, especially calcium channels). Another 95 transcripts were up-regulated by 1.5-fold or higher solely in control neurons and comprised genes contributing to cytoskeletal organization, cell surface/extracellular matrix factors, cell cycle, apoptosis, and DNA repair.
Beyond these general cellular processes, BD and control neurons differed specifically in the expression of genes guiding neural patterning: BD neurons showed higher expression of genes contributing to ventral differentiation including
FOXP2
(Forkhead Box P2) and
NKX2-1
(NK2 Homeobox 1). These encode transcription factors (TFs) with a defining role in the development of the medial ganglionic eminence. Conversely, control neurons showed higher expression of genes with a role in dorsal telencephalic neurons, including
PAX6
(Paired Box Gene 6),
EMX2
(Empty Spiracles, Drosophila, 2),
TBR2
(T-box, brain 2),
TCF3
(Trancription factor 3), and
ZNF 536
(zinc finger protein 536). Irrespective of these differences, iPSCs from both BD and controls remained responsive to patterning cues as addition of the ventralizing Hedgehog activator purmorphamine or the dorsalizing substance lithium stimulated expression of
NKX2-1
or
EMX2
(ventral or dorsal identity, respectively).
Neuronal-activity dependent TFs, especially those regulated by Ca
2+
signaling, contribute to lineage differentiation [
74
,
75
]. Beyond this process, Ca
2+
signaling impacts broadly synaptic plasticity. To simultaneously measure action potential and wave propagation, BD and control neurons were differentiated for another 4–8 weeks before loaded with the intracellular Ca
2+
sensitive dye Fluo-4AM. By this time, cultures showed spontaneous neuronal firing. Of note, Ca
2+
transient and wave amplitude were significantly reduced by lithium pretreatment in neurons from BD, but not from control iPSCs. Lithium dorsalizes early neural progenitors through activation of the wingless pathway [
76
] and may thus re-set NSC fate to dorsal cortical derivatives.
Taken together, neurons derived from BD iPSCs showed a bias for ventral cell fates though they remained responsive to dorsal cues and manifested hyperexcitability at mature stages. Both phenotypes were normalized by lithium pretreatment when compared to controls.
In a familial study on BD Madison et al. [
65
] investigated a subset of 4 individuals from a multigenerational kindred consisting of two affected brothers and their unaffected parents. Whole genome SNP profiling confirmed the expected parent-child and sibling relationships and further showed that the mother was heterozygous for the BD risk allele of
CACNA1C
, whereas the remaining family members were homozygous. Further, none of the family members showed gross chromosomal anomalies. iPSC quality control (
Table 1
) comprised SNP fingerprinting (to verify that iPSCs matched their donors), PluriTest (a bioinformatics approach that uses global gene expression profiles to bench mark unknown iPSCs with bona fide iPSCs) and teratoma formation in nude mice. Directed neuronal differentiation was used to produce NPCs (neural progenitor cells) that were immunopurified by a FACS (fluorescence activated cell sorting) protocol designed to remove non-neural and neural crest cells (i.e., peripheral nervous system progenitors) and to select for CXCR4 (CXC chemokine receptor-4) as a marker of central progenitors (
Table 2
). Interestingly, self-renewing NPCs could be easily obtained from the unaffected parents, whereas neural induction of iPSCs derived from the affected brothers consistently led to a higher number of neural crest progenitors. In support of this finding, BD NPCs showed a significant proliferation deficit when compared to the NPCs from the unaffected parents. This impairment was partly reversed by treatment with a selective GSK3β (glycogen synthase kinase 3) inhibitor; moreover, a general differentiation defect of BD iPSCs could be ruled out by NanoString (single-molecule imaging of color-added, molecularly barcoded probes) digital mRNA expression profiling on a panel of "scorecard" genes previously defined to assess quantitatively the differentiation capacity of embryonic stem cells/iPSCs [
73
].
In light of these results, Madison et al. [
65
] designed an additional set of gene probes consisting of pluripotency genes, patterning genes, and BD risk genes to gain insight into the neurodevelopmental deficit of BD-derived iPSCs. Expression profiles differed little in fibroblasts and iPSCs, but markedly in NPCs, in which 18 genes were differentially regulated when comparing unaffected parents with affected siblings. In BD-derived NPCs, three upregulated genes encoded homeodomain-containing TFs (
NKX2-2
;
NKX6-1
, NK6 homeobox 1; and
IRX3
, iroquois homeobox 3) with a known function in SHH (sonic hedgehog)-dependent ventralization of progenitor-derived neurons. Concurrently, several NPC-specific genes (e.g.,
PAX6
, paired box gene 6;
DACH1,
dachshund homolog 1;
PLZF,
promyelocytic leukemia zinc finger protein;
ZBTB16,
zinc finger and BTB domain containing 16; and
DISC1
) were down-regulated in BD-derived NPCs.
Postmitotic neurons showed expression of multiple markers characteristic of upper and lower layer cortical projections neurons (e.g., CTIP2, COUP TF-interacting protein 2; CUX1, Cut-like homeobox 1; ETV1, Ets variant gene 1; SATB2, special AT-rich sequence-binding protein 2), among which
CTIP2
was downregulated in the affected children. This cortical layer marker is a component of NuRD (nucleosome remodeling and deacetylation complex) with a crucial role in neurogenesis [
77
] and in the differentiation of subcerebral projection neurons [
78
]. Similarly, RELN (reelin, an extracellular matrix glycoprotein) with a role in cortical neuron migration was downregulated in the affected children [
49
].
Besides neurodevelopmental genes, BD patient-derived neurons showed differential expression of several genes encoding calcium channels or other ion channel subunits:
CACNA1E
(encoding calcium channel, voltage-dependent, R-type, α1E subunit),
CACNA1G
(encoding calcium channel, voltage-dependent, T-type, α1G subunit),
CACNB1
(encoding calcium channel, voltage-dependent, β1 subunit), a regulator of α1 subunit membrane targeting and voltage dependent regulation,
CACNG8
(encoding calcium channel, voltage-dependent, γ subunit 8), the sodium channel genes
SCN2A
and
SCN3A
(encoding sodium channel, voltage-gated, α subunits) and a regulator of AMPA (α-amino-3-hydroxy-5-methy-4-isoxazolepropionic acid) receptor localization.
Lastly, a set of 53 genes was significantly upregulated (e.g.,
SYN1
,
SCN2A
,
CNTN6
(contactin-6) and
NKX2.2
) or downregulated (
PAX6
,
DCX
(doublecortin), and
PLZF
) in both BD NPCs and postmitotic neurons. The latter three genes are typical markers of NPCs and thus strengthen the notion of an altered neurodevelopment of BD-derived iPSCs upon directed differentiation.
Taken together, the findings from Chen [
63
] and Madison [
65
] on BD-derived iPSCs converge on common themes: (1) Impairments in cortical dorsal and central neuron/NPC formation; (2) Deregulation of genes with a critical role in cortical development, patterning, maturation, and Ca
2+
signaling while risk genes from GWA studies show few, if any, alterations; and (3) Patterning and differentiation deficits can be partly rescued by lithium treatment pointing to aberrant Wnt signaling. Overall, these findings indicate altered neurodevelopmental trajectories in BD.
6.2. Neuronal Activity in BD-derived iPSCs
Immature neurons and networks express molecules and processes that are not operative in the adult and follow a crucial developmental sequence that is instrumental in the formation of functional entities [
74
]. Early alterations can delay or accelerate this developmental program (see above) and have thus sustained effects on brain architecture and electrical signatures that predate disorders to come well before clinical symptoms appear [
79
].
Mertens et al. [
66
] reprogrammed fibroblasts of six BD type 1 patients and four unaffected individuals using recombinant Sendai virus, a footprint free technology (
Table 1
). iPSC quality control consisted of ICC (immunocytochemistry), qRT-PCR (quantitative reverse transcribed polymerase chain reaction) analysis of pluripotency markers and of trilineage markers following random differentiation, and finally, Giemsa chromosome stains to assess karyotypes. Following differentiation into hippocampal dentate gyrus (DG) granule-like neurons, more than 80% corresponded to VGLUT1-positive glutamatergic neurons, while less than 7% were GABAergic. Glutamatergic and GABAergic neurons showed similar synapse densities independent of case/control status. By contrast, RNA-seq analysis detected 45 differentially expressed genes comprising multiple mitochondrial genes that showed a significant upregulation in diseased neurons. At the same time, BD mitochondria were smaller in size and showed an increased activity when compared to controls. Refined GO analysis of differentially expressed transcripts indicated an upregulation of the protein kinase A and C (PKA/PKC) signaling pathways and the action potential (AP) firing system in BD neurons when compared to controls. Well-fitting these findings, patch clamp analysis showed that BD neurons exhibited greater activation of Na
+
channels, lower AP threshold, greater values of evoked AP number and maximal AP amplitude, and higher AP frequencies.
Since the investigated patients consisted of three lithium-responsive (LR) and three lithium nonresponsive (NR) patients, Mertens et al. further asked whether the hyperactive phenotype in iPSCs derived hippocampal neurons could be normalized by chronic lithium treatment. This was indeed the case; lithium significantly reduced Na
+
/K
+
currents and the total number of evoked and spontaneous APs in neurons from LR patients. By contrast, lithium evoked no changes in neurons from NR patients that responded nevertheless efficiently to the Na
+
channel antagonist lamotrigin. Hyperexcitability of BD neurons translated into increased neural network activity, which was partly normalized by lithium treatment of LR, but not of NR, BD patient-derived neurons. Lastly, RNA-seq analysis showed that the number of genes with significant expression changes in response to lithium treatment was an order of magnitude greater in the responding than in the nonresponding neurons (560 genes versus 40 genes). Among these genes were several that have been previously associated with BD (
PDE11A
, phosphodiesterase 11a;
PRKCH
, protein kinase C;
PTPRB
, protein tyrosine phosphatase B;
SCN11A
, sodium channel voltage gated type 11A;
NKAIN1
, Na
+
/K
+
transporter ATPase-interacting 2;
KCNA1
, voltage gated potassium channel, shaker-related subfamily; and
KCNJ12
, inwardly rectifying potassium channel, subfamily J, member12) as well as 84 genes with a function in the PKA/PKC pathways, the AP firing system, and mitochondrial functions.
Collectively, these results suggest that iPSC-derived neurons from BD patients show an increased neuronal activity that was selectively reduced by lithium in neurons from those patients who were also responsive to clinical lithium administration. At the molecular level, neuronal hyperexcitability correlated with changes in the PKA/PKC/AP pathways and deregulation of mitochondrial genes in BD neurons.
These findings have been strengthened by a recent study by Stern et al. [
69
]: Epstein–Barr Virus-immortalized lymphocytes from LR and NR BD patients and healthy subjects were reprogrammed into iPSCs, quality controlled (
Table 1
), and differentiated into hippocampal dendate-gyrus like neurons (
Table 2
). About half of the cells expressed the Prox1 gene (Prospero-related homeobox 1), a marker for dendate granule cells, with no significant differences between patient and control samples. At 3.5 weeks of differentiation, patch-clamped Prox1-positive neurons from BD patients were hyperexcitable when compared to controls with the highest spontaneous firing group in the LR group. Moreover, in the voltage clamp mode, LR and control neurons showed similar sodium currents when compared to a decline by 45% in NR neurons. Consistent with their hyperexcitable phenotype, LR neuron spikes exhibited increased amplitude about 20% when compared with control neurons, while NR neuron spikes had 15% lower amplitude than control neurons. Lastly, these distinct features of BD neurons persisted from early to late time points of post differentiation, almost as if they were maintaining some distinct developmental program.
Going beyond basic cell culture studies, Stern et al. asked if a patient's response to lithium could be predicted from the electrophysiological measurements of the corresponding iPSC-derived neurons. Therefore, a naïve Bayes classifier was fist trained with the electrophysiological features of neuronal populations from patients whose responses to lithium were known. Following this training period, the unknown lithium response of a new patient was accurately predicted (>92% success rate) by the classifier-based analysis of the respective iPSC-derived neurons.
Neuronal excitability reflects the aggregate state of many single variables: Hyperexcitable neurons within each group showed larger sodium and potassium currents that each opened at a less depolarized potential, larger amplitude narrower spike with a less depolarized threshold for evoking an action potential, and a very large increase in the fast afterhyperpolarization amplitude (AHP). In control neurons changes between hyper- and hyporesponsive neurons were most pronounced in the AHP. By contrast, changes in sodium currents prevailed in the NR group, whereas changes in the LR group were most prominent for sodium currents and AHP. These findings suggest that complex cellular phenotypes like neuronal hyperexcitability can be dissected into distinct subcomponents that differ between LR and NR BD patients and controls.
Consistent with previous findings [
66
], lithium treatment inhibited neuronal excitability in neurons from LR patients but not in neurons from NR patients. Hereby, the final effect of lithium on various electrophysiological parameters was quite similar in both LR and NR neurons: A decrease in the AHP and a spike broadening, making the cells less excitable, and an opening of sodium channels at lower potential, making the cells more excitable. This dual mode of lithium's action could contribute to its effects of improving both depression and mania. Moreover, at the cellular population level, lithium shifted more excitable cells to the hyperexcitable state in the LR group, whereas in the NR group the shift seemed to operate in both directions leading to a similar number of cells that are hyperexcitable after lithium treatment. Thus, the effects of lithium on different cell types appeared to depend critically on their initial properties.
Overall, these studies suggest cell-autonomous, possibly developmentally driven, hyperexcitability in BD iPSC-derived neurons and neuronal networks. Hyperexcitability of LR and NR neurons involves distinct perturbations in their Na+/K+ channel activities and action potential parameters, with distinct electrophysiological changes after lithium treatment.
6.3. Lithium-Response Pathways in BD-derived iPSCs
Overall, this study shows that the lithium-response pathway in BD operates, at least in part, through GSK3β-dependent CRMP2 phosphorylation to alter the neuronal cytoskeleton, especially dendrite and dendritic spine formation, and presumably neural network development and activity. Thereby, the disturbed balance of CRMP2 phosphorylation may causally contribute to BD or result from the impact of altered neuronal signaling in LR BD patients.
6.4. Select Changes in Gene Expression in BD-derived iPSCs
Taken together, this study suggests that the small non-coding RNA miR-34a is upregulated in BD and could affect the expression of multiple genes associated with BD, neurodevelopment, or neuroplasticity. In support of this hypothesis, increased miR-34a expression impaired the neuronal differentiation of BD iPSC-derived neurons.
Taken together, this study suggests normal proliferation, but impaired late neuronal differentiation of iPSCs derived from familial BD patients. Additionally, upregulation of GAD1 in combination with downregulation of SCN4B points to a possible imbalance of excitatory and inhibitory neurotransmission in late neurons.
7. The Road Ahead: Promises, Caveats, and Challenges
iPSC-based disease modeling has led to the identification of a variety of potential neurodevelopmental and electrophysiological anomalies in BD-derived cells: Shifts in cell lineage decisions, deficits in cellular proliferation and adhesion, deregulation of mitochondrial function, inflammatory pathways, or miRNAs, and above all, alterations in Ca
2+
and receptor-mediated signaling associated with increased neuronal excitability. Interestingly, some of these processes can be normalized by lithium treatment, a first line therapy in BD, and may recapitulate processes from the diseased brain. While altered differentiation potential and Ca
2+
signaling are likely to influence each other [
74
,
79
], it remains to be clarified whether they entail shared or different genetic liabilities.
Notwithstanding this notable progress, we will consider next a number of caveats that may confound current findings and call for further improvements on the generation and design of patient-specific iPSC studies.
Acknowledgments
We are thankful to members of our groups for thoughtful comments and advice. Michael Ziller is supported by the Bundesministerium für Bildung und Forschung grant 01ZX1504.
Author Contributions
Anke Hoffmann, Vincenza Sportelli, Michael Ziller and Dietmar Spengler wrote jointly this manuscript.
Conflicts of Interest
The authors declare no conflict of interest. The founding sponsors had no role in the design of the study; in the collection, analyses, or interpretation of data; in the writing of the manuscript, and in the decision to publish the results.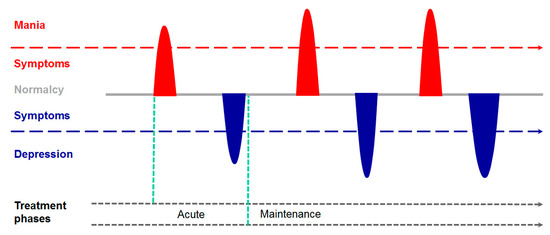 Figure 1. The life cycle of bipolar disease. The more severe form of bipolar disease (BD), called type I, firstly manifests a manic episode (red peak) followed by a depressive episode (blue peak). Following this first cycle, euthymic interphases (grey lines) progressively shorten until a relatively stable pattern of recurrence (single periods and/or entire cycles) develops over time. Concurrently, severity and duration of single episodes tends to increase, particularly for depressive episodes. This scheme illustrates the prototypical course of bipolar disease I whilst varying courses are common. First line treatments for manic episodes are neuroleptics and lithium. The latter can be also used for maintenance therapy of recurrent manic and/or depressive episodes.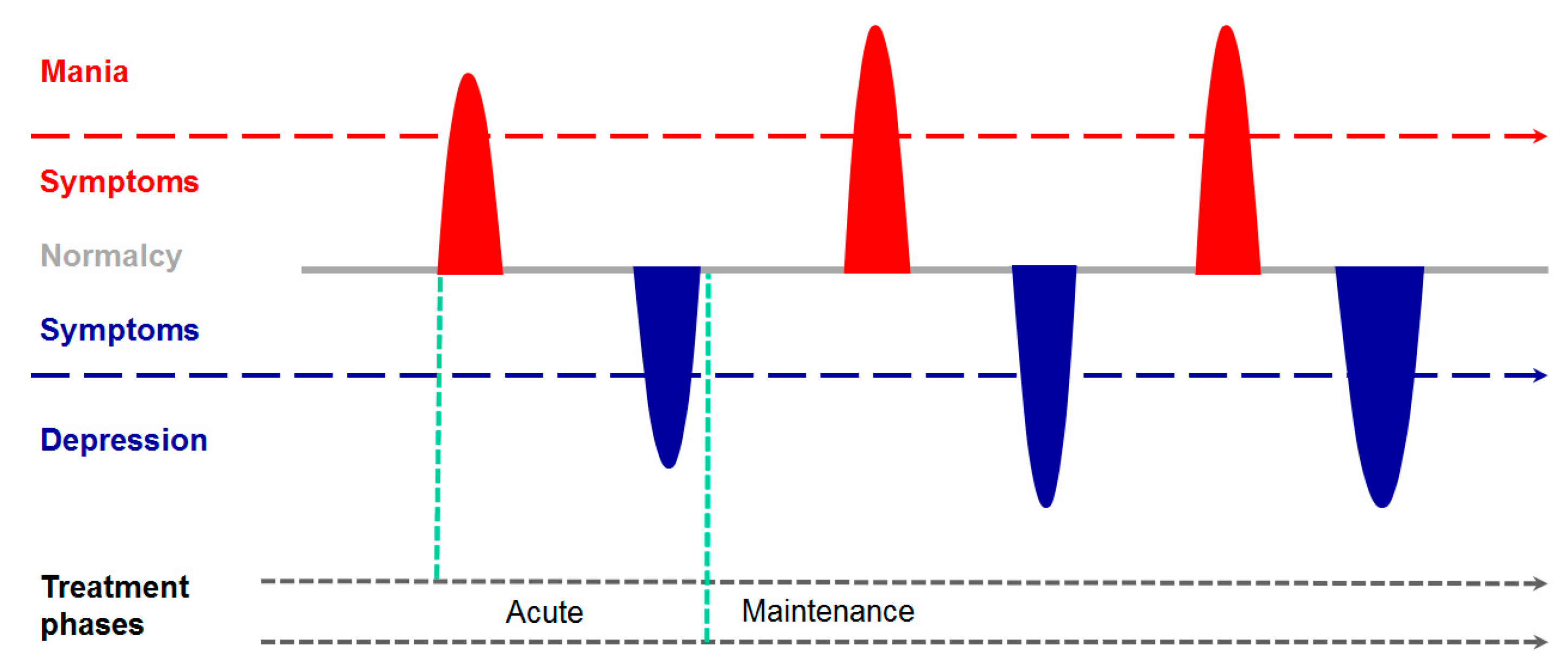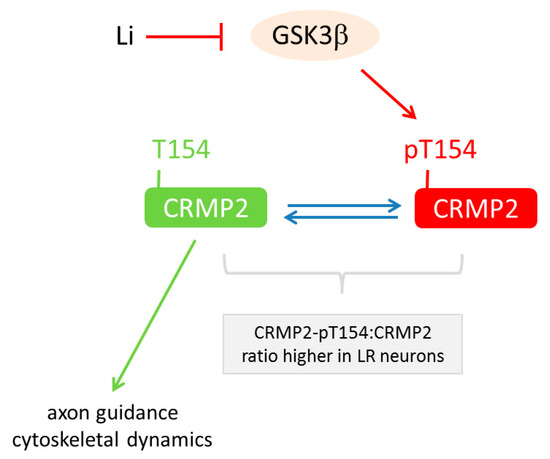 Figure 2. Model of the lithium-response pathway in bipolar disease. CRMP2 (collapsin response mediator protein-2) is a major target of GSK3β (glycogen synthase kinase). This enzyme catalyzes phosphorylation of the threonine (T) residue 154 in CRMP2. This step associates with CRMP2 inactivation in human neuronal progenitor cells and mature neurons. Conversely, inhibition of GSK3β by lithium prevents CRMP2 inactivation and supports its role in axon guidance and cytoskeletal dynamics. Interestingly, the ratio of CRMP2-pT154:CRMP2 is higher in neurons from lithium responsive (LR) patients and is normalized under lithium (Li) treatment.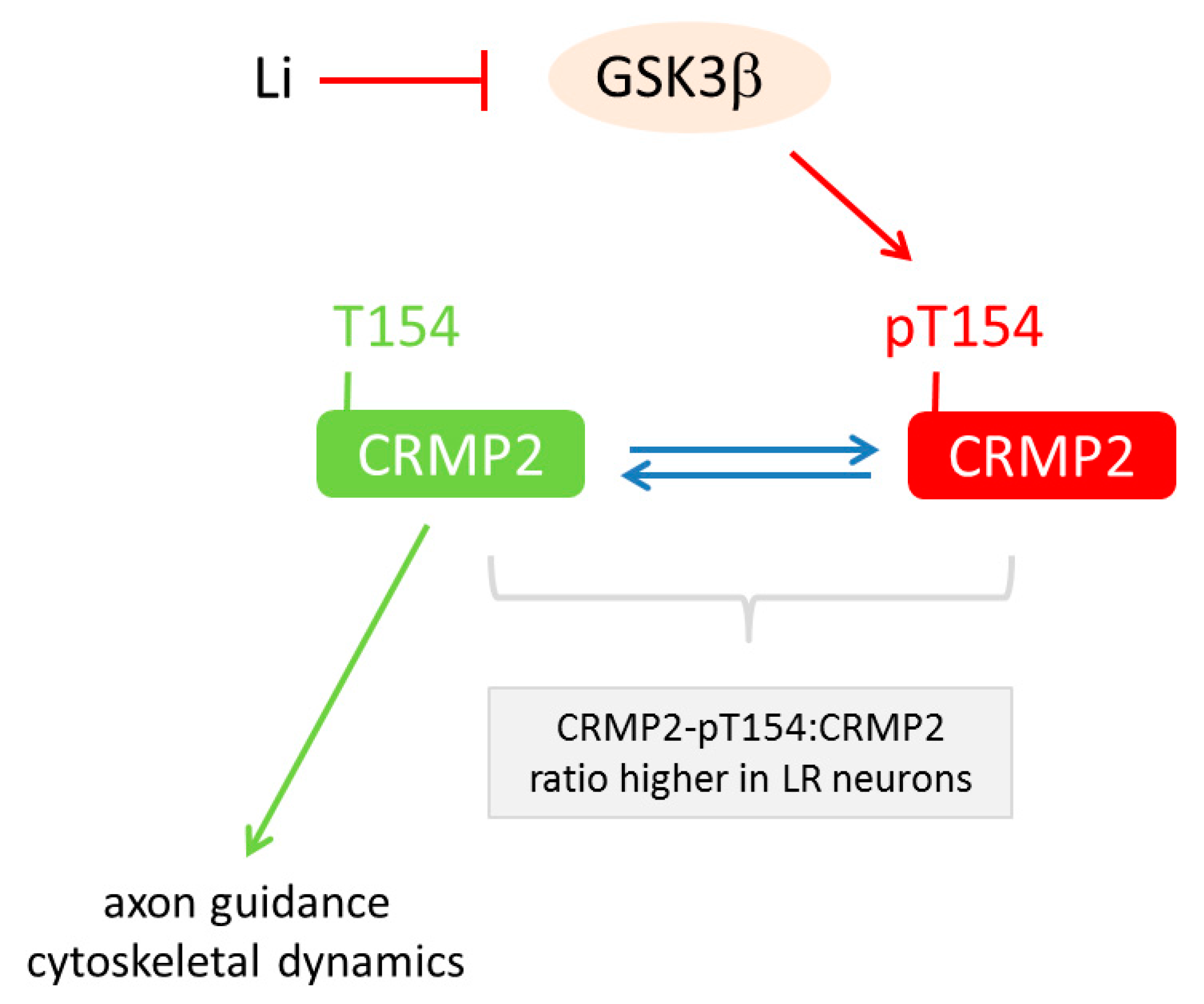 Figure 3.
miRNA-34a in bipolar disease. miRNA-34a expression levels were selectively increased in the cerebellum from bipolar disease (BD) patients when compared to controls (Ctr) or patients that had received lithium treatment. Bioinformatic analysis predicted 25 miR-34a target genes including the GWAS loci
ANK3
,
KLC2
,
CACNA1C
,
CACNB3
,
TENM4
, and
DDN
. Transient reporter assays showed that miR-34a overexpression does silence
ANK3
,
CACNA1C
, and
DDN
expression. Conversely, inhibition of elevated miR-34a in neurons derived from BD iPSCs led to normalization of miR-34a target genes. In an orthogonal approach, Bavamian et al. [
67
] investigated the effects of miR-34a overexpression across iPSC differentiation on a panel of 131 genes with a potential role in BD or neurodevelopment. Among 70 differentially expressed transcripts, fourteen were encoded by GWAS loci. Furthermore, the corresponding proteins of these risk loci formed a highly connected protein interaction network.
| Ref. | Source | Factors | Methods | N° | Auth | Karyo | Pluripotency |
| --- | --- | --- | --- | --- | --- | --- | --- |
| [63] | FB | OKSM | RV | ≥5 | nd | nd | ICC, EB and TriL |
| [64] | FB | miR/NAM | LV | na | na | na | ICC |
| [65] | FB | OKSM | RV | ≥3 | SNP | G-Band | ICC, PluriTest, EB and ScoC, Tera |
| [66] | FB | OKSM | SV | 2 | nd | G-Band | ICC, TriL |
| [67] | FB | miR/NAM | LV | na | na | na | ICC |
| [68] | FB | OKSM | SV | 3 | nd | G-Band | ICC, EB and TriL |
| [69] | LCL | OKSM, LIN28 | Epi | ≥3 | STRP | nd | ICC |
| [70] | FB, LB | OKSM | Epi, LV, RV | 1–3 | SNP | nd | ICC, PluriTest, EB, Tera |
| [71] | AP | OKSM | Epi | 1 | nd | nd | ICC, EB and TriL |
AP, adipocytes; Auth, authentication; EB, undirected embryoid body formation; Epi, episomal plasmid; FB, fibroblast; G-Band, chromosomal G-banding; ICC, immunocytochemistry; Karyo, karyotype; LB, lymphoblast from blood; LCL, lymphoblastoid cell line; LV, lentiviral transduction; miR/NAM, miR9/9*-124, NEUROD2, ASCL1, and MYT1L; OKSM, OCT4, KLF4, SOX2, MYC; N°, numbers of independent clones per donor; na, not applicable; nd, not determined; PluriTest, a bioinformatic approach to asses pluripotency [72]; Tera, teratoma formation; TriL, analysis of trilineage formation by ICC and/or qRT-PCR; Ref, reference; RV, retroviral transduction; ScoC, lineage score card [73]; SNP, whole genome single nucleotide profiling; SV, Sendai virus transduction; STRP, short tandem repeat profile.
Ref.
Study Design
BD vs. Controls
Model
Major Cell Type(s)
[63]
BD I (LR)—control
3 vs. 3
iPSC
Forebrain, mixed glutamatergic—GABAergic neurons
[64]
BD I—control
12 vs. 6
iNLC
NSC, NPC, neuronal-like cells
[65]
Familial BD
2 vs. 2
iPSC
FACS-sorted NPCs, neurons
[66]
BD I—control
6 vs. 4
iPSC
Hippocampal dentate gyrus-like granule neurons
[67]
BD I—control
1 vs. 1
5 vs. 3
iPSC
iNLC
NPC, NPC-derived neurons
transdifferentiated neurons
[68]
Familial BD
4 vs. 4
iPSC
PAX6-positive NPC, early and late cortical neurons
[69]
BD I (LR-NR)—control
3 vs. 3 vs. 4
iPSC
Hippocampal dentate gyrus-like granule neurons
[70]
BD I (LR-NR)—control—MDD—PD
7 vs. 3 vs. 6 vs. 2 vs. 1
iPSC
Forebrain, mixed glutamatergic—GABAergic neurons
[71]
BD I—control
6 vs. 4
iPSC
Cortical stem and progenitor cells
BD I, bipolar disease type I; FACS, fluorescence activated cell sorting; iNLC, induced neuron-like cells; iPSC, induced pluripotent stem cell; MDD, unipolar major depression; LR, lithium responder; NPC, neural progenitor cell; NSC, neural stem cell; NR, lithium non-responder; PD, Parkinson disease.
| Ref. | Major Methods | Major Findings in BD-derived iPSCs |
| --- | --- | --- |
| [63] | Microarray, Ca2+ transients | Ventralization, increased expression of membrane bound receptors and ion channels, Li reduces wave altered length amplitude and Ca2+ transients |
| [64] | Morphology, Res-Imag | Cellular adhesion associates with clinical response to Li |
| [65] | NanoString, RNA-seq, WCPC | Impaired early NPCs proliferation that is normalized by GSK3β inhibitor, altered WNT/GSK3β signaling and ion channel expression in NPCs |
| [66] | RNA-seq, WCPC | Altered neuronal excitability, altered mitochondrial function and size, Li reduces hyperexcitability in LR donors and partly normalizes mitochondrial function |
| [67] | qRT-PCR, NanoString, reporter assays | Upregulation of miR-34a in NPC and neurons, reducing miR-34a expression enhances dendritic elaboration and maturation of NPCs |
| [68] | Microarray | Deregulation of receptor-mediated signaling. RNA metabolism, and protein trafficking in late neurons, upregulation of GAD1 |
| [69] | WCPC | Neurons differ according to LR and NR, larger fast after-hyperpolarization |
| [70] | Proteomics | Li-response pathway in BD acts through GSK3β-dependent CRMP2 phosphorylation to alter dendrite and dendritic spine formation, Ca2+ fluxes and neuronal activity |
| [71] | RNA-seq, WCPC | Upregulation of immune-regulatory NLRP2, GABA- and dopamine signaling |
CRMP2, collapsin response mediator protein-2; GAD, glutamate decarboxylase; GSK3β, glycogen synthase kinase 3; Li, lithium; LR, lithium responder; miR-34a, microRNA-34a; NanoString, digital expression profiling; NPC, neuronal progenitor cell; NR, lithium non-responder; NLRP2, NLR family pyrin domain containing 2; qRT-PCR, quantitative reverse transcribed real-time polymerase reaction; Res-Imag, resonance imaging; RNA, ribonucleic acid; RNA-seq, RNA sequencing; WCPC, whole cell patch clamp; WNT, Wingless-type MMTV integration site family.

© 2018 by the authors. Licensee MDPI, Basel, Switzerland. This article is an open access article distributed under the terms and conditions of the Creative Commons Attribution (CC BY) license (http://creativecommons.org/licenses/by/4.0/).