Telomere Length Dynamics and the Evolution of Cancer Genome Architecture
Division of Cancer and Genetics, School of Medicine, UHW Main Building, Cardiff CF14 4XN, UK
*
Author to whom correspondence should be addressed.
Received: 29 December 2017 / Revised: 29 January 2018 / Accepted: 31 January 2018 / Published: 6 February 2018
Abstract
Telomeres are progressively eroded during repeated rounds of cell division due to the end replication problem but also undergo additional more substantial stochastic shortening events. In most cases, shortened telomeres induce a cell-cycle arrest or trigger apoptosis, although for those cells that bypass such signals during tumour progression, a critical length threshold is reached at which telomere dysfunction may ensue. Dysfunction of the telomere nucleoprotein complex can expose free chromosome ends to the DNA double-strand break (DSB) repair machinery, leading to telomere fusion with both telomeric and non-telomeric loci. The consequences of telomere fusions in promoting genome instability have long been appreciated through the breakage–fusion–bridge (BFB) cycle mechanism, although recent studies using high-throughput sequencing technologies have uncovered evidence of involvement in a wider spectrum of genomic rearrangements including chromothripsis. A critical step in cancer progression is the transition of a clone to immortality, through the stabilisation of the telomere repeat array. This can be achieved via the reactivation of telomerase, or the induction of the alternative lengthening of telomeres (ALT) pathway. Whilst telomere dysfunction may promote genome instability and tumour progression, by limiting the replicative potential of a cell and enforcing senescence, telomere shortening can act as a tumour suppressor mechanism. However, the burden of senescent cells has also been implicated as a driver of ageing and age-related pathology, and in the promotion of cancer through inflammatory signalling. Considering the critical role of telomere length in governing cancer biology, we review questions related to the prognostic value of studying the dynamics of telomere shortening and fusion, and discuss mechanisms and consequences of telomere-induced genome rearrangements.
View Full-Text
►

▼

Figures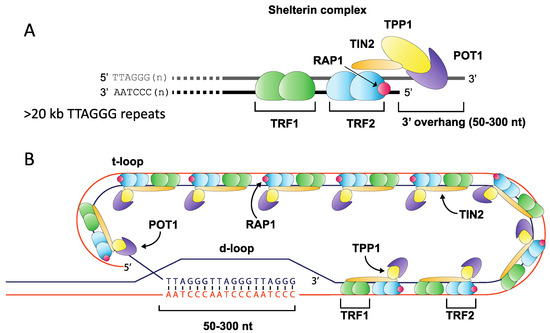 Figure 1
This is an open access article distributed under the
Creative Commons Attribution License
which permits unrestricted use, distribution, and reproduction in any medium, provided the original work is properly cited (CC BY 4.0).

Share & Cite This Article
MDPI and ACS Style
Cleal, K.; Norris, K.; Baird, D. Telomere Length Dynamics and the Evolution of Cancer Genome Architecture. Int. J. Mol. Sci. 2018, 19, 482.
Note that from the first issue of 2016, MDPI journals use article numbers instead of page numbers. See further details here.
Related Articles
Comments
[Return to top]