Lycopene Attenuates Tulathromycin and Diclofenac Sodium-Induced Cardiotoxicity in Mice
1
Pharmacology Department, Faculty of Veterinary Medicine, Suez Canal University, Ismailia 41522, Egypt
2
Department of Pharmacology, Faculty of Veterinary Medicine, Mansoura University, Mansoura 35516, Egypt
3
Pathology Department, Faculty of Veterinary Medicine, Cairo University, Giza 12122, Egypt
4
Pharmaceutical Research Institute, Albany College of Pharmacy and Health Sciences, New York, NY 12144, USA
*
Author to whom correspondence should be addressed.
Received: 11 December 2017 / Revised: 15 January 2018 / Accepted: 17 January 2018 / Published: 24 January 2018
Abstract
Recent experiments showed a potential cardiotoxic effect of the macrolide antibiotic (tulathromycin). This study was performed to investigate whether diclofenac sodium (DFS) potentiates the cardiotoxicity of tulathromycin and increases the cardioprotective effects of lycopene against DFS and tulathromycin. Seven groups (eight per group) of adult Swiss albino mice received saline (control), tulathromycin (a single subcutaneous dose of 28 mg/kg/bw on day 14), DFS (a single oral dose of 100 mg/kg/bw on day 14), tulathromycin plus DFS, or lycopene (oral, 10 mg/kg/bw daily for 15 d) combined with tulathromycin, DFS, or both. Compared to the control group, the administration of tulathromycin or DFS (individually or in combination) caused significantly elevated (
p
< 0.05) serum levels of Creatine kinase-myocardial B fraction (CK-MB), lactate dehydrogenase, and cardiac-specific troponin-T and tissue levels of nitric oxide and malondialdehyde that were accompanied by significantly decreased tissue reduced glutathione content and glutathione peroxidase, superoxide dismutase, and catalase antioxidant enzyme activity. Upon histopathological and immunohistochemical examination, the mean pathology scores and the percentages of caspase-3-, Bax-, and CK-positive regions were significantly higher in the tulathromycin- and/or DFS-treated groups than in control mice. For all these parameters, the pathological changes were more significant in the tulathromycin–DFS combination group than in mice treated with either drug individually. Interestingly, co-administration of lycopene with tulathromycin and/or DFS significantly ameliorated the changes described above. In conclusion, DFS could potentiate the cardiotoxic effects of tulathromycin, whereas lycopene can serve as a cardioprotective agent against DFS and tulathromycin.
View Full-Text
►

▼

Figures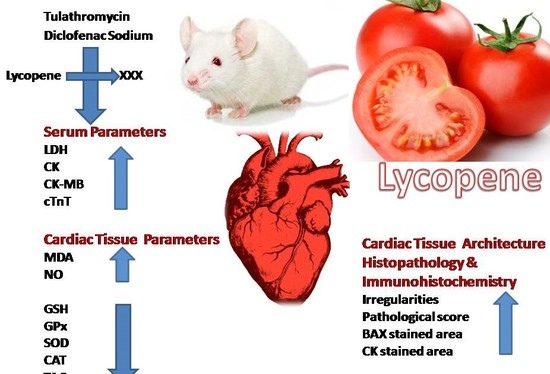 Graphical abstract
This is an open access article distributed under the
Creative Commons Attribution License
which permits unrestricted use, distribution, and reproduction in any medium, provided the original work is properly cited (CC BY 4.0).

Share & Cite This Article
MDPI and ACS Style
Abdel-Daim, M.M.; Eltaysh, R.; Hassan, A.; Mousa, S.A. Lycopene Attenuates Tulathromycin and Diclofenac Sodium-Induced Cardiotoxicity in Mice. Int. J. Mol. Sci. 2018, 19, 344.
Note that from the first issue of 2016, MDPI journals use article numbers instead of page numbers. See further details here.
Related Articles
Comments
[Return to top]