A Metabologenomic Approach Reveals Changes in the Intestinal Environment of Mice Fed on American Diet
1
Institute for Advanced Biosciences, Keio University, 246-2 Mizukami, Kakuganji, Tsuruoka, Yamagata 997-0052, Japan
2
Systems Biology Program, Graduate School of Media and Governance, Keio University, 5322 Endo, Fujisawa, Kanagawa 252-0882, Japan
3
Central Institute for Experimental Animals, 3-25-12 Tonomachi, Kawasaki-ku, Kawasaki, Kanagawa 210-0821, Japan
4
Department of Environment and Information Studies, Keio University, 5322 Endo, Fujisawa, Kanagawa 252-0882, Japan
5
Intestinal Microbiota Project, Kanagawa Institute of Industrial Science and Technology, 3-25-13 Tonomachi, Kawasaki-ku, Kawasaki, Kanagawa 210-0821, Japan
6
Transborder Medical Research Center, University of Tsukuba, 1-1-1 Tennodai, Tsukuba, Ibaraki 305-8575, Japan
7
PRESTO, Japan Science and Technology Agency, 4-1-8 Honcho Kawaguchi, Saitama 332-0012, Japan
†
Current address: RIKEN Center for Integrative Medical Sciences, 1-7-22 Suehiro-cho, Tsurumi-ku, Yokohama, Kanagawa 230-0045, Japan.
*
Author to whom correspondence should be addressed.
Received: 6 November 2018 / Revised: 11 December 2018 / Accepted: 15 December 2018 / Published: 17 December 2018
Abstract
Intestinal microbiota and their metabolites are strongly associated with host physiology. Developments in DNA sequencing and mass spectrometry technologies have allowed us to obtain additional data that enhance our understanding of the interactions among microbiota, metabolites, and the host. However, the strategies used to analyze these datasets are not yet well developed. Here, we describe an original analytical strategy, metabologenomics, consisting of an integrated analysis of mass spectrometry-based metabolome data and high-throughput-sequencing-based microbiome data. Using this approach, we compared data obtained from C57BL/6J mice fed an American diet (AD), which contained higher amounts of fat and fiber, to those from mice fed control rodent diet. The feces of the AD mice contained higher amounts of butyrate and propionate, and higher relative abundances of
Oscillospira
and
Ruminococcus.
The amount of butyrate positively correlated with the abundance of these bacterial genera. Furthermore, integrated analysis of the metabolome data and the predicted metagenomic data from Phylogenetic Investigation of Communities by Reconstruction of Unobserved States (PICRUSt) indicated that the abundance of genes associated with butyrate metabolism positively correlated with butyrate amounts. Thus, our metabologenomic approach is expected to provide new insights and understanding of intestinal metabolic dynamics in complex microbial ecosystems.
View Full-Text
►

▼

Figures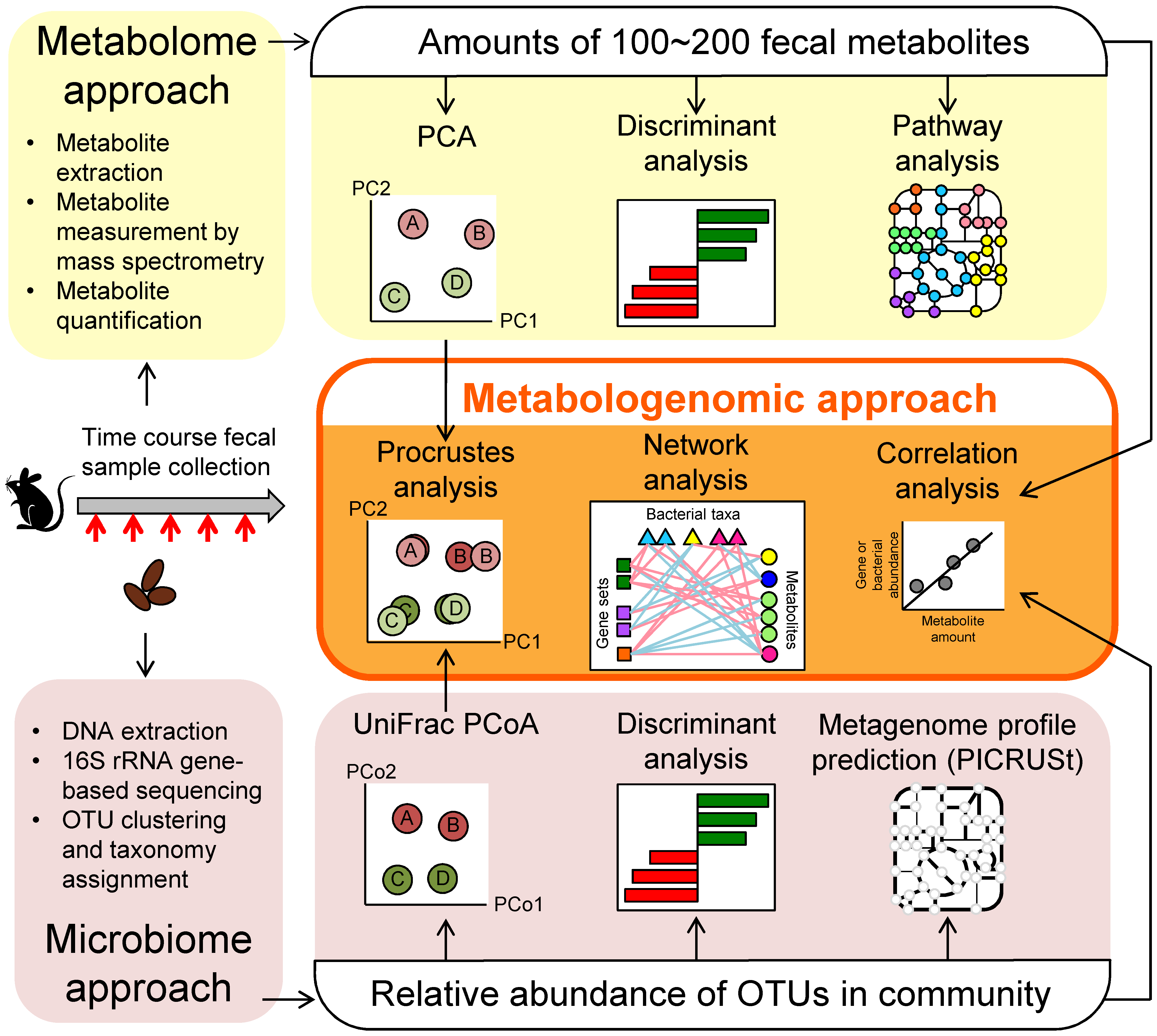 Figure 1
This is an open access article distributed under the
Creative Commons Attribution License
which permits unrestricted use, distribution, and reproduction in any medium, provided the original work is properly cited (CC BY 4.0).

Share & Cite This Article
MDPI and ACS Style
Ishii, C.; Nakanishi, Y.; Murakami, S.; Nozu, R.; Ueno, M.; Hioki, K.; Aw, W.; Hirayama, A.; Soga, T.; Ito, M.; Tomita, M.; Fukuda, S. A Metabologenomic Approach Reveals Changes in the Intestinal Environment of Mice Fed on American Diet. Int. J. Mol. Sci. 2018, 19, 4079.
Note that from the first issue of 2016, MDPI journals use article numbers instead of page numbers. See further details here.
Related Articles
Comments
[Return to top]