From mRNA Expression of Drug Disposition Genes to In Vivo Assessment of CYP-Mediated Biotransformation during Zebrafish Embryonic and Larval Development
1
Applied Veterinary Morphology, Department of Veterinary Sciences, University of Antwerp, 2610 Wilrijk, Antwerp, Belgium
2
Biosciences, College of Life and Environmental Sciences, University of Exeter, EX4 4QD Exeter, UK
3
Zebrafishlab, Veterinary Physiology and Biochemistry, Department of Veterinary Sciences, University of Antwerp, 2610 Wilrijk, Antwerp, Belgium
4
Gamete Research Centre, Veterinary Physiology and Biochemistry, Department of Veterinary Sciences, University of Antwerp, 2610 Wilrijk, Antwerp, Belgium
5
Systemic Physiological and Ecotoxicological Research (SPHERE), Department of Biology, University of Antwerp, 2020 Antwerp, Belgium
*
Author to whom correspondence should be addressed.
Received: 25 November 2018 / Accepted: 7 December 2018 / Published: 10 December 2018
Abstract
The zebrafish (
Danio rerio
) embryo is currently explored as an alternative for developmental toxicity testing. As maternal metabolism is lacking in this model, knowledge of the disposition of xenobiotics during zebrafish organogenesis is pivotal in order to correctly interpret the outcome of teratogenicity assays. Therefore, the aim of this study was to assess cytochrome P450 (CYP) activity in zebrafish embryos and larvae until 14 d post-fertilization (dpf) by using a non-specific CYP substrate, i.e., benzyloxy-methyl-resorufin (BOMR) and a CYP1-specific substrate, i.e., 7-ethoxyresorufin (ER). Moreover, the constitutive mRNA expression of
CYP1A
,
CYP1B1
,
CYP1C1
,
CYP1C2
,
CYP2K6
,
CYP3A65
,
CYP3C1
, phase II enzymes uridine diphosphate glucuronosyltransferase 1A1 (
UGT1A1
) and sulfotransferase 1st1 (
SULT1ST1
), and an ATP-binding cassette (ABC) drug transporter, i.e.,
abcb4
, was assessed during zebrafish development until 32 dpf by means of quantitative PCR (qPCR). The present study showed that trancripts and/or the activity of these proteins involved in disposition of xenobiotics are generally low to undetectable before 72 h post-fertilization (hpf), which has to be taken into account in teratogenicity testing. Full capacity appears to be reached by the end of organogenesis (i.e., 120 hpf), although
CYP1
—except
CYP1A
—and
SULT1ST1
were shown to be already mature in early embryonic development.
View Full-Text
►

▼

Figures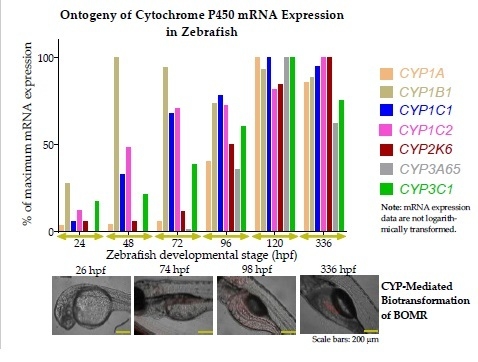 Graphical abstract
This is an open access article distributed under the
Creative Commons Attribution License
which permits unrestricted use, distribution, and reproduction in any medium, provided the original work is properly cited (CC BY 4.0).

Share & Cite This Article
MDPI and ACS Style
Verbueken, E.; Bars, C.; Ball, J.S.; Periz-Stanacev, J.; Marei, W.F.A.; Tochwin, A.; Gabriëls, I.J.; Michiels, E.D.G.; Stinckens, E.; Vergauwen, L.; Knapen, D.; Van Ginneken, C.J.; Van Cruchten, S.J. From mRNA Expression of Drug Disposition Genes to In Vivo Assessment of CYP-Mediated Biotransformation during Zebrafish Embryonic and Larval Development. Int. J. Mol. Sci. 2018, 19, 3976.
Note that from the first issue of 2016, MDPI journals use article numbers instead of page numbers. See further details here.
Related Articles
Comments
[Return to top]