Functionalized Keratin as Nanotechnology-Based Drug Delivery System for the Pharmacological Treatment of Osteosarcoma
1
Institute of Organic Synthesis and Photoreactivity (ISOF), National Research Council (CNR), Via Gobetti, 101, 40129 Bologna, Italy
2
Laboratory of Musculoskeletal Cell Biology, IRCCS Istituto Ortopedico Rizzoli, Via di Barbiano 1/10, 40136 Bologna, Italy
3
Institute of Molecular Genetics, National Research Council of Italy, 40136 Bologna, Italy
4
IRCCS Istituto Ortopedico Rizzoli, Via di Barbiano 1/10, 40136 Bologna, Italy
5
Laboratory of Experimental Oncology, IRCCS Istituto Ortopedico Rizzoli, Via di Barbiano 1/10, 40136 Bologna, Italy
6
3rd Orthopaedic and Traumatologic Clinic prevalently Oncologic, IRCCS Istituto Ortopedico Rizzoli, Via di Barbiano 1/10, 40136 Bologna, Italy
7
Department of Biomedical and Neuromotor Sciences (DIBINEM), Alma Mater Studiorum University of Bologna, Via Ugo Foscolo 9, 40123 Bologna, Italy
8
Unit of Orthopaedic Pathology and Osteoarticular Tissue Regeneration, 3rd Orthopaedic and Traumatologic Clinic prevalently Oncologic, IRCCS Istituto Ortopedico Rizzoli, Via di Barbiano 1/10, 40136 Bologna, Italy
*
Author to whom correspondence should be addressed.
Received: 19 October 2018 / Revised: 12 November 2018 / Accepted: 14 November 2018 / Published: 20 November 2018
Abstract
Osteosarcoma therapy might be moving toward nanotechnology-based drug delivery systems to reduce the cytotoxicity of antineoplastic drugs and improve their pharmacokinetics. In this paper, we present, for the first time, an extensive chemical and in vitro characterization of dual-loaded photo- and chemo-active keratin nanoparticles as a novel drug delivery system to treat osteosarcoma. The nanoparticles are prepared from high molecular weight and hydrosoluble keratin, suitably functionalized with the photosensitizer Chlorin-e6 (Ce6) and then loaded with the chemotherapeutic drug Paclitaxel (PTX). This multi-modal
[email protected]
nanoformulation is prepared by both drug-induced aggregation and desolvation methods, and a comprehensive physicochemical characterization is performed.
[email protected]
efficacy is tested on osteosarcoma tumor cell lines, including chemo-resistant cells, using 2D and 3D model systems. The single and combined contributions of PTX and Ce6 is evaluated, and results show that PTX retains its activity while being vehiculated through keratin. Moreover, PTX and Ce6 act in an additive manner, demonstrating that the combination of the cytostatic blockage of PTX and the oxidative damage of ROS upon light irradiation have a far superior effect compared to singularly administered PTX or Ce6. Our findings provide the proof of principle for the development of a novel, nanotechnology-based drug delivery system for the treatment of osteosarcoma.
View Full-Text
►

▼

Figures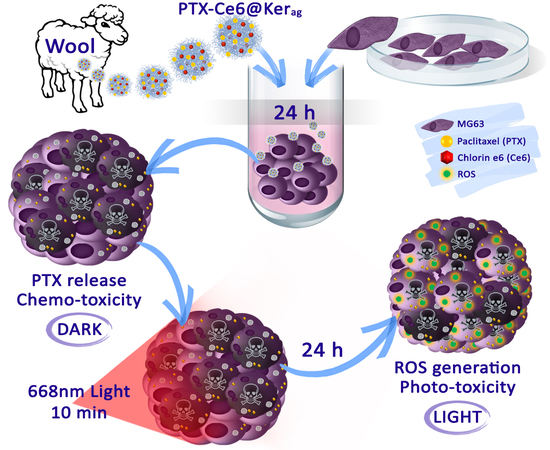 Graphical abstract
This is an open access article distributed under the
Creative Commons Attribution License
which permits unrestricted use, distribution, and reproduction in any medium, provided the original work is properly cited (CC BY 4.0).

Share & Cite This Article
MDPI and ACS Style
Martella, E.; Ferroni, C.; Guerrini, A.; Ballestri, M.; Columbaro, M.; Santi, S.; Sotgiu, G.; Serra, M.; Donati, D.M.; Lucarelli, E.; Varchi, G.; Duchi, S. Functionalized Keratin as Nanotechnology-Based Drug Delivery System for the Pharmacological Treatment of Osteosarcoma. Int. J. Mol. Sci. 2018, 19, 3670.
Note that from the first issue of 2016, MDPI journals use article numbers instead of page numbers. See further details here.
Related Articles
Comments
[Return to top]