The Pub1 and Upf1 Proteins Act in Concert to Protect Yeast from Toxicity of the [
PSI

+] Prion

Bach Institute of Biochemistry, Federal Research Center "Fundamentals of Biotechnology" of the Russian Academy of Sciences, 119071 Moscow, Russia

*

Author to whom correspondence should be addressed.

†

Michael D. Ter-Avanesyan passed away on 25 October 2018.

Received: 8 October 2018 / Revised: 2 November 2018 / Accepted: 14 November 2018 / Published: 20 November 2018
Abstract
The [
PSI
+
] nonsense-suppressor determinant of
Saccharomyces cerevisiae
is based on the formation of heritable amyloids of the Sup35 (eRF3) translation termination factor. [
PSI
+
] amyloids have variants differing in amyloid structure and in the strength of the suppressor phenotype. The appearance of [
PSI
+
], its propagation and manifestation depend primarily on chaperones. Besides chaperones, the Upf1/2/3, Siw14 and Arg82 proteins restrict [
PSI
+
] formation, while Sla2 can prevent [
PSI
+
] toxicity. Here, we identify two more non-chaperone proteins involved in [
PSI
+
] detoxification. We show that simultaneous lack of the Pub1 and Upf1 proteins is lethal to cells harboring [
PSI
+
] variants with a strong, but not with a weak, suppressor phenotype. This lethality is caused by excessive depletion of the Sup45 (eRF1) termination factor due to its sequestration into Sup35 polymers. We also show that Pub1 acts to restrict excessive Sup35 prion polymerization, while Upf1 interferes with Sup45 binding to Sup35 polymers. These data allow consideration of the Pub1 and Upf1 proteins as a novel [
PSI
+
] detoxification system.
View Full-Text
►

▼

Figures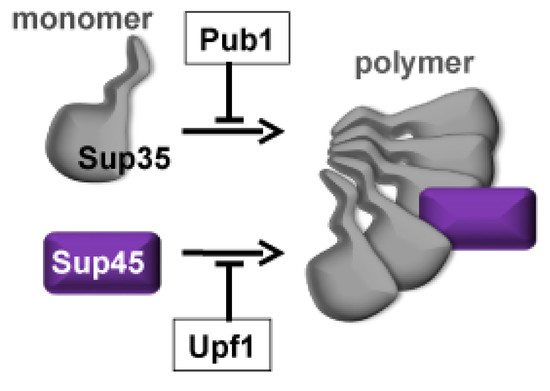 Graphical abstract
This is an open access article distributed under the
Creative Commons Attribution License
which permits unrestricted use, distribution, and reproduction in any medium, provided the original work is properly cited (CC BY 4.0).

Share & Cite This Article
MDPI and ACS Style
Urakov, V.N.; Mitkevich, O.V.; Dergalev, A.A.; Ter-Avanesyan, M.D. The Pub1 and Upf1 Proteins Act in Concert to Protect Yeast from Toxicity of the [PSI+] Prion. Int. J. Mol. Sci. 2018, 19, 3663.
Note that from the first issue of 2016, MDPI journals use article numbers instead of page numbers. See further details here.
Related Articles
Comments
[Return to top]