Open Access This article is
freely available
re-usable
Review
Peroxisome Proliferator-Activated Receptors (PPAR)γ Agonists as Master Modulators of Tumor Tissue
1
Department of Internal Medicine III, University Hospital Regensburg, Hematology and Oncology, 93042 Regensburg, Germany
2
Department Biology, Universita' di Roma Tor Vergata, 00173 Rome, Italy
3
Institut for Analytical Chemistry, Faculty Chemistry, University Vienna, A-1090 Vienna, Austria
*
Author to whom correspondence should be addressed.
Received: 28 September 2018 / Accepted: 6 November 2018 / Published: 9 November 2018
Abstract
:
In most clinical trials, thiazolidinediones do not show any relevant anti-cancer activity when used as mono-therapy. Clinical inefficacy contrasts ambiguous pre-clinical data either favoring anti-tumor activity or tumor promotion. However, if thiazolidinediones are combined with additional regulatory active drugs, so-called 'master modulators' of tumors, i.e., transcriptional modulators, metronomic low-dose chemotherapy, epigenetically modifying agents, protein binding pro-anakoinotic drugs, such as COX-2 inhibitors, IMiDs, etc., the results indicate clinically relevant communicative reprogramming of tumor tissues, i.e., anakoinosis, meaning 'communication' in ancient Greek. The concerted activity of master modulators may multifaceted diversify palliative care or even induce continuous complete remission in refractory metastatic tumor disease and hematologic neoplasia by establishing novel communicative behavior of tumor tissue, the hosting organ, and organism. Re-modulation of gene expression, for example, the up-regulation of tumor suppressor genes, may recover differentiation, apoptosis competence, and leads to cancer control—in contrast to an immediate, 'poisoning' with maximal tolerable doses of targeted/cytotoxic therapies. The key for uncovering the therapeutic potential of Peroxisome proliferator-activated receptor γ (PPARγ) agonists is selecting the appropriate combination of master modulators for inducing anakoinosis: Now, anakoinosis is trend setting by establishing a novel therapeutic pillar while overcoming classic obstacles of targeted therapies, such as therapy resistance and (molecular-)genetic tumor heterogeneity.
Keywords:
anakoinosis; communicative reprogramming; nuclear transcription factors; metronomic low-dose chemotherapy; glitazones; all-trans retinoic acid; COX-2 inhibitor; master modulators; undruggable targets; therapy pillar; peroxisome proliferator-activated receptors (PPARs); energy homeostasis; metabolic regulations; organ cross-talk; cancer and reprogramming of energy metabolism; systems biology
1. Introduction
When considering the context-dependent regulatory activity profile of NRs and the fact that cancer is constituted by complex dysregulation of transcription factors and homeostatic pathways, the following question arises: what kind of paradigms must be assumed for introducing NR agonists as attractive clinical targets, here, in particular, the α and γ variant of the peroxisome-proliferator-activated receptors (PPARs)? Secondly, may be the novel treatment approach, including agonists of nuclear receptors, universally applicable for treatment of metastatic, and refractory cancer and hematologic neoplasia?
2. Peroxisome Proliferator-Activated Receptor γ (PPARγ)/Cyclooxygenase-2 (COX-2) Expression in Tumors
COX-2 and PPARγ expression assays showed differential expression in almost every tissue type as well as in normal vs. neoplastic tissue: i.e., a continuous increase in COX2 expression from prostatic hyperplasia to prostatic intraepithelial neoplasia (PIN), to organ-confined prostate cancer, to castration-resistant prostate cancer, and to metastatic disease. In contrast, PPARγ expression decreases from the organ confined to the metastatic stage and increases again to the castration-resistant stage.
We conclude that the expression of COX-2 and PPARγ is a frequent finding in the progression of MM. Regarding primary MM, the expression of COX-2 indicates an increased risk of tumor recurrence, i.e., melanoma progression.
3. PPARγ Expression in Tumor Stroma
Apart from specifically stroma cells targeting drugs, some well-established pro-anakoinotic drugs, among them NR agonists, have revealed antitumor activity by unfolding pleiotropic biological effects. In this context thiazolidinedione derivatives such as pioglitazone are of special interest as they exert both a direct anti-tumor and a broad spectrum of stromal activities, including modulation of immune response, angiogenesis, and inflammation [
37
].
Stroma cell-specific NR signatures have to be suggested to collectively influencing tumor proliferation and metastasis [
38
]. Compartment specific NR expression and their context-dependent interaction with coregulators of NRs facilitate a complex dysregulated communicative network of transcription factors supporting multifold biologic hallmarks and tumor growth. On this presumably stage- and tumor-dependent background of NR expression, the profiling of NRs in stroma cells is urgently warranted for providing further rationales for combined transcriptional modulation in a therapeutic setting.
4. Induction of Anakoinosis with Master Modulators
5. Keys for Uncovering the Therapeutic Potential of PPARγ Agonists: Selecting the Appropriate, Histology-Independent Combination of Master Modulators
The fact that communication rules may change validity and denotation of systems objects may be generally attributed to communication.
5.1. Poor Monoactivity of PPARγ Agonists Across Different Tumor Histologies
Monoactivity of glitazones in cancer patients is very modest, whereas strong activity is well established in single tumor histologies for dexamethasone, all-trans retinoic acid, and bexarotene [
11
,
85
].
Metabolically active drugs, such as metformin or PPARγ/α agonists, are considered as chemopreventive agents [
86
,
87
]. Metformin may prolong survival in cancer patients following surgery, but only in distinct histologic tumor types, as retrospective studies are indicating [
88
]. Nevertheless, very recent data shows a mechanistic link between glucose metabolism and cancer being mediated by TET2-function [
89
].
5.2. PPARγ Agonists in Pro-Anakoinotic Combination Therapy with Master Modulators
Dysregulated homeostatic pathways represent, even if complex for pre-clinical evaluation, a pivotal therapeutic tool for 'normalizing' dysregulated homeostatic processes via master modulators, including agonists of nuclear transcription factors. NR antagonists are well integrated in clinical use and are here excluded from consideration. The review, particularly, concentrates on pioglitazone, a dual receptor agonist for PPARα/γ.
5.2.1. PPARγ Agonists Combined with Metronomic Low-Dose Chemotherapy/Demethylating Agents
Metronomic low-dose chemotherapy is still not established in routine therapy of neoplasia, as randomized comparisons often show no advantage for metronomically scheduled chemotherapy [
69
,
70
,
71
,
72
,
73
,
74
,
75
]. However, pre-clinical and clinical data give hints that the addition of classic targeted therapies or master modulators may improve outcome, even may diversify palliative care, and may contribute to continuous complete remission [
94
].
There are several reasons to include metronomic low-dose chemotherapy in the group of master modulators of tumor tissues. By adding pioglitazone and a COX-2 inhibitor, or an additional transcriptional regulator, such as a glucocorticoid, all-trans retinoic acid or interferon-α, outcome in refractory metastatic tumor disease could be improved up to continuous complete remission (
Table 2
). Additionally, chemotherapy doses could be reduced up to a quarter or third of the respective cumulative dose, which would be administered as pulsed therapy every three to four weeks, without loss of efficacy. Therefore, currently the question remains unanswered, which is the lowest, still regulatory active dose of metronomic chemotherapy when combining several master modulators [
12
].
In metastatic melanoma, the addition of pioglitazone to metronomic low-dose chemotherapy and COX-2 inhibitor has important therapeutic impact on outcome, as indicated in the paragraph 'PPARγ agonist plus COX-2 inhibitor'.
An important link between pioglitazone and metronomic chemotherapy may be physically explained. Pioglitazone sensitizes metronomic low-dose chemotherapy response by up-regulation of both, the receptor for the angiogenesis inhibitor thrombospondin 1, CD 36, and the phosphatase and tensin homolog PTEN [
95
,
96
,
97
,
98
].
5.2.2. PPARγ Agonists Plus Dexamethasone
5.2.3. PPARγ Agonists Plus All-Trans Retinoic Acid
The combination of azacitidine plus all-trans retinoic acid and pioglitazone may induce ex vivo granulocytic differentiation in more of 50% of blasts from acute myelocytic leukemia [
67
]. Moreover, these granulocytes regain phagocytic activity, when exposed to
E. coli
(unpublished data). Clinically, it is possible to induce continuous complete remission in acute myelocytic leukemia with the triple combination, while using only about 50% of the recommended dose of azacitidine [
67
,
104
].
A randomized trial in refractory acute myeloid leukemia (AML) is on-going, comparing the approved dose of azacitidine in comparison to the dose per square meter plus all-trans retinoic acid and pioglitazone.
Synergistic activity of dual transcriptional modulation has been well established in pre-clinical studies, for example, for pioglitazone and all-trans retinoic acid in tumor cell lines of different histology [
68
,
105
,
106
,
107
,
108
], but also for glitazones in combination with chemotherapy [
76
]. Clinical trial designs translated these pre-clinical results comparatively hesitantly.
5.2.4. PPARγ Agonists Plus Interferon-α
5.2.5. PPARγ Agonists Plus COX-2 Inhibitor
It is not possible to directly estimate the clinical impact of the COX-2 inhibitor from single arm pioglitazone and COX-2 inhibitor, including trials in addition to metronomic low-dose chemotherapy.
5.2.6. PPARγ Agonists and IMiDs
In an animal model, pomalidomide enhances the expression of PPARγ and CCAAT/enhancer binding protein α (C/EBPα), as well as the activity of lipoprotein lipase (LPL) and fatty acid synthetase (FAS). The pro-inflammatory activity of TNFα has the opposite effect on the biochemical indexes and genes that are related to lipid deposition in the liver [
119
].
Additional experimental data on tumor growth inhibition implicate thalidomide as being involved in the PPARγ pathway. Thalidomide and pomalidomide increase PPARγ protein dose-dependently, also activity of peroxisome proliferator response element [
120
].
In a clinical trial on multiple myeloma, we successfully used pioglitazone and lenalidomide plus low-dose metronomic chemotherapy and glucocorticoid for rescuing patients following failure of lenalidomide containing regimens in > third line therapy. All of these modulating activities justify for including IMiDs to master modulators of tumor tissue [
63
].
5.3. PPARγ Agonists in Pro-Anakoinotic Combination Therapy Combined with Targeted Therapy
5.3.1. Pioglitazone and Imatinib
Pioglitazone with imatinib in CML may reduce minimal residual disease. PPARγ agonists target chronic myeloid leukemia (CML) quiescent stem cells in vitro by decreasing transcription of STAT5. A fact that was also shown in multiple myeloma for STAT3. A phase III trial is on-going in France when comparing imatinib versus imatinib plus pioglitazone, as front-line therapy for CML [
121
].
The addition of imatinib in prostate cancer had no impact on outcome, although there are strong pre-clinical results indicating an impact of imatinib on potentially clinical relevant PDGFR inhibition in prostate cancer [
57
].
5.3.2. PPARγ and Mechanistic Target of Rapamycin (mTOR) Inhibitor
An additive or synergistic activity of thiazolidinediones and mTOR inhibitors can be suggested from pre-clinical data. Activation of PPARγ by thiazolidinediones leads to inhibition of cell growth and proliferation via key pathways of the Insulin/IGF axis, such as PI3K/mTOR, mitogen-activated protein kinase (MAPK), and GSK3-β/Wnt/β-catenin cascades. This signal pathways regulate cancer cell survival, cell reprogramming, and differentiation [
84
]. The inhibitory effect of rosiglitazone on non-small cell lung cancer (NSCLC) cell growth was enhanced by the mTOR inhibitor rapamycin. Rosiglitazone, via up-regulation of the PTEN/AMPK and down-regulation of the Akt/mTOR/p70S6K signal cascades, inhibits NSCLC cell proliferation through PPARγ-dependent and PPARγ-independent signals [
122
].
In refractory Hodgkin disease and MM, an mTOR inhibitor was introduced in addition to pioglitazone, metronomic low-dose chemotherapy, and COX-2 inhibitor; in Hodgkin lymphoma, a glucocorticoid was used, additionally. Metastatic uveal melanomas responded with long-term disease stabilization, improvement of Eastern Cooperative Oncology Group (ECOG) status and resolution of cachexia. In fourth-line PET negative complete remissions were achieved in Hodgkin lymphomas. All patients received allogeneic blood stem cell transplantation in first complete remission [
51
,
66
].
Both neoplasia are poorly responding to mTOR inhibitors, only. Thus, also the use of classic targeted therapy, here, the mTOR inhibitor may be repurposed [
123
].
6. Specific Methodological Aspects of Anakoinosis Inducing Therapies
7. Conclusions
A long way of failures accompanied the introduction of PPARγ agonists in tumor therapy. In contrast to NRs that are activated by hormones and the prompt incipient activity of hormones, adopted NRs have an intrinsic tissue- and stage-dependent pro-anakoinotic activity profile, which is pointed in tumor tissues with their severe dysregulation of transcription factors. However, PPARγ agonists are clinically irrelevant, as far as, for example, PPARγ agonists are used in mono-therapy. With respect to pioglitazone, the tumor systems related activity profile may be exclusively focused and up graded to a clinically meaningful range by introducing additional NR agonists, as shown for glucocorticoids, all-trans retinoic acid, or the transcriptional modulator interferon-α, or more generally, by adding master modulators. Under conditions of concerted activity of master modulators, it should be generally possible to elaborate and adopt combinations of master modulators inducing response in metastatic, refractory neoplasia, irrespective of the histologic origin.
Thus, with induction of anakoinosis, a novel therapy pillar may be introduced providing several advantages compared to classic targeted therapies:
Anakoinotic processes may cope with fundamental obstacles of classic targeted therapies, with tumor heterogeneity and poor risk parameters, with context-dependent validity and denotation of tumor-promoting aberrations and targets, with drug resistance or undruggable targets by targeting dynamic evolutionary processes, for example, multifaceted biologic steps that are necessary for establishing 'active' long-term tumor control or continuous complete remission [
12
]. Pro-anakoinotic therapies may inhibit further metastatic progression in case of metastatic disease (
Table 1
,
Figure 1
) [
127
].
Auspicious 'personalized' tumor therapy is now supplemented by a novel treatment methodology, which is at its beginnings but multifaceted adaptable to tumor systems stages. Importantly, metastatic tumors of quite different histologic origin may share communication features and may be reprogrammed with identical combinations of master modulators operating communication tools. Thus, in future, an evolution-adjusted tumor pathophysiology could be the driving force for specifying combinations of NR agonists and antagonists. Studies on proteomics and metabolomics in serum and plasma will provide new information on on-going systems changes induced by pro-anakoinotic therapy approaches.
A randomized trial introducing in the experimental arm metronomic low-dose chemotherapy, a selective inhibitor of the enzyme steroid-17
α
-hydroxylase (CYP17A1), which catalysis steps in the testosterone and estrogen biosynthesis, and dual transcriptional modulation with glucocorticoid and pioglitazone is ongoing in castration-resistant prostate cancer. In a second on-going trial, pioglitazone and all-trans retinoic acid are combined with azacitidine in the experimental arm for treating refractory acute myelocytic leukemia.
Author Contributions
D.H. and A.R. wrote the manuscript. M.R., F.L., M.V., T.P., W.H., L.G., and C.G. gave critical comments, read and approved the final version of the manuscript.
Funding
This research received no external funding.
Acknowledgments
The authors thank the patients for participating in the trials and the investigators for their contributions.
Conflicts of Interest
The authors declare no conflict of interest.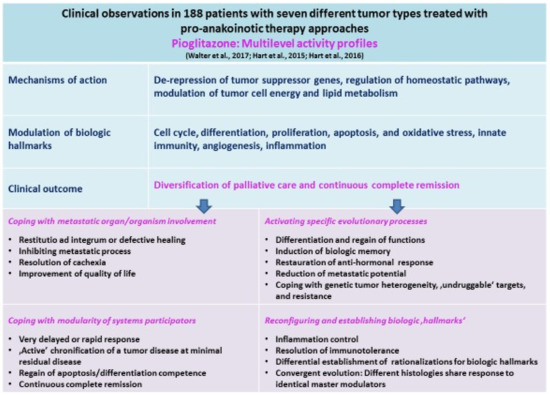 Figure 1. Pioglitazone in tumor therapy regulates the communicative interface of transcriptional modulation, lipid and carbohydrate metabolism, particularly in combination with additional master modulators. Thus, tumor-promoting pathways can be functionally attenuated without direct blocking tumor-promoting pathways or by shutting off tumor-associated cellular compartments. Clinical equivalents are diversification of palliative care, even continuous complete remission.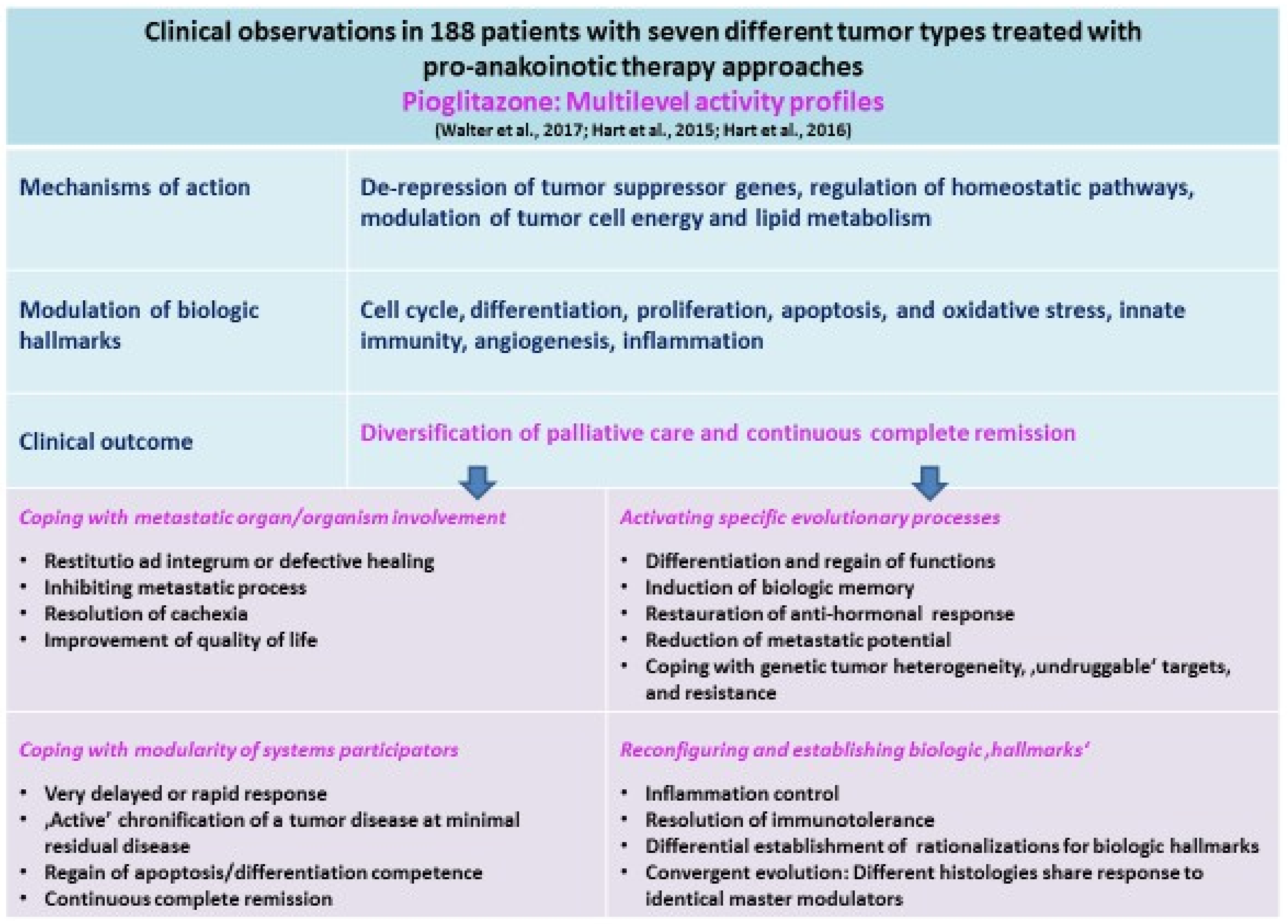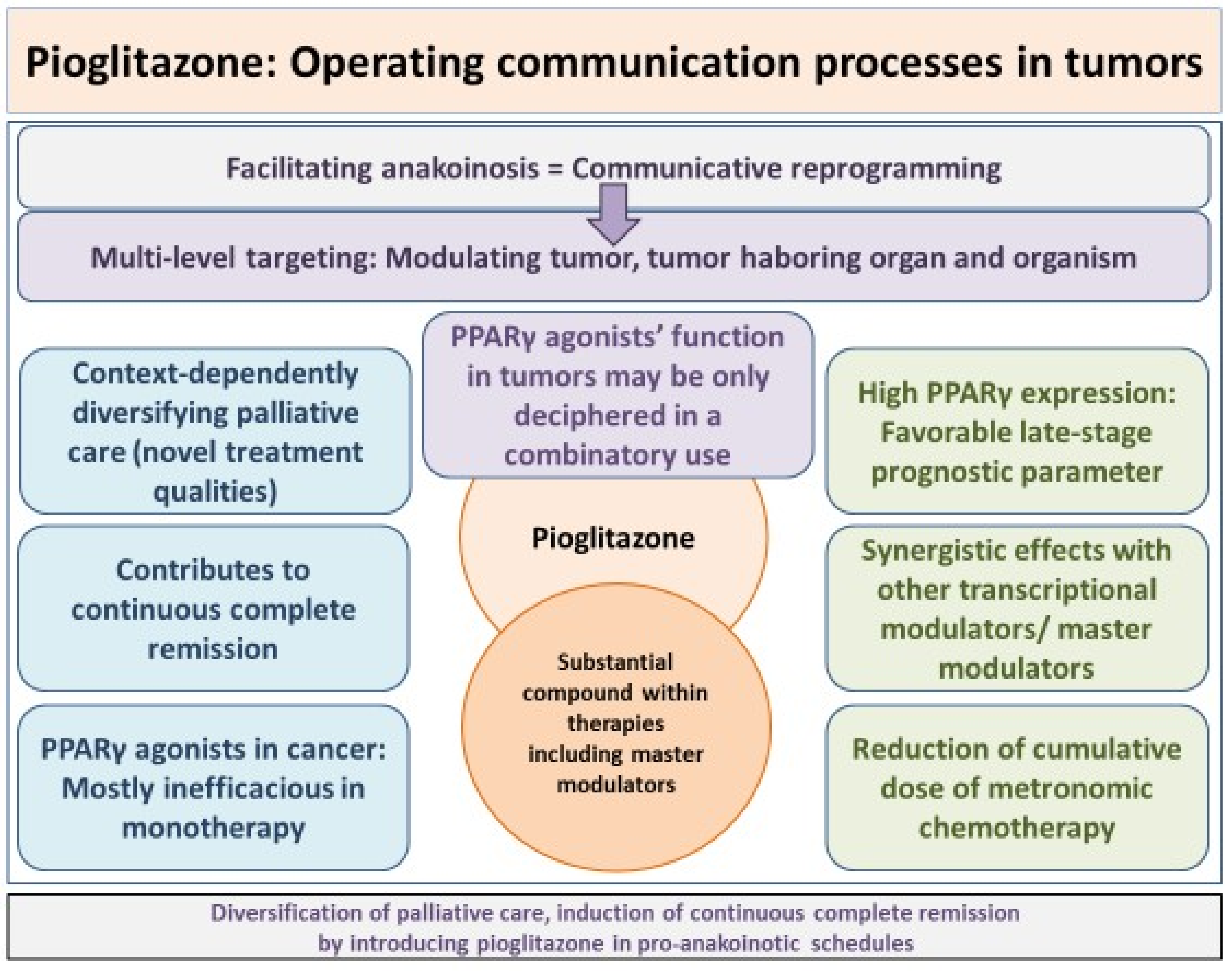 Communication-Associated Terms
Explanation
Anakoinosis
Anakoinosis is a novel paradigm for cancer treatment based on a key role for communicative reprogramming of tumor systems. Building on a systems biology approach to cancer, anakoinosis utilizes a range of non-cancer and cancer drugs in combination to treat advanced tumor disease, such as pioglitazone. In contrast to standard therapies, anakoinosis protocols are characterized by low toxicity and a good safety profile, with encouraging responses in a number of clinical trials to date. The use of drug repurposing, that is the use of non-cancer drugs as cancer treatments, is especially a notable feature of this approach.
Pro-anakoinotic therapeutic tools
(examples)
Transcriptional modulators, nuclear receptor agonists and antagonists, metronomic low-dose chemotherapy, cyclooxygenase-2 inhibitors, IMiDs, arsenic trioxide, liposomal encapsulated small oligonucleotide encoding small activating RNAs, etc.
Metronomic tumor therapy
Metronomic tumor therapy may be defined as the frequent administration of (repurposed) drugs at doses significantly below the maximum tolerated dose with no prolonged drug-free breaks, or as the minimum biologically effective dose of an agent given as a continuous dosing regimen with no prolonged drug-free breaks that still leads to anti-tumor activity.
Rationalizations
Describe the physical organization of tumor-associated normative notions (e.g. hallmarks of cancer); are to some degree histology- and genotype-independent; may be re-directed and reorganized by anakoinosis.
Metabolism of evolution
The sum of extrinsically, i.e., therapeutically, and intrinsically inducible evolutionary processes within the tumor environment (tumor stroma, hosting organ, distant organ sites).
Modularity
Modularity describes the degree and specificity to which systems' objects, i.e. cells, pathways, molecules, therapeutic targets etc. may be communicatively rededicated by anakoinosis.
Validity and denotation
Validity of systems objects, functions and hubs: Availability on demand at distinct systems stages; denotation: Current functional impact at a distinct systems stage, e.g. of potentially tumor-promoting pathways. In the bio-world, presence and functioning of an object (e.g., an enzyme), respectively.
Glitazones in Refractory Tumors or Hematologic Neoplasia
Neoplasia
No
pts
Chemotherapy
(* = Metronomic)
Transcriptional Modulators
Small
Molecule
Best Response
Reference
Sarcomas
Liposarcomas, intermediate to high-grade (case reports)
-
-
Troglitazone
-
Histological and biochemical differentiation
[45]
Liposarcoma
3
Trofosfamide *
Troglitazone
-
Lineage-appropriate differentiation can be induced pharmacologically in a human solid tumor.
[46]
Liposarcoma
(Phase II study)
12
-
Rosiglitazone
-
Rosiglitazone is not effective as an antitumoral drug in the treatment of liposarcomas
[47]
Kaposi sarcoma, refractory
1
Trofosfamide *
Pioglitazone
COX-2 inhibitor
Partial remission
[48]
(Hem-)angiosarcomas
12
Trofosfamide *
Pioglitazone
COX-2 inhibitor
Continuos complete remission
[49]
Breast cancer
Refractory breast cancer (Phase II study)
22
-
Troglitazone
-
No significant effect
[50]
Melanoma
Melanoma III (versus DTIC), phase II
Clinical Trials.gov:NCT01614301
6
Trofosfamide *
Pioglitazone
Temsirolimus
COX-2 inhibitor
Partial remission,
Resolution of cachexia
[51]
Melanoma (randomized)
Melanoma II Arm M
35
Trofosfamide *
Pioglitazone
-
Stable disease
[52]
Arm A/M
32
Trofosfamide *
Pioglitazone
COX-2 inhibitor
Partial remission
Hepatocellular carcinoma
Hepatocellular carcinoma
38
Capecitabine *
Pioglitazone
COX-2 inhibitor
Partial remission
[4]
Cholangiocellular carcinoma
Cholangiocellular carcinoma
21
Trofosfamide *
Pioglitazone
COX-2 inhibitor
Partial remission
[18]
Colorectal cancer
Chemotherapy-resistant metastatic colorectal cancer (phase II study)
25
-
Troglitazone
-
Not active for the treatment of metastatic colorectal cancer
[53]
Renal clear cell carcinoma
(historic comparison)
Renal clear cell carcinoma, relapsed
18
Capecitabine *
Pioglitazone
COX-2 inhibitor
Partial remission
[54]
Renal clear cell carinoma, relapsed
33
Capecitabine *
Pioglitazone Interferon-alpha
COX-2 inhibitor
Continuous complete remission
[5]
Prostate cancer
Prostate cancer
41
-
Troglitazone
-
Lengthened stabilisation of prostate-specific antigen
[55]
Castration-resistant prostate cancer
61
Treosulfan *
Pioglitazone, Dexamethasone
COX-2 inhibitor
Imatinib
Long-term tumor control at minimal disease
[56]
Castration-resistant prostate cancer
36
Capecitabine *
Pioglitazone, Dexamethasone
COX-2 inhibitor
Long-term tumor control
[57,58]
Prostate carcinoma (randomized)
Rising serum prostate-specific antigen level after radical prostatectomy and/or radiation therapy
106
-
Rosiglitazone

Versus


Placebo
Rosiglitazone did not increase PSA doubling time or prolong the time to disease progression
[59]
Gastric cancer (randomized)
Gastric cancer Arm A/M
21
Capecitabine *
Pioglitazone
COX-2 inhibitor
Partial remission
[60]
Arm M
21
Capecitabine *
Pioglitazone no impact
Glioblastoma
Glioblastoma, refractory
14
Capecitabine *
Pioglitazone
COX-2 inhibitor
Disease stabilization
[61]
Multiple myeloma
Multiple myeloma, third-line Clinicaltrials.gov, NCT001010243
6
Treosulfan *
Pioglitazone,
Dexamethasone
Lenalidomide
Complete remission
[62]
Langerhans cell histiocytosis
Langerhans cell histiocytosis,
refractory
2 + 7
Trofosfamide *
Pioglitazone
Dexamethasone
COX-2 inhibitor
Continuous complete remission
[13,63,64]
Hodgkin's lymphoma
Hodgkin lymphoma, refractory
3
Treosulfan *
Pioglitazone, Dexamethasone
COX-2 inhibitor Everolimus
Continuous
complete remission
[65]
Chronic myelocytic leukemia
Chronic myelocytic leukemia without moleclar CR
24
-
Pioglitazone
Imatinib
Molecular complete remission
(54%)
[66]
Acute myelocytic leukemia
Acute myelocytic leukemia
Refractory (on-going trial)
5 + 7
Azacitidine
Pioglitazone All-trans retinoic acid
Molecular complete remission
Myelodysplastic synrome with phagocytically active blasts
[67,68]

© 2018 by the authors. Licensee MDPI, Basel, Switzerland. This article is an open access article distributed under the terms and conditions of the Creative Commons Attribution (CC BY) license (http://creativecommons.org/licenses/by/4.0/).