A Nationwide Survey on Danon Disease in Japan
1
Department of Neurology, Nara Medical University School of Medicine, Nara 634-8521, Japan
2
Department of Neuromuscular Research, National Institute of Neurology, National Center of Neurology and Psychiatry, Tokyo 187-8502, Japan
3
Department of Child Neurology, National Center Hospital, National Center of Neurology and Psychiatry Hospital, Tokyo 187-8502, Japan
4
Department of Cardiology, Nara Medical University School of Medicine, Nara 634-8521, Japan
5
Department of Nephrology, Kansai Medical University, Osaka 573-1010, Japan
*
Author to whom correspondence should be addressed.
Received: 11 October 2018 / Revised: 4 November 2018 / Accepted: 5 November 2018 / Published: 8 November 2018
Abstract
Danon disease, an X-linked dominant cardioskeletal myopathy, is caused by primary deficiency of lysosome-associated membrane protein-2 (LAMP-2). To clarify the clinicopathological features and management, we performed the first nationwide, questionnaire-based survey on Danon disease in Japan. A total of 39 patients (17 males, 22 females) from 20 families were identified in the analysis. All patients had cardiomyopathy. Of the 21 patients who died, 20 (95%) died of cardiac failure or sudden cardiac arrest. Most patients had hypertrophic cardiomyopathy. Wolf–Parkinson–White syndrome was present at a comparatively high incidence (54% in males, 22% in females). Only one female patient received a heart transplant, which is the most effective therapy. Histopathologically, all male patients showed autophagic vacuoles with sarcolemmal features in muscle. Half of the probands showed de novo mutations. Male patients showed completely absent LAMP-2 expression in muscle. In contrast, female patients showed decreased LAMP-2 expression, which is suggested to reflect LAMP-2 haploinsufficiency due to a heterozygous null mutation. In conclusion, Danon disease is an extremely rare muscular disorder in Japan. Cardiomyopathy is the most significant prognostic factor and the main cause of death. Our findings suggest that the present survey can extend our understanding of the clinical features of this rare disease.
View Full-Text
►

▼

Figures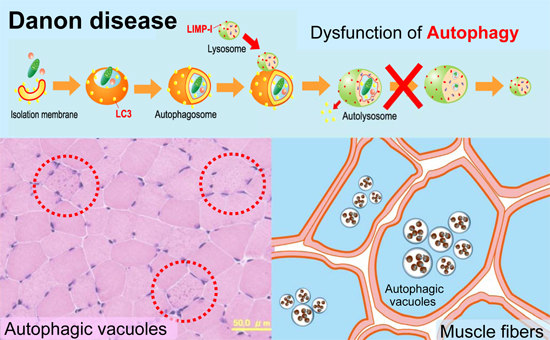 Graphical abstract
This is an open access article distributed under the
Creative Commons Attribution License
which permits unrestricted use, distribution, and reproduction in any medium, provided the original work is properly cited (CC BY 4.0).

Share & Cite This Article
MDPI and ACS Style
Sugie, K.; Komaki, H.; Eura, N.; Shiota, T.; Onoue, K.; Tsukaguchi, H.; Minami, N.; Ogawa, M.; Kiriyama, T.; Kataoka, H.; Saito, Y.; Nonaka, I.; Nishino, I. A Nationwide Survey on Danon Disease in Japan. Int. J. Mol. Sci. 2018, 19, 3507.
Note that from the first issue of 2016, MDPI journals use article numbers instead of page numbers. See further details here.
Related Articles
Comments
[Return to top]