Endogenous Ovarian Angiogenesis in Polycystic Ovary Syndrome-Like Rats Induced by Low-Frequency Electro-Acupuncture: The CLARITY Three-Dimensional Approach
1
Department of Integrative Medicine and Neurobiology, School of Basic Medical Sciences, Institutes of Brain Science, Brain Science Collaborative Innovation Center, State Key Laboratory of Medical Neurobiology, Institute of Acupuncture and Moxibustion, Fudan Institutes of Integrative Medicine, Fudan University, Shanghai 200032, China
2
Shanghai Key Laboratory of Acupuncture Mechanism and Acupoint Function, Shanghai 200032, China
3
Department of Physiology/Endocrinology, Institute of Neuroscience and Physiology, The Sahlgrenska Academy, University of Gothenburg, 40530 Gothenburg, Sweden
4
Department of Obstetrics and Gynecology, Shanghai Key Laboratory of Female Reproductive Endocrine Related Diseases, Shanghai Medical School, Fudan University, Shanghai 200011, China
*
Authors to whom correspondence should be addressed.
†
These authors contributed equally to this work.
Received: 6 September 2018 / Revised: 31 October 2018 / Accepted: 1 November 2018 / Published: 7 November 2018
Abstract
We sought to determine the role of ovarian vascularity and neo-angiogenesis in the development of mature follicles in polycystic ovary syndrome (PCOS) and to identify any changes induced by low-frequency electro-acupuncture (EA). Twenty-eight 21-day-old female Wistar rats were randomly divided into four groups—Control, Obesity, PCOS-like, and PCOS-like-EA (n = 7/group). Rats in the Obesity group were fed a high-fat diet throughout the experiment. Rats in the PCOS-like and PCOS-like-EA groups were implanted with a sustained-release tube containing 5α-dihydrotestosterone (DHT) beneath the skin of the neck. Rats in the PCOS-like-EA group received low-frequency EA treatment starting at 70 days for 30 min five times a week for four weeks. At the end of the experiment, all rats were euthanized and perfused with hydrogel. The ovaries were collected for clarification and imaging, and ovarian vascularity and neo-angiogenesis were analyzed. Compared with Control and Obesity rats, the ovaries in DHT-induced PCOS-like rats were smaller in size and had fewer mature follicles and corpora lutea. EA increased angiogenesis in the antral follicles of PCOS-like rats, which in turn promoted follicle maturation, ovulation, and CL formation. Therefore, endogenous ovarian angiogenesis plays a very important role in follicular maturation and might be one of the peripheral and direct mechanisms of EA on PCOS.
View Full-Text
►

▼

Figures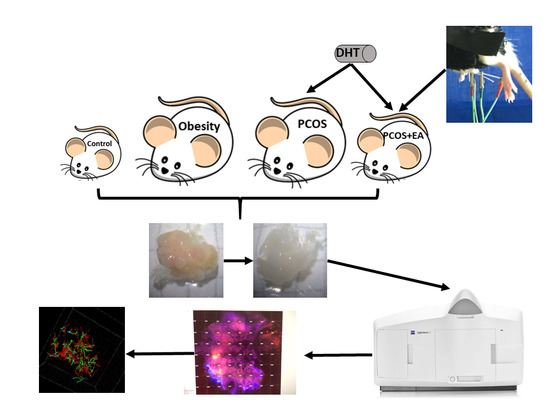 Graphical abstract
This is an open access article distributed under the
Creative Commons Attribution License
which permits unrestricted use, distribution, and reproduction in any medium, provided the original work is properly cited (CC BY 4.0).

Share & Cite This Article
MDPI and ACS Style
Ma, T.; Cui, P.; Tong, X.; Hu, W.; Shao, L.R.; Zhang, F.; Li, X.; Feng, Y. Endogenous Ovarian Angiogenesis in Polycystic Ovary Syndrome-Like Rats Induced by Low-Frequency Electro-Acupuncture: The CLARITY Three-Dimensional Approach. Int. J. Mol. Sci. 2018, 19, 3500.
Note that from the first issue of 2016, MDPI journals use article numbers instead of page numbers. See further details here.
Related Articles
Comments
[Return to top]