A Novel Design Combining Isothermal Exponential Amplification and Gold-Nanoparticles Visualization for Rapid Detection of miRNAs
1
Department of Biochemistry and Molecular Biology, College of Medical Laboratory and Technology, Harbin Medical University (Daqing), Daqing 163000, China
2
Department of Biochemistry and Molecular Biology, China Medical University, Shenyang 110122, China
*
Author to whom correspondence should be addressed.
Received: 9 October 2018 / Revised: 22 October 2018 / Accepted: 25 October 2018 / Published: 28 October 2018
Abstract
MicroRNAs (miRNAs) play important roles in a wide range of biological processes, and their aberrant expressions are associated with various diseases. The levels of miRNAs can be useful biomarkers for cellular events or disease diagnosis; thus, sensitive and selective detection of microRNAs is of great significance in understanding biological functions of miRNAs, early-phase diagnosis of cancers, and discovery of new targets for drugs. However, traditional approaches for the detection of miRNAs are usually laborious and time-consuming, with a low sensitivity. Here, we develop a simple, rapid, ultrasensitive colorimetric assay based on the combination of isothermal Exponential Amplification Reaction (EXPAR) and AuNP-labeled DNA probes for the detection of miRNAs (taking let-7a as a model analyte). In this assay, the presence of let-7a is converted to the reporter Y through EXPAR under isothermal conditions. The subsequent sandwich hybridization of the reporter Y with the AuNP-labeled DNA probes generates a red-to-purple color change. In other words, if the reporter Y is complementary to the AuNP-labeled DNA probes, the DNA-functionalized AuNPs will be aggregated, resulting in the change of solution color from red to purple/blue, while when the AuNP-labeled DNA probes are mismatched to the reporter Y, the solution remains red. This assay represents a simple, time-saving technique, and its results can be visually detected with the naked eye due to the colorimetric change. The method provides superior sensitivity, with a detection limit of 4.176 aM over a wide range from 1 nM to 1 aM under optimal conditions. The method also shows high selectivity for discriminating even single-nucleotide differences between let-7 miRNA family members. Notably, it is comparable to the most sensitive method reported to date, thus providing a promising alternative to standard approaches for the direct detection of let-7a miRNA. Importantly, through combination with specific templates, different miRNAs can be converted to the same reporter Y, which can hybridize with the same set of AuNP-labeled DNA probes to form sandwich hybrids. The color change of the solution can be observed in the presence of the target miRNA. This technique has potential as a routine method for assessing the levels of miRNAs, not only for let-7, but also for various miRNAs in the early phase of cancers. In addition, it can be a useful tool in biomedical research and clinical diagnosis, as well as diagnosis or surveillance programs in field conditions.
View Full-Text
►

▼

Figures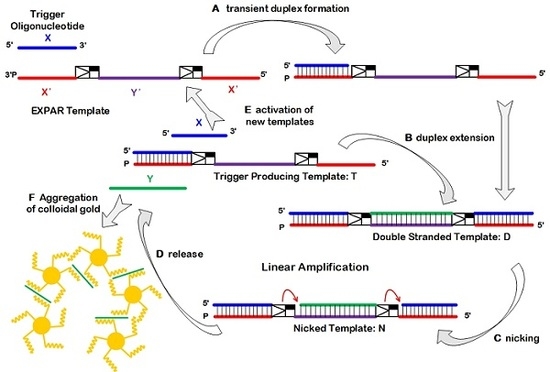 Graphical abstract
This is an open access article distributed under the
Creative Commons Attribution License
which permits unrestricted use, distribution, and reproduction in any medium, provided the original work is properly cited (CC BY 4.0).

Share & Cite This Article
MDPI and ACS Style
Jiang, J.; Zhang, B.; Zhang, C.; Guan, Y. A Novel Design Combining Isothermal Exponential Amplification and Gold-Nanoparticles Visualization for Rapid Detection of miRNAs. Int. J. Mol. Sci. 2018, 19, 3374.
Note that from the first issue of 2016, MDPI journals use article numbers instead of page numbers. See further details here.
Related Articles
Comments
[Return to top]