Stable Isotope Labeling Highlights Enhanced Fatty Acid and Lipid Metabolism in Human Acute Myeloid Leukemia
1
Centre de Recherches en Cancérologie de Toulouse, UMR1037, Inserm, Equipe Labellisée LIGUE 2018, F-31037 Toulouse, France
2
Université de Toulouse, 31000 Toulouse, France
3
MetaToul-Lipidomic Core Facility, MetaboHUB, I2 MC, Inserm, 31100 Toulouse, France
4
LISBP, Université de Toulouse, CNRS, INRA, INSA, F-31077 Toulouse, France
5
Centre de Recherches en Cancérologie de Toulouse, UMR1037, Inserm, Pôle Technologique, F-31037 Toulouse, France
6
Institut de Recherche en Cancérologie de Montpellier, U1194 Inserm, Université de Montpellier, Equipe Labellisée LIGUE 2017, F-34090 Montpellier, France
7
MetaToul Core Facility, INSA, LISBP, F-31077 Toulouse, France
*
Author to whom correspondence should be addressed.
Received: 7 September 2018 / Revised: 18 October 2018 / Accepted: 22 October 2018 / Published: 25 October 2018
Abstract
Background
: In Acute Myeloid Leukemia (AML), a complete response to chemotherapy is usually obtained after conventional chemotherapy but overall patient survival is poor due to highly frequent relapses. As opposed to chronic myeloid leukemia, B lymphoma or multiple myeloma, AML is one of the rare malignant hemopathies the therapy of which has not significantly improved during the past 30 years despite intense research efforts. One promising approach is to determine metabolic dependencies in AML cells. Moreover, two key metabolic enzymes, isocitrate dehydrogenases (IDH1/2), are mutated in more than 15% of AML patient, reinforcing the interest in studying metabolic reprogramming, in particular in this subgroup of patients.
Methods
: Using a multi-omics approach combining proteomics, lipidomics, and isotopic profiling of [U-
13
C] glucose and [U-
13
C] glutamine cultures with more classical biochemical analyses, we studied the impact of the IDH1 R132H mutation in AML cells on lipid biosynthesis.
Results
: Global proteomic and lipidomic approaches showed a dysregulation of lipid metabolism, especially an increase of phosphatidylinositol, sphingolipids (especially few species of ceramide, sphingosine, and sphinganine), free cholesterol and monounsaturated fatty acids in IDH1 mutant cells. Isotopic profiling of fatty acids revealed that higher lipid anabolism in IDH1 mutant cells corroborated with an increase in lipogenesis fluxes.
Conclusions
: This integrative approach was efficient to gain insight into metabolism and dynamics of lipid species in leukemic cells. Therefore, we have determined that lipid anabolism is strongly reprogrammed in IDH1 mutant AML cells with a crucial dysregulation of fatty acid metabolism and fluxes, both being mediated by 2-HG (2-Hydroxyglutarate) production.
View Full-Text
►

▼

Figures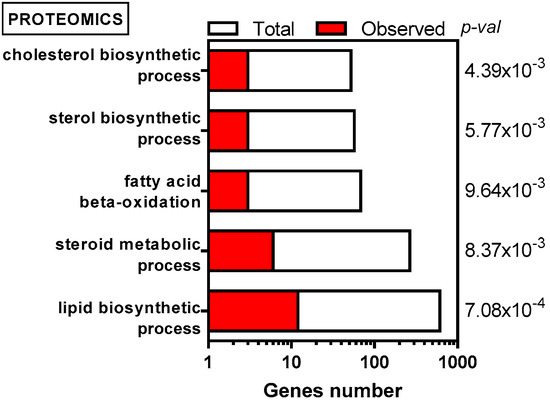 Figure 1
This is an open access article distributed under the
Creative Commons Attribution License
which permits unrestricted use, distribution, and reproduction in any medium, provided the original work is properly cited (CC BY 4.0).

Share & Cite This Article
MDPI and ACS Style
Stuani, L.; Riols, F.; Millard, P.; Sabatier, M.; Batut, A.; Saland, E.; Viars, F.; Tonini, L.; Zaghdoudi, S.; Linares, L.K.; Portais, J.-C.; Sarry, J.-E.; Bertrand-Michel, J. Stable Isotope Labeling Highlights Enhanced Fatty Acid and Lipid Metabolism in Human Acute Myeloid Leukemia. Int. J. Mol. Sci. 2018, 19, 3325.
Note that from the first issue of 2016, MDPI journals use article numbers instead of page numbers. See further details here.
Related Articles
Comments
[Return to top]