Non-Invasive Detection of Extracellular Matrix Metalloproteinase Inducer EMMPRIN, a New Therapeutic Target against Atherosclerosis, Inhibited by Endothelial Nitric Oxide
1
Cardiology Department, University Francisco de Vitoria/Hospital Ramón y Cajal Research Unit (IRYCIS), CIBERCV, 28223 Madrid, Spain
2
Department of Chemistry in Pharmaceutical Sciences, Faculty of Pharmacy, Complutense University (UCM), National Research Centre for Cardiovascular Disease (CNIC), Biomedical Research Networking Center for Respiratory Diseases (CIBERES), 28040 Madrid, Spain
3
Cardiology Department, School of Medicine, Cádiz University, 11001 Cadiz, Spain
4
Cardiology Department, IRYCIS, CIBERCV, 28034 Madrid, Spain
5
Biology Systems Department, Physiology, School of Medicine and Health Sciences, Universidad Alcalá (IRYCIS), Alcala de Henares, 28771 Madrid, Spain
*
Author to whom correspondence should be addressed.
Received: 14 September 2018 / Revised: 30 September 2018 / Accepted: 10 October 2018 / Published: 19 October 2018
Abstract
Lack of endothelial nitric oxide causes endothelial dysfunction and circulating monocyte infiltration, contributing to systemic atheroma plaque formation in arterial territories. Among the different inflammatory products, macrophage-derived foam cells and smooth muscle cells synthesize matrix metalloproteinases (MMPs), playing a pivotal role in early plaque formation and enlargement. We found increased levels of MMP-9 and MMP-13 in human endarterectomies with advanced atherosclerosis, together with significant amounts of extracellular matrix (ECM) metalloproteinase inducer EMMPRIN. To test whether the absence of NO may aggravate atherosclerosis through EMMPRIN activation, double NOS3/apoE knockout (KO) mice expressed high levels of EMMPRIN in carotid plaques, suggesting that targeting extracellular matrix degradation may represent a new mechanism by which endothelial NO prevents atherosclerosis. Based on our previous experience, by using gadolinium-enriched paramagnetic fluorescence micellar nanoparticles conjugated with AP9 (NAP9), an EMMPRIN-specific binding peptide, magnetic resonance sequences allowed non-invasive visualization of carotid EMMPRIN in NOS3/apoE over apoE control mice, in which atheroma plaques were significantly reduced. Taken together, these results point to EMMPRIN as a new therapeutic target of NO-mediated protection against atherosclerosis, and NAP9 as a non-invasive molecular tool to target atherosclerosis.
View Full-Text
►

▼

Figures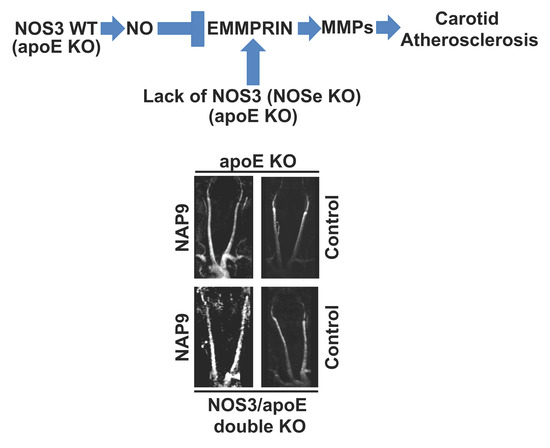 Graphical abstract
This is an open access article distributed under the
Creative Commons Attribution License
which permits unrestricted use, distribution, and reproduction in any medium, provided the original work is properly cited (CC BY 4.0).

Share & Cite This Article
MDPI and ACS Style
Ramirez-Carracedo, R.; Tesoro, L.; Hernandez, I.; Diez-Mata, J.; Filice, M.; Toro, R.; Rodriguez-Piñero, M.; Zamorano, J.L.; Saura, M.; Zaragoza, C. Non-Invasive Detection of Extracellular Matrix Metalloproteinase Inducer EMMPRIN, a New Therapeutic Target against Atherosclerosis, Inhibited by Endothelial Nitric Oxide. Int. J. Mol. Sci. 2018, 19, 3248.
Note that from the first issue of 2016, MDPI journals use article numbers instead of page numbers. See further details here.
Related Articles
Comments
[Return to top]