Dietary Sodium Restriction Reduces Arterial Stiffness, Vascular TGF-β-Dependent Fibrosis and Marinobufagenin in Young Normotensive Rats
1
Laboratory of Cardiovascular Science, National Institute on Aging, NIH, 251 Bayview Blvd, Baltimore, MD 21224, USA
2
Joan C. Edwards School of Medicine, Marshall University, 1600 Medical Center Drive, Huntington, WV 25701, USA
*
Author to whom correspondence should be addressed.
†
These authors contributed equally to this work.
Received: 20 July 2018 / Revised: 14 September 2018 / Accepted: 10 October 2018 / Published: 15 October 2018
Abstract
High salt (HS) intake stimulates the production of marinobufagenin (MBG), an endogenous steroidal Na/K-ATPase ligand, which activates profibrotic signaling. HS is accompanied by a blood pressure (BP) increase in salt-sensitive hypertension, but not in normotensive animals. Here, we investigated whether HS stimulates MBG production and activates transforming growth factor-beta (TGF-β) profibrotic signaling in young normotensive rats, and whether these changes can be reversed by reducing salt to a normal salt (NS) level. Three-month old male Sprague–Dawley rats received NS for 4 and 8 weeks (0.5% NaCl; NS4 and NS8), or HS for 4 and 8 weeks (4% NaCl; HS4 and HS8), or HS for 4 weeks followed by NS for 4 weeks (HS4/NS4),
n
= 8/group. Systolic BP (SBP), pulse wave velocity (PWV), MBG excretion, aortic collagen 1α2, collagen 4α1 and TGF-β, Smad2, Smad3, Fli-1 mRNA, and total collagen abundance were measured at baseline (BL), and on weeks 4 and 8. Statistical analysis was performed using one-way ANOVA. SBP was not affected by HS (125 ± 5 and 126 ± 6 vs. 128 ± 7 mmHg, HS4 and HS8 vs. BL,
p
> 0.05). HS increased MBG (164 ± 19 vs. 103 ± 19 pmol/24 h/kg, HS4 vs. BL,
p
< 0.05) and PWV (3.7 ± 0.2 vs. 2.7 ± 0.2 m/s, HS4 vs. NS4,
p
< 0.05). HS8 was associated with a further increase in MBG and PWV, with an increase in aortic
Col1a2
80%),
Col4a1
(50%),
Tgfb1
(30%),
Smad2
(30%) and
Smad3
(45%) mRNAs, and aortic wall collagen (180%) vs. NS8 (all
p
< 0.05). NS following HS downregulated HS-induced factors: in HS4/NS4, the MBG level was 91 ± 12 pmol/24 h/kg (twofold lower than HS8,
p
< 0.01), PWV was 3.7 ± 0.3 vs. 4.7 ± 0.2 m/s (HS4/NS4 vs. HS8,
p
< 0.05), aortic wall
Tgfb1
,
Col1a2
,
Col4a1
,
Smad2
,
Smad3
mRNAs, and collagen abundance were reversed by salt reduction to the BL levels (
p
< 0.05). HS was associated with an activation of TGF-β signaling, aortic fibrosis and aortic stiffness accompanied by an MBG increase in the absence of SBP changes in young normotensive rats. The reduction of dietary salt following HS decreased MBG, PWV, aortic wall collagen and TGF-β. Thus, HS-induced aortic stiffness in normotensive animals occurred in the context of elevated MBG, which may activate SMAD-dependent TGF-β pro-fibrotic signaling. This data suggests that a decrease in salt consumption could help to restore aortic elasticity and diminish the risk of cardiovascular disease by reducing the production of the pro-fibrotic factor MBG.
View Full-Text
►

▼

Figures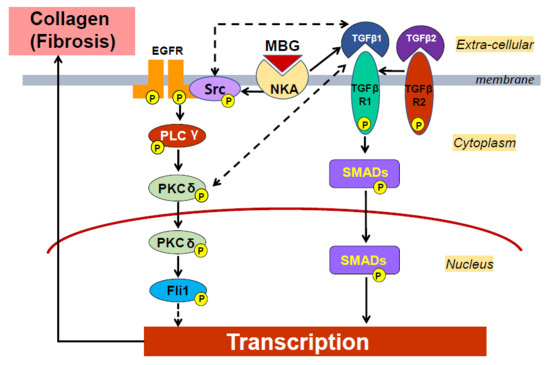 Graphical abstract
This is an open access article distributed under the
Creative Commons Attribution License
which permits unrestricted use, distribution, and reproduction in any medium, provided the original work is properly cited (CC BY 4.0).

Share & Cite This Article
MDPI and ACS Style
Grigorova, Y.N.; Wei, W.; Petrashevskaya, N.; Zernetkina, V.; Juhasz, O.; Fenner, R.; Gilbert, C.; Lakatta, E.G.; Shapiro, J.I.; Bagrov, A.Y.; Fedorova, O.V. Dietary Sodium Restriction Reduces Arterial Stiffness, Vascular TGF-β-Dependent Fibrosis and Marinobufagenin in Young Normotensive Rats. Int. J. Mol. Sci. 2018, 19, 3168.
Note that from the first issue of 2016, MDPI journals use article numbers instead of page numbers. See further details here.
Related Articles
Comments
[Return to top]