Open Access This article is
freely available
re-usable
Article
Paired CRISPR/Cas9 Nickases Mediate Efficient Site-Specific Integration of
F9
into rDNA Locus of Mouse ESCs
Center for Medical Genetics, School of Life Sciences, Central South University, Changsha 410000, China
*
Authors to whom correspondence should be addressed.
Received: 31 August 2018 / Accepted: 1 October 2018 / Published: 5 October 2018
Abstract
:
Hemophilia B (HB) is an X-linked recessive bleeding disorder, caused by
F9
gene deficiency. Gene therapy combined with the CRISPR/Cas9 technology offers a potential cure for hemophilia B. Now the Cas9 nickase (Cas9n) shows a great advantage in reducing off-target effect compared with wild-type Cas9. In this study, we found that in the multicopy ribosomal DNA (rDNA) locus, the homology directed recombination (HDR) efficiency induced by sgRNA-Cas9n was much higher than sgRNA-Cas9, meanwhile without off-target in six predicted sites. After co-transfection into mESCs with sgRNA-Cas9n and a non-viral rDNA targeting vector pMrnF9, harboring the homology donor template and the human F9 expression cassette, a recombination efficiency of 66.7% was achieved and all targeted clones were confirmed to be site-specific integration of
F9
in the rDNA locus by PCR and southern blotting. Targeted mESCs retained the main pluripotent properties and were then differentiated into hepatic progenitor like cells (HPLCs) and mature hepatocytes, which were characterized by hepatic markers and functional assays. Importantly, the differentiated cells could transcribe exogenous
F9
and secrete coagulation factor IX (FIX) proteins, suggesting active transcription and stable inheritance of transgenes in the rDNA locus. After intrasplenical transplantation in severe combined immune deficiency (SCID) mice, targeted HPLCs could survive and migrate from spleen to liver, resulting in secretion of exogenous FIX into blood. In summary, we demonstrate an efficient and site-specific gene targeting strategy in rDNA locus for stem cell-based gene therapy for hemophilia B.
Keywords:
CRISPR/Cas9 nickase; gene targeting; Hemophilia B; ribosomal DNA; gene therapy; mESCs; hepatic progenitor like cells; intrasplenic transplantation
Author Contributions
Conceptualization, Y.W., X.L., Z.L., and D.L.; Data curation, Y.W.; Formal analysis, L.W.; Funding acquisition, Z.L. and D.L.; Investigation, Y.W., J.Z., N.D., W.L., Y.Z., M.Z., Z.H., and M.F.; Supervision, D.L.; Validation, Y.W. and Z.L.; Visualization, Y.W. and Z.L.; Writing-original draft, Y.W.; Writing-review and editing, Z.L. and D.L.
Funding
This work was funded by the National Natural Science Foundation of China (81470299, 81770200) and the National Key Research and Development Program of China (2016YFC0905100).
Conflicts of Interest
The authors declare no conflict of interest.
Abbreviations
| | |
| --- | --- |
| AAV | Adeno-associated virus |
| CRISPR/Cas9 | Clustered regularly-interspaced short palindromic repeats/CRISPR associated protein 9 |
| CDM | Chemically defined medium |
| DSB | Double strand break |
| DE | Definitive endoderm |
| EMCV-IRES | Encephalomyocarditis virus internal ribosomal entry site |
| FIX | Coagulation factor IX |
| FRT | Flippase recognition target |
| HDR | Homology directed recombination |
| HPLCs | Hepatic progenitor like cells |
| ICG | Indocyanine green |
| LHA | Long homologous arm |
| mESCs | Mouse embryonic stem cells |
| MH | Maturated hepatocyte |
| ORF | Open reading frame |
| PAS staining | Periodic acid-Schiff's staining |
| rDNA | Ribosomal DNA |
| SCID | Severe combined immune deficiency |
| SHA | Short homologous arm |
| SSA | Single strand annealing |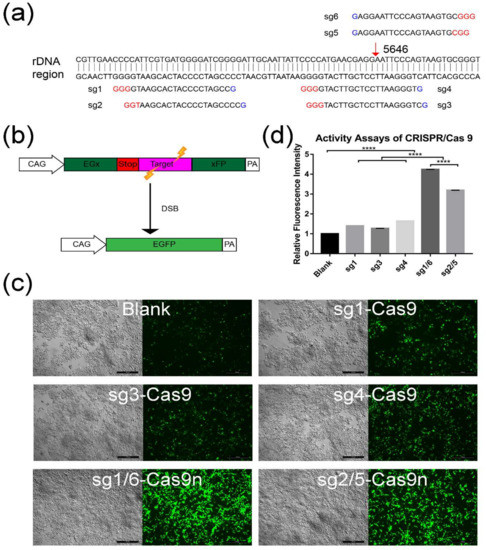 Figure 1.
Activity assay for different sgRNA-CRISPR/Cas9 groups. (
a
) Binding position of six different sgRNAs. Red arrow indicates the targeting site in the rDNA region. (
b
) Schematic illustration of activity assays by using the pCAG-EGx-Target-xFP system. The EGFP (enhanced green fluorescence protein) cDNA was divided to two parts, EGx and xFP, in which the "x" represents a repeat fragment of 482 bp. The two parts were separated by the target region (
a
) 77 bp fragment cloned from the rDNA region) along with the stop code. When the sgRNA-CRISPR/Cas9 worked and introduced double strand breaks (DSB), the EGFP cassette was reconstituted by either HDR or SSA. Thus, the green fluorescence could be observed. (
c
) The activity assay for sgRNA-CRISPR/Cas9 was conducted by co-transfecting HEK 293T cells with pCAG-EGx-Target-xFP and sgRNA-CRISPR/Cas9 or sgRNA-CRISPR/Cas9n plasmids (named sg1-Cas9n, sg2-Cas9n, sg5-Cas9n, sg6-Cas9n sg1-Cas9, sg3-Cas9, and sg4-Cas9). sg1/6-Cas9n group means co-transfection with sg1-Cas9n and sg6-Cas9n. In the same way, sg2/5-Cas9n group means co-transfection with sg1-Cas9n and sg6-Cas9n. Blank represented cells only transfected with the plasmid pCAG-EGx-Target-xFP. After 72 h, the green fluorescence of transfected cells was visualized. Scale bar: 500 µm. (
d
) GFP fluorescence intensity of each group was quantified and analyzed with Image J. GraphPad Prism 7.0 was used for calculation and statistics analysis. The relative fluorescence intensity was normalized to blank. (****,
p
< 0.0001).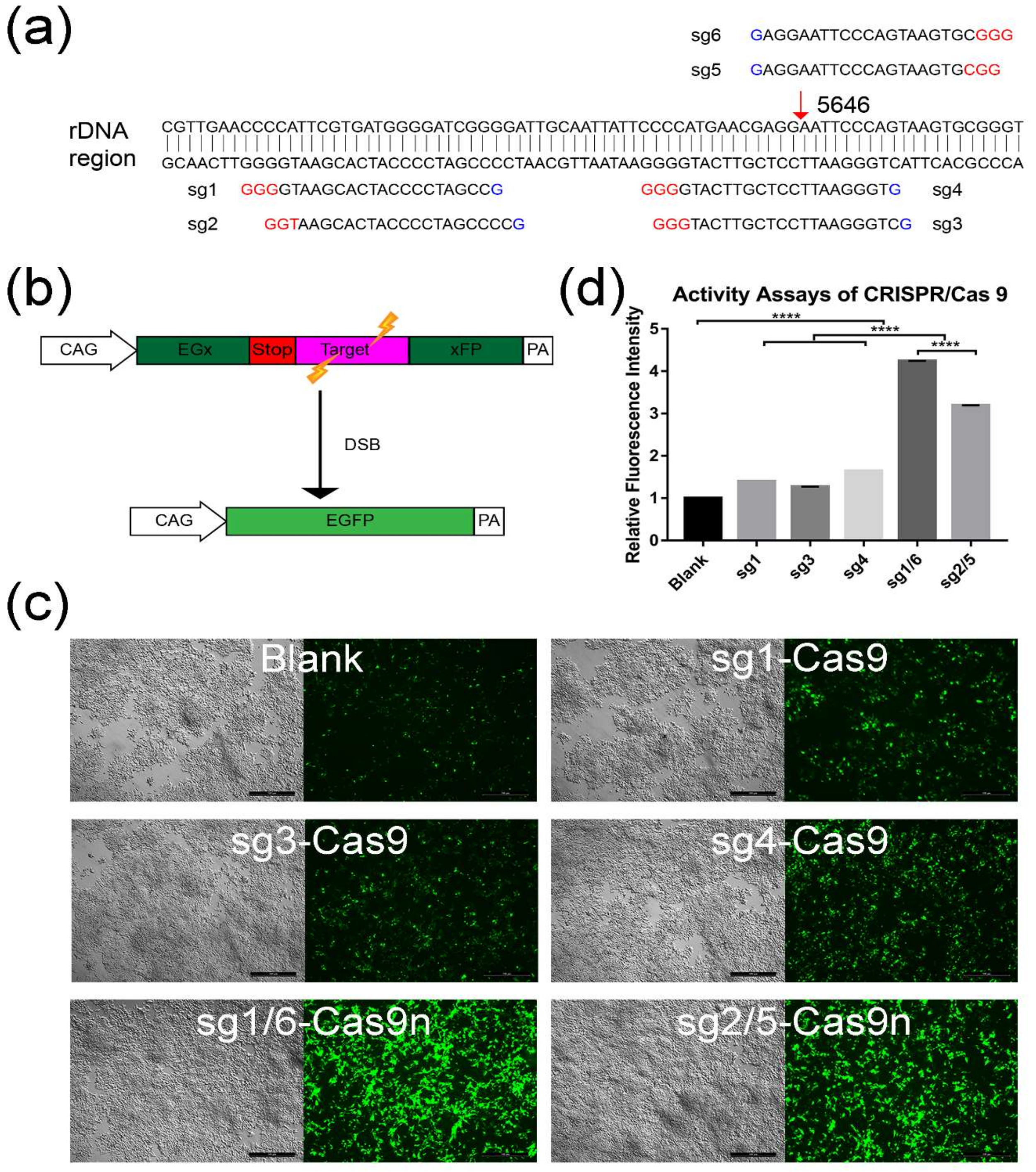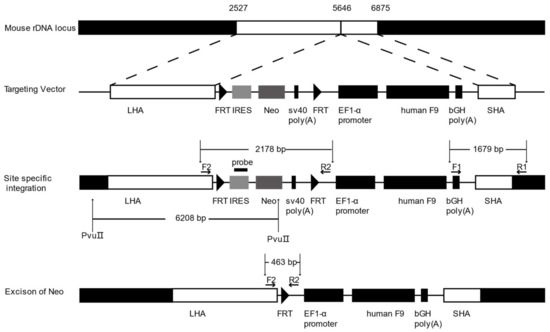 Figure 2.
The structure of the non-viral vector pMrnF9 and the schematic diagram of gene targeting into the mouse rDNA locus. LHA, long homologous arm, is homologous to the 2527–5646 region of mouse 45S pre-ribosomal DNA sequence. SHA, short homologous arm, is homologous to the 5646–6875 region. Two short flippase recognition target (FRT) sites flank the
Neo
expression cassette, which links to the internal ribosome entry site (IRES) of encephalomyocarditis virus. By promoter trapping,
Neo
can be transcribed via the in situ rDNA promoter after homologous recombination. A universal promoter EF1-α is utilized to drive the human
F9
expression cassette. Positive targeted cells with site-specific integration of exogenous genes can be filtered by PCR using primer F1 and R1 with a product of 1679 bp. When the genome DNA of targeted clones is digested by PvuIIand detected with the probe homologous to the IRES element, the site-specific clones will show a band of 6208 bp. The
Neo
cassette can be excised by expression of Flpe recombinase. The excised clones can be filtrated by PCR with the primer F2 and R2. A 463 bp band will appear from excised clones while a 2178 bp band remains in original clones.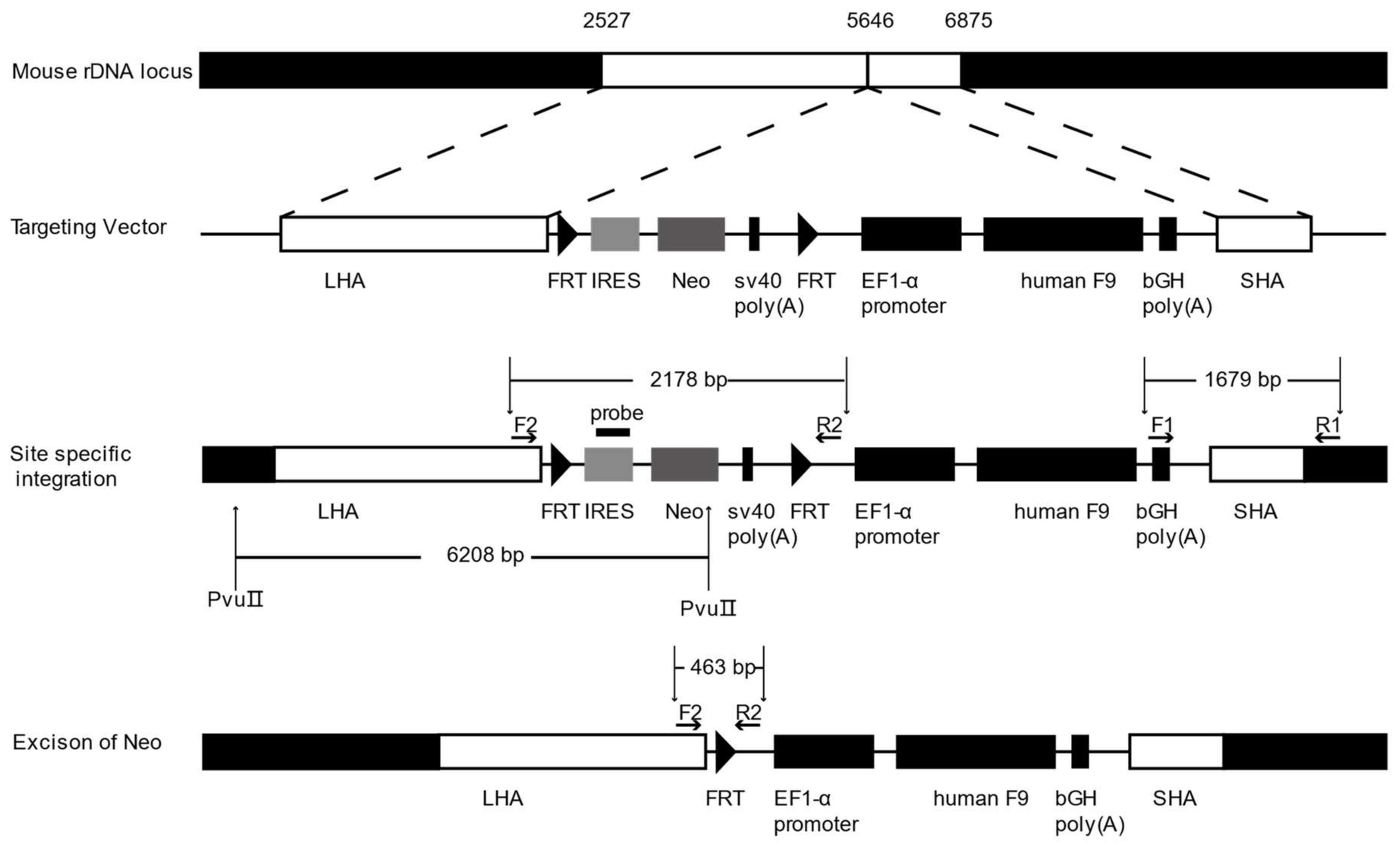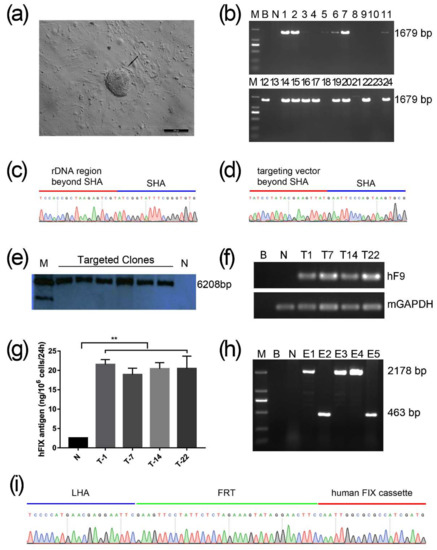 Figure 3.
Identification of rDNA site-specific gene targeted mESCs. (
a
) The black arrow indicates a typical mESCs clone after nucleofection with sg1/6-Cas9n and pMrnF9 under selection by G418 for seven days. Scale bar: 200 µm. (
b
) Twenty-four candidate targeted clones were picked and expanded, and followed by genomic DNA extraction. When amplified with primers F1 and R1, the site-specific integrated clones would obtain a 1679 bp band. M, DL2000 DNA Ladder. (
c
,
d
) The PCR products of F1/R1 were sequenced and the results revealed the site-specific integration. (
e
) Southern Blotting for six candidate targeted clones. Positive clones showed an expected band of 6208 bp. M, DNA Molecular Weight Marker II, DIG labeled. (
f
) mRNA of four targeted clones were detected by RT-PCR. (
g
) ELISA for hFIX antigen from the supernatant of targeted mESCs showed the higher level compared with untargeted mESCs (**,
p
< 0.01). (
h
) The
Neo
expression cassette which was flanked by a pair of synclastic FRT elements was removed by secondary nucleofection with the plasmid pCAG-Flpe. When amplified with the primer pair F2 and R2, the excised clones showed a band of 463 bp while 2178 bp indicated non-excision. M, DL2000 DNA ladder. (
i
) The PCR products of F2/R2 were sequenced and the results showed the excision of the
Neo
expression cassette. B, Blank, which represented the template was ddH
2
O; N, Negative control, which was untransfected.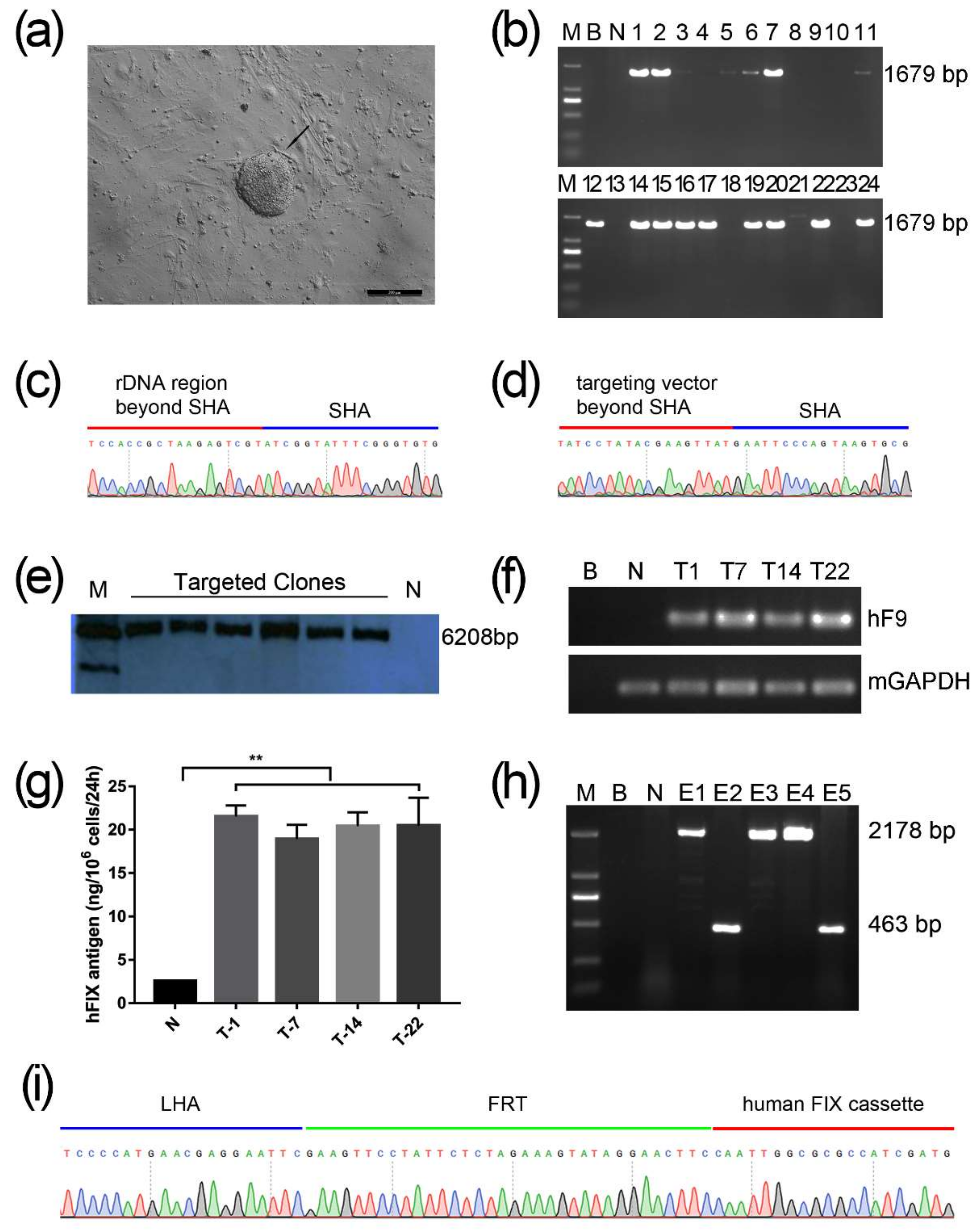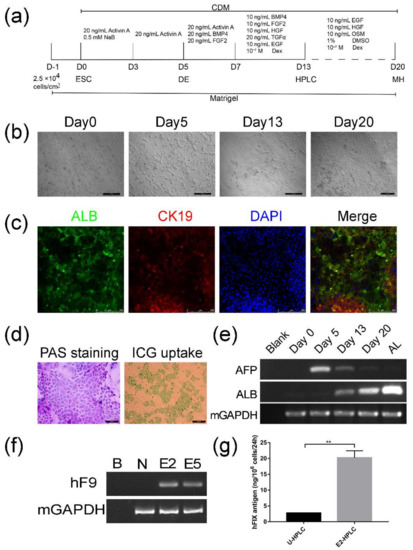 Figure 4.
Differentiation of mESCs into HPLCs and detection for exogenous FIX expression. (
a
) Flow chart of the modified protocol for differentiation of mESCs into HPLCs and hepatocytes. (
b
) Dynamic change in cellular morphology during hepatic differentiation (Day0–Day13) and hepatic maturation (Day13–Day20). Scale bar: 500 μm (Day 0, 5, 13) and 200 µm (Day 20). (
c
) Immunofluorescence staining of HPLCs on Day 13 with ALB (Green) and CK19 (Red). Scale bar: 250 μm (
d
) Periodic acid-Schiff's (PAS) staining and indocyanine green (ICG) uptake assay for the mature hepatocyte like cells on Day 20. The purple-stained and green-stained cells indicate the ability to store glycogen and uptake ICG respectively. Scale bar: 50 μm (PAS staining) and 200 µm (ICG uptake) (
e
) RT-PCR showed the dynamic change of AFP and ALB mRNA during differentiation. (
f
) Differentiated clones on Day 13 were tested by RT-PCR for
F9
transcription. B: Blank; N: untargeted mESCs as negative control. (
g
) Supernatant of untargeted mESCs differentiated HPLCs (U-HPLCs) and E2-HPLCs on Day 13 were gathered to examine the human FIX antigen by ELISA. DE, definitive endoderm. MH, mature hepatocyte. (**,
p
< 0.01).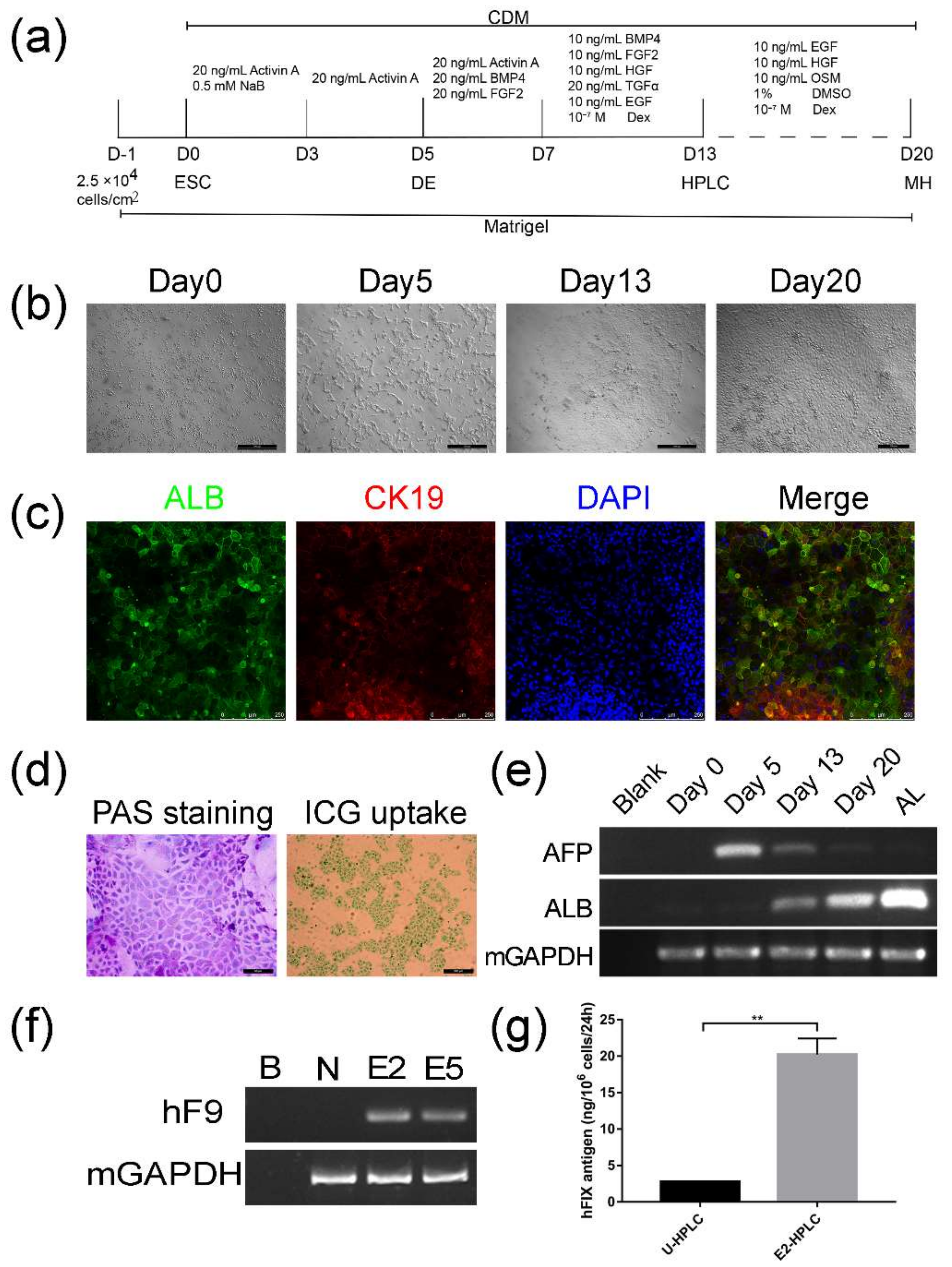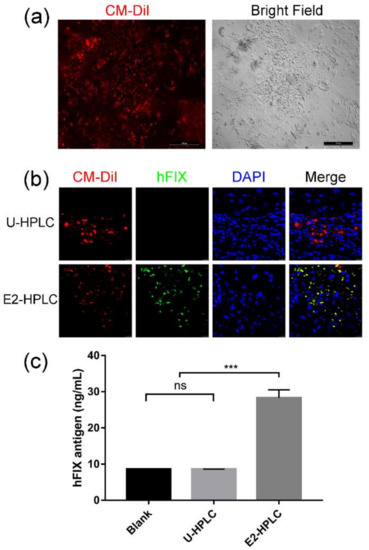 Figure 5.
Transplanted HPLCs survived in the liver and produced human Factor IX. (
a
) HPLCs on Day 13 were labeled with CM-DiI. The red fluorescence showed the CM-DiI labeled cells. Scale bar: 500 µm. (
b
) Four weeks after intrasplenic transplantation of HPLCs (Red) into SCID mouse with carbon tetrachloride-induced liver damage. Immunofluorescence staining on liver sections was performed to detect human Factor IX (Green). Scale bar: 10 µm. (
c
) Four weeks after transplantation, the plasma of mice was collected and human Factor IX antigen was detected by ELISA. Blank, mice injected with PBS; U-HPLC, HPLCs differentiated from un-targeted mESCs; E2-HPLC, HPLCs differentiated from
Neo
cassette excised clone E2. ns, not significant; ***,
p
< 0.001.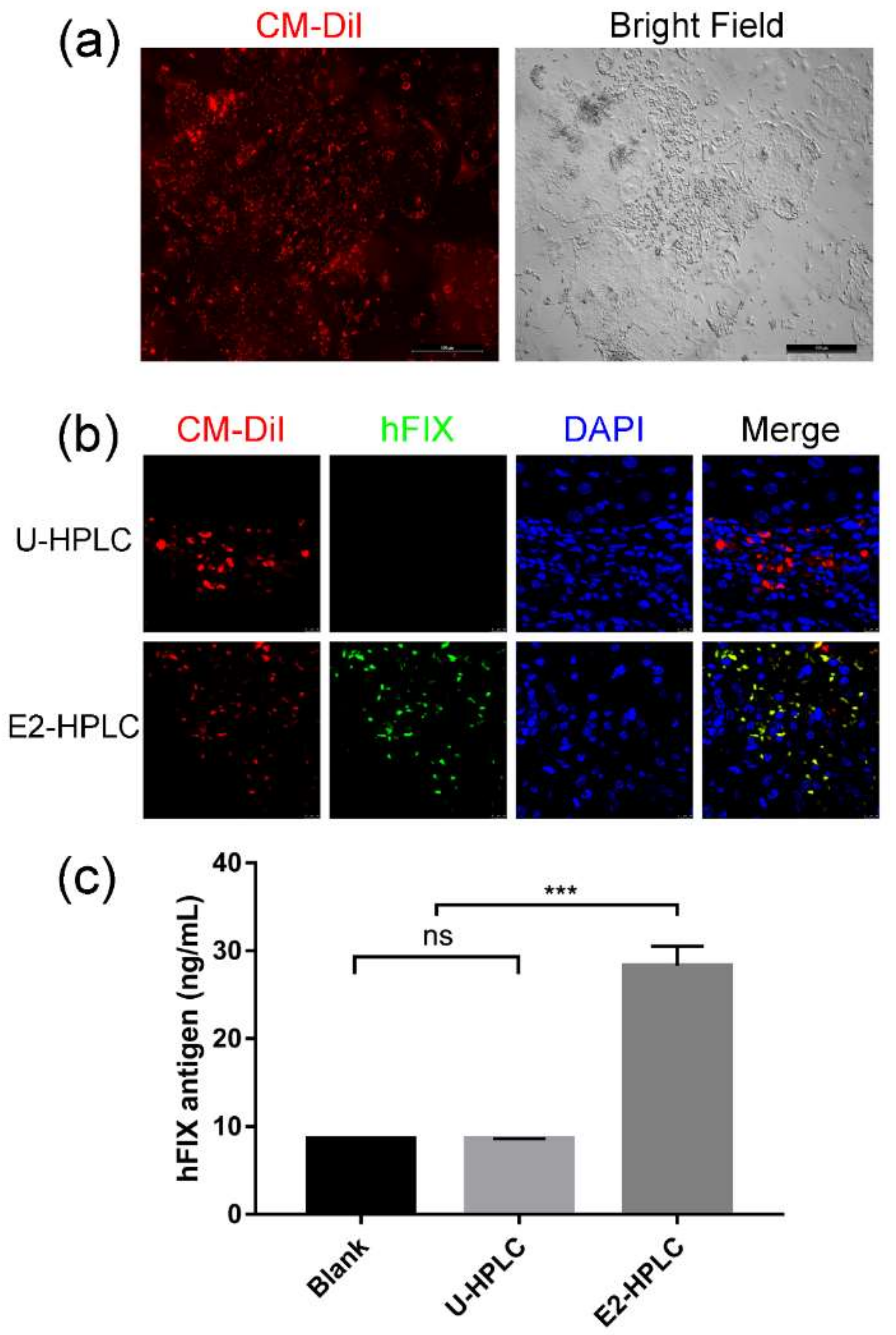 © 2018 by the authors. Licensee MDPI, Basel, Switzerland. This article is an open access article distributed under the terms and conditions of the Creative Commons Attribution (CC BY) license (http://creativecommons.org/licenses/by/4.0/).