Paired CRISPR/Cas9 Nickases Mediate Efficient Site-Specific Integration of
F9

into rDNA Locus of Mouse ESCs

Center for Medical Genetics, School of Life Sciences, Central South University, Changsha 410000, China

*

Authors to whom correspondence should be addressed.

Received: 31 August 2018 / Revised: 29 September 2018 / Accepted: 1 October 2018 / Published: 5 October 2018
Abstract
Hemophilia B (HB) is an X-linked recessive bleeding disorder, caused by
F9
gene deficiency. Gene therapy combined with the CRISPR/Cas9 technology offers a potential cure for hemophilia B. Now the Cas9 nickase (Cas9n) shows a great advantage in reducing off-target effect compared with wild-type Cas9. In this study, we found that in the multicopy ribosomal DNA (rDNA) locus, the homology directed recombination (HDR) efficiency induced by sgRNA-Cas9n was much higher than sgRNA-Cas9, meanwhile without off-target in six predicted sites. After co-transfection into mESCs with sgRNA-Cas9n and a non-viral rDNA targeting vector pMrnF9, harboring the homology donor template and the human F9 expression cassette, a recombination efficiency of 66.7% was achieved and all targeted clones were confirmed to be site-specific integration of
F9
in the rDNA locus by PCR and southern blotting. Targeted mESCs retained the main pluripotent properties and were then differentiated into hepatic progenitor like cells (HPLCs) and mature hepatocytes, which were characterized by hepatic markers and functional assays. Importantly, the differentiated cells could transcribe exogenous
F9
and secrete coagulation factor IX (FIX) proteins, suggesting active transcription and stable inheritance of transgenes in the rDNA locus. After intrasplenical transplantation in severe combined immune deficiency (SCID) mice, targeted HPLCs could survive and migrate from spleen to liver, resulting in secretion of exogenous FIX into blood. In summary, we demonstrate an efficient and site-specific gene targeting strategy in rDNA locus for stem cell-based gene therapy for hemophilia B.
View Full-Text
►

▼

Figures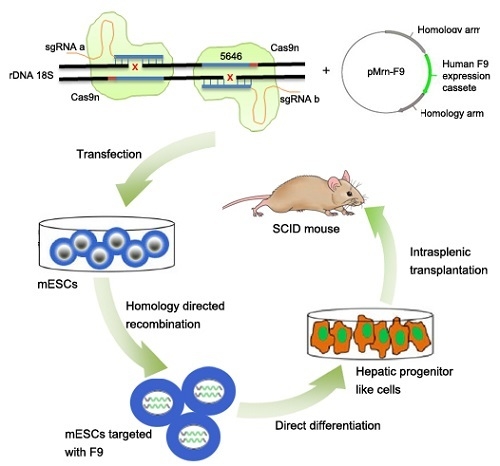 Graphical abstract
This is an open access article distributed under the
Creative Commons Attribution License
which permits unrestricted use, distribution, and reproduction in any medium, provided the original work is properly cited (CC BY 4.0).

Share & Cite This Article
MDPI and ACS Style
Wang, Y.; Zhao, J.; Duan, N.; Liu, W.; Zhang, Y.; Zhou, M.; Hu, Z.; Feng, M.; Liu, X.; Wu, L.; Li, Z.; Liang, D. Paired CRISPR/Cas9 Nickases Mediate Efficient Site-Specific Integration of F9 into rDNA Locus of Mouse ESCs. Int. J. Mol. Sci. 2018, 19, 3035.
Note that from the first issue of 2016, MDPI journals use article numbers instead of page numbers. See further details here.
Related Articles
Comments
[Return to top]