Antibacterial Activity and Mechanism of Action of Bovine Lactoferricin Derivatives with Symmetrical Amino Acid Sequences
1
Key Laboratory of Dairy Science, Northeast Agricultural University, Harbin 150030, China
2
College of Food Science, Northeast Agricultural University, Harbin 150030, China
3
Harbin Veterinary Research Institute, CAAS, Harbin 150001, China
*
Author to whom correspondence should be addressed.
Received: 14 July 2018 / Revised: 29 August 2018 / Accepted: 10 September 2018 / Published: 27 September 2018
Abstract
In recent years, the overuse of antibiotics has become very serious. Many pathogenic bacteria have become resistant to them, with serious potential health consequences. Thus, it is urgent that we develop new antibiotic drugs. Antimicrobial peptides (AMPs) are important endogenous antibacterial molecules that contribute to immunity. Most have spectral antibacterial properties and do not confer drug resistance. In this paper, an 11-residue peptide (LFcinB18–28) with a sequence of KCRRWQWRMKK was modified by amino acid substitution to form a symmetrical amino acid sequence. The antibacterial activities and mechanisms of action of engineered peptides including KW-WK (KWRRWQWRRWK), FP-PF (FPRRWQWRRPF), FW-WF (FWRRWQWRRWF), and KK-KK (KKRRWQWRRKK) were investigated. The four engineered peptides could more effectively inhibit bacteria than the original peptide, LFcinB18–28. This suggested that a symmetrical amino acid sequence might enhance the antibacterial activity of AMPs. However, only peptides KW-WK, FP-PF, and KK-KK were safe; FW-WF displayed hemolytic activity. The engineered peptides shared cationic and amphipathic characteristics that facilitated interactions with the anionic microbial membranes, leading to disruption of membrane integrity and permeabilizing microbial membranes, resulting in cell death. Therefore, a symmetrical amino acid sequence and related structural parameters offer an alternative approach to the design of AMPs. This will provide a scientific basis for the design and synthesis of new AMPs.
View Full-Text
►

▼

Figures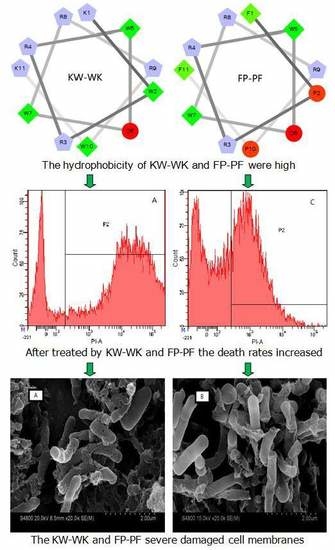 Graphical abstract
This is an open access article distributed under the
Creative Commons Attribution License
which permits unrestricted use, distribution, and reproduction in any medium, provided the original work is properly cited (CC BY 4.0).

Share & Cite This Article
MDPI and ACS Style
Sun, C.; Li, Y.; Cao, S.; Wang, H.; Jiang, C.; Pang, S.; Hussain, M.A.; Hou, J. Antibacterial Activity and Mechanism of Action of Bovine Lactoferricin Derivatives with Symmetrical Amino Acid Sequences. Int. J. Mol. Sci. 2018, 19, 2951.
Note that from the first issue of 2016, MDPI journals use article numbers instead of page numbers. See further details here.
Related Articles
Comments
[Return to top]