Open Access This article is
freely available
re-usable
Review
The Dark Side of IFN-γ: Its Role in Promoting Cancer Immunoevasion
1
Division of Pathogenic Biochemistry, Institute of Natural Medicine, University of Toyama, Sugitani 2630, Toyama 930-0194, Japan
2
Division of Cell Biology, Biomedical Research Center, Graduate School of Medicine, Juntendo University, Bunkyo-ku, Tokyo 113-8421, Japan
3
Department of Biofunctional Microbiota, Graduate School of Medicine, Juntendo University, Bunkyo-ku, Tokyo 113-8421, Japan
*
Author to whom correspondence should be addressed.
Received: 5 December 2017 / Accepted: 26 December 2017 / Published: 28 December 2017
Abstract
:
Interferon-γ (IFN-γ) is a pleiotropic cytokine that has long been praised as an important effector molecule of anti-tumor immunity, capable of suppressing tumor growth through various mechanisms. On the contrary to such a bright side of IFN-γ, it has also been involved in promoting an outgrowth of tumor cells with immunoevasive phenotype suggesting an existence of a dark "tumor-promoting" side effect of IFN-γ. In this review, we will summarize this multi-functional role of IFN-γ in tumor context, how it promotes changes in tumor phenotype towards increased fitness for growth in immunocompetent host. Furthermore, we summarize how IFN-γ is involved in homeostatic or cancer-triggered mechanisms to establish an immunosuppressive tumor microenvironment.
Keywords:
IFN-γ; tumorigenesis; tumor immunogenicity; immune suppression
Author Contributions
Marija Mojic, Kazuyoshi Takeda and Yoshihiro Hayakawa wrote the paper.
Conflicts of Interest
The authors declare no conflict of interest.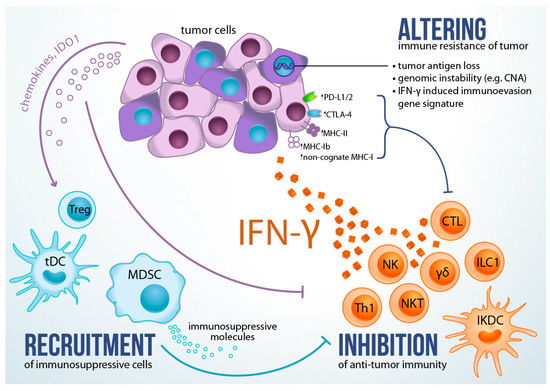 Figure 1. IFN-γ in promoting tumor immunoevasion. In response to immunogenic cancer, cells of anti-tumor immunity secrete IFN-γ (orange cells), which in turn induces genomic instability (e.g., copy number alterations, CNA) and/or immunoevasive gene expression signature in cancer cells (PD-L1, PD-L2, CTLA-4, non-classical MHC class Ib antigens, IDO1 etc.), sculpting tumor cell phenotype towards increased fitness for growth in immunocompetent host. In parallel, IFN-γ establishes immunosuppressive tumor microenvironment by triggering homeostatic response to limit inflammation, promoting tumor cells to produce immunosuppressive molecules (e.g., IDO1 that causes local depletion of amino acid tryptophan suppressing CTL and NK cells and activating Tregs and MDSC), or recruiting immunosuppressive cells (blue cells). CTL, cytotoxic CD8+ T cells; NK, natural killer cells; γδ, γδ T cells; NKT, natural killer T cells; Th1, Th1 polarized CD4+ T helper cells; ILC1, group 1 innate lymphoid cells; IKDC, IFN-producing killer dendritic cells; tDC, tolerogenic dendritic cells; Treg, regulatory T cells; MDSC, myeloid derived suppressor cells; MHC-I, major histocompatibility complex molecule class I; MHC-II, major histocompatibility complex molecule class II; CNA, copy-number alterations; IDO1, indoleamin-2,3-dioxygenase 1, a tryptophan-metabolizing enzyme.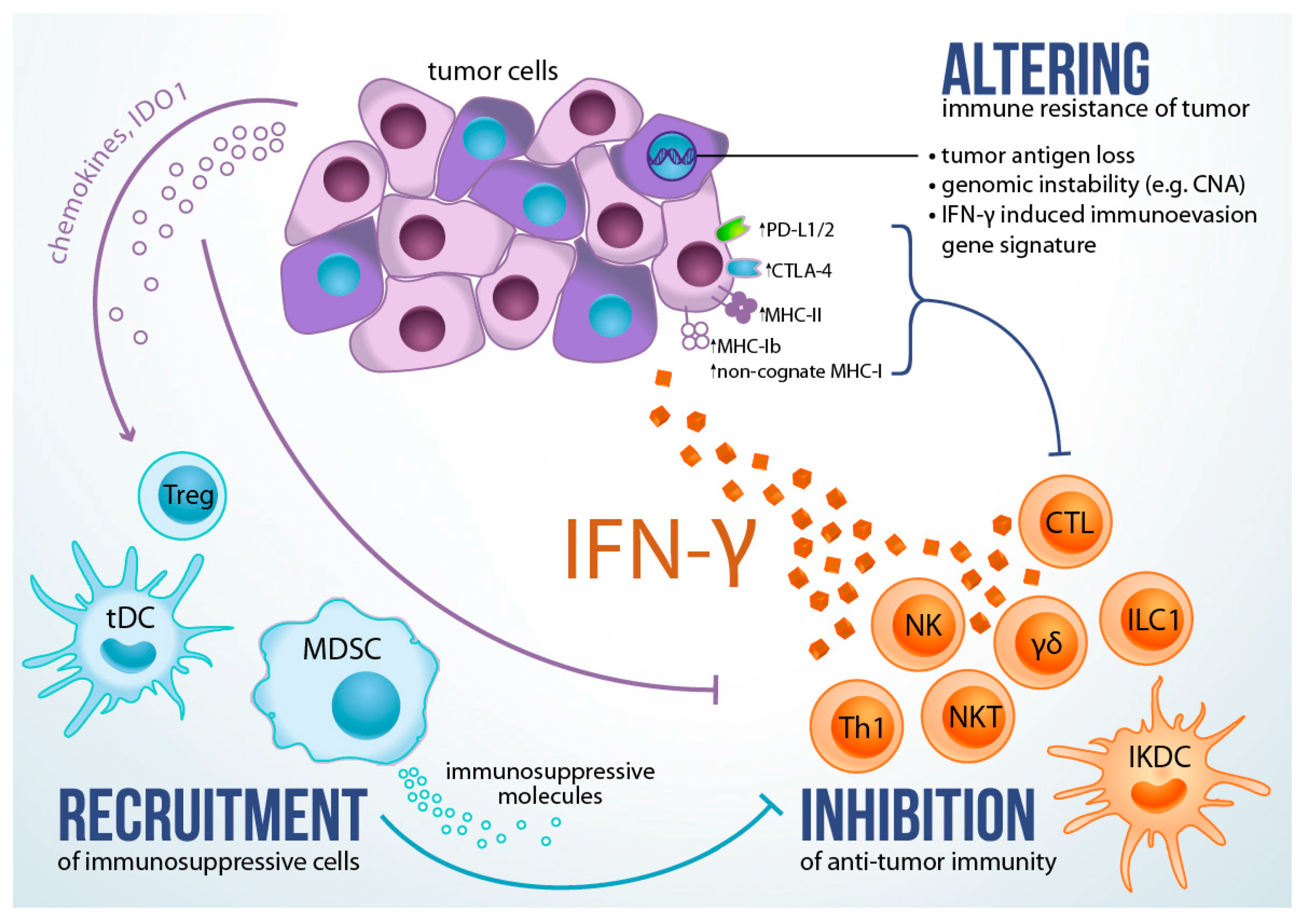 © 2017 by the authors. Licensee MDPI, Basel, Switzerland. This article is an open access article distributed under the terms and conditions of the Creative Commons Attribution (CC BY) license (http://creativecommons.org/licenses/by/4.0/).