Indoleamine 2,3-Dioxygenase (IDO) Enzyme Links Innate Immunity and Altered T-Cell Differentiation in Non-ST Segment Elevation Acute Coronary Syndrome
Department of Cardiovascular and Thoracic Sciences, Catholic University of the Sacred Heart, Fondazione Policlinico Universitario A. Gemelli, 8, 00168 Largo A. Gemelli, Italy
†
These authors contributed equally.
‡
These authors contributed equally.
*
Author to whom correspondence should be addressed.
Received: 13 November 2017 / Revised: 13 December 2017 / Accepted: 25 December 2017 / Published: 26 December 2017
Abstract
Atherosclerosis is a chronic inflammatory disease characterized by a complex interplay between innate and adaptive immunity. Dendritic cells (DCs) play a key role in T-cell activation and regulation by promoting a tolerogenic environment through the expression of the immunosuppressive enzyme indoleamine 2,3-dioxygenase (IDO), an intracellular enzyme involved in tryptophan catabolism. IDO expression and activity was analyzed in monocytes derived DCs (MDDCs) from non-ST segment elevation myocardial infarction (NSTEMI) patients, stable angina (SA) patients and healthy controls (HC) by real-time quantitative polymerase chain reaction (RT-qPCR) before and after in vitro maturation with lipopolysaccharide (LPS). The amount of tryptophan catabolite; kynurenine; was evaluated in the culture supernatants of mature-MDDCs by ELISA assay. Autologous mixed lymphocyte reaction (MLR) between mature-MDDCs and naïve T-cells was carried out to study the differentiation towards T-helper 1 (Th1) and induced regulatory T-cells (iTreg). Analysis of IDO mRNA transcripts in mature-MDDCs revealed a significant reduction in cells isolated from NSTEMI (625.0 ± 128.2; mean ± SEM) as compared with those from SA (958.5 ± 218.3;
p
= 0.041) and from HC (1183.6 ± 231.6;
p
= 0.034). Furthermore; the concentration of kynurenine was lower in NSTEMI patients (2.78 ± 0.2) and SA (2.98 ± 0.25) as compared with HC (5.1 ± 0.69 ng/mL;
p
= 0.002 and
p
= 0.016; respectively). When IDO-competent mature-MDDCs were co-cultured with allogeneic naïve T-cells, the ratio between the percentage of generated Th1 and iTreg was higher in NSTEMI (4.4 ± 2.9) than in SA (1.8 ± 0.6;
p
= 0.056) and HC (0.9 ± 0.3;
p
= 0.008). In NSTEMI, the tolerogenic mechanism of the immune response related to IDO production by activated MDDCs is altered, supporting their role in T-cell dysregulation.
View Full-Text
►

▼

Figures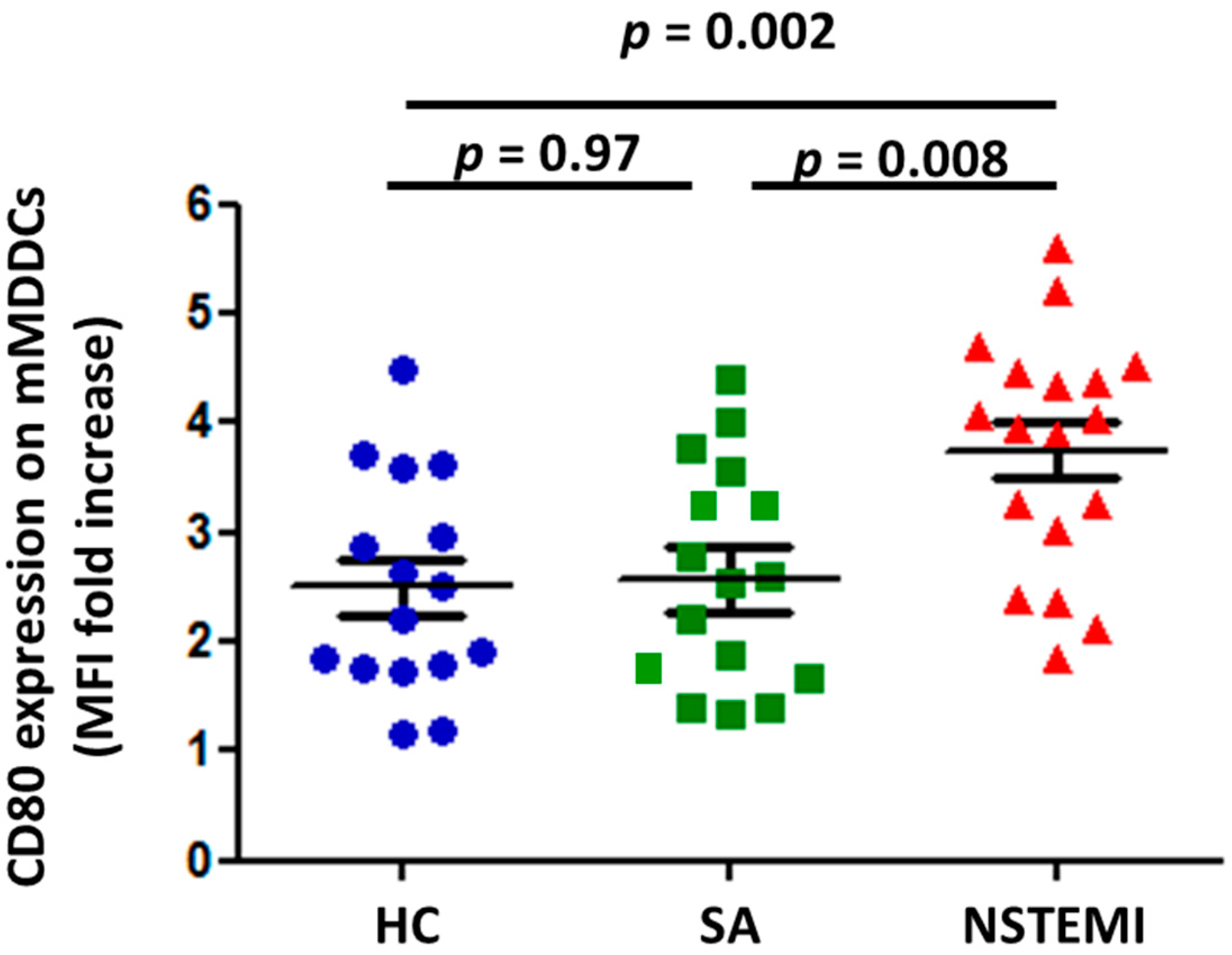 Figure 1
This is an open access article distributed under the
Creative Commons Attribution License
which permits unrestricted use, distribution, and reproduction in any medium, provided the original work is properly cited (CC BY 4.0).

Share & Cite This Article
MDPI and ACS Style
Zara, C.; Severino, A.; Flego, D.; Ruggio, A.; Pedicino, D.; Giglio, A.F.; Trotta, F.; Lucci, C.; D'Amario, D.; Vinci, R.; Pisano, E.; La Rosa, G.; Biasucci, L.M.; Crea, F.; Liuzzo, G. Indoleamine 2,3-Dioxygenase (IDO) Enzyme Links Innate Immunity and Altered T-Cell Differentiation in Non-ST Segment Elevation Acute Coronary Syndrome. Int. J. Mol. Sci. 2018, 19, 63.
Note that from the first issue of 2016, MDPI journals use article numbers instead of page numbers. See further details here.
Related Articles
Comments
[Return to top]