Open Access This article is
freely available
re-usable
Case Report
Double Heterozygosity for
BRCA1
Pathogenic Variant and
BRCA2
Polymorphic Stop Codon K3326X: A Case Report in a Southern Italian Family
Department of Biomedical Sciences and Human Oncology, University of Bari Aldo Moro, 70124 Bari, Italy
*
Author to whom correspondence should be addressed.
Received: 15 December 2017 / Accepted: 16 January 2018 / Published: 18 January 2018
Abstract
:
Here, we describe a patient with bilateral breast cancer and melanoma, and with a concomitant double variant, namely p.Gln563Ter in
BRCA1
and p.Lys3326Ter in
BRCA2
. The
BRCA2
p.Lys3326Ter (K3326X) (rs11571833) mutation identified in our patient is a debated substitution of thymidine for adenine which is currently regarded as benign polymorphism in main gene databases. Recent studies, however, describe this variant as associated with breast and ovarian tumors. Based on the observation of the cancer's earliest age of onset in this subject, our purpose was to reevaluate this variant according to recent papers indicating a role of powerful modifier of the genetic penetrance. Genetic testing was performed in all consenting patient's relatives, and in the collection of the clinical data particular attention was paid to the age of onset of the neoplasia. Following our observation that the our patient with double heterozygosis had an early age of onset for cancer similar to a few rare cases of double mutation for
BRCA1
and
BRCA2
, we also performed an extensive review of the literature relative to patients carrying a double heterozygosity for both genes. In line with previous studies relative to the rare double heterozygosity in both
BRCA1
/
2
genes, we found the earlier onset of breast cancer in our patient with both
BRCA1
/
2
mutations with respect to other relatives carrying the single
BRCA1
mutation. The presence of the second K3326X variant in our case induces a phenotype characterized by early onset of the neoplasia in a manner similar to the other cases of double heterozygosity previously described. Therefore, we suggest that during the genetic counseling, it should be recommendable to evaluate the presence of the K3326X variant in association with other pathogenic mutations.
Keywords:
BRCA1
/
BRCA2
; mutational analysis; double heterozygosity; age of onset; K3326X
Acknowledgments
The present study was partially supported by a grant from the Italian Association for Cancer Research (grant no. IG11647) (Franco Silvestris) and from the Apulia Region Oncogenomic Project (grant no. 2582-30-12-2013). The authors wish to thank Paola Ghiorzo for melanoma molecular screening. The authors would also like to thank the Associazione per la Ricerca Biomolecolare Onlus for supporting the publication of this paper.
Author Contributions
Raffaele Palmirotta and Franco Silvestris: principal investigators, study conception and design; Domenica Lovero and Davide Quaresmini: sample collection and molecular analysis; Luigia Stefania Stucci, Erica Silvestris and Angela Cardascia: patient management, analysis and interpretation of data. All authors were involved in drafting the article and/or revising it critically for important intellectual content, and all authors approved the final version to be published.
Conflicts of interest
The authors declare no conflict of interest.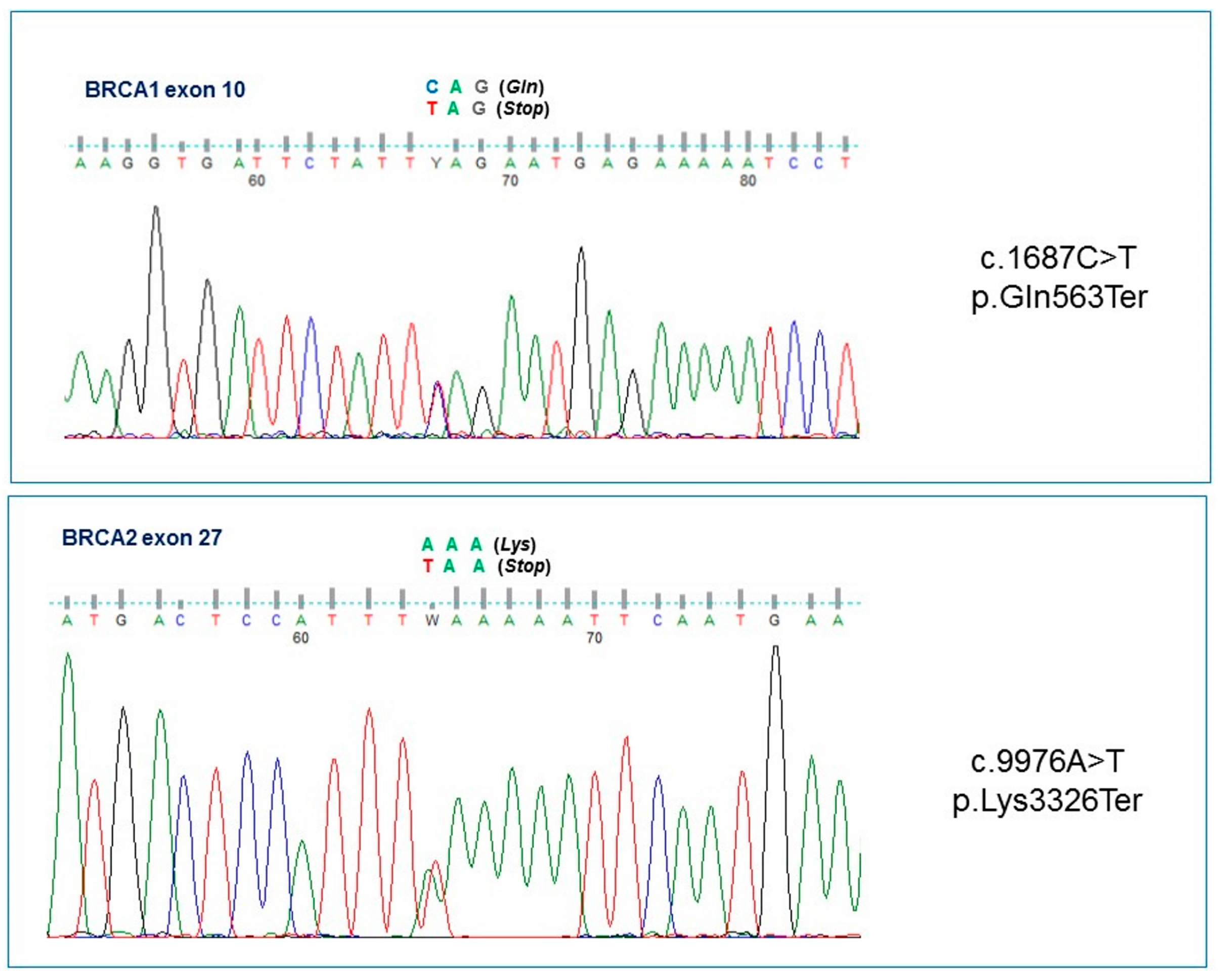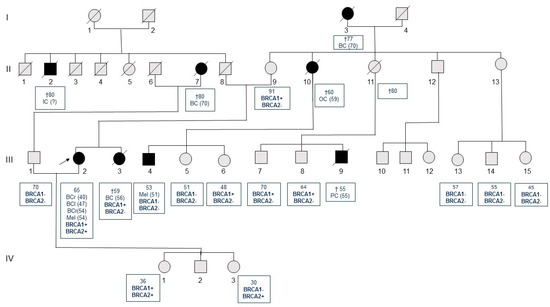 Figure 2.
Pedigrees of the family with double hetyerozigosity for
BRCA1
c.1687C>T and
BRCA2
c.9976A>T variants. BC: breast cancer; BCr: breast cancer right; BCl: breast cancer left; OC: ovarian cancer; Mel: melanoma; PC: pancreatic cancer; IC: intestinal cancer. Black circles and squares: cancer patients; gray circles and squares: subjects without cancer; diagonal lines: dead subjects; †: age of death; arrow: proband.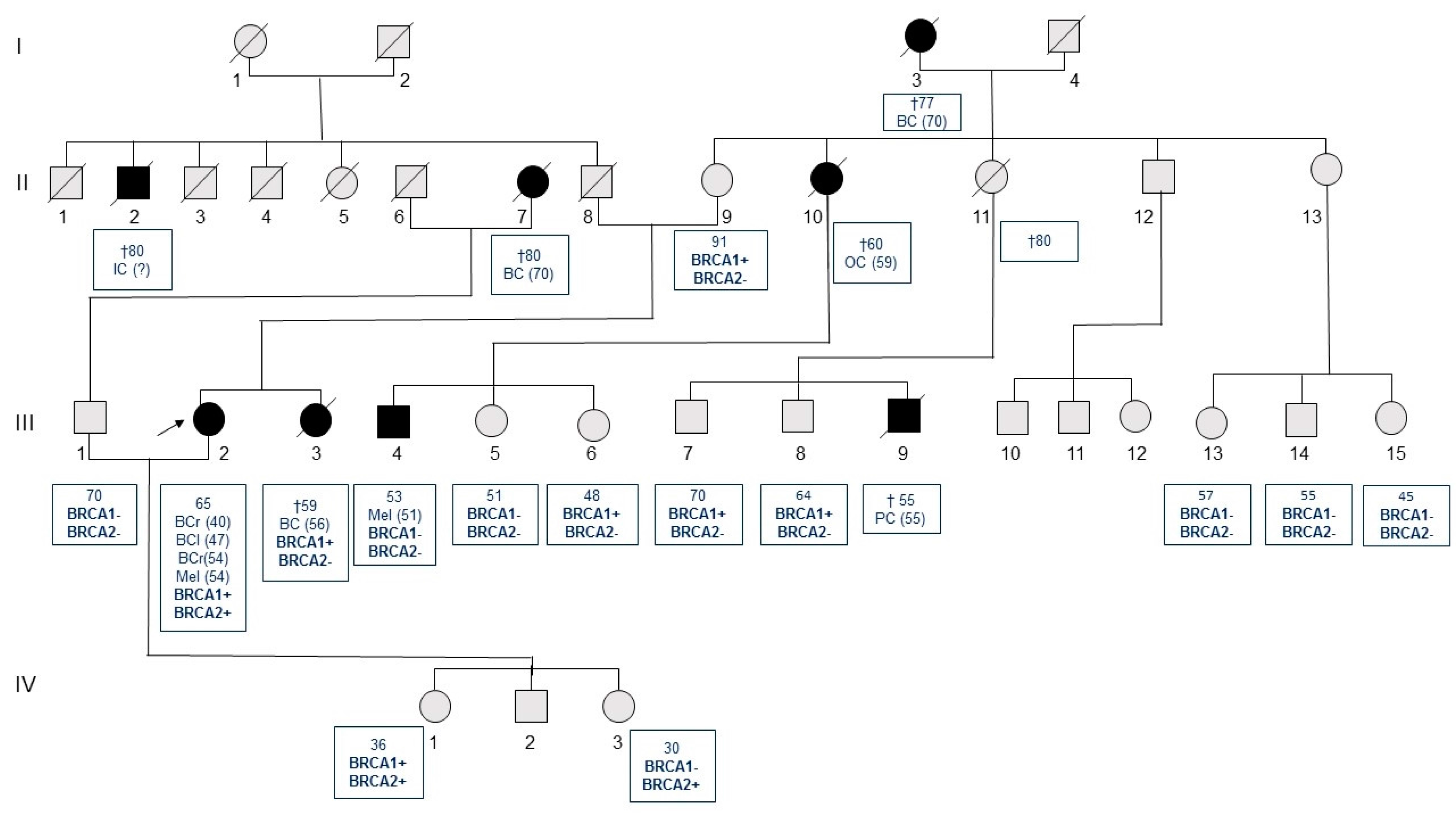 Table 1.
Data of females with
BRCA1
and
BRCA2
double heterozygosity published in the literature. WT: Wild Type; ND: Not Determined; DH: double heterozygosity; breast u.: breast unilateral; breast b.: breast bilateral; ovarian b.: ovarian bilateral; Mel: melanoma.
Geographic Localization/Ethnic Group

BRCA1

Mutation

BRCA2

Mutation
Sex
Inheritance
Proband Cancer/Age of Onset (Years) [Relative with DH]
References
Mother
Father
Scottish
c.2389G>T
c.3067_3068insA
F
WT
ND
Breast 35
[20]
German descent
c.5080G>T
c.6405_6409delCTTAA.
M

BRCA1

ND
Asymptomatic 36 [Sister asymptomatic 34] [Brother asymptomatic 30]
[21]
Australia (no Jewish ancestry)
c.3769_3770delGA
c.5946_5946delT
F
WT

BRCA2

Breast < 40
[22]
Spain
c.5123C>A
c.6275_6276delTT
F

BRCA1 BRCA2

-
Breast 28 [Mother asymptomatic 70] [Sister asymptomatic 40] [Cousin asymptomatic 47] [Cousin asymptomatic 41] [Uncle prostate 66] [Aunt breast 70] [Aunt breast 66]
[23]
Korea
c.4981G>T
c.5946_5949delTGGA
F

BRCA1 BRCA2

-
Breast 33 [Mother stomach 62]
[17]
Korea
c.1516_1520del5
c.2798_2799delCA
F
ND
ND
Breast 26
Korea
c.1656_1656delT
c.4599A>C
F
ND
ND
Breast 37
Netherlands
c.2685_2686delAA
c.3487_3487delG
F
ND
ND
Ovarian 40, breast 45
[9]
Netherlands
c.2685_2686delAA
c.4449_4449delA
F
ND
ND
Breast 28
European
c.962G>A
c.3170_3174delAGAAA
F
ND
ND
Breast 37
[2]
Italy
c.4285_4286insG
c.7738C>T
F
ND
ND
Breast 37
[24]
Australia
c.3331_3334delCAAG
c.631+2T>G
F
ND
ND
Breast 34, colon 35, breast 53 [Sister asymptomatic 65]
[25]
Italy
c.5263_5264insC
c.5796_5797delTA
F

BRCA1

BRCA2

Breast 38, ovarian 42
[26]
Italy
c.835_835delC
c.8195T>G
F
ND
ND
Breast 43
[27]
Italy
c.3916_3917delTT
c.5379_5379delG
F
WT
ND
Breast 30, ovarian 36
Italy
c.1687C>T
c.6469C>T
F
ND
ND
Breast 46, ovarian 58
Italy
c.2405_2406delTG
c.4284_4285insT
F
ND
ND
Breast and ovarian 52
Denmark
c.5096G>A
c.631+4A>G
F
-

BRCA1 BRCA2

Breast 53, ovarian 59 [Father breast 76] [Son and daughter asymptomatic]
[28]
Caucasian
c.1961_1961delA
c.1444_1444delC
F
ND
ND
Ovarian b. 50
[29]
Caucasian (maternal Ashkenazi ancestry)
c.5266_5267insC
c.4829_4830delTG
F
ND
ND
Breast u. 40
Korea
c.3627_3628insA
c.6724_6725delGA
F
ND
ND
Breast 26
[19]
Korea
c.390C>A
c.3018_3018delA
F
ND
ND
Breast 45
Korea
c.5030_5033delCTAA
c.1399A>T
F
ND
ND
Breast 35
Japan
c.188T>A
c.5576_5579delTTAA
F

BRCA1 BRCA2

Breast 55 [Father asymptomatic 51] [Cousin breast 41; Endometrial cancer 46]
[30]
Afrikaners
c.2635G>T
c.7934_7934delG
F

BRCA1

BRCA2

Breast 42 [Healthy second cousin 49]
[31]
Germany
c.5263_5264insC
c.5645C>A
F
WT

BRCA1 BRCA2

Breast b. 37; Ovarian b. 63 [Father prostate 68]
[32]
Germany
c.66_67delAG
c.5722_5723delCT
F

BRCA1

BRCA2

Breast u. 32
Germany
c.962G>A
c.2231C>G
F

BRCA1 BRCA2

WT
Breast b. 31, 35 [Mother breast 40]
Germany
c.3910_3910delG
c.2830A>T
F

BRCA1 BRCA2

WT
Breast u. 39 [Mother breast 34; another cancer not reported 35]
Germany
c.5193+1_5193+1delG
c.658_659delGT
F
ND
ND
Coecum 58, ovarian 61
Germany
c.3700_3704delGTAAA
c.1813_1814insA
F
ND
ND
Cervix 26, breast 40
Italy
c.547+2T>A
c.2830A>T c.426-57A>G
F
-

BRCA1 BRCA2

Breast 35 [Father asymptomatic 72]
[33]
France
c.1016_1017insA
c.6814_6814delA
F

BRCA1

WT
Breast 46
[8]
Italy
c.1687C>T
c.9976A>T
F

BRCA1

ND
Breast u (40), breast u (47), breast b (54), Mel (54) [Asymptomatic daughter (36)]
This report

© 2018 by the authors. Licensee MDPI, Basel, Switzerland. This article is an open access article distributed under the terms and conditions of the Creative Commons Attribution (CC BY) license (http://creativecommons.org/licenses/by/4.0/).