Aquaporin Expression and Water Transport Pathways inside Leaves Are Affected by Nitrogen Supply through Transpiration in Rice Plants
1
Jiangsu Provincial Key Lab for Organic Solid Waste Utilization, National Engineering Research Center for Organic-Based Fertilizers, Jiangsu Collaborative Innovation Center for Solid Organic Waste Resource Utilization, Nanjing Agricultural University, Nanjing 210095, China
2
Institute des Sciences de la Vie, Université catholique de Louvain, B-1348 Louvain-la-Neuve, Belgium
*
Author to whom correspondence should be addressed.
Received: 27 November 2017 / Revised: 10 January 2018 / Accepted: 11 January 2018 / Published: 16 January 2018
Abstract
The photosynthetic rate increases under high-N supply, resulting in a large CO
2
transport conductance in mesophyll cells. It is less known that water movement is affected by nitrogen supply in leaves. This study investigated whether the expression of aquaporin and water transport were affected by low-N (0.7 mM) and high-N (7 mM) concentrations in the hydroponic culture of four rice varieties: (1) Shanyou 63 (SY63), a hybrid variant of the
indica
species; (2) Yangdao 6 (YD6), a variant of
indica
species; (3) Zhendao 11 (ZD11), a hybrid variant of
japonica
species; and (4) Jiuyou 418 (JY418), another hybrid of the
japonica
species. Both the photosynthetic and transpiration rate were increased by the high-N supply in the four varieties. The expressions of aquaporins, plasma membrane intrinsic proteins (
PIPs
), and tonoplast membrane intrinsic protein (
TIP
) were higher in high-N than low-N leaves, except in SY63. Leaf hydraulic conductance (K
leaf
) was lower in high-N than low-N leaves in SY63, while K
leaf
increased under high-N supply in the YD6 variant. Negative correlations were observed between the expression of aquaporin and the transpiration rate in different varieties. Moreover, there was a significant negative correlation between transpiration rate and intercellular air space. In conclusion, the change in expression of aquaporins could affect K
leaf
and transpiration. A feedback effect of transpiration would regulate aquaporin expression. The present results imply a coordination of gas exchange with leaf hydraulic conductance.
View Full-Text
►

▼

Figures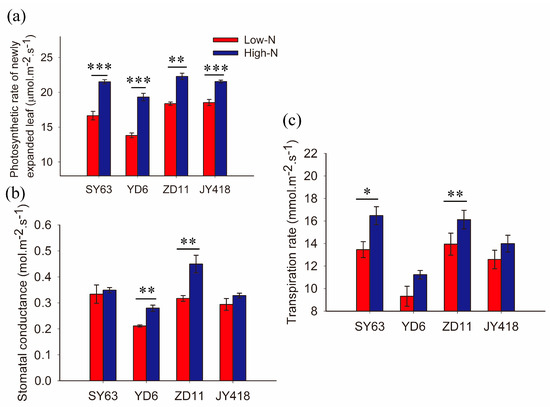 Figure 1
This is an open access article distributed under the
Creative Commons Attribution License
which permits unrestricted use, distribution, and reproduction in any medium, provided the original work is properly cited (CC BY 4.0).

Share & Cite This Article
MDPI and ACS Style
Ding, L.; Li, Y.; Gao, L.; Lu, Z.; Wang, M.; Ling, N.; Shen, Q.; Guo, S. Aquaporin Expression and Water Transport Pathways inside Leaves Are Affected by Nitrogen Supply through Transpiration in Rice Plants. Int. J. Mol. Sci. 2018, 19, 256.
Note that from the first issue of 2016, MDPI journals use article numbers instead of page numbers. See further details here.
Related Articles
Comments
[Return to top]