Open Access This article is
freely available
re-usable
Review
Hypoxia and Hormone-Mediated Pathways Converge at the Histone Demethylase KDM4B in Cancer
1
Department of Surgery, St. Jude Children's Research Hospital, 262 Danny Thomas Place, Memphis, TN 38105, USA
2
Molecular Oncology Laboratories, Department of Oncology, Weatherall Institute of Molecular Medicine, University of Oxford, Oxford OX3 9DS, UK
*
Author to whom correspondence should be addressed.
Received: 19 December 2017 / Accepted: 9 January 2018 / Published: 13 January 2018
Abstract
:
Hormones play an important role in pathophysiology. The hormone receptors, such as estrogen receptor alpha and androgen receptor in breast cancer and prostate cancer, are critical to cancer cell proliferation and tumor growth. In this review we focused on the cross-talk between hormone and hypoxia pathways, particularly in breast cancer. We delineated a novel signaling pathway from estrogen receptor to hypoxia-inducible factor 1, and discussed the role of this pathway in endocrine therapy resistance. Further, we discussed the estrogen and hypoxia pathways converging at histone demethylase KDM4B, an important epigenetic modifier in cancer.
Keywords:
estrogen receptor alpha; hypoxia-inducible factor 1; KDM4B; endocrine therapy resistance
Acknowledgments
Andrew M. Davidoff and Jun Yang was supported by the Assisi Foundation of Memphis, the American Lebanese Syrian Associated Charities (ALSAC), the US Public Health Service Childhood Solid Tumor Program Project grant no. CA23099, and the Cancer Center Support grant no. 21766 from the National Cancer Institute. Jun Yang was also supported by American Cancer Society-Research Scholar 130421-RSG-17-071-01-TBG, the National Cancer Institute of the National Institutes of Health under award number R03CA212802.
Conflicts of Interest
The authors declare no conflict of interest.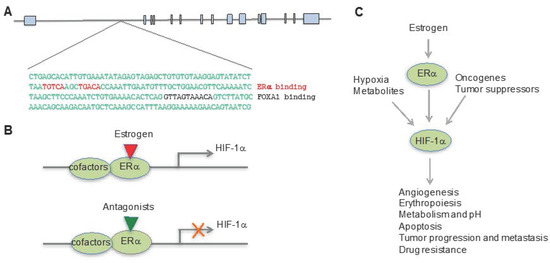 Figure 1.
Estrogen pathway directly drives HIF-1α expression. (
A
)
HIF-1α
gene bears a canonical estrogen receptor binding element (ERE), with a FOXA1 binding site downstream of ERE; (
B
) When ERα is bound by its ligand it drives the expression of HIF-1α. However, ERα antagonists block the expression of HIF-1α; (
C
) The pathways mediated by hypoxia, estrogen, metabolites, and cancer genes converge on HIF-1α, which drives a plethora of genes that are involved in multiple biological processes, cancer progression, and therapeutic resistance.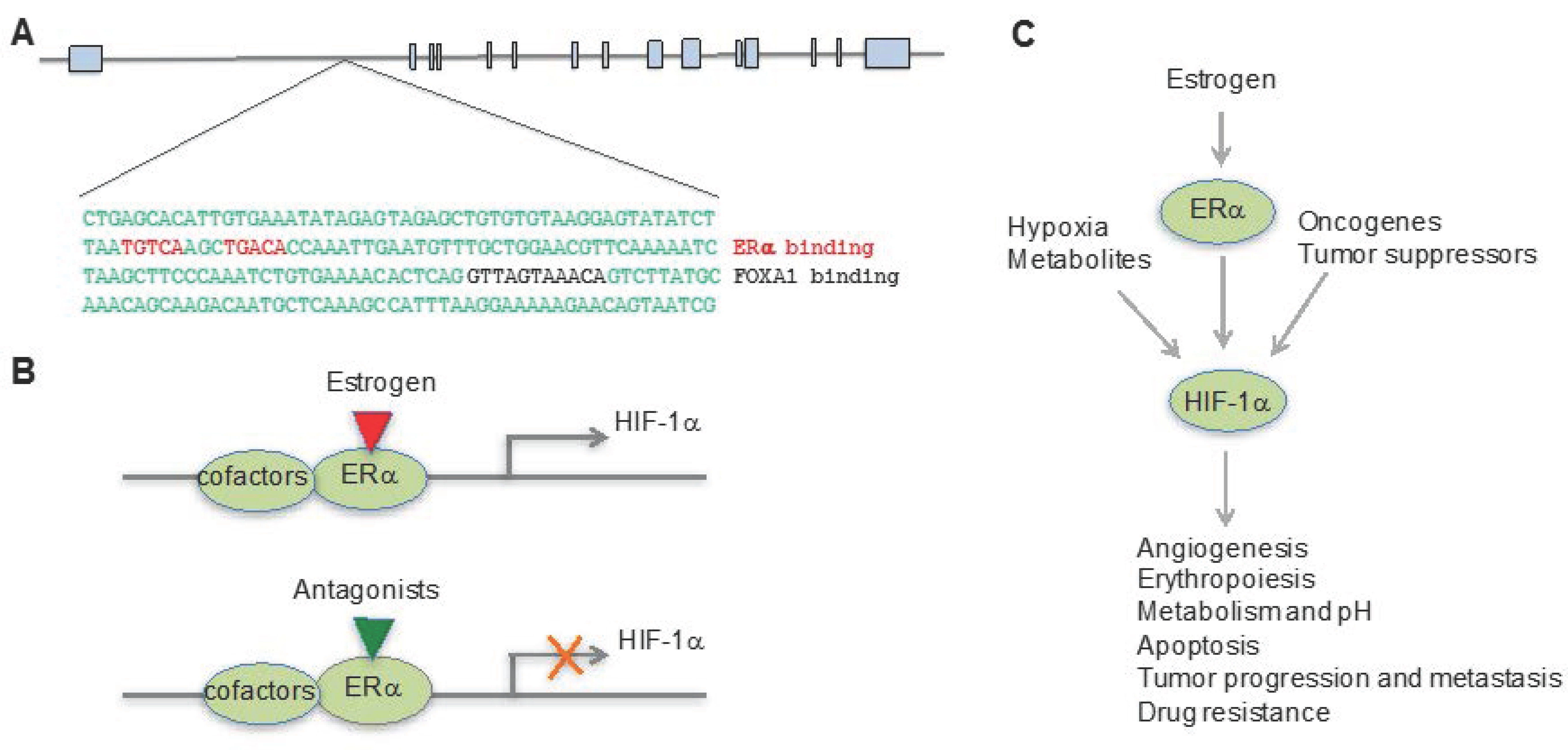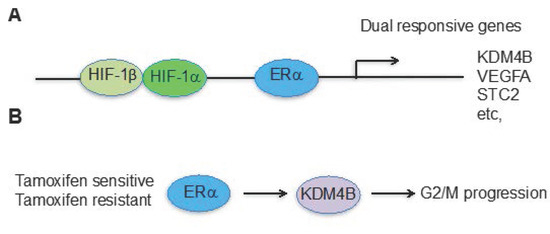 Figure 2. Hypoxia and estrogen pathways converge at KDM4B for cancer cell proliferation in ERα positive breast cancer. (A) KDM4B is one of the genes responsive to both estrogen and hypoxia-mediated pathways; (B) Regardless of endocrine therapy resistance, ERα drives KDM4B expression, which is required for G2/M phase progression.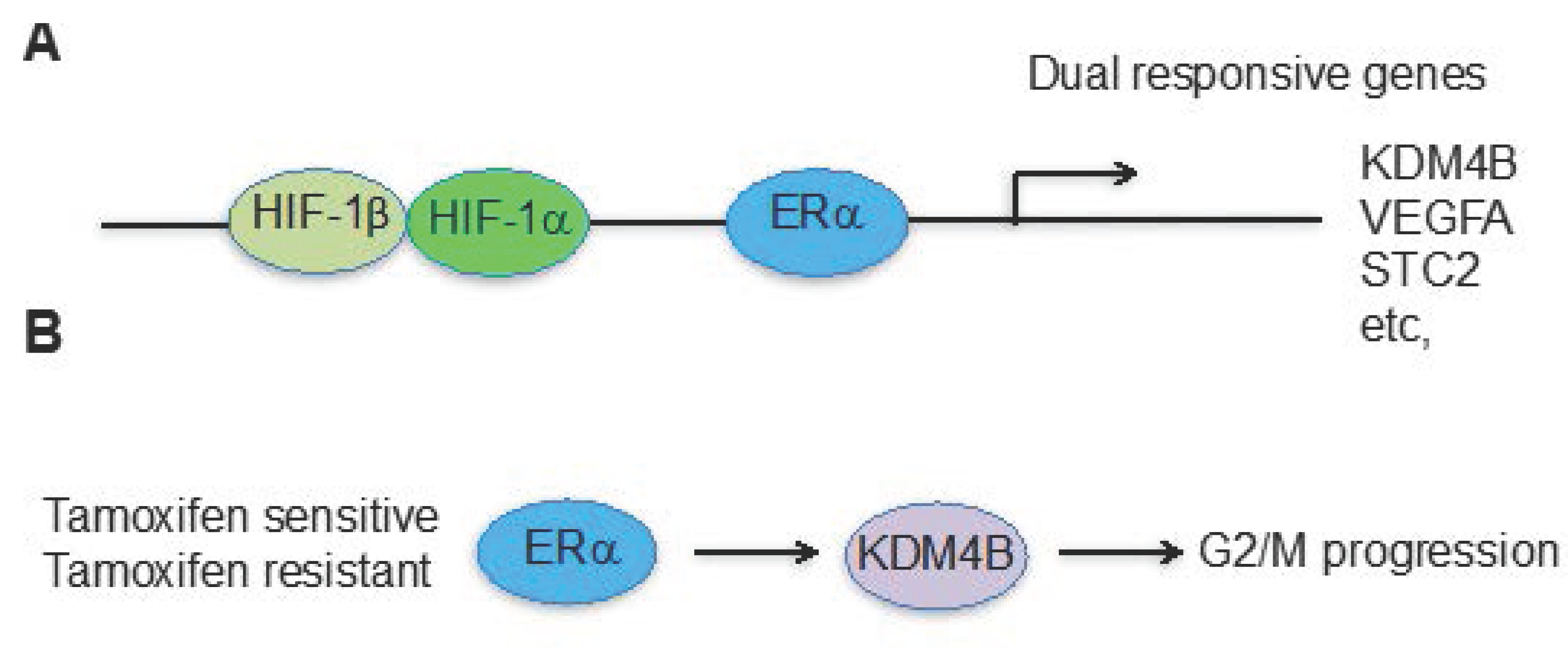 © 2018 by the authors. Licensee MDPI, Basel, Switzerland. This article is an open access article distributed under the terms and conditions of the Creative Commons Attribution (CC BY) license (http://creativecommons.org/licenses/by/4.0/).