Dietary Resveratrol Does Not Affect Life Span, Body Composition, Stress Response, and Longevity-Related Gene Expression in
Drosophila melanogaster
1
Institute of Human Nutrition and Food Science, University of Kiel, Hermann-Rodewald-Strasse 6, D-24118 Kiel, Germany
2
Institute of Nutritional Medicine, University of Lübeck, Ratzeburger Allee 160, D-23538 Lübeck, Germany
3
Department of Safety and Quality of Fruit and Vegetables, Max Rubner Institute, Haid-und-Neu-Strasse 9, D-76131 Karlsruhe, Germany
*
Author to whom correspondence should be addressed.
Received: 30 November 2017 / Revised: 19 December 2017 / Accepted: 5 January 2018 / Published: 11 January 2018
Abstract
In this study, we tested the effect of the stilbene resveratrol on life span, body composition, locomotor activity, stress response, and the expression of genes encoding proteins centrally involved in ageing pathways in the model organism
Drosophila melanogaster
. Male and female
w1118 D. melanogaster
were fed diets based on sucrose, corn meal, and yeast. Flies either received a control diet or a diet supplemented with 500 µmol/L resveratrol. Dietary resveratrol did not affect mean, median, and maximal life span of male and female flies. Furthermore, body composition remained largely unchanged following the resveratrol supplementation. Locomotor activity, as determined by the climbing index, was not significantly different between control and resveratrol-supplemented flies. Resveratrol-fed flies did not exhibit an improved stress response towards hydrogen peroxide as compared to controls. Resveratrol did not change mRNA steady levels of antioxidant (
catalase
,
glutathione-S-transferase
,
NADH dehydrogenase
,
glutathione peroxidase
,
superoxide dismutase 2
) and longevity-related genes, including
sirtuin 2
,
spargel
, and
I'm Not Dead Yet
. Collectively, present data suggest that resveratrol does not affect life span, body composition, locomotor activity, stress response, and longevity-associated gene expression in
w1118 D. melanogaster
.
View Full-Text
►

▼

Figures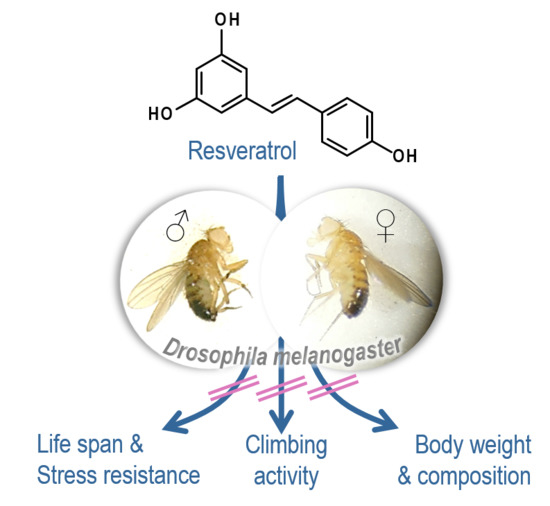 Graphical abstract
This is an open access article distributed under the
Creative Commons Attribution License
which permits unrestricted use, distribution, and reproduction in any medium, provided the original work is properly cited (CC BY 4.0).

Share & Cite This Article
MDPI and ACS Style
Staats, S.; Wagner, A.E.; Kowalewski, B.; Rieck, F.T.; Soukup, S.T.; Kulling, S.E.; Rimbach, G. Dietary Resveratrol Does Not Affect Life Span, Body Composition, Stress Response, and Longevity-Related Gene Expression in Drosophila melanogaster. Int. J. Mol. Sci. 2018, 19, 223.
Note that from the first issue of 2016, MDPI journals use article numbers instead of page numbers. See further details here.
Related Articles
Comments
[Return to top]