Galangin Reduces the Loss of Dopaminergic Neurons in an LPS-Evoked Model of Parkinson's Disease in Rats
College of Animal Science and Veterinary Medicine, Jilin University, Changchun 130062, China
*
Author to whom correspondence should be addressed.
Received: 3 November 2017 / Revised: 14 December 2017 / Accepted: 17 December 2017 / Published: 21 December 2017
Abstract
Parkinson's disease (PD) is caused by the loss of dopaminergic (DA) neurons in the midbrain substantia nigra (SN). Neuroinflammation, which is marked by microglial activation, plays a very important role in the pathogenesis of PD. Pro-inflammatory mediators produced by activated microglia could damage DA neurons. Hence, the inhibition of microglial activation may provide a new approach for treating PD. Galangin has been shown to inhibit inflammation in a variety of diseases, but not PD. In this study, we aimed to investigate the anti-inflammatory effect of galangin and the underlying mechanisms in Lipopolysaccharide (LPS) induced PD models. We first examined the protective effect of galangin in the LPS-induced PD rat model. Specifically, we investigated the effects on motor dysfunction, microglial activation, and the loss of DA neurons. Then, galangin was used to detect the impact on the inflammatory responses and inflammatory signaling pathways in LPS-induced BV-2 cells. The in vivo results showed that galangin dose-dependently attenuates the activation of microglia, the loss of DA neurons, and motor dysfunction. In vitro, galangin markedly inhibited LPS-induced expression of tumor necrosis factor α (TNF-α), interleukin-6 (IL-6) and interleukin-1β (IL-1β), cyclooxygenase 2 (COX-2), and induced nitric oxide synthase (iNOS) via associating with the phosphorylation of c-JUN N-terminal Kinase (JNK), p38, protein kinase B (AKT), and nuclear factor κB (NF-κB) p65. Collectively, the results indicated that galangin has a role in protecting DA neurons by inhibiting microglial activation.
View Full-Text
►

▼

Figures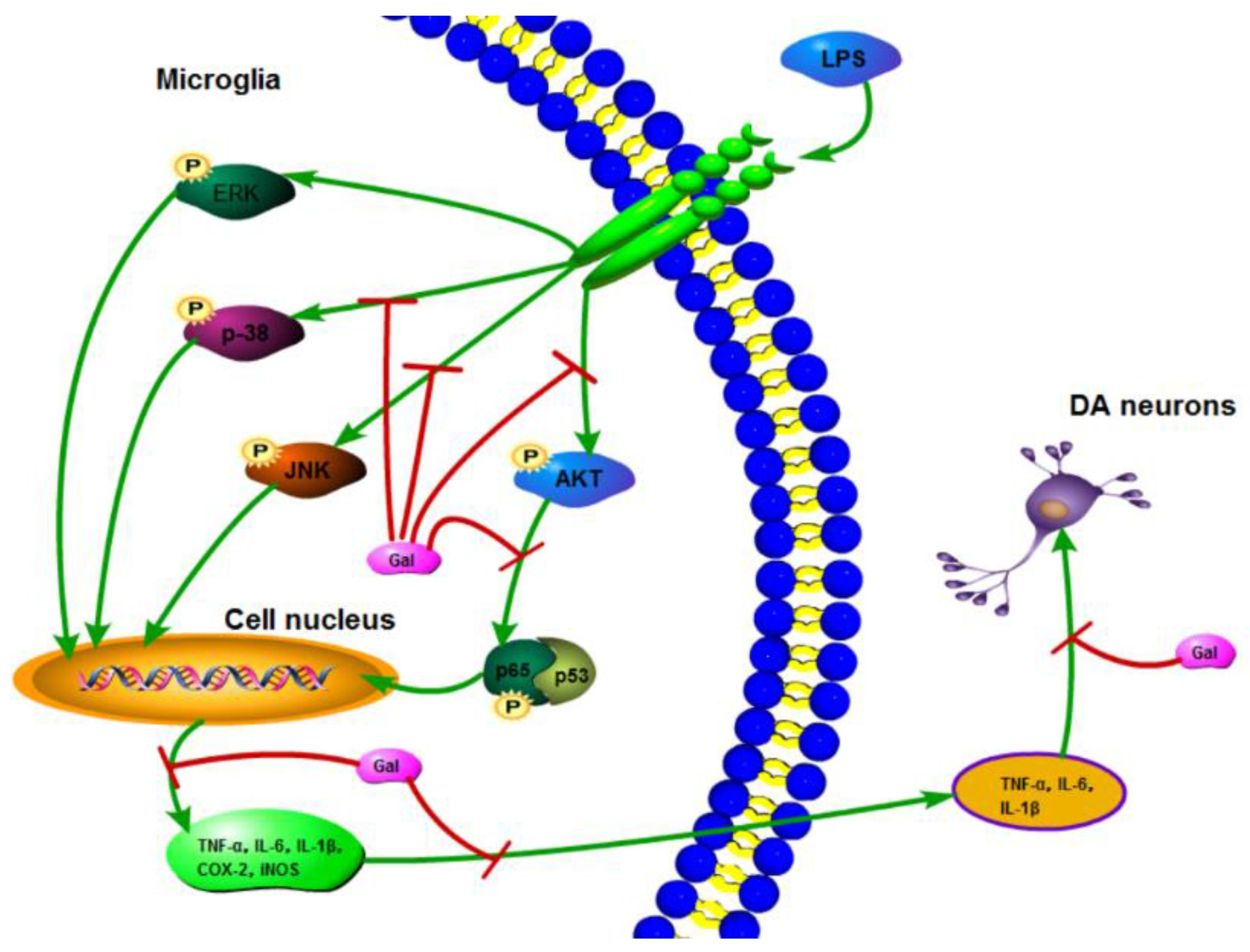 Graphical abstract
This is an open access article distributed under the
Creative Commons Attribution License
which permits unrestricted use, distribution, and reproduction in any medium, provided the original work is properly cited (CC BY 4.0).

Share & Cite This Article
MDPI and ACS Style
Chen, G.; Liu, J.; Jiang, L.; Ran, X.; He, D.; Li, Y.; Huang, B.; Wang, W.; Fu, S. Galangin Reduces the Loss of Dopaminergic Neurons in an LPS-Evoked Model of Parkinson's Disease in Rats. Int. J. Mol. Sci. 2018, 19, 12.
Note that from the first issue of 2016, MDPI journals use article numbers instead of page numbers. See further details here.
Related Articles
Comments
[Return to top]