The Actin Cytoskeleton Is Involved in Glial Cell Line-Derived Neurotrophic Factor (GDNF)-Induced Ret Translocation into Lipid Rafts in Dopaminergic Neuronal Cells
1
Department of Pathophysiology, School of the Basic Medicine, Xuzhou Medical University, Xuzhou 221004, Jiangsu, China
2
Institute of Emergency Rescue Medicine, Xuzhou Medical University, Xuzhou 221004, Jiangsu, China
3
School of Nursing, Xuzhou Medical University, Xuzhou 221004, Jiangsu, China
4
Department of Histology and Embryology, School of the Basic Medicine, Xuzhou Medical University, Xuzhou 221004, Jiangsu, China
5
Department of Neurobiology and Anatomy, Xuzhou Key Laboratory of Neurobiology, Jiangsu Key Laboratory of New Drug Research and Clinical Pharmacy, Xuzhou Medical University, Xuzhou 221004, Jiangsu, China
6
Institute of Medical Technology, Xuzhou Medical University, Xuzhou 221004, Jiangsu, China
*
Author to whom correspondence should be addressed.
Received: 6 July 2017 / Revised: 25 August 2017 / Accepted: 5 September 2017 / Published: 7 September 2017
Abstract
Glial cell line-derived neurotrophic factor (GDNF), a potential therapeutic factor for Parkinson's disease (PD), exerts its biological effects through the Ret receptor tyrosine kinase. The redistribution of Ret into lipid rafts substantially influences Ret signaling, but the mechanisms underlying Ret translocation remain unclear. The purpose of our study was to further explore the signaling mechanisms of GDNF and to determine whether the actin cytoskeleton is involved in the GDNF-induced Ret translocation into lipid rafts. In MN9D dopaminergic neuronal cells, we used density gradient centrifugation and immunofluorescence confocal microscopy to separate and visualize lipid rafts, co-immunoprecipitation to analyze protein-protein interactions, and latrunculin B (Lat B) and jasplakinolide (Jas) to disrupt and enhance the polymerization of the actin cytoskeleton, respectively. The results showed that Ret translocated into lipid rafts and coimmunoprecipitated with actin in response to GDNF treatment. After Lat B or Jas treatment, the Ret–F-actin association induced by GDNF was impaired or enhanced respectively and then the levels of Ret translocated into lipid rafts were correspondingly inhibited or promoted. These data indicate that actin polymerization and cytoskeletal remodeling are integral to GDNF-induced cell signaling in dopaminergic cells and define a new role of the actin cytoskeleton in promoting Ret redistribution into lipid rafts.
View Full-Text
►

▼

Figures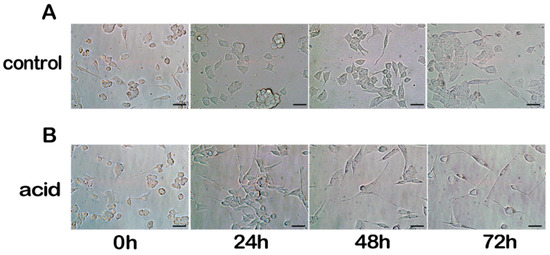 Figure 1
This is an open access article distributed under the
Creative Commons Attribution License
which permits unrestricted use, distribution, and reproduction in any medium, provided the original work is properly cited (CC BY 4.0).

Share & Cite This Article
MDPI and ACS Style
Li, L.; Song, H.; Mu, P.; Xu, M.; Liu, C.; Wang, Y.; Qin, Y.; Sun, S.; Gao, J.; Wang, T.; Gao, D. The Actin Cytoskeleton Is Involved in Glial Cell Line-Derived Neurotrophic Factor (GDNF)-Induced Ret Translocation into Lipid Rafts in Dopaminergic Neuronal Cells. Int. J. Mol. Sci. 2017, 18, 1922.
Note that from the first issue of 2016, MDPI journals use article numbers instead of page numbers. See further details here.
Related Articles
Comments
[Return to top]