Open Access This article is
freely available
re-usable
Review
Aberrant Signaling Pathways in T-Cell Acute Lymphoblastic Leukemia
1
Dipartimento di Scienze Chirurgiche, Oncologiche e Gastroenterologiche, Universita' di Padova, Padova 35128, Italy
2
UOC Immunologia e Diagnostica Molecolare Oncologica, Istituto Oncologico Veneto IOV—IRCCS, Padova 35128, Italy
*
Author to whom correspondence should be addressed.
Received: 8 August 2017 / Accepted: 1 September 2017 / Published: 5 September 2017
Abstract
:
T-cell acute lymphoblastic leukemia (T-ALL) is an aggressive disease caused by the malignant transformation of immature progenitors primed towards T-cell development. Clinically, T-ALL patients present with diffuse infiltration of the bone marrow by immature T-cell blasts high blood cell counts, mediastinal involvement, and diffusion to the central nervous system. In the past decade, the genomic landscape of T-ALL has been the target of intense research. The identification of specific genomic alterations has contributed to identify strong oncogenic drivers and signaling pathways regulating leukemia growth. Notwithstanding, T-ALL patients are still treated with high-dose multiagent chemotherapy, potentially exposing these patients to considerable acute and long-term side effects. This review summarizes recent advances in our understanding of the signaling pathways relevant for the pathogenesis of T-ALL and the opportunities offered for targeted therapy.
Keywords:
acute lymphoblastic leukemia; oncogenes; PI3K/AKT; targeted therapy
Acknowledgments
Funding support provided in part by Ministero dell'Istruzione, dell'Università e della Ricerca (MIUR) Ex 60%, Progetto di Ricerca di Ateneo (PRAT; Università di Padova; CDA #152403), and Istituto Oncologico Veneto 5 × 1000 fund (Progetto Sinergia tra Oncologia Molecolare e Clinica) to Erich Piovan.
Conflicts of Interest
The authors declare no conflict of interest.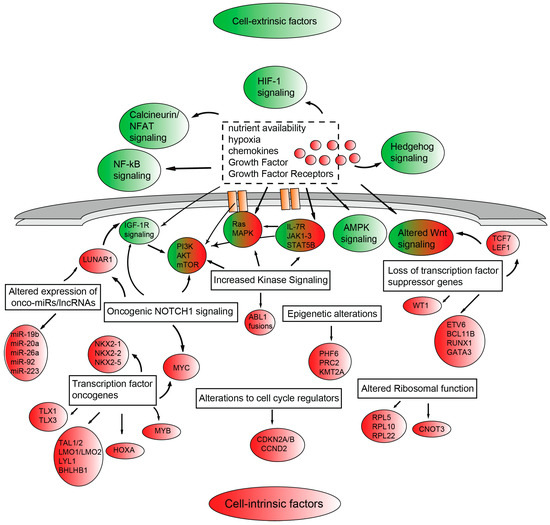 Figure 1. Schematic representation of signaling pathways aberrantly activated in T-cell acute lymphoblastic leukemia (T-ALL), tentatively subdivided as being mainly due to cell-extrinsic (shaded green) and cell-intrinsic factors (shaded red) or mixed (green and red).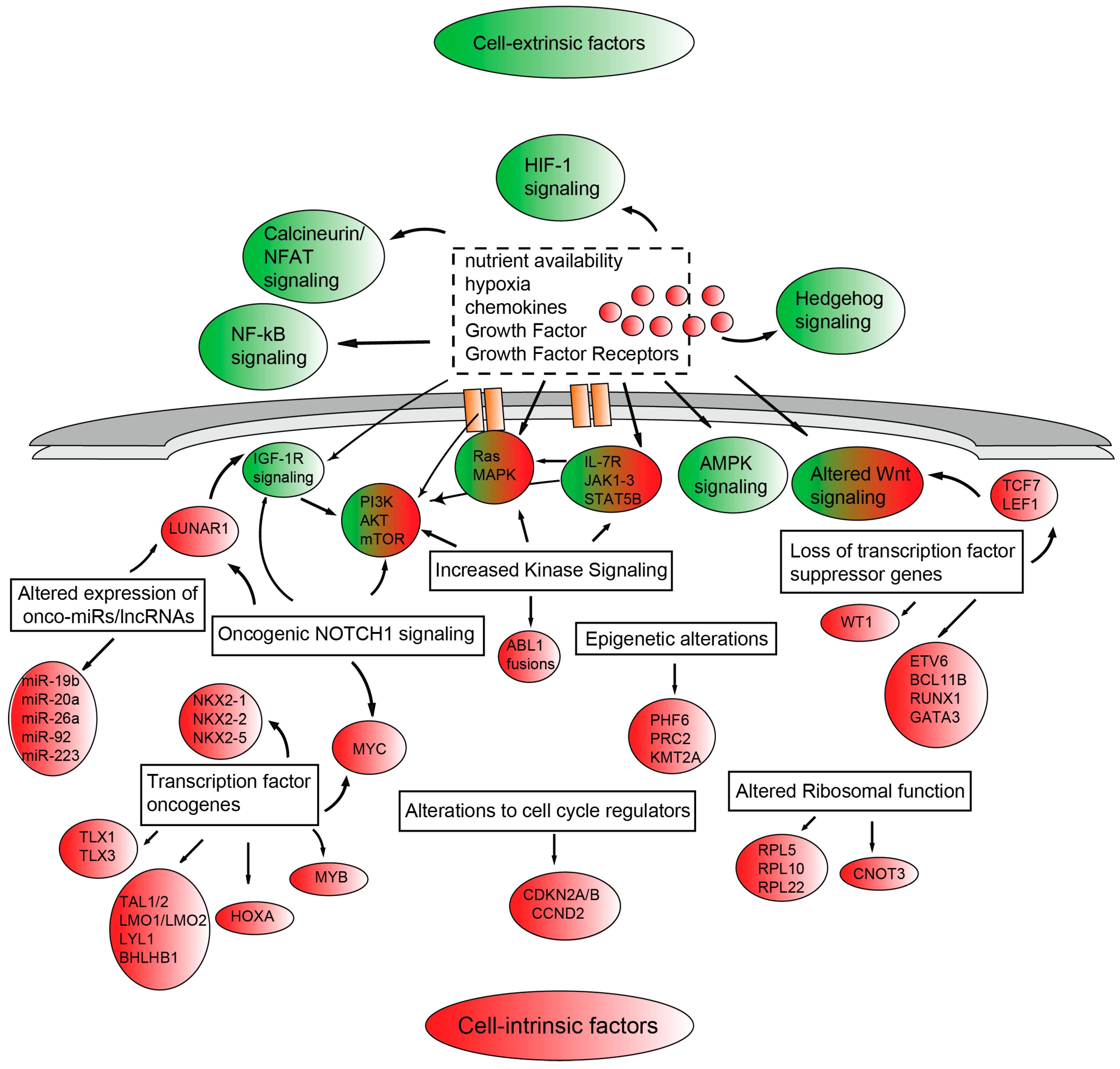 © 2017 by the authors. Licensee MDPI, Basel, Switzerland. This article is an open access article distributed under the terms and conditions of the Creative Commons Attribution (CC BY) license (http://creativecommons.org/licenses/by/4.0/).