Progenitor Cells from Cartilage: Grade Specific Differences in Stem Cell Marker Expression
1
Department of Sciences, University of Orleans, I3MTO, EA 4708, Orleans F-45032, France
2
Service chirurgie orthopédique et traumatologique Centre Hospitalier Régional d'Orléans, La Source 45000, France
3
UHealth Sports Medicine Institute, Department of Orthopedics, Division of Sports Medicine, U of Miami, Coral Gables, FL 33146, USA
4
EA4708/I3MTO, Service de Rhumatologie, Centre Hospitalier Régional d'Orléans, La Source 45000, France
*
Author to whom correspondence should be addressed.
Received: 25 July 2017 / Revised: 7 August 2017 / Accepted: 9 August 2017 / Published: 12 August 2017
Abstract
Recent research has confirmed the presence of Mesenchymal stem cell (MSC)-like progenitors (MPC) in both normal and osteoarthritic cartilage. However, there is only limited information concerning how MPC markers are expressed with osteoarthritis (OA) progression. The purpose of this study was to compare the prevalence of various MPC markers in different OA grades. Human osteoarthritic tibial plateaus were obtained from ten patients undergoing total knee replacement. Each sample had been classified into a mild or severe group according to OARSI scoring. Tissue was taken from each specimen and mRNA expression levels of CD105, CD166, Notch 1, Sox9, Acan and Col II A1 were measured at day 0 and day 14 (2 weeks in vitro). Furthermore, MSC markers: Nucleostemin, CD90, CD73, CD166, CD105 and Notch 1 were studied by immunofluorescence. mRNA levels of MSC markers did not differ between mild and severe OA at day 0. At day 14, protein analysis showed that proliferated cells from both sources expressed all 6 MSC markers. Only cells from the mild OA subjects resulted in a significant increase of mRNA CD105 and CD166 after in vitro expansion. Moreover, cells from the mild OA subjects showed significantly higher levels of CD105, Sox9 and Acan compared with those from severe OA specimens. Results confirmed the presence of MSC markers in mild and severe OA tissue at both mRNA and protein levels. We found significant differences between cells obtained from mild compared to severe OA specimens suggests that mild OA derived cells may have a greater MSC potential.
View Full-Text
►

▼

Figures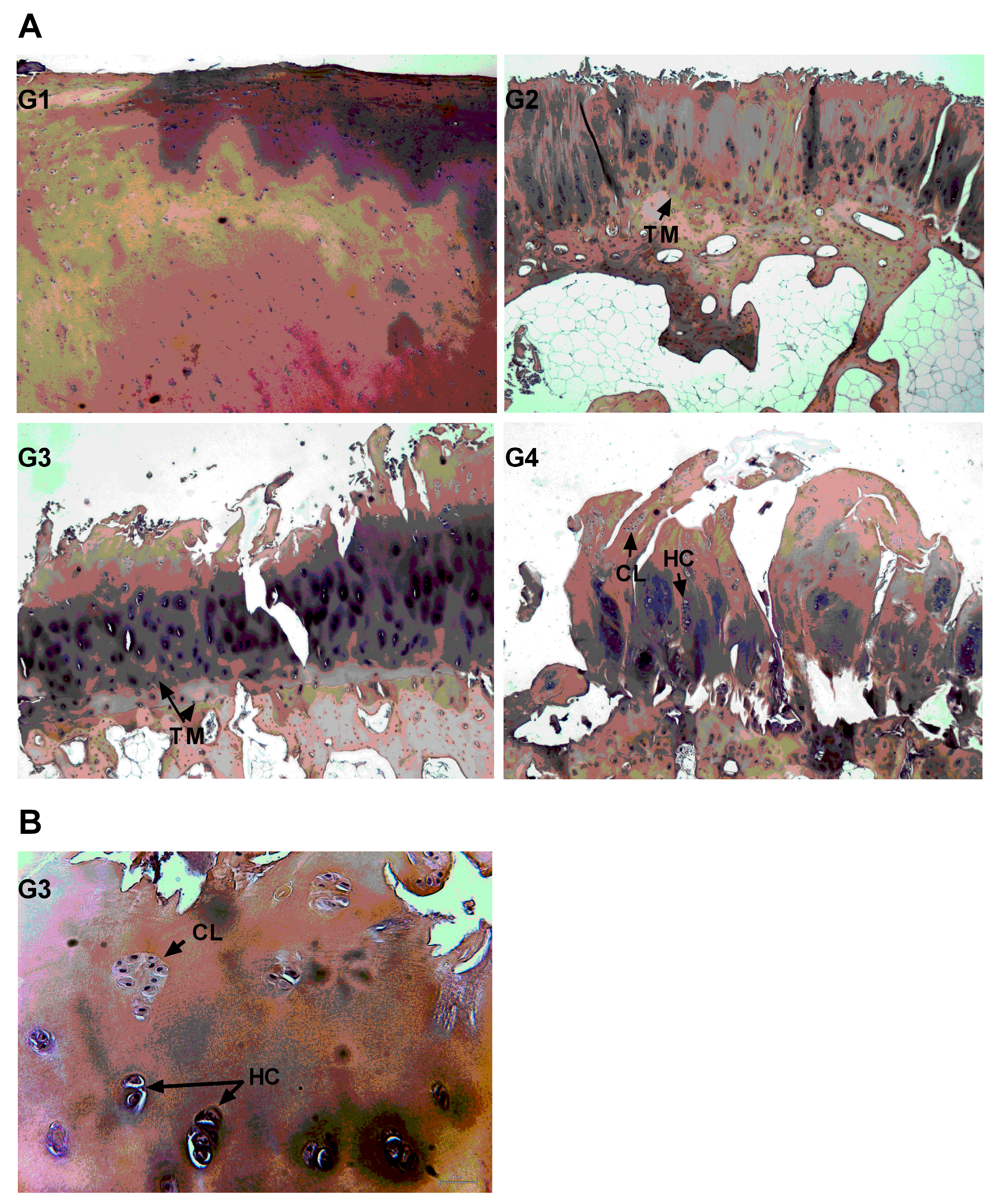 Figure 1
This is an open access article distributed under the
Creative Commons Attribution License
which permits unrestricted use, distribution, and reproduction in any medium, provided the original work is properly cited (CC BY 4.0).

Share & Cite This Article
MDPI and ACS Style
Mazor, M.; Cesaro, A.; Ali, M.; Best, T.M.; Lespessaille, E.; Toumi, H. Progenitor Cells from Cartilage: Grade Specific Differences in Stem Cell Marker Expression. Int. J. Mol. Sci. 2017, 18, 1759.
Note that from the first issue of 2016, MDPI journals use article numbers instead of page numbers. See further details here.
Related Articles
Comments
[Return to top]