In Situ β-Glucan Fortification of Cereal-Based Matrices by
Pediococcus parvulus

2.6: Technological Aspects and Prebiotic Potential

1

Centro de Investigaciones Biológicas (CIB), CSIC, Ramiro de Maeztu 9, 28040 Madrid, Spain

2

Department of Agriculture, Food and Environment Sciences, University of Foggia, Via Napoli 25, 71122 Foggia, Italy

3

Department of Clinical and Experimental Medicine, University of Foggia, Via Pinto 1, 71122 Foggia, Italy

4

Promis Biotech srl, Via Napoli 25, 71122 Foggia, Italy

*

Author to whom correspondence should be addressed.

Received: 23 May 2017 / Revised: 7 July 2017 / Accepted: 17 July 2017 / Published: 21 July 2017
Abstract
Bacterial exopolysaccharides produced by lactic acid bacteria are of increasing interest in the food industry, since they might enhance the technological and functional properties of some edible matrices. In this work,
Pediococcus parvulus
2.6, which produces an
O
2-substituted (1,3)-β-d-glucan exopolysaccharide only synthesised by bacteria, was proposed as a starter culture for the production of three cereal-based fermented foods. The obtained fermented matrices were naturally bio-fortified in microbial β-glucans, and used to investigate the prebiotic potential of the bacterial exopolysaccharide by analysing the impact on the survival of a probiotic
Lactobacillus plantarum
strain under starvation and gastrointestinal simulated conditions. All of the assays were performed by using as control of the
P. parvulus
2.6's performance, the isogenic β-glucan non-producing 2.6NR strain. Our results showed a differential capability of
P. parvulus
to ferment the cereal flours. During the fermentation step, the β-glucans produced were specifically quantified and their concentration correlated with an increased viscosity of the products. The survival of the model probiotic
L. plantarum
WCFS1 was improved by the presence of the bacterial β-glucans in oat and rice fermented foods under starvation conditions. The probiotic bacteria showed a significantly higher viability when submitted to a simulated intestinal stress in the oat matrix fermented by the 2.6 strain. Therefore, the cereal flours were a suitable substrate for in situ bio-fortification with the bacterial β-glucan, and these matrices could be used as carriers to enhance the beneficial properties of probiotic bacteria.
View Full-Text
►

▼

Figures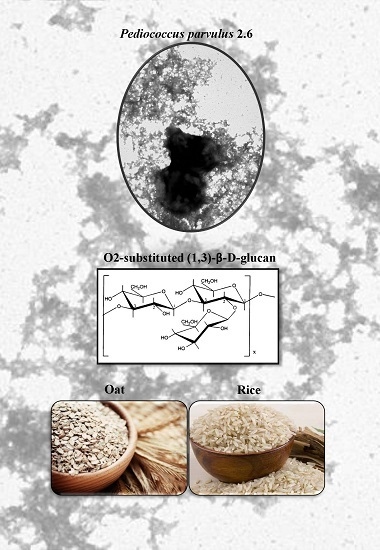 Graphical abstract
This is an open access article distributed under the
Creative Commons Attribution License
which permits unrestricted use, distribution, and reproduction in any medium, provided the original work is properly cited (CC BY 4.0).

Share & Cite This Article
MDPI and ACS Style
Pérez-Ramos, A.; Mohedano, M.L.; López, P.; Spano, G.; Fiocco, D.; Russo, P.; Capozzi, V. In Situ β-Glucan Fortification of Cereal-Based Matrices by Pediococcus parvulus 2.6: Technological Aspects and Prebiotic Potential. Int. J. Mol. Sci. 2017, 18, 1588.
Note that from the first issue of 2016, MDPI journals use article numbers instead of page numbers. See further details here.
Related Articles
Comments
[Return to top]