Open Access This article is
freely available
re-usable
Review
Phytochemicals Targeting Estrogen Receptors: Beneficial Rather Than Adverse Effects?
Institut de Recherche en Santé-Environnement-Travail (IRSET), UMR 1085 Inserm, TREC Team, University of Rennes 1, 35000 Rennes, France
*
Author to whom correspondence should be addressed.
Received: 4 May 2017 / Accepted: 24 June 2017 / Published: 28 June 2017
Abstract
:
In mammals, the effects of estrogen are mainly mediated by two different estrogen receptors, ERα and ERβ. These proteins are members of the nuclear receptor family, characterized by distinct structural and functional domains, and participate in the regulation of different biological processes, including cell growth, survival and differentiation. The two estrogen receptor (ER) subtypes are generated from two distinct genes and have partially distinct expression patterns. Their activities are modulated differently by a range of natural and synthetic ligands. Some of these ligands show agonistic or antagonistic effects depending on ER subtype and are described as selective ER modulators (SERMs). Accordingly, a few phytochemicals, called phytoestrogens, which are synthesized from plants and vegetables, show low estrogenic activity or anti-estrogenic activity with potentially anti-proliferative effects that offer nutraceutical or pharmacological advantages. These compounds may be used as hormonal substitutes or as complements in breast cancer treatments. In this review, we discuss and summarize the in vitro and in vivo effects of certain phytoestrogens and their potential roles in the interaction with estrogen receptors.
Keywords:
estrogen receptor; ligand; xenoestrogens; selective estrogen receptor modulators; transcription; epigenetic regulation; cell signaling; cancer
2. Structure and Sources of the Major Dietary Phytoestrogens
Against environmental stresses and aggressions, plants produce secondary metabolites belonging to the large family of polyphenols, which have many biological activities, such as antioxidant, antifungal and antibiotic properties. All of these compounds contain one or several aromatic rings with at least one hydroxyl group. Hydroxyl groups can be free, but most of the time they are engaged in another function with an ester, ether or a glycoside. Among these compounds, phytoestrogens have a structural similarity with 17β-estradiol and could bind both ERs. Phytoestrogens are classified into six groups based on their chemical structures (
Figure 2
). In this review, we have chosen to present only the aglycone structure of a few phytoestrogens.
3. In Vitro Effects of Phytoestrogens
4. In Vivo Effects of Phytoestrogens
5. Conclusions
Although more research is needed, it is clear that some natural compounds from plants, such as phytoestrogens, could have beneficial effects on certain diseases, such as cancer or neurodegenerative diseases. However, in vitro or in vivo studies to analyze the final effects of phytoestrogens may be quite different at low (<1 μM) or high concentrations (>10 μM). For instance, at low doses (from 10 nM to 1 μM), genistein showed mitogenic effects on breast cancer cell growth, whereas at higher concentrations (>10 μM), it showed antiproliferative effects [
123
,
124
]. Some of these effects are explained by their interactions with ER subtypes. The ratios and the expressions of ERα and ERβ are different in various tissues depending on the period of life. ERα is mostly expressed in tissues such as the mammary gland, uterus, liver and pituitary, while ERβ is expressed in tissues such as the brain, bone and bladder. Moreover, the abilities of ER subtypes to recruit cofactors, regulate gene expression and stimulate or inhibit cell growth are slightly different. Therefore, in vivo, phytoestrogens may have a complex role, acting as weak estrogens and antiestrogens depending on the tissue. Furthermore, it is believed that the signaling pathways induced by phytoestrogens are not completely identical to those induced by estrogens. As illustrated in
Figure 3
, phytoestrogens may have different mechanisms of action; therefore, some of these compounds could be considered therapeutic agents and used alone or in combination with usual hormone therapies. For example, the protective effect of isoflavones on prostate cancer may be related to their effects on metabolic pathways involved in androgen and estrogen synthesis [
125
] or to their epigenetic modifications of DNA, such as the demethylation of CpG islands within the promoters of tumor suppressor genes [
81
,
126
,
127
]. On the other hand, the phytoestrogen coumestrol, which exhibits an important cancer-preventive effect in estrogen-responsive carcinomas, was recently reported to inhibit epithelial ovarian cancer proliferation and invasion by modifying AKT, p70S6K and ERK1/2 phosphorylation [
128
]. Moreover, previous studies showed an antagonistic effect of genistein and apigenin against the association of ERα with the ubiquitous calcium-dependent protein, calmodulin (CaM). By interacting with ERα, CaM plays a key role in the stabilization and transcriptional activity of ERα dimers at the ERE. The agonistic effect of genistein and apigenin in this interaction may also account for the anti-tumor origin of these compounds against ER-positive breast cancers [
129
,
130
]. It is, therefore, essential to continue advances in the understanding diverse signaling pathways activated by phytoestrogens, to fully exploit their anticancer properties and/or their potential roles in estrogen-related diseases. Accordingly, it should also be remembered that changes in the expression or activity of nuclear and membrane receptors for steroids and growth factors, as well as key steroid synthesis enzymes, during cancer progression could play crucial roles in the effects of phytoestrogens (
Figure 3
). Indeed, flavonoids, especially flavones (ex: luteolin) and flavanones (ex: naringenin), are described as potent inhibitors of aromatase activity [
131
]. Aromatase is the main enzyme that participates in the transformation of testosterone into estradiol and is hence involved in breast cancer pathology. Moreover, luteolin was also shown to downregulate aromatase gene expression [
131
]. Phytoestrogens are also able to inhibit proteasome [
132
], which appears to be essential for breast cancer cell survival [
133
]. For example, apigenin is capable of inhibiting the catalytic activity of proteasomes, leading to stabilization of ERβ and apoptosis of prostate cancer cells [
134
].
An important application of phytoestrogens is that they could be used as an alternative to the synthetic selective estrogen receptor modulators (SERMs), which exhibit estrogen agonist or antagonist activity in a tissue-specific manner. Indeed, SERMs are used in the treatment of some estrogen-associated pathologies, such as breast cancer, brain diseases, osteoporosis and menopausal symptoms. In other words, the challenge is to minimize the adverse effects of ER (mitogenic effect) without reducing the beneficial effects (protective effects), such as the control of cell differentiation, neuroprotection, anti-osteoporosis effects, and anti-oxidant activity. Our recent study screening the SERM activity of these compounds revealed a beneficial effect of apigenin and resveratrol, whereas zearalenone has been characterized as having a strong ER-agonist property in breast cancer cell lines and having adverse effects in neuritogenesis [
135
].
Although recent studies have reported that certain environmental agents caused epigenetic effects that could act across generations, leading to physiological changes of the offspring, there are no examples of perinatal exposure to phytoestrogens at environmentally relevant doses. There is still a need to understand the molecular mechanisms and to investigate how these compounds can influence epigenetic patterns during development.
In this review, we have discussed the effects of phytoestrogens used alone. However, populations are exposed to several compounds at the same time. Thus, it might be important to perform studies of the effect of mixtures of botanical estrogen on human health to improve recommendations for public health.
Acknowledgments
This work was supported by Fond Unique Interministeriel (FUI, project mVolio), the French Ministry of Ecology, Energy and Sustainable Development (PNRPE); La Ligue Contre le Cancer, the INSERM and CNRS.
Author Contributions
Sylvain Lecomte, François Ferrière and Florence Demay were the major contributors in writing the manuscript. Sylvain Lecomte, Florence Demay, François Ferrière and Farzad Pakdel read, corrected and approved the final manuscript
Conflicts of Interest
The authors declare no conflict of interest.
Figure 1. Structure and mechanisms of action of the estrogen receptor (ER). (A) The evolutionarily conserved domains of several nuclear receptors, including ER, AR (androgen receptor), PR (progesterone receptor), GR (glucocorticoid receptor), VDR (vitamin D receptor), RAR (retinoid acid receptor) and TR (thyroid receptor). Domains involved in DNA and ligand binding, as well as in dimerization, ligand-independent transactivation function (AF1) and ligand-dependent transactivation function (AF2) are shown. The number of amino acids for each domain is presented. The approximate molecular weight of each nuclear receptor is also indicated on the right side; (B) estradiol (E2) mediates multiple phenotypic changes in cells by binding to its receptor. E2 enter the cell through the lipid membranes and binds ER in the cytoplasm or the nucleus. ER mediates E2 effects through diverse transcriptional mechanisms. In the nucleus, the activated ER forms a dimer to tightly fix DNA directly at the ERE sites or indirectly at Sp1 or Ap1 sites. The activated ER is then able to recruit cofactors and RNA polymerase II (pol. II), which allows the transcription of target genes (ER genomic action). Furthermore, ERs can use rapid non-genomic action through the activation of intracellular kinases related or not to the growth factor signaling.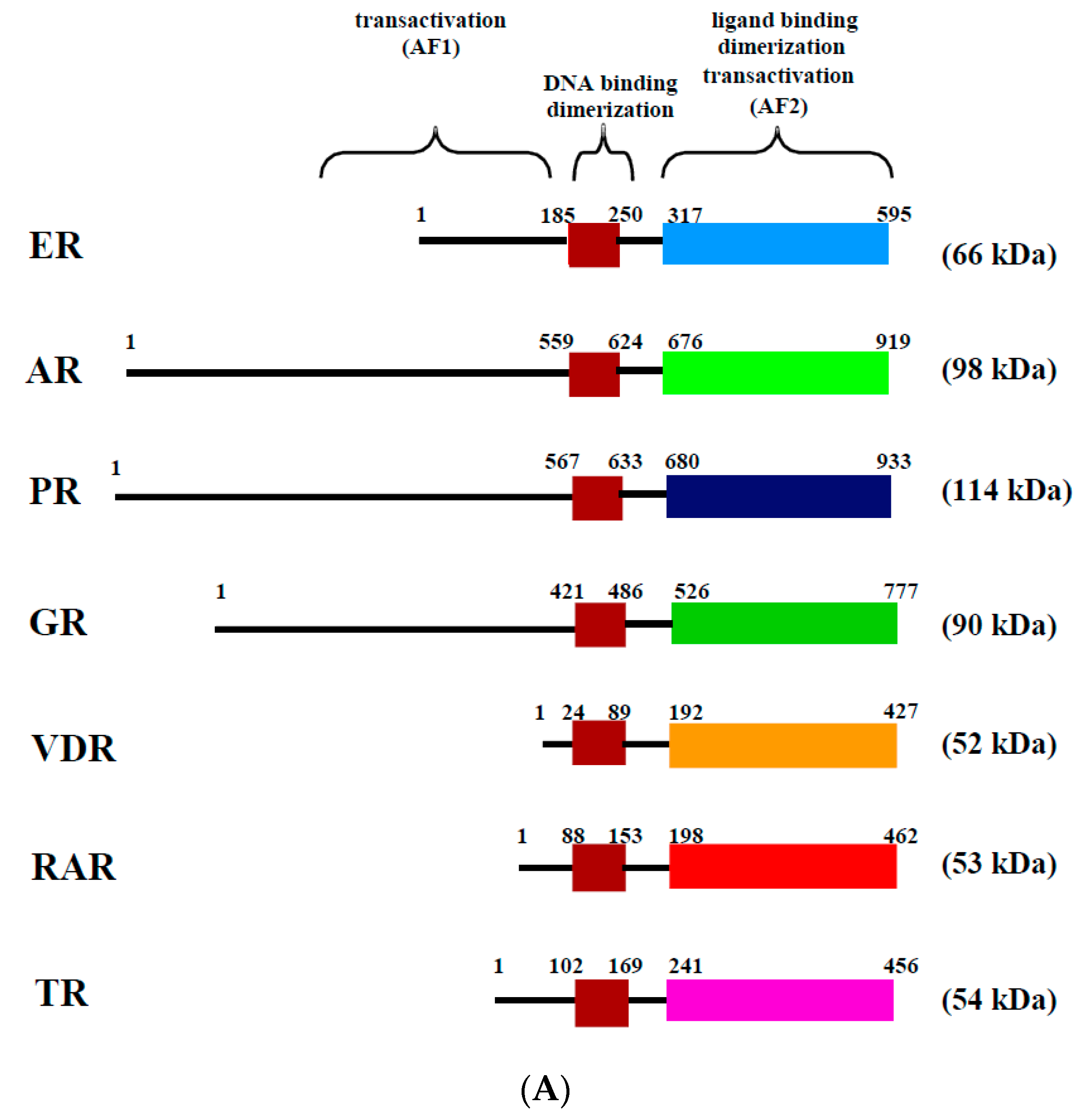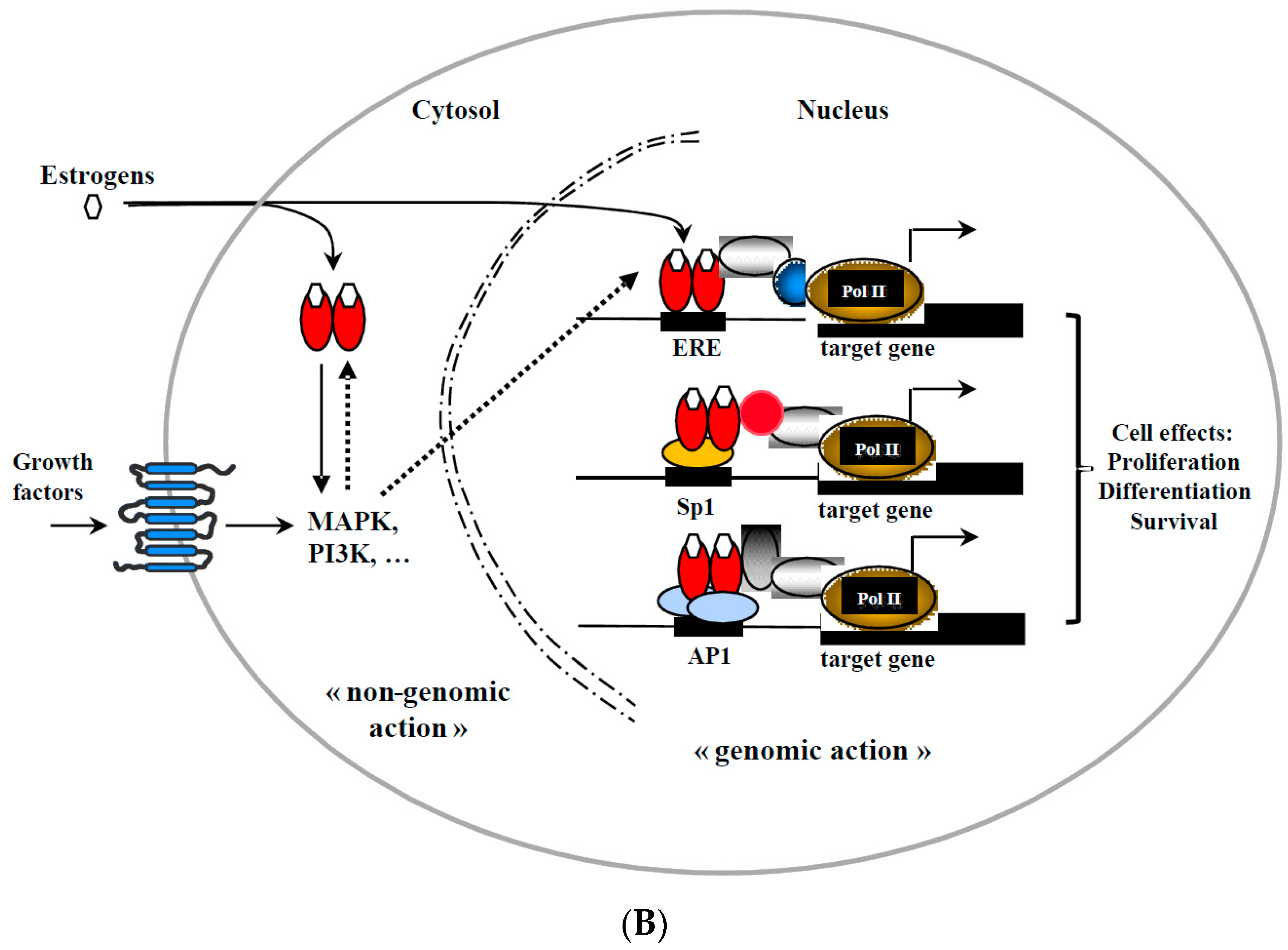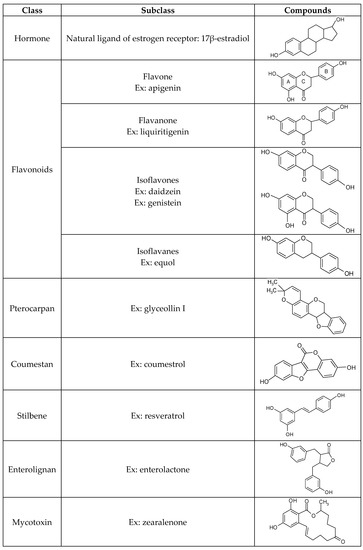 Figure 2. Illustration of the chemical structures of different groups of phytoestrogens. Ex: Example.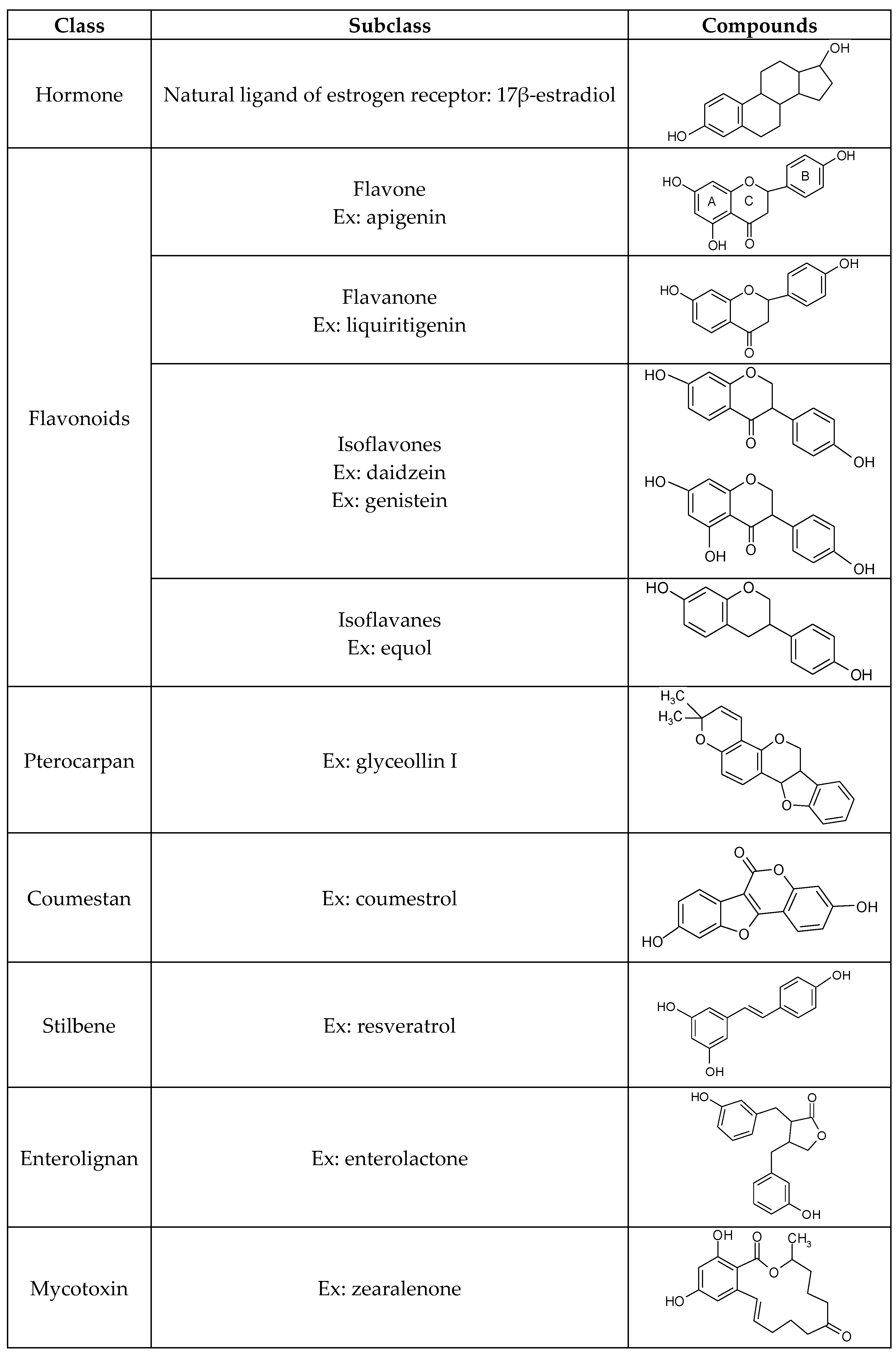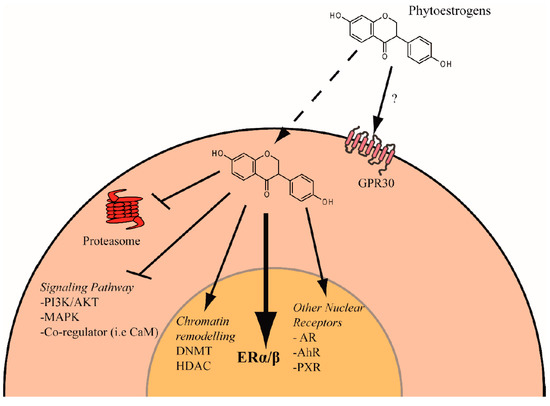 Figure 3.
Different targets of phytoestrogens in cells. Cell signaling pathways for estrogens through the nuclear receptors ERα, ERβ and the transmembrane receptor G-protein-coupled ER (GPER; formerly known as GPR30) [
136
] are shown. Phytoestrogens are able to inhibit mitogenic pathways via ERα or PI3K/MAPK, which in turn inhibit cancer cell proliferation and invasion by modifying AKT, p70S6K and ERK1/2 phosphorylation as well as interaction between ERα with various coregulatory proteins such as calmodulin (CaM). Activation of ERβ inhibits dedifferentiation pathways and induces apoptosis and cell cycle arrest. GPER activation is anti-tumorigenic, as it upregulates p21 and induces cell cycle arrest in prostate cancer [
137
]. Epigenetic modifications by phytoestrogens, such as demethylation of CpG islands within the promoters of tumor suppressor genes, could contribute to cell growth arrest. Inhibition of proteasomes by phytoestrogens also appears to be another mechanism of phytoestrogen activity in decreasing cancer cell survival.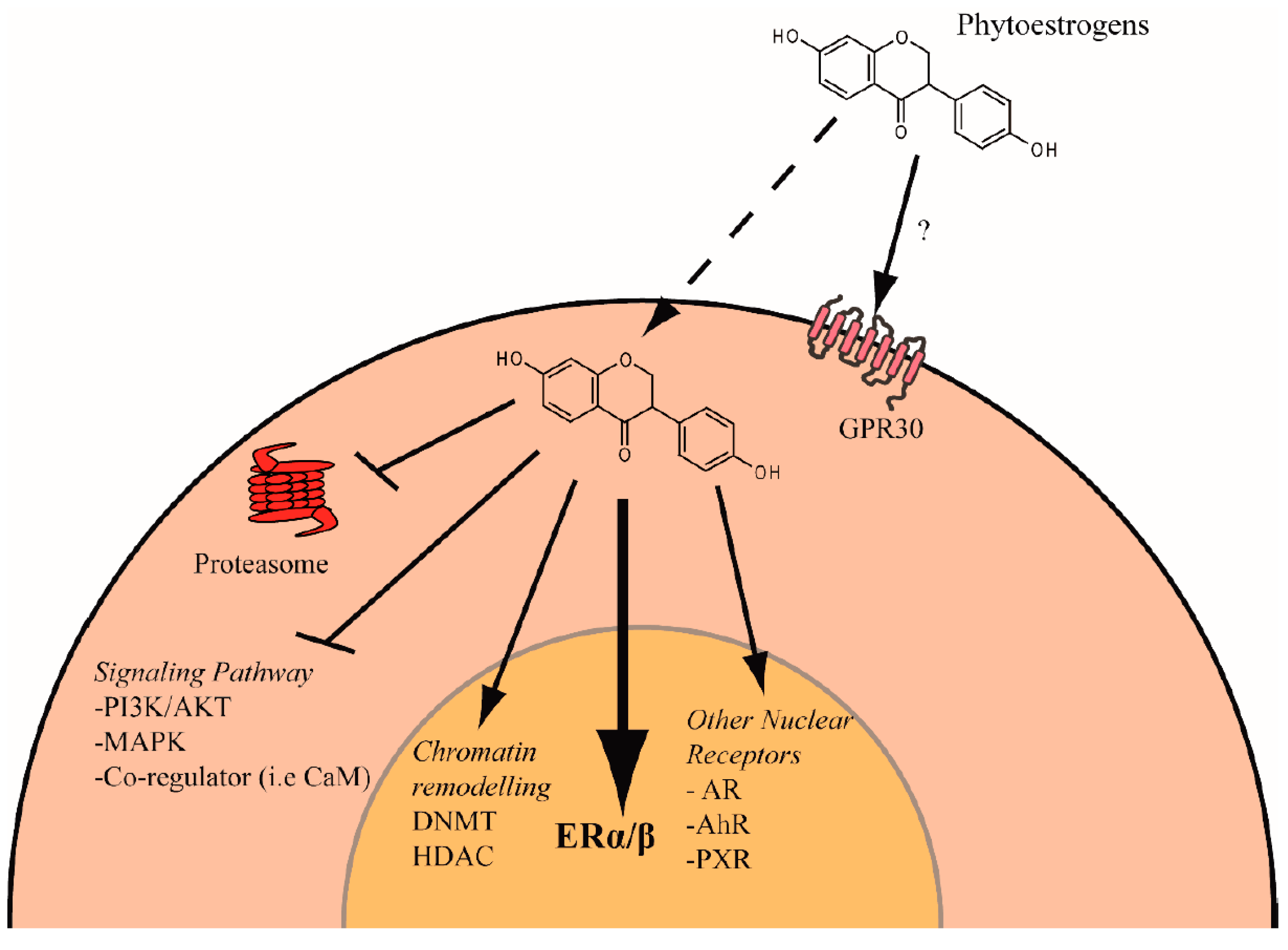 © 2017 by the authors. Licensee MDPI, Basel, Switzerland. This article is an open access article distributed under the terms and conditions of the Creative Commons Attribution (CC BY) license (http://creativecommons.org/licenses/by/4.0/).