Conformational Flexibility Differentiates Naturally Occurring Bet v 1 Isoforms
1
Institute of Organic Chemistry & Center for Molecular Biosciences Innsbruck (CMBI), University of Innsbruck, Innrain 80/82, A-6020 Innsbruck, Austria
2
Institute of Inorganic and Theoretical Chemistry & Center for Molecular Biosciences Innsbruck (CMBI), University of Innsbruck, Innrain 80/82, A-6020 Innsbruck, Austria
*
Authors to whom correspondence should be addressed.
†
These authors contributed equally to this work.
‡
Current Address: Department of Medicinal Chemistry, Boehringer Ingelheim RCV GmbH & Co KG, Doktor-Boehringer-Gasse 5-11, A-1120 Vienna, Austria.
Academic Editors: Fatima Ferreira and Hans Brandstetter
Received: 28 April 2017 / Revised: 25 May 2017 / Accepted: 30 May 2017 / Published: 3 June 2017
Abstract
The protein Bet v 1 represents the main cause for allergic reactions to birch pollen in Europe and North America. Structurally homologous isoforms of Bet v 1 can have different properties regarding allergic sensitization and Th2 polarization, most likely due to differential susceptibility to proteolytic cleavage. Using NMR relaxation experiments and molecular dynamics simulations, we demonstrate that the initial proteolytic cleavage sites in two naturally occurring Bet v 1 isoforms, Bet v 1.0101 (Bet v 1a) and Bet v 1.0102 (Bet v 1d), are conformationally flexible. Inaccessible cleavage sites in helices and strands are highly flexible on the microsecond-millisecond time scale, whereas those located in loops display faster nanosecond-microsecond flexibility. The data consistently show that Bet v 1.0102 is more flexible and conformationally heterogeneous than Bet v 1.0101. Moreover, NMR hydrogen-deuterium exchange measurements reveal that the backbone amides in Bet v 1.0102 are significantly more solvent exposed, in agreement with this isoform's higher susceptibility to proteolytic cleavage. The differential conformational flexibility of Bet v 1 isoforms, along with the transient exposure of inaccessible sites to the protein surface, may be linked to proteolytic susceptibility, representing a potential structure-based rationale for the observed differences in Th2 polarization and allergic sensitization.
View Full-Text
►

▼

Figures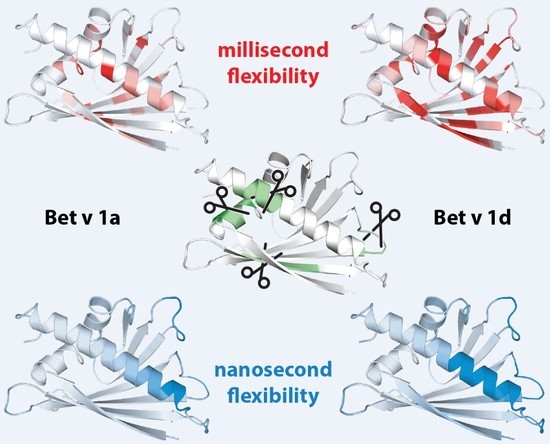 Graphical abstract
This is an open access article distributed under the
Creative Commons Attribution License
which permits unrestricted use, distribution, and reproduction in any medium, provided the original work is properly cited (CC BY 4.0).

Share & Cite This Article
MDPI and ACS Style
Grutsch, S.; Fuchs, J.E.; Ahammer, L.; Kamenik, A.S.; Liedl, K.R.; Tollinger, M. Conformational Flexibility Differentiates Naturally Occurring Bet v 1 Isoforms. Int. J. Mol. Sci. 2017, 18, 1192.
Note that from the first issue of 2016, MDPI journals use article numbers instead of page numbers. See further details here.
Related Articles
Comments
[Return to top]