A Long-Term Treatment with Arachidonyl-2′-Chloroethylamide Combined with Valproate Increases Neurogenesis in a Mouse Pilocarpine Model of Epilepsy
1
Isobolographic Analysis Laboratory, Institute of Rural Health, Jaczewskiego 2, 20-950 Lublin, Poland
2
Department of Physiopathology, Institute of Rural Health, Jaczewskiego 2, 20-950 Lublin, Poland
3
Department of Neurological Surgery, Medical University of Lublin, Jaczewskiego 8, 20-090 Lublin, Poland
4
Department of Biopharmacy, Medical University of Lublin, Chodzki 4A, 20-090 Lublin, Poland
5
Department of Anestesiology and Intensive Care Medicine, Hollycross Cancer Center, Artwińskiego 3, 25-734 Kielce, Poland
6
Department of Pathophysiology, Medical University of Lublin, Jaczewskiego 8, 20-090 Lublin, Poland
*
Author to whom correspondence should be addressed.
Academic Editors: Daniela Parolaro and Tiziana Rubino
Received: 19 February 2017 / Revised: 12 April 2017 / Accepted: 19 April 2017 / Published: 25 April 2017
Abstract
Rational polytherapy in the treatment of refractory epilepsy has been the main therapeutic modality for several years. In treatment with two or more antiepileptic drugs (AEDs), it is of particular importance that AEDs be selected based on their high anticonvulsant properties, minimal side effects, and impact on the formation of new neurons. The aim of the study was to conduct an in vivo evaluation of the relationship between treatments with synthetic cannabinoid arachidonyl-2′-chloroethylamide (ACEA) alone or in combination with valproic acid (VPA) and hippocampal neurogenesis in a mouse pilocarpine model of epilepsy. All studies were performed on adolescent male CB57/BL mice with using the following drugs: VPA (10 mg/kg), ACEA (10 mg/kg), phenylmethylsulfonyl fluoride (PMSF—a substance protecting ACEA against degradation by fatty acid hydrolase, 30 mg/kg), pilocarpine (PILO, a single dose of 290 mg/kg) and methylscopolamine (30 min before PILO to stop peripheral cholinergic effects of pilocarpine, 1 mg/kg). We evaluated the process of neurogenesis after a 10-day treatment with ACEA and VPA, alone and in combination. We observed a decrease of neurogenesis in the PILO control group as compared to the healthy control mice. Furthermore, ACEA + PMSF alone and in combination with VPA significantly increased neurogenesis compared to the PILO control group. In contrast, VPA 10-day treatment had no impact on the level of neurons in comparison to the PILO control group. The combination of ACEA, PMSF and VPA considerably stimulated the process of creating new cells, particularly neurons, while chronic administration of VPA itself had no influence on neurogenesis in the mouse pilocarpine model of epilepsy. The obtained results enabled an in vivo evaluation of neurogenesis after treatment with antiepileptic drugs in an experimental model of epilepsy.
View Full-Text
►

▼

Figures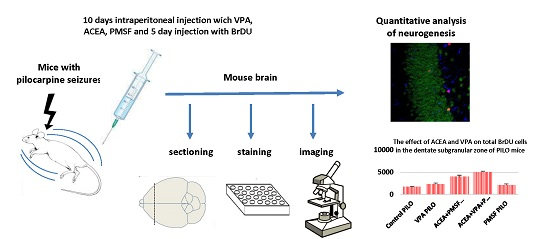 Graphical abstract
This is an open access article distributed under the
Creative Commons Attribution License
which permits unrestricted use, distribution, and reproduction in any medium, provided the original work is properly cited (CC BY 4.0).

Share & Cite This Article
MDPI and ACS Style
Andres-Mach, M.; Zagaja, M.; Haratym-Maj, A.; Rola, R.; Maj, M.; Haratym, J.; Dudra-Jastrzębska, M.; Łuszczki, J.J. A Long-Term Treatment with Arachidonyl-2′-Chloroethylamide Combined with Valproate Increases Neurogenesis in a Mouse Pilocarpine Model of Epilepsy. Int. J. Mol. Sci. 2017, 18, 900.
Note that from the first issue of 2016, MDPI journals use article numbers instead of page numbers. See further details here.
Related Articles
Comments
[Return to top]