High-Mobility Group Box 1 Disrupts Metabolic Function with Cigarette Smoke Exposure in a Ceramide-Dependent Manner
1
Department of Physiology and Developmental Biology, Brigham Young University, Provo, UT 84602, USA
2
College of Dental Medicine, Roseman University of Health Sciences, South Jordan, UT 84095, USA
3
Touchstone Diabetes Center, Department of Internal Medicine, The University of Texas Southwestern Medical Center, Dallas, TX 75390; USA
*
Author to whom correspondence should be addressed.
Academic Editor: Johannes Haybaeck
Received: 17 April 2017 / Revised: 16 May 2017 / Accepted: 18 May 2017 / Published: 20 May 2017
Abstract
We have previously found that cigarette smoke disrupts metabolic function, in part, by increasing muscle ceramide accrual. To further our understanding of this, we sought to determine the role of the cytokine high-mobility group box 1 (HMGB1), which is increased with smoke exposure, in smoke-induced muscle metabolic perturbations. To test this theory, we determined HMGB1 from lungs of human smokers, as well as from lung cells from mice exposed to cigarette smoke. We also treated cells and mice directly with HMGB1, in the presence or absence of myriocin, an inhibitor of serine palmitoyltransferase, the rate-limiting enzyme in ceramide biosynthesis. Outcomes included assessments of insulin resistance and muscle mitochondrial function. HMGB1 was significantly increased in both human lungs and rodent alveolar macrophages. Further testing revealed that HMGB1 treatment elicited a widespread increase in ceramide species and reduction in myotube mitochondrial respiration, an increase in reactive oxygen species, and reduced insulin-stimulated Akt phosphorylation. Inhibition of ceramide biosynthesis with myriocin was protective. In mice, by comparing treatments of HMGB1 injections with or without myriocin, we found that HMGB1 injections resulted in increased muscle ceramides, especially C16 and C24, which were necessary for reduced muscle mitochondrial respiration and compromised insulin and glucose tolerance. In conclusion, HMGB1 may be a necessary intermediate in the ceramide-dependent metabolic consequences of cigarette smoke exposure.
View Full-Text
►

▼

Figures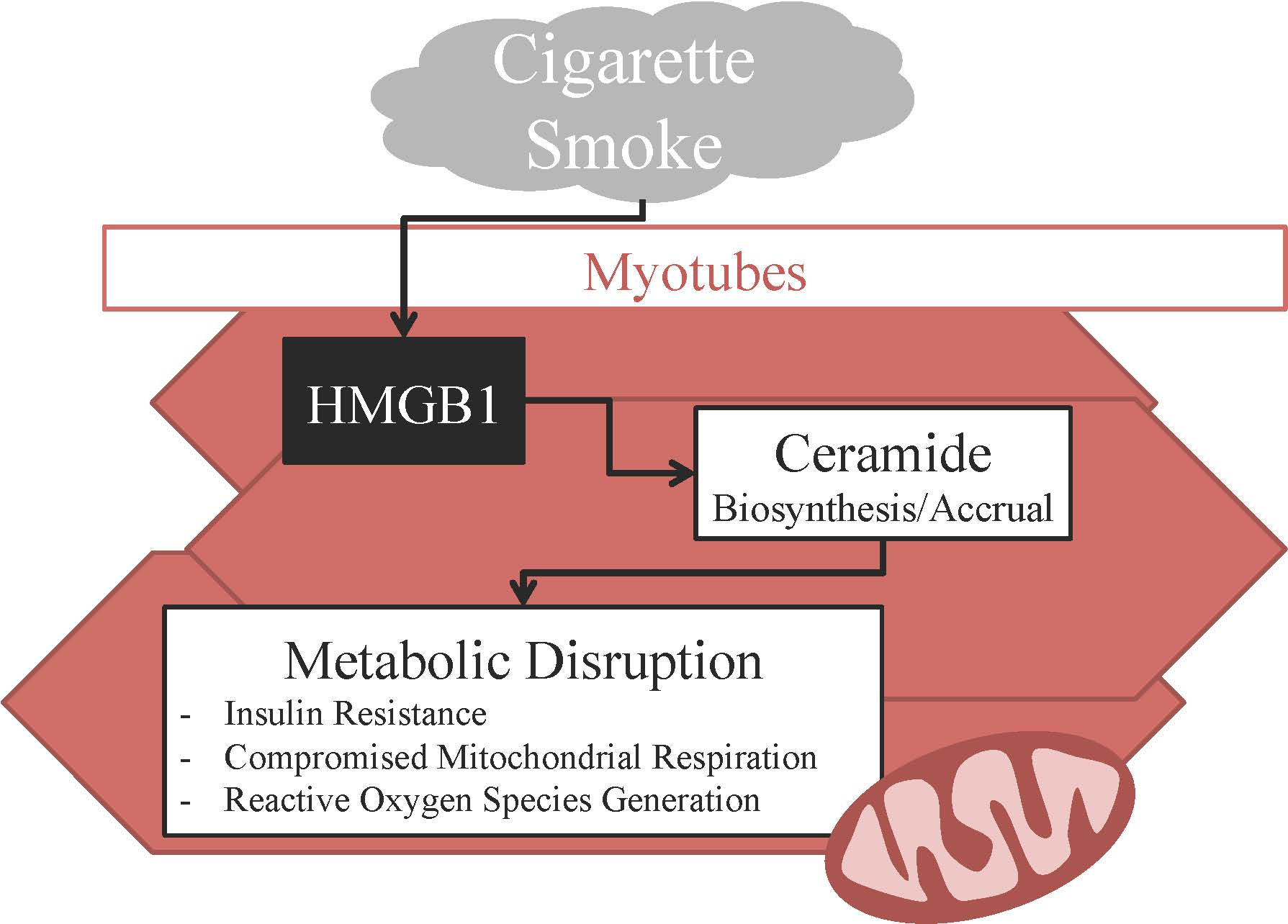 Graphical abstract
This is an open access article distributed under the
Creative Commons Attribution License
which permits unrestricted use, distribution, and reproduction in any medium, provided the original work is properly cited (CC BY 4.0).

Share & Cite This Article
MDPI and ACS Style
Taylor, O.J.; Thatcher, M.O.; Carr, S.T.; Gibbs, J.L.; Trumbull, A.M.; Harrison, M.E.; Winden, D.R.; Pearson, M.J.; Tippetts, T.S.; Holland, W.L.; Reynolds, P.R.; Bikman, B.T. High-Mobility Group Box 1 Disrupts Metabolic Function with Cigarette Smoke Exposure in a Ceramide-Dependent Manner. Int. J. Mol. Sci. 2017, 18, 1099.
Note that from the first issue of 2016, MDPI journals use article numbers instead of page numbers. See further details here.
Related Articles
Comments
[Return to top]