Open Access This article is
freely available
re-usable
Review
Melatonin: A Review of Its Potential Functions and Effects on Dental Diseases
Anatomy, Animal Production and Veterinary Clinical Sciences Department, Veterinary Faculty, Universidade de Santiago de Compostela, Campus Universitario s/n, 27002 Lugo, Spain
*
Author to whom correspondence should be addressed.
Academic Editor: Russel Reiter
Received: 17 March 2017 / Accepted: 13 April 2017 / Published: 19 April 2017
Abstract
:
Melatonin is a hormone synthesised and secreted by the pineal gland and other organs. Its secretion, controlled by an endogenous circadian cycle, has been proven to exert immunological, anti-oxidant, and anti-inflammatory effects that can be beneficial in the treatment of certain dental diseases. This article is aimed at carrying out a review of the literature published about the use of melatonin in the dental field and summarising its potential effects. In this review article, an extensive search in different databases of scientific journals was performed with the objective of summarising all of the information published on melatonin use in dental diseases, focussing on periodontal diseases and dental implantology. Melatonin released in a natural way into the saliva, or added as an external treatment, may have important implications for dental disorders, such as periodontal disease, as well as in the osseointegration of dental implants, due to its anti-inflammatory and osseoconductive effects. Melatonin has demonstrated to have beneficial effects on dental pathologies, although further research is needed to understand the exact mechanisms of this molecule.
Keywords:
melatonin; oral cavity; implants; periodontal disease
1. Introduction
Melatonin can be administered by several routes (e.g., orally, intraperitoneally, directly in the effect-site in dental implants) and it is available as a supplement or as a prescription drug, depending on the country. This molecule has a long shelf life, is not expensive, has few side effects compared to other drugs, and can be used with a very wide safety margin. These characteristics, along with the wide range of effects on the tissues, make it a potential therapy for different purposes.
The aim of this review is to summarise the potential actions of melatonin in the oral cavity, focussing on implantology and periodontal disease.
2. Material and Methods
The PubMed database of the U.S. National Library of Medicine was used as the main electronic database in this review for the collection of data, performing a systematic search of the articles published in the literature on the subject. A commercially available software program (Endnote, Thomson Reuters, London, UK) was used for electronic title management.
The combination of keywords used for the electronic search were:
melatonin

melatonin and oral cavity

melatonin and implant

melatonin and periodontal disease

melatonin and cancer

melatonin and microorganisms, bacteria or virus
The obtained results were carefully evaluated and the most important findings related to the use and effects of melatonin on oral diseases are summarised below.
For a better understanding of the results, the present review was divided into the following sections:
Main effects of melatonin related to the oral cavity;

Melatonin and dental implants;

Melatonin and periodontal disease;

Other effects of melatonin on the oral cavity.
3. Results
3.1. Main Effects of Melatonin Related to the Oral Cavity
3.2. Melatonin and Dental Implants
The histomorphometric parameters used to evaluate the success of implant integration in the different studies were: bone to implant contact (BIC, which refers to the total length or percentage of the implant surface in contact with bone), bone density (BV/TV, which is the ratio of bone with respect to the total volume of the tissue), and new bone area and inter-thread bone (which is the bone inside the threads of the implant). In addition, several studies reported histological findings, such as the appearance of new tissue and its mineralisation, the different types of cells observed in the tissue and blood vessels formation.
3.3. Melatonin and Periodontal Disease
Periodontal disease is an inflammatory disorder characterised by gingival bleeding, periodontal pocket formation, and destruction of connective tissue attachment. This disease starts in the dental biofilm, with the stimulation of the immune response against bacteria. The most common form of periodontal disease in humans is plaque-induced gingival inflammation and may progress to more aggressive forms of periodontitis. In the advanced form of the disease, there is extreme loss of gingival tissue and alveolar bone.
These low concentrations of melatonin found in saliva of patients with periodontal disease may be a result of its higher use as a free-radical scavenger and anti-inflammatory, because of the elevated level of reactive oxygen species and inflammation found in these patients.
3.4. Other Effects of Melatonin on the Oral Cavity
5. Conclusions
In conclusion, the potential use of melatonin in oral diseases, such as implant placement or periodontitis, was studied by several groups, most of them with favourable results. Currently, there is no consensus for the best route of administration of this molecule, as well as in terms of the dosage needed for a good effect; thus, further research should be carried out in this sense. However, the relationship between melatonin levels in saliva and crevicular fluid and periodontal disease is not completely understood, and further studies should be conducted since the results were different depending on the evaluated study. Finally, clinical studies should also be performed, to observe the effects of melatonin on implant placements in humans.
Acknowledgments
In memory of Antonio Cutando Soriano, University of Granada. Cutando was an enthusiastic defender of the use of melatonin in dentistry.
Author Contributions
Maria Permuy, Mónica López-Peña, Antonio González-Cantalapiedra and Fernando Muñoz contributed equally to the review of the literature of the manuscript. In addition, María Permuy drafted the manuscript, Mónica López-Peña and Fernando Muñoz read and critically revised the manuscript. All authors gave final approval and agree to be accountable for all aspects of the work.
Conflicts of Interest
The authors declare no conflict of interest.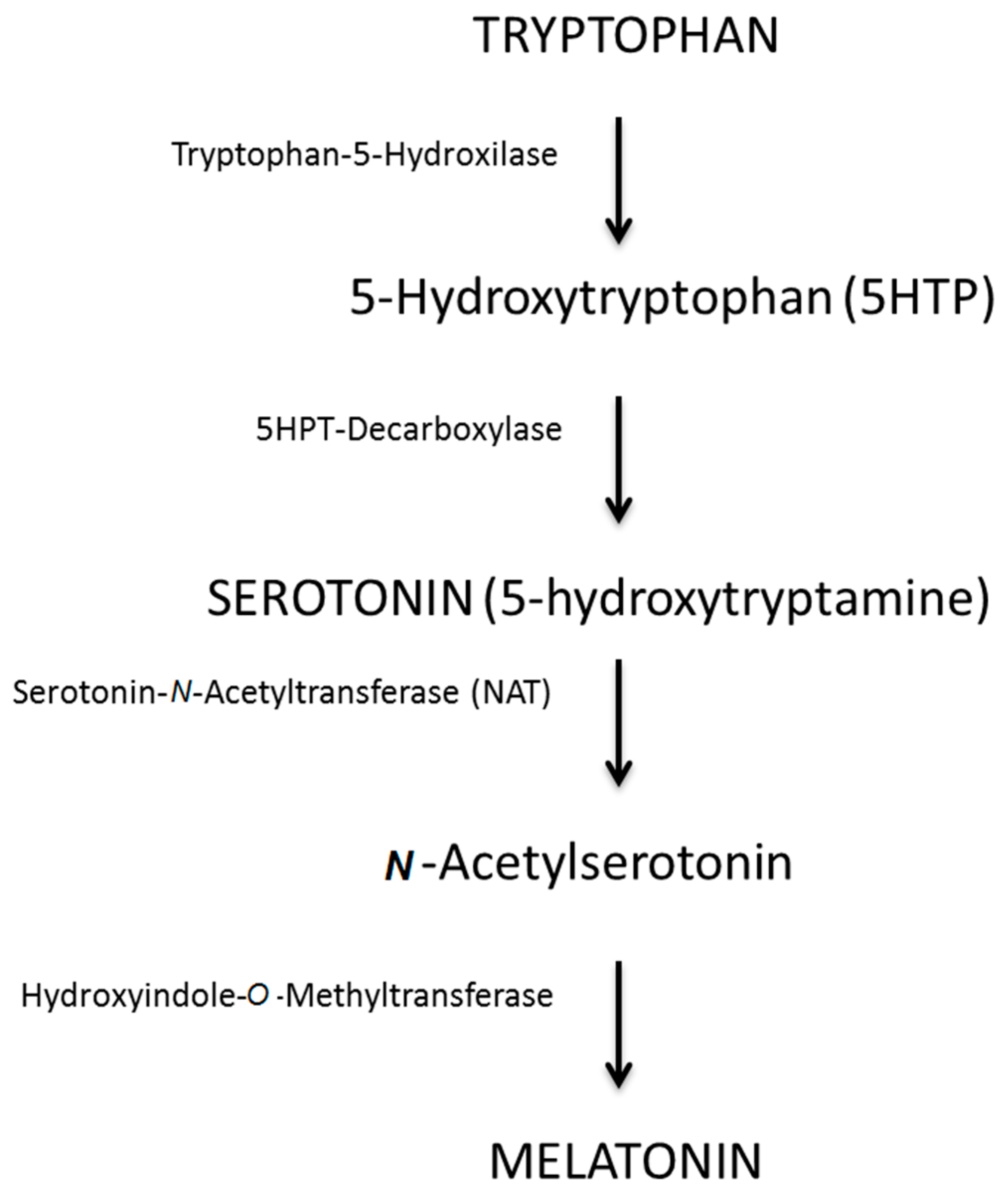 | Study | Animal Model | Animals/Implants | Time | Alone or Combination | Results |
| --- | --- | --- | --- | --- | --- |
| Cutando et al., 2008 [2] | Beagle dog | 12/72 | 2 weeks | Alone | ↑ BIC in melatonin group |
| Takechi et al., 2008 [40] | Wistar rat | 10/20 | 4 weeks | + FGF-2 | ↑ BIC and bone density in combination group |
| Calvo-Guirado et al., 2010 [41] | Beagle dog | 12/48 | 4 weeks | + porcine bone | ↑ BIC, bone density and new bone in combination group |
| Guardia et al., 2015 [42] | Beagle dog | 12/72 | 5 and 8 weeks | Alone | ↑ Bone formation in melatonin group |
| Muñoz et al., 2012 [43] | Beagle dog | 12/48 | 2, 5 and 8 weeks | + Growth hormone | ↑ BIC ando bone density at 2 and 5 weeks in combination group |
| Tresguerres et al., 2012 [44] | Rabbit | 10/40 | 4 weeks | Alone | ↑ trabecular BIC in melatonin group |
| Salomó-Coll et al., 2015 [45] | Foxhound dog | 6/24 | 12 weeks | Alone | ↑ total BIC in melatonin group |
| Calvo-Guirado et al., 2015 [47] | Rabbit | 20/80 | 1 and 10 weeks | Alone | ↑ BIC in titanium and zirconium implants at 1 week, in zirconium at 10 weeks |

© 2017 by the authors. Licensee MDPI, Basel, Switzerland. This article is an open access article distributed under the terms and conditions of the Creative Commons Attribution (CC BY) license (http://creativecommons.org/licenses/by/4.0/).