Open Access This article is
freely available
re-usable
Review
Exosomes: From Garbage Bins to Promising Therapeutic Targets
1
Department of Experimental Therapeutics, The University of Texas MD Anderson Cancer Center, Houston, TX 77030, USA
2
Department of Pharmacology and Toxicology, Faculty of Pharmacy, The University of Al-Azhar, Cairo 11754, Egypt
3
Department of Medical Biology, Faculty of Medicine, The University of Gaziantep, Gaziantep 27310, Turkey
4
Centro de Investigación y Estudios Avanzados del IPN, Unidad Monterrey, Apodaca NL CP 66600, Mexico
5
Center for RNA Interference and Non-Coding RNA, The University of Texas MD Anderson Cancer Center, Houston, TX 77030, USA
*
Author to whom correspondence should be addressed.
Academic Editor: Martin Pichler
Received: 14 December 2016 / Accepted: 27 February 2017 / Published: 2 March 2017
Abstract
:
Intercellular communication via cell-released vesicles is a very important process for both normal and tumor cells. Cell communication may involve exosomes, small vesicles of endocytic origin that are released by all types of cells and are found in abundance in body fluids, including blood, saliva, urine, and breast milk. Exosomes have been shown to carry lipids, proteins, mRNAs, non-coding RNAs, and even DNA out of cells. They are more than simply molecular garbage bins, however, in that the molecules they carry can be taken up by other cells. Thus, exosomes transfer biological information to neighboring cells and through this cell-to-cell communication are involved not only in physiological functions such as cell-to-cell communication, but also in the pathogenesis of some diseases, including tumors and neurodegenerative conditions. Our increasing understanding of why cells release exosomes and their role in intercellular communication has revealed the very complex and sophisticated contribution of exosomes to health and disease. The aim of this review is to reveal the emerging roles of exosomes in normal and pathological conditions and describe the controversial biological role of exosomes, as it is now understood, in carcinogenesis. We also summarize what is known about exosome biogenesis, composition, functions, and pathways and discuss the potential clinical applications of exosomes, especially as biomarkers and novel therapeutic agents.
Keywords:
tumor-derived exosomes; non-coding RNAs; intercellular communication; biomarkers; exosome-based therapeutics
1. Introduction
Exosomes are membrane-derived nanovesicles of about 30–100 nm released by several types of cells, including mast cells, dendritic cells, B lymphocytes, neurons, adipocytes, endothelial cells, and epithelial cells [
1
]. Notably, tumor cells have been shown to produce and secrete exosomes in greater numbers than normal cells [
2
]. Exosomes have been found in numerous body fluids, including blood, amniotic fluid, urine, malignant ascites, cerebrospinal fluid, breast milk, saliva, lymph, and bile, under both healthy and morbid conditions [
3
,
4
,
5
].
Exosomes were first observed three decades ago by Pan and Johnstone while studying the maturation process of reticulocytes into erythrocytes. They noted that vesicles, later named "exosomes", were shed from cultured monolayer cells and retained the transferrin receptor and many membrane-associated proteins [
6
,
7
]. Since it was believed that these vesicles were simply removing unnecessary proteins and other molecules from the releasing cells, exosomes were first thought to function only as cellular garbage disposals [
8
].
It was not until the mid-1990s that exosomes were shown to have an immunological function [
9
]. Since then, numerous studies have identified exosomes as a means of intercellular communication that play a role in normal physiological or biologically important processes, such as lactation, inflammation, cell proliferation, immune response, and neuronal function [
10
,
11
,
12
]. They are implicated as well in the pathogenesis of thrombosis, diabetes, and atherosclerosis, and also in the development and progression of diseases such as liver disease, neurodegenerative diseases [
13
,
14
,
15
], and, recently, cancer [
16
].
2. Biogenesis
Although details of the underlying mechanism remain incompletely defined, several processes have recently been shown to have a regulatory role in exosome biogenesis [
17
].
Exosomes are considered a distinct vesicle population that differs from microvesicles by size. Exosomes are defined as vesicles in the range of 30–100 nm, while microvesicles are defined as vesicles in the range of 100–1000 nm. Despite this clear distinction, however, the terms "exosome" and "microvesicle" have been used interchangeably in many published reports [
18
].
2.1. Formation
In general, exosome biogenesis consists of two steps, the inward budding of membranous vesicles of endosomes and their release into a structure known as a multivesicular body (MVB). The formation of MVBs occurs during the maturation of early endosomes into late endosomes with the accumulation of intraluminal vesicles [
19
]. After maturation, MVBs are directed for fusion with either the lysosome, where their cargo will undergo lysosomal degradation, or the plasma membrane, where their contents will be released into the extracellular space (
Figure 1
). When MVBs undergo this process, transmembrane proteins are incorporated into the invaginating membrane, maintaining a topological orientation similar to that of the plasma membrane [
1
,
20
].
2.5. Uptake
It is still controversial whether exosome uptake is cell type-specific [
87
] and whether it involves membrane fusion or endocytosis [
75
,
88
]. Moreover, exosome uptake may be clathrin-dependent or clathrin-independent [
73
].
Exosome uptake has been shown to occur via clathrin-mediated endocytosis [
89
], lipid raft-mediated endocytosis [
90
], heparin sulfate proteoglycans-dependent endocytosis [
91
], or phagocytosis [
87
]. Alternatively, exosomes could be internalized by direct fusion with the plasma membrane [
75
] or through binding to the surface of a recipient cell through exosomal adhesion molecules phosphatidylserine/lysophosphatidylcholine, and cellular receptors (e.g., LFA1, TIM1, and TIM4) [
6
].
3. Diversity in Exosome Function
There is no doubt that exosomes are involved in many physiological functions and processes, both normal and pathological. Originally, exosomes were described as a mechanism for elimination of excessive proteins or undesirable molecules from the cell [
6
]. It has been shown that exosomes are secreted to discard membrane proteins, such as transferrin receptors, that have become useless in mature red blood cells. Thus, exosomes were long considered a process whereby cells get rid of undesirable proteins and molecules, making the exosomes a compartment for cellular garbage transport and disposal [
6
,
8
]. In the last decade, the exosomes' role as mediators of cellular communication has emerged, and we now have evidence revealing that exosomes control both normal physiological processes, such as immune response and lactation [
10
], and the expansion and progression of diseases, such as neurodegenerative diseases [
15
,
92
] and especially cancer [
16
]. Exosomes carry out a diverse range of functions and sometimes have opposing effects on the recipient cells depending on their tissue of origin and molecular content [
93
,
94
,
95
].
Here, we discuss in detail what is known about the functions of exosomes in normal and pathological conditions.
3.1. Bioactive Roles of Exosomes in Maintenance of Normal Physiology
Despite the importance of these findings, a better characterization of exosomes and understanding of their effects are needed if we are to further improve their application in the fields of regenerative medicine and immunotherapy. Most studies in these areas were conducted with non-physiological concentrations of exosomes, whereas in vivo investigations of exosome-induced mechanisms are hampered by the lack of insight into their biogenesis.
3.2. Pathological Roles of Exosomes in Spreading of Disease
The best understood role of exosomes in disease is their role in tumor biology (
Figure 3
). One of the hallmarks of cancer cells is that they react with their microenvironment; they can communicate and exchange information by secreted growth factors, cytokines, chemokines, and small molecular mediators (e.g., nucleotides) [
113
,
114
].
As very crucial cell-to-cell messenger mediators of communication, exosomes could be notably affecting a recipient cell if they transfer as cargo a specific molecule such as mRNA or non-coding RNA that can alter the gene expression or production of proteins in the recipient cell.
In the following paragraphs, we discuss individually the roles of exosomes in diverse mechanisms, such as metastasis, angiogenesis, hypoxia, and immune escape, which collectively support tumor progression.
3.2.1. Invasion, Metastasis, and Angiogenesis
3.2.2. Hypoxia
Tumor hypoxia has emerged as a key factor in tumor progression and is associated with poor prognosis and chemoresistance [
125
]. During hypoxia, exosomes are secreted by tumor cells with increases in angiogenic factors and metastatic potential; this suggests that tumor cells are able to adapt to a hypoxic microenvironment by the secretion of exosomes to promote angiogenesis or facilitate metastasis to a more appropriate microenvironment [
126
].
There is evidence in several studies involving various cancer models for enhanced exosome release under hypoxic conditions. Borges and colleagues showed in a kidney model that TGF-β1–containing exosomes released by injured epithelial cells can mediate tissue regenerative responses and activation of fibroblasts. These findings strongly suggest the utility of exosome-targeted therapies to control tissue fibrosis [
104
]. Consistent with this finding was the observation that exosomes derived from hypoxic leukemia cells enhance angiogenic activity in endothelial cells [
127
]. Similarly, in a highly malignant squamous cell carcinoma model, hypoxic tumor cells modulate their microenvironment and facilitate angiogenesis and metastasis through exosomal secretion of certain proteins [
126
].
Kucharzewska and colleagues showed in a highly malignant glioblastoma model that exosomes reflect the hypoxic status of glioma cells and mediate hypoxia-dependent activation of vascular cells during tumor development [
128
]. King and colleagues reported that breast cancer cells grown under hypoxic conditions release more exosomes into their microenvironment via activation of HIF-1α to promote their own survival and invasion [
129
]. Another study showed that exosomal miR-135b shed from hypoxic multiple myeloma cells enhanced angiogenesis by targeting factor-inhibiting HIF-1 [
39
].
3.2.3. Cancer Exosomes and Immune Modulation
Tumor-derived exosomes have been reported both to stimulate and to suppress immune response. A significant collection of studies has demonstrated that exosomes can transport antigens such as MHC-I and MHC-II and carcinoembryonic antigen (CEA) from tumor cells to antigen-presenting dendritic cells [
130
,
131
,
132
,
133
]. The primary dendritic cells, cytotoxic T lymphocytes, induce an immune antitumor response and allow inhibition of tumor growth through MHC-I molecules [
130
,
134
]. Similarly, in an ex vivo human model system, dendritic cells pulsed with exosomes derived from malignant effusions proved an effective source of tumor antigens for cross-presentation to CD8
+
cytotoxic T cells [
131
]. Moreover, exosomes obtained by stimulating dendritic cells may sensitize adjacent dendritic cells, thereby inducing the immune response [
135
]. Moreover, surface Hsp70-positive tumor-derived exosomes stimulate natural killer cell activity [
136
,
137
]. As result, natural killer cells initiate apoptosis in tumors through granzyme B [
136
,
137
].
Despite this, however, an alternative view suggests that exosomes have immunosuppressive effects and assist cancers in immune evasion. For example, tumor-derived exosomes express death ligands such as FasL and TRAIL or high amounts of galectin-9, which can promote T cell apoptosis [
138
,
139
,
140
]. Chalmin and colleagues showed that tumor-derived exosomes activate myeloid-derived suppressor cells and exert TGF-β1–mediated suppressive activity on T cells [
141
]. In addition, tumor-derived exosomes were shown to promote tumor growth by suppressing natural killer cell function [
142
,
143
,
144
]. Tumor-derived exosomes can also support and expand the immunosuppressive function of regulatory T cells [
145
,
146
]. Furthermore, tumor-derived exosomes can block the maturation of dendritic cells and macrophages in vivo and in vitro [
147
]. Nonetheless, the evidence that exosomes mediate increases or decreases of immunoregulatory functions and proposals that exosomes be administered as immunotherapy must be carefully inspected before translation to further clinical applications.
Growing evidence links tumor metastasis with chronic inflammatory processes and dysregulated activity of various immune cells [
148
]. Chow and colleagues demonstrate that breast cancer-derived exosomes trigger NF-κB signaling and promote inflammatory cytokine production through Toll-like receptors on macrophages [
149
]. A similar effect was observed with exosomes derived from malignant ascites of ovarian cancer patients [
150
]. Another important study showed that miRNAs in cancer-released exosomes can bind as ligands to Toll-like receptors and induce pro-metastatic inflammatory responses [
151
].
4. Exosome-Based Diagnostics and Therapeutics
5. Conclusions and Future Perspectives
Recent analyses of the composition and biogenesis of exosomes indicate that tumor cells secrete exosomes that can both block tumor growth by promoting antitumor immune responses and induce tumor growth by attenuating antitumor immunity or promoting angiogenesis and/or metastases to distant tissues or organs. The past decade has witnessed a renewed research interest in exosomes, mostly as a result of the demonstration of their immuno-stimulating effects in vivo. The propensity for these controversial effects is contingent upon the type and state of the host cells, the type and state of the recipient cells, and the microenvironment in which these interactions take place. Even though these studies have prompted the clinical application of exosomes, they have not addressed the mechanisms of biogenesis or cargo sorting or established the physiological relevance of the exosome payload. Ongoing advances in the analysis of the formation of multivesicular compartments will probably unravel the mechanisms of exosome generation, which will allow deepening of our understanding of the exact characteristics of exosomes and their functional role in cancer pathogenesis. Uncovering the physiological role of the entirely new mode of cell–cell communication mediated by exosomes may provide us the tools to further improve anticancer therapeutics and cancer diagnostics.
Acknowledgments
We thank Kathryn Hale, scientific editor, Department of Scientific Publications, The University of Texas MD Anderson Cancer Center, for critical reading and editing of the manuscript; and Leticia Evans, Program Coordinator, Department of Experimental Therapeutics, The University of Texas MD Anderson Cancer Center, for reading of the manuscript.
Conflicts of Interest
The authors declare no conflict of interest.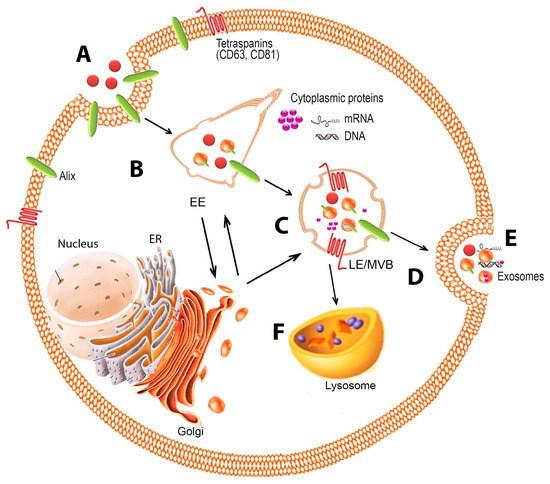 Figure 1. Exosome biogenesis, cargo sorting, and release. Illustration of loading into exosomes of cargo such as nucleic acid and proteins. Endocytosis of the plasma membrane (A) results in the uptake of proteins, nucleic acids, and membrane-associated molecules, and formation of the early endosome (EE) (B); Upon transformation of the early endosome into the late endosome (LE) (C), exosomes are formed by inward budding of the late endosome/multivesicular body (MVB) with the content in a similar orientation as in the plasma membrane (D); Fusion of the MVB with the plasma membrane allows for the release of exosomes into the extracellular space (E); Alternatively, the MVB may fuse with the lysosome for degradation (F). ER: Endoplasmic reticulum.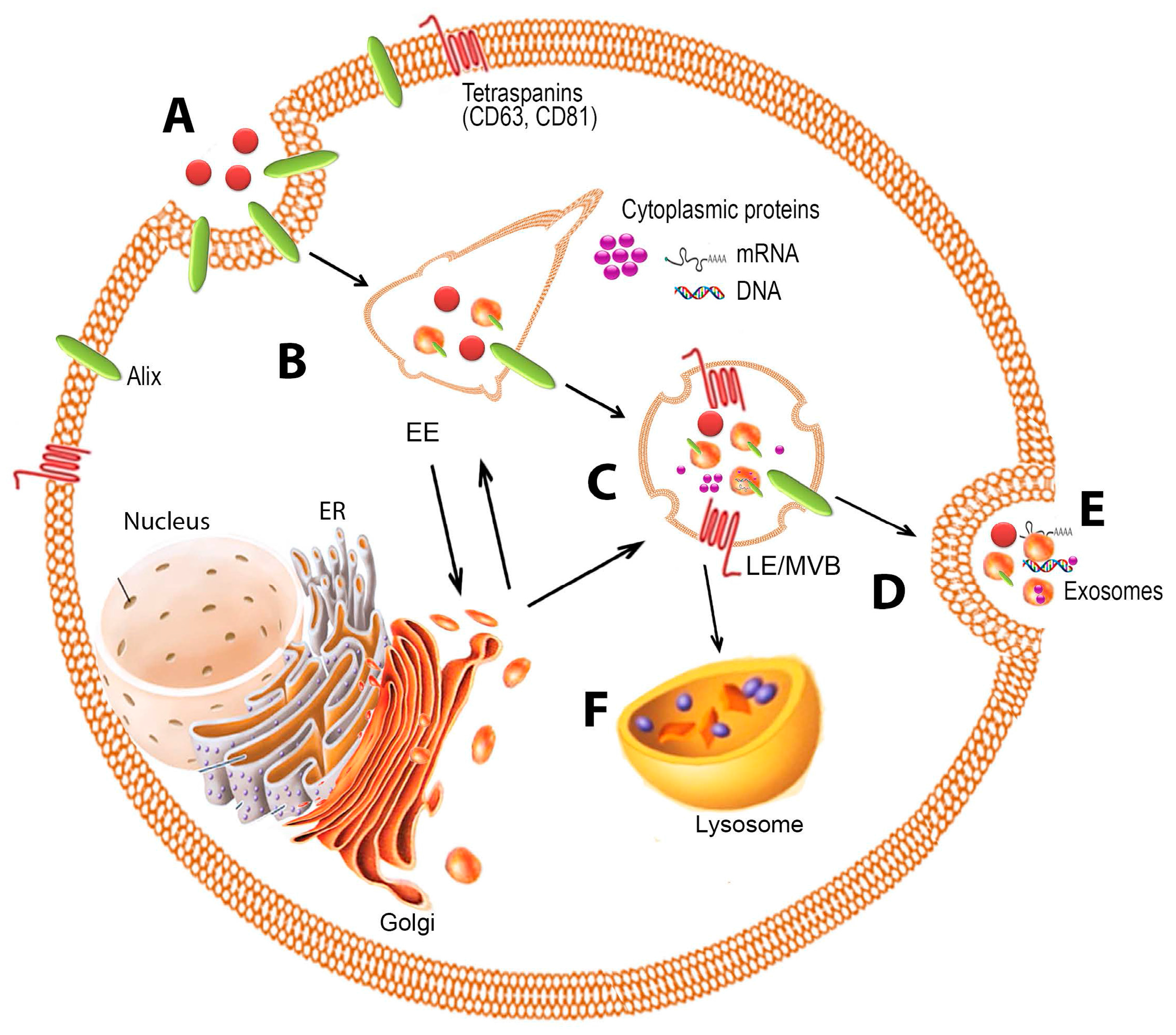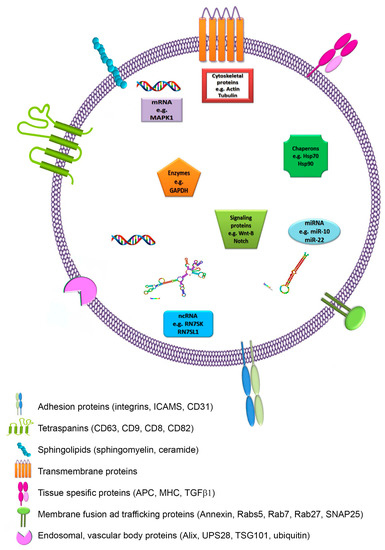 Figure 2. Molecular composition of exosomes. Exosomes are membrane-derived nanovesicles (30–100 nm in diameter) secreted from several cell types. They pack a variety of cellular components, including nucleic acids (e.g., DNA, mRNA, and miRNA), lipids (e.g., cholesterol and ceramide), mRNAs, membrane trafficking proteins (e.g., annexin, Rab 27, SNAP25), chaperones (e.g., Hsp70 and Hsp90), and various tissue-specific proteins involved in antigen presentation as integrins and tetraspanins (CD9, CD63, CD81, and CD82) as well as MHC-I and -II (Major Histocompatibility Complex).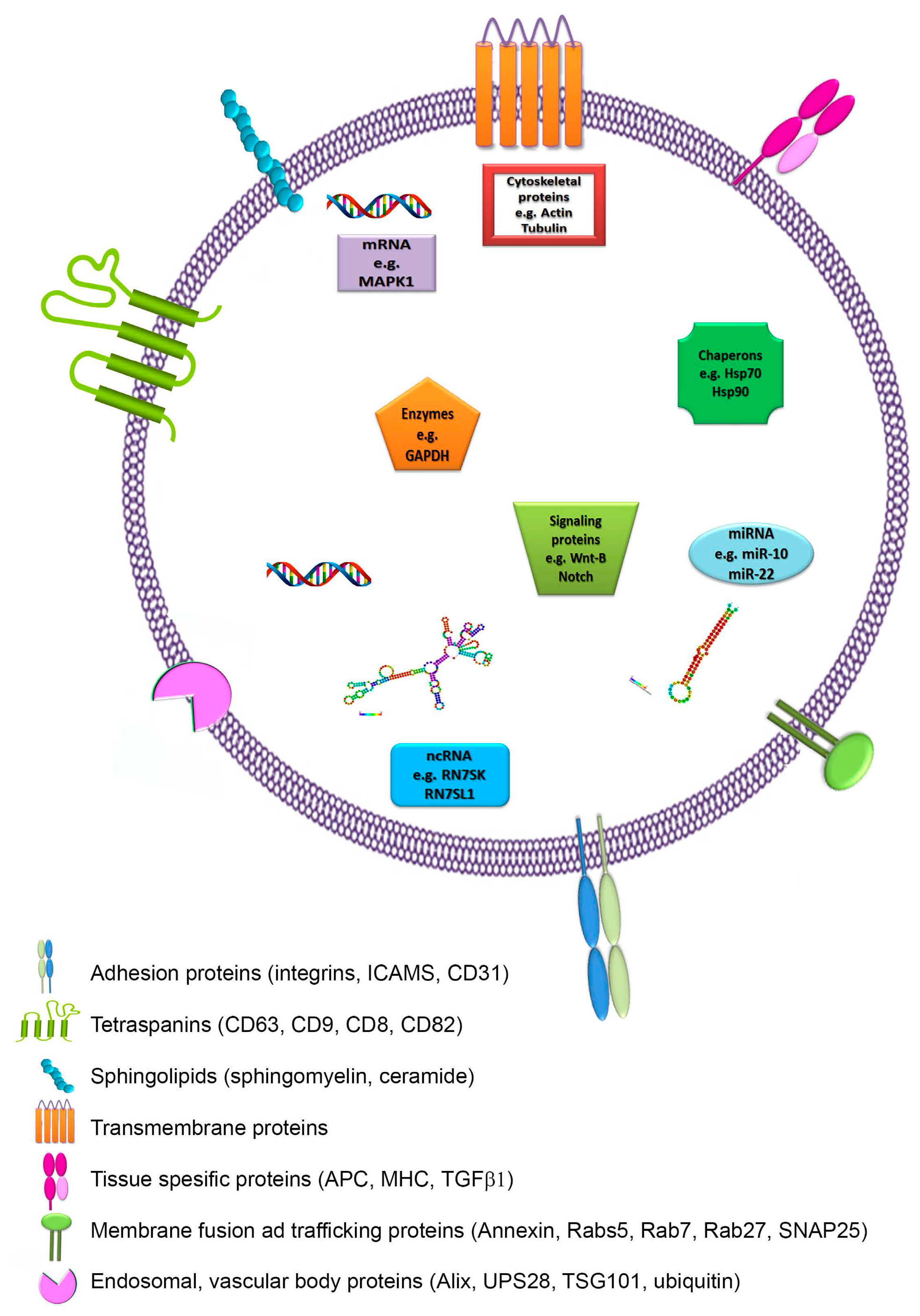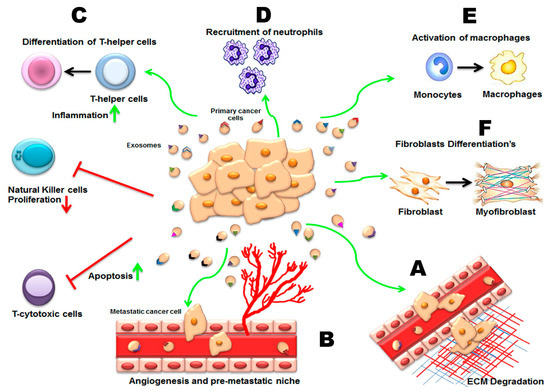 Figure 3. Biological functions of exosomes in tumorigenesis. Exosomes released from tumor cells affect the local tumor microenvironment and are critically involved in tumor initiation, growth, progression, and metastasis by transferring oncogenic proteins and nucleic acids. (A) Exosomes travel to distant sites to promote generation of the pre-metastatic niche; (B) Angiogenesis is increased and endothelial and stromal cell differentiation is induced, leading to a pro-tumor environment; (C) Exosomes have immunosuppressive effects and assist cancers in immune evasion. Cytotoxic T cells are induced to apoptosis, while natural killer cell proliferation is impaired, and T-helper cells differentiate toward a T-regulatory cell phenotype; (D) Bone marrow-derived cells are recruited to tumor and pre-tumor tissue where they contribute to cancer development; (E) Exosomes are also responsible for the recruitment and activation of tumor-associated macrophages (TAMs) by promoting their polarization. TAMs support diverse phenotypes within the primary tumor, including growth, angiogenesis, and invasion, by secreting a plethora of pro-tumorigenic proteases, cytokines, and growth factors; (F) Exosomes can functionally modify fibroblasts by reprogramming these cells to cancer-associated fibroblasts (CAFs), which exhibit myofibroblastic differentiation. Red arrows indicates a negative contribution or repression and green arrows indicate an activation or positive function.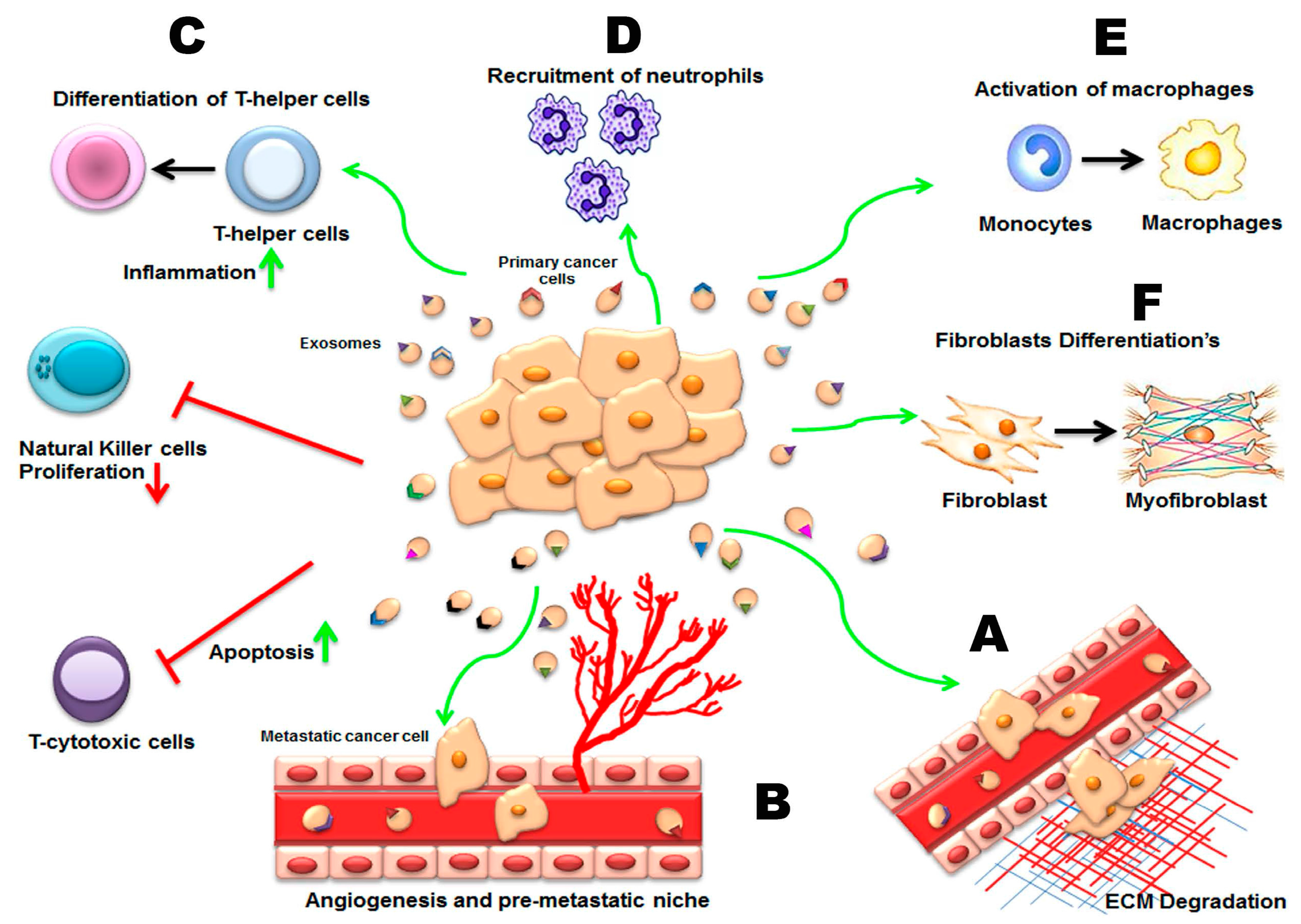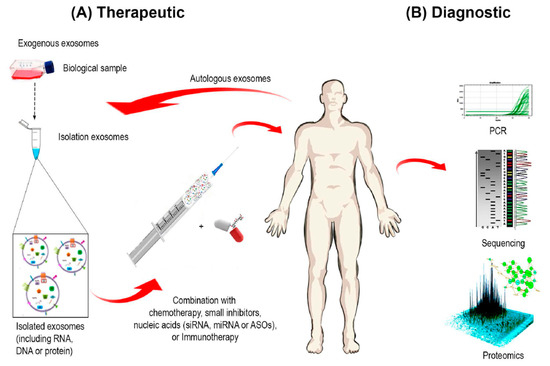 Figure 4. Exosome-based Diagnostics and Therapeutics. Exosomes hold a potential to be used as therapeutic or diagnostics tools. (A) Therapeutics: Exogenous or autologous exosomes can be isolated to deliver a desired payload in combination with chemotherapeutics, adjuvants of chemotherapy or as immunotherapy; (B) Diagnostics: Biomarkers can be determined to evaluate the expression of proteins, inflammation markers or nc-RNA present in exosomes from biological fluids.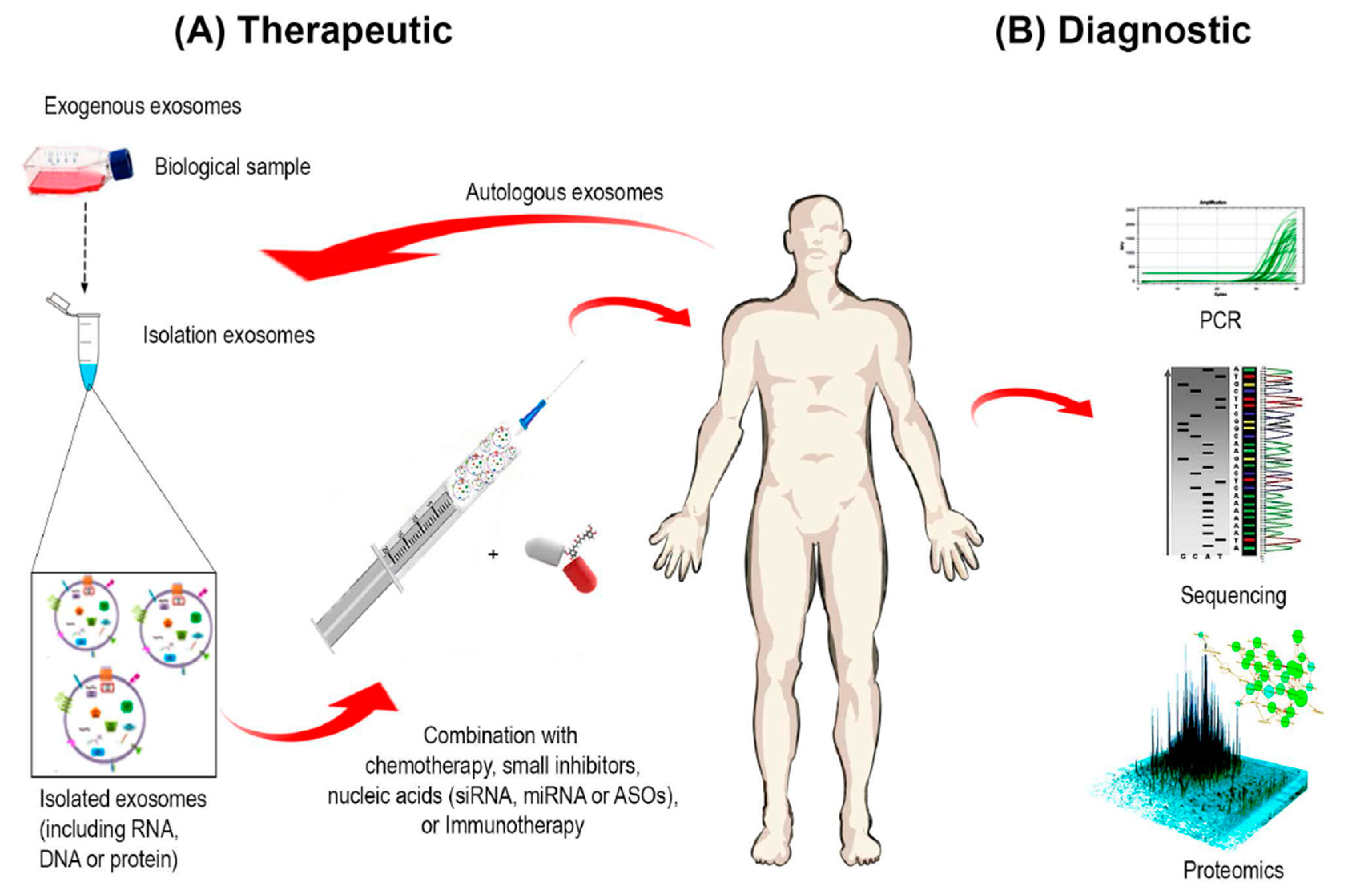 © 2017 by the authors. Licensee MDPI, Basel, Switzerland. This article is an open access article distributed under the terms and conditions of the Creative Commons Attribution (CC BY) license ( http://creativecommons.org/licenses/by/4.0/).