Current Insights into Long Non-Coding RNAs (LncRNAs) in Prostate Cancer
1
Division of Clinical Oncology, Internal Medicine, Medical University of Graz, Auenbruggerplatz 15, A-8036 Graz, Austria
2
Department of Orthopaedic and Trauma Surgery, Medical University of Graz, Auenbruggerplatz 5, A-8036 Graz, Austria
3
Department of Urology, Medical University of Graz, Auenbruggerplatz 5/6, A-8036 Graz, Austria
4
Department of Experimental Therapeutics, The University of Texas MD Anderson Cancer, 1515 Holcombe Blvd., Houston, TX 77030, USA
5
Center for RNA Interference and Non-Coding RNAs, The University of Texas MD Anderson Cancer Center, 1515 Holcombe Blvd., Houston, TX 77030, USA
*
Author to whom correspondence should be addressed.
Academic Editor: Constantinos Stathopoulos
Received: 16 January 2017 / Revised: 9 February 2017 / Accepted: 16 February 2017 / Published: 22 February 2017
Abstract
The importance of long non-coding RNAs (lncRNAs) in the pathogenesis of various malignancies has been uncovered over the last few years. Their dysregulation often contributes to or is a result of tumour progression. In prostate cancer, the most common malignancy in men, lncRNAs can promote castration resistance, cell proliferation, invasion, and metastatic spread. Expression patterns of lncRNAs often change during tumour progression; their expression levels may constantly rise (e.g., HOX transcript antisense RNA, HOTAIR), or steadily decrease (e.g., downregulated RNA in cancer, DRAIC). In prostate cancer, lncRNAs likewise have diagnostic (e.g., prostate cancer antigen 3, PCA3), prognostic (e.g., second chromosome locus associated with prostate-1, SChLAP1), and predictive (e.g., metastasis-associated lung adenocarcinoma transcript-1, MALAT-1) functions. Considering their dynamic role in prostate cancer, lncRNAs may also serve as therapeutic targets, helping to prevent development of castration resistance, maintain stable disease, and prohibit metastatic spread.
View Full-Text
►

▼

Figures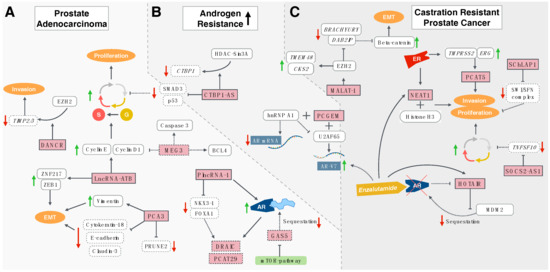 Figure 1
This is an open access article distributed under the
Creative Commons Attribution License
which permits unrestricted use, distribution, and reproduction in any medium, provided the original work is properly cited (CC BY 4.0).

Share & Cite This Article
MDPI and ACS Style
Smolle, M.A.; Bauernhofer, T.; Pummer, K.; Calin, G.A.; Pichler, M. Current Insights into Long Non-Coding RNAs (LncRNAs) in Prostate Cancer. Int. J. Mol. Sci. 2017, 18, 473.
Note that from the first issue of 2016, MDPI journals use article numbers instead of page numbers. See further details here.
Related Articles
Comments
[Return to top]