Exosomes: From Garbage Bins to Promising Therapeutic Targets
1
Department of Experimental Therapeutics, The University of Texas MD Anderson Cancer Center, Houston, TX 77030, USA
2
Department of Pharmacology and Toxicology, Faculty of Pharmacy, The University of Al-Azhar, Cairo 11754, Egypt
3
Department of Medical Biology, Faculty of Medicine, The University of Gaziantep, Gaziantep 27310, Turkey
4
Centro de Investigación y Estudios Avanzados del IPN, Unidad Monterrey, Apodaca NL CP 66600, Mexico
5
Center for RNA Interference and Non-Coding RNA, The University of Texas MD Anderson Cancer Center, Houston, TX 77030, USA
*
Author to whom correspondence should be addressed.
Academic Editor: Martin Pichler
Received: 14 December 2016 / Revised: 25 February 2017 / Accepted: 27 February 2017 / Published: 2 March 2017
Abstract
Intercellular communication via cell-released vesicles is a very important process for both normal and tumor cells. Cell communication may involve exosomes, small vesicles of endocytic origin that are released by all types of cells and are found in abundance in body fluids, including blood, saliva, urine, and breast milk. Exosomes have been shown to carry lipids, proteins, mRNAs, non-coding RNAs, and even DNA out of cells. They are more than simply molecular garbage bins, however, in that the molecules they carry can be taken up by other cells. Thus, exosomes transfer biological information to neighboring cells and through this cell-to-cell communication are involved not only in physiological functions such as cell-to-cell communication, but also in the pathogenesis of some diseases, including tumors and neurodegenerative conditions. Our increasing understanding of why cells release exosomes and their role in intercellular communication has revealed the very complex and sophisticated contribution of exosomes to health and disease. The aim of this review is to reveal the emerging roles of exosomes in normal and pathological conditions and describe the controversial biological role of exosomes, as it is now understood, in carcinogenesis. We also summarize what is known about exosome biogenesis, composition, functions, and pathways and discuss the potential clinical applications of exosomes, especially as biomarkers and novel therapeutic agents.
View Full-Text
►

▼

Figures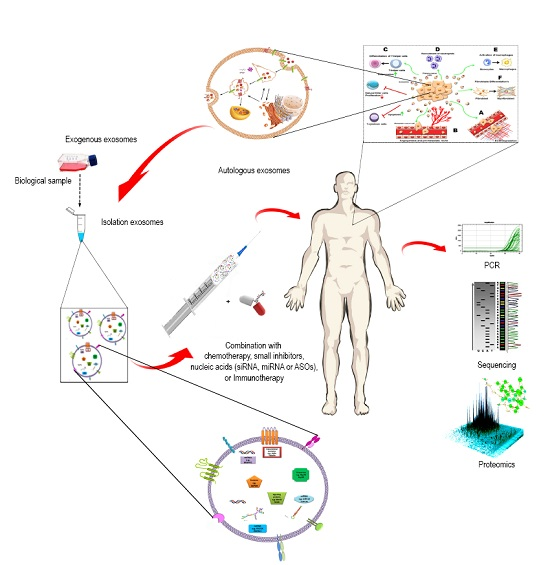 Graphical abstract
This is an open access article distributed under the
Creative Commons Attribution License
which permits unrestricted use, distribution, and reproduction in any medium, provided the original work is properly cited (CC BY 4.0).

Share & Cite This Article
MDPI and ACS Style
H. Rashed, M.; Bayraktar, E.; K. Helal, G.; Abd-Ellah, M.F.; Amero, P.; Chavez-Reyes, A.; Rodriguez-Aguayo, C. Exosomes: From Garbage Bins to Promising Therapeutic Targets. Int. J. Mol. Sci. 2017, 18, 538.
Note that from the first issue of 2016, MDPI journals use article numbers instead of page numbers. See further details here.
Related Articles
Comments
[Return to top]